La guerra de Putin está perjudicando al mundo en desarrollo
NUEVA DELHI – Es difícil ver algún ganador en la guerra en curso causada por la invasión irracional y devastadora de Ucrania por parte de Rusia. Pero los perdedores se extienden mucho más allá del pueblo de Ucrania, que está siendo atacado, y el pueblo de Rusia, que no eligió esta guerra, pero que ahora debe sobrellevar una economía que está siendo desmantelada por las sanciones comerciales y financieras. El impacto económico del conflicto se sentirá en todo el mundo, inclusive en muchos países en desarrollo a los que ya les está costando recuperarse de la pandemia del COVID-19.
Una preocupación inmediata es el efecto de los crecientes precios del petróleo. El precio del crudo Brent de referencia recientemente subió un 20% a más de 139 dólares por barril, su nivel más alto desde 2008 –probablemente en respuesta a las noticias de que Estados Unidos y sus aliados europeos estaban discutiendo una posible prohibición a las importaciones de petróleo ruso, que hasta ahora habían estado exceptuadas de las sanciones occidentales-. (El 8 de marzo, Estados Unidos anunció una prohibición a las importaciones de productos energéticos rusos, mientras que el Reino Unido prometió eliminar gradualmente las importaciones de petróleo y productos petroleros rusos para fines de 2022).
Pero los precios globales de la energía ya venían subiendo, luego de un período de dramática volatilidad durante la pandemia. El precio del crudo Brent, que había caído a niveles tan bajos como 9 dólares por barril en abril de 2020 en el pico de la primera ola de la pandemia, subió por encima de 90 dólares por barril en enero de 2022. Desde entonces, la guerra de Ucrania ha ejercido una mayor presión alcista sobre los precios del petróleo y del gas.
Los medios occidentales se han centrado en el impacto de los crecientes precios de la energía en Europa, que depende marcadamente de las importaciones de gas natural de Rusia. Pero la mayor parte de los importadores de petróleo y gas del mundo son mucho más pobres. Muchos de estos países no pudieron implementar respuestas fiscales a la pandemia en la misma escala que Estados Unidos y otras economías avanzadas, y desde entonces han experimentado recuperaciones mucho más débiles de la producción y el empleo. Esta última disparada del precio del petróleo es un golpe que difícilmente puedan afrontar, ya que es probable que genere problemas en la balanza de pagos y presiones inflacionarias domésticas que serán difíciles de combatir en el contexto de incertidumbre actual.
Por supuesto, las presiones inflacionarias adicionales de la guerra de Ucrania también están complicando el desafío que enfrentan los responsables de las políticas en las economías occidentales ricas a la hora de afrontar los precios crecientes sin causar un aterrizaje económico duro. El petróleo es un bien intermedio universal, que incide en los costos de las materias primas y de los servicios, así como en los costos del transporte, de múltiples maneras.
Los aumentos del precio del petróleo por lo tanto pueden ser un impulsor importante de la inflación generada por los costos inclusive en las épocas de bonanza. Pero la inflación en los países ricos ya estaba en niveles que casi habían olvidado. Los responsables de las políticas también parecen considerar solamente las armas más simplistas contra la inflación, como aumentar las tasas de interés y ajustar la liquidez, que de poco sirven para afrontar la presión generada por los costos y que podrían causar una verdadera crisis económica.
Secure your copy of PS Quarterly: The Year Ahead 2023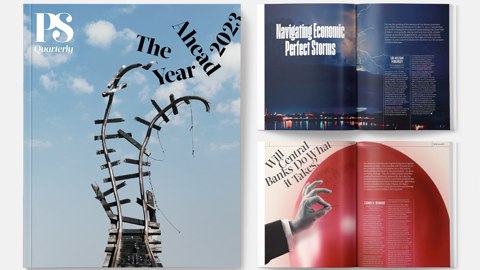 Secure your copy of PS Quarterly: The Year Ahead 2023
PS Quarterly: The Year Ahead 2023 is almost here, and available only to Digital Plus or Premium subscribers.
Subscribe now to secure a print copy of the magazine, as well as digital access to all its content, including exclusive insights from German Minister of Foreign Affairs Annalena Baerbock, US Treasury Secretary Janet Yellen, Nobel laureate economist Joseph E. Stiglitz, and more.

Pero los desafíos son mayores aún en el mundo en desarrollo, donde los responsables de las políticas tienen menos espacio de maniobra. El dramático incremento reciente de los precios del petróleo obviamente afecta de manera directa a los países importadores de petróleo, y se trasladará a todos los demás precios a través de aumentos en los costos de los insumos y del transporte.
La tragedia que se está desarrollando en Ucrania también está haciendo subir los precios globales de los alimentos, creando una penuria aún mayor en los países en desarrollo donde el hambre ya había aumentado drásticamente durante la pandemia. Antes de la guerra, Ucrania era el quinto exportador de trigo más importante del mundo, y también un exportador importante de cebada, maíz, colza y girasol. Los precios de estas materias primas en el comercio global han aumentado significativamente, lo que se ha sumado a los incrementos recientes de los precios de los cultivos a nivel general.
Ahora existe un peligro mayor: los inversores financieros que venían apostando a mercados de activos especulativos tendrán que encontrar otros lugares donde invertir su dinero, y los futuros de los alimentos podrían convertirse en un destino predilecto. En los primeros cinco días de marzo, el precio de los futuros del trigo en la Junta de Comercio de Chicago aumentó el 40%, poniéndolo a tiro para su mayor incremento semanal desde 1959.
La producción de cultivos en los países en desarrollo también podrá verse afectada por la escasez de fertilizantes. Rusia, el mayor exportador de trigo del mundo, también es un importante productor de fertilizantes y las alteraciones de estas exportaciones harán subir aún más los precios globales de los alimentos.
Ya hemos visto partes de esta película en tiempos pacíficos, justo antes de la crisis financiera global, y fue una historia oscura y deprimente aún entonces.  La crisis de alimentos que resultó de la especulación del mercado financiero en 2007-08 condujo a un enorme incremento del hambre y devastó la vida de cientos de millones de personas en los países en desarrollo. Esa crisis ocurrió, aunque la oferta y la demanda global de alimentos no cambió mucho. Pero ahora, cuando las reducciones reales de la oferta global de alimentos son casi inevitables, los aumentos de precios podrían ser mayores y más duraderos. Si la presión especulativa aumenta, las economías ya frágiles se verán aún más perjudicadas.
Tal vez no sorprenda que el G7 (cuyos antecedentes recientes como líder autoproclamado de la economía global son apenas perceptibles) no exprese demasiada preocupación sobre estos peligros reales y apremiantes. Pero las organizaciones multilaterales sin duda necesitan intervenir en este momento de crisis, al menos ofreciendo un financiamiento compensatorio para ayudar a que el mundo en desarrollo haga frente a los múltiples shocks de precios, y sugiriendo y habilitando regulaciones para impedir la especulación en mercados esenciales.
Sin esos esfuerzos, la guerra de Rusia contra Ucrania causará mucho más daño a la economía global –y los países más pobres estarán entre los más afectados.