El último obstáculo contra la recuperación de Ucrania
KIEV – En la capital de Ucrania se mezclan signos de esperanza y anarquía. Pese al giro económico impresionante que experimentó el país, todavía está muy extendida la corrupción. El gobierno del presidente Petró Poroshenko estabilizó las finanzas públicas, pero no pudo poner coto al clientelismo.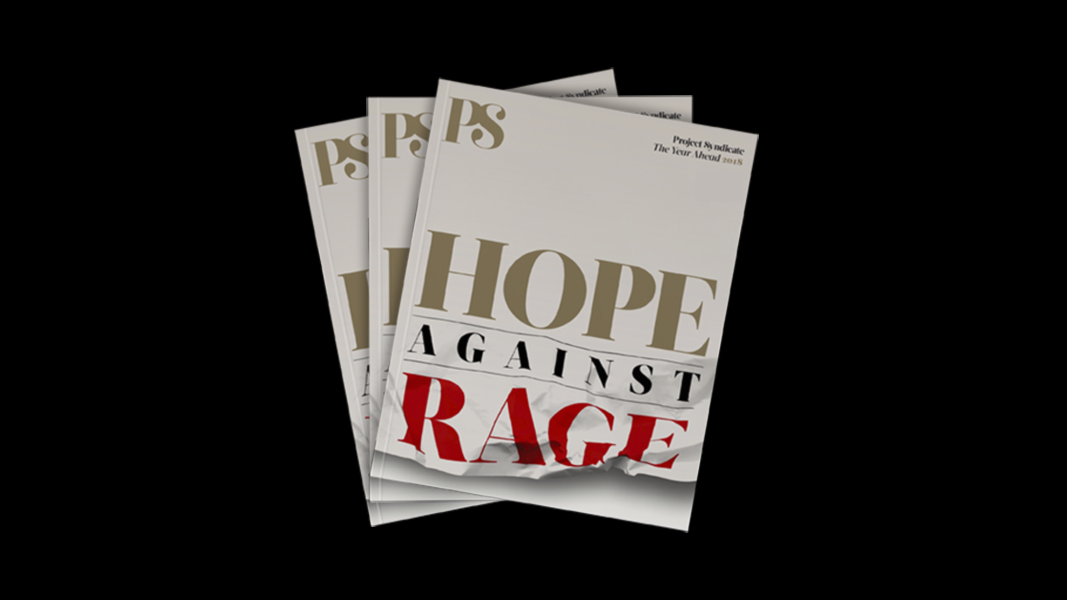 The Year Ahead 2018
The world's leading thinkers and policymakers examine what's come apart in the past year, and anticipate what will define the year ahead.
La pregunta ahora es si las reformas legales y del sistema judicial encaradas por Poroshenko podrán crear condiciones para un crecimiento económico firme y sostenido. Tras la firma de un acuerdo de crédito con el gobierno en marzo de 2015, el Fondo Monetario Internacional procedió a efectuar cuatro cuantiosos desembolsos. Pero en una visita reciente, el primer subdirector gerente del FMI, David Lipton, señaló que el país está en riesgo de "retroceso".
Los problemas de Ucrania no son macroeconómicos. Su actual ministro de finanzas, Oleksandr Danyliuk, es un firme defensor del libre mercado, con excelentes antecedentes en gestión económica, como su predecesora, Natalie Jaresko.
Según el FMI, el gasto público de Ucrania llegó al 53% del PIB en 2014, pero en 2016 disminuyó al 40% del PIB. Y en sólo un año, de 2014 a 2015, Ucrania redujo el déficit fiscal de 10% del PIB a apenas 2%, y va camino de mantenerlo en torno del 3% del PIB en los años venideros.
Además, la mejora del sistema impositivo permitió al gobierno aumentar la recaudación un 30% interanual (más que el crecimiento del gasto) en la primera mitad de 2017 y lograr así un presupuesto equilibrado entre enero y junio.
En abril, el FMI preveía que la deuda pública ucraniana llegaría al 91% del PIB a fines de 2017; pero el gobierno ya logró reducirla al 81% del PIB, y es probable que el avance se mantenga, conforme se consolide el crecimiento y se aprecie la moneda ucraniana (grivna).
Ucrania debe gran parte de su actual fortaleza económica a Valeriya Hontareva, expresidenta del banco central, que en los últimos tres años hizo limpieza en el sector bancario. Con Hontareva, el Banco Nacional de Ucrania cerró la mitad de los 180 bancos del país (mayoritariamente organizaciones corruptas o directamente delictivas). Y ahora que la reestructuración está casi completa, se dan las condiciones para un despegue del crédito.
Suele suceder que cuando un país ordena sus finanzas internas, las externas también mejoren. La preocupación que hubo desde 2014 por las reservas de moneda extranjera se transformó en tranquilidad ahora que suman 18 000 millones de dólares (equivalentes a unos 3,5 meses de las importaciones actuales).
Mejor aún, este año la grivna se apreció 6% en relación con el dólar, lo que dio un estímulo al PIB y redujo la deuda pública (mayoritariamente denominada en divisas internacionales). Al mismo tiempo, Ucrania atraviesa una "desdolarización" relativamente veloz: los depósitos bancarios denominados en grivnas están creciendo más rápido que aquellos en moneda extranjera.
Ucrania tiene los tres ingredientes esenciales para un crecimiento firme y sostenido. En la primera mitad de 2017, entró en vigor el acuerdo de libre comercio con la Unión Europea, y las exportaciones ucranianas crecieron 25%, mucho más que las importaciones. Además, hay un fuerte crecimiento de la inversión y del consumo. En la primera mitad de este año, la construcción creció un 24%, y las ventas minoristas un 8%.
Pero aunque el FMI pronosticó un 2,9% de crecimiento del PIB para 2017 (y un crecimiento anual del 4% en 2020), en la primera mitad de este año el crecimiento anualizado sólo fue 2,5%. Diversas razones explican por qué la nueva estabilidad financiera de Ucrania todavía no se trasladó a un mejor desempeño económico.
Para empezar, los combates en el este de Ucrania impiden un normal desarrollo de la agricultura, principal fuente de crecimiento durante el último decenio. Pero sobre todo, es posible que los "espíritus animales" estén reprimidos, porque los emprendedores ucranianos no le ven sentido a tratar de competir con oligarcas que todavía pueden manipular la economía en provecho propio.
En los últimos tres años, el gobierno (con un empujón del FMI) inició un combate sistemático a la corrupción, que incluye unificar los precios de la energía y la introducción de un sistema electrónico de licitación transparente para la mayoría de las compras públicas. Y más de 100 000 funcionarios públicos ya presentaron declaraciones de bienes e ingresos, en una exhibición de transparencia que no tiene nada que envidiar a los países escandinavos.
Pero subsiste un serio problema: el incumplimiento del Estado de Derecho. Antes, las empresas locales y los inversores extranjeros temían los abusos de poder de las autoridades impositivas; hasta que en marzo, la oficina anticorrupción ucraniana arrestó al jefe de la agencia recaudadora, Roman Nasirov. Ahora, las principales causas de preocupación son la Fiscalía General y los servicios de seguridad. Ambos están bajo control del presidente, y se han hecho fama de ser organismos estatales depredadores.
Se espera que las reformas del sistema judicial en curso pongan límites a la autoridad del ejecutivo, protejan el derecho de propiedad y alienten el crecimiento. Pero ya es evidente que no será suficiente.
En julio, Poroshenko le canceló la ciudadanía a Mikhail Saakashvili, expresidente de Georgia a quien Poroshenko invitó a Ucrania y nombró gobernador de Odessa en 2015. La decisión de Poroshenko, ejecutada por decreto y sin el debido proceso, es dudosa desde un punto de vista legal; y Saakashvili no la aceptó sin más, sino que la usó para movilizar a la sociedad civil ucraniana. Este mes, él y la líder opositora ucraniana Yuliya Tymoshenko entraron a Ucrania desde Polonia sin pasar por el control de pasaportes. Saakashvili está desafiando a que lo procesen, como forma de criticar el sistema judicial ucraniano y la falta de respeto de Poroshenko al Estado de Derecho.
La demanda del FMI al gobierno ucraniano para que cree un tribunal anticorrupción independiente que investigue, procese y castigue a funcionarios públicos deshonestos sigue sin cumplirse. Pero para continuar por la senda de la recuperación, Ucrania tiene que demostrar que ningún ucraniano (ni siquiera el presidente) está por encima de la ley.
Traducción: Esteban Flamini