Dois mitos sobre a automação
BERKELEY – Os robôs, a aprendizagem automática e a inteligência artificial prometem alterar substancialmente a natureza do trabalho. Todas as pessoas sabem isto. Ou, pelo menos, pensam que sabem.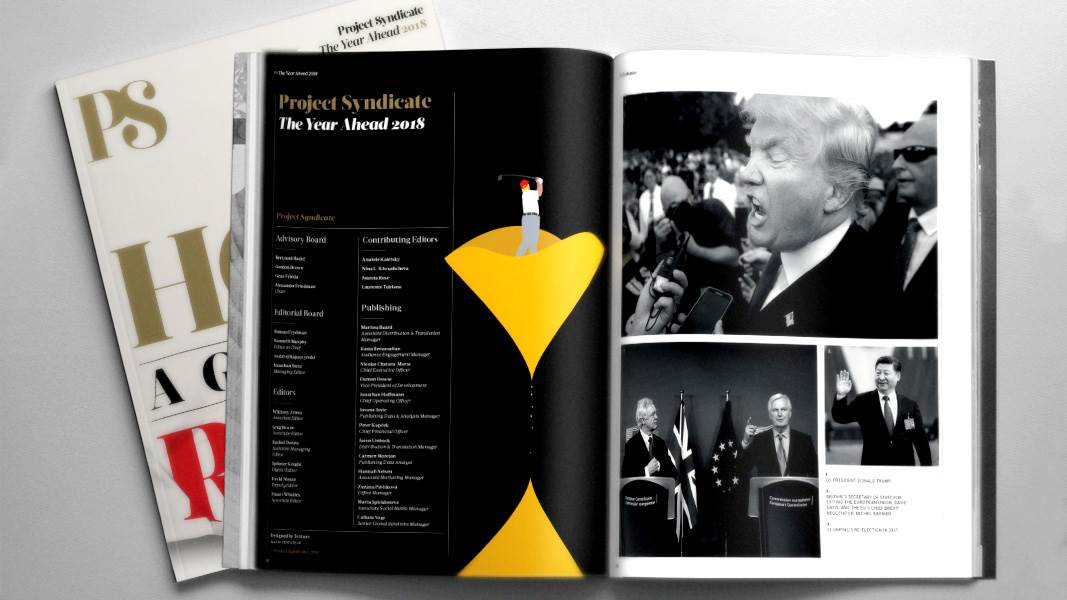 The Year Ahead 2018
The world's leading thinkers and policymakers examine what's come apart in the past year, and anticipate what will define the year ahead.
Concretamente, as pessoas pensam que sabem duas coisas. Em primeiro lugar, que nunca estiveram ameaçados tantos empregos como actualmente. "A Forrester prevê que a automação permitida pela IA eliminará 9% dos empregos nos EUA em 2018," afirma um cabeçalho. "McKinsey: Um terço dos trabalhadores dos EUA pode ficar sem emprego até 2030, devido à automação," reforça outro.
Relatórios desta natureza criam a ideia de que o progresso tecnológico e a eliminação de empregos estão em franca aceleração. Mas não existem evidências que comprovem qualquer uma destas tendências. Na verdade, a produtividade total dos factores, que é a melhor medida sintética do ritmo da evolução técnica, encontra-se desde 2005 em estagnação nos Estados Unidos e no mundo dos países desenvolvidos.
Além disso, como salientou recentemente o economista Timothy Taylor, a taxa de mudança da estrutura profissional, definida como o saldo absoluto entre os empregos acrescentados nas ocupações em crescimento e os empregos perdidos nas ocupações em declínio, tem vindo a abrandar, e não a acelerar, desde a década de 1980. Isto não significa que a estrutura profissional não esteja a mudar. Mas questiona a perspectiva, amplamente difundida, de que o ritmo da mudança está em aceleração.
A segunda coisa que todos pensam saber, é que hoje estão em risco empregos anteriormente considerados como seguros. No passado, era possível argumentar que os robôs afastariam trabalhadores envolvidos em tarefas rotineiras, mas não as pessoas altamente qualificadas e instruídos – nunca os médicos, os advogados, nem mesmo, ousadia das ousadias, os professores. Em especial, dizia-se que as máquinas não seriam capazes de realizar tarefas em que fossem determinantes a empatia, a compaixão, a intuição, a interacção interpessoal e a comunicação.
Agora, porém, estas distinções estão a desaparecer. A Alexa da Amazon consegue comunicar. A contribuição colaborativa (NdT: no original, crowdsourcing), juntamente com o historial digital de cada pessoa, pode permitir intuir os hábitos de compra. A inteligência artificial pode ser usada para ler radiografias e diagnosticar problemas médicos. Como consequência, todos os empregos, mesmo os empregos dos médicos, advogados, e professores, estão a ser transformados.
Mas serem transformados não é o mesmo que estarem ameaçados. É verdade que as máquinas já são mais eficientes do que os juristas na procura de precedentes processuais. Mas um advogado sintonizado com a personalidade do seu cliente ainda desempenha um papel indispensável no aconselhamento a alguém que enfrenta um divórcio complicado, quer seja para negociar, para mediar, ou para representar em tribunal. Da mesma forma, o conhecimento que um advogado detém sobre as personalidades dos intervenientes numa acção cível ou num processo criminal pode ser combinado com big data e análises no momento da selecção do júri. A função do jurista está a mudar, e não a desaparecer.
Estas observações apontam para o que está realmente a acontecer no mercado de trabalho. Não é que os auxiliares de enfermagem estejam a ser substituídos por robôs prestadores de cuidados de saúde; em vez disso, redefine-se o que fazem os auxiliares de enfermagem. E o que estes farão no futuro continuará a redefinir-se, à medida que evoluírem as competências desses robôs, da movimentação de doentes para fora da cama, até à distribuição de sessões de fisioterapia e à prestação de apoio emocional a doentes deprimidos e com incapacidades.
De certa maneira, estas notícias são boas para quem se preocupa com as perspectivas dos trabalhadores actuais: continuará a haver procura de trabalhadores nas ocupações que já existem. Nem todos os auxiliares de enfermagem terão de tornar-se engenheiros de software. O conhecimento que estes adquirem durante o exercício das suas funções – do modo como se interage com os doentes, como se reconhecem os seus estados de espírito, e como se detectam as suas necessidades – continuará a ser pertinente e valorizado. Os auxiliares de enfermagem aplicarão esse conhecimento para orientar, e colaborar com, os seus colegas robóticos.
Portanto, a transformação tecnológica futura não implicará alterações ocupacionais à escala da Revolução Industrial, com a sua redistribuição maciça de trabalho entre os sectores agrícola e industrial. Afinal, a grande maioria dos americanos já trabalha no sector terciário. Mas será mais importante que nunca que pessoas de todas as idades actualizem as suas competências e renovem continuamente a sua formação, dado o modo como se prevê que as suas ocupações continuem a ser moldadas pela tecnologia.
Em países como a Alemanha, em vários sectores de actividade os trabalhadores recebem formação inicial, que é complementada no decurso das suas carreiras profissionais. As empresas investem e reinvestem nos seus trabalhadores, porque os últimos podem pressionar nesse sentido, já que a Lei da Gestão Participada de 1951 lhes confere assento nos conselhos de administração. As associações patronais unem esforços com os sindicatos para a organização e gestão de modelos de formação ao nível sectorial. Estes modelos são eficazes, em parte porque o governo federal define normas para os programas de formação e elabora currículos uniformes para os formandos.
Nos EUA, a presença de representantes dos trabalhadores em conselhos de administração, de sindicatos fortes e de regulamentação governamental sobre formação no sector privado não faz parte da fórmula institucional predominante. Consequentemente, as empresas tratam os seus trabalhadores como peças descartáveis, em vez de investirem neles. E o governo não intervém nesta situação.
Fica então a ideia: em vez de uma "reforma fiscal" que permita às empresas realizar imediatamente os seus excedentes de capital, porque não conceder créditos fiscais às empresas por contrapartida da disponibilização de formação permanente aos seus empregados?