Una guerra turca de fabricación norteamericana
ANKARA – Mientras Turquía intensifica su campaña militar contra los combatientes kurdos sirios, es tentador echarle la culpa de la violencia al patrioterismo y a la xenofobia estridentes del presidente Recep Tayyip Erdoğan. Después de todo, Erdoğan viene advirtiendo desde hace mucho tiempo que Turquía nunca toleraría una presencia militar kurda en la frontera sur del país; la reciente ofensiva parecería sugerir que sus palabras se están traduciendo en acciones.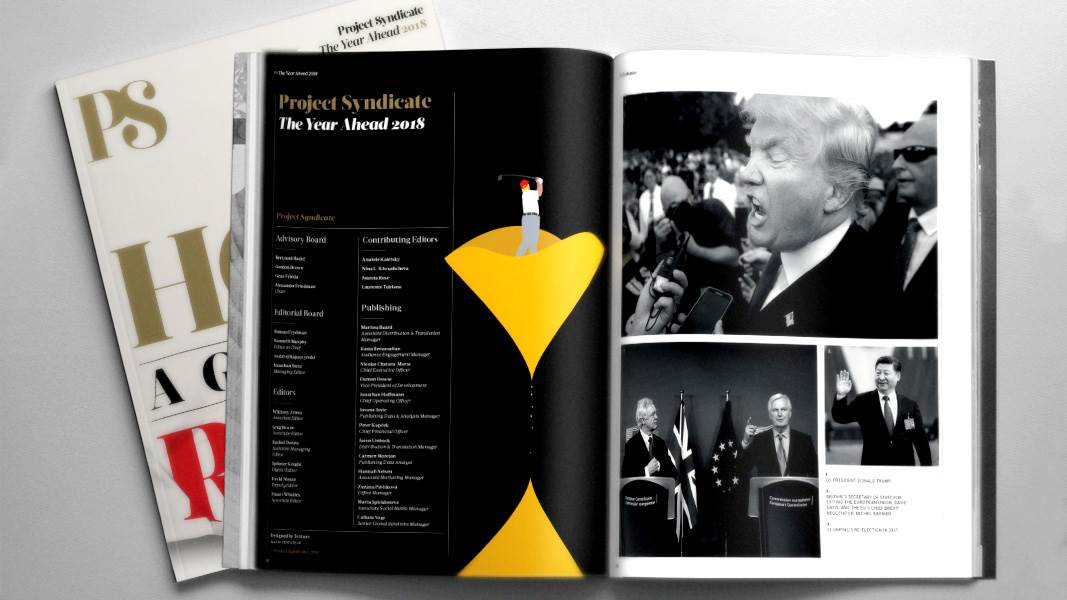 The Year Ahead 2018
The world's leading thinkers and policymakers examine what's come apart in the past year, and anticipate what will define the year ahead.
Y, sin embargo, si bien Erdoğan puede haber ordenado la "Operación Rama de Olivo", el verdadero culpable es el foco miope de Estados Unidos en querer derrotar al yihadismo regional. Sin una política coherente para Siria, las sucesivas administraciones estadounidenses se han obsesionado con apuntar al Estado Islámico (EI) sin considerar las ramificaciones totales de sus acciones. La incursión de Turquía en el noroeste de Siria es sólo una consecuencia.
En julio de 2012, cuando el Partido de la Unión Democrática kurdo (PYD) ocupó una serie de ciudades fronterizas sirias, Turquía se alarmó. El PYD es la rama siria del Partido de los Trabajadores de Kurdistán turco (PKK) que viene librando una guerra de guerrillas contra el gobierno de Turquía desde 1984.
En un principio, Estados Unidos compartía los temores de Erdoğan. En agosto de 2012, la entonces secretaria de Estado Hillary Clinton declaró que "Siria no debe convertirse en un refugio para terroristas del PKK". Pero después que EI capturó grandes franjas de territorio en Siria e Irak, Estados Unidos descubrió en el PYD un aliado útil. Pronto, Estados Unidos estaba proveyendo de armas y entrenamiento al ala armada del PYD.
Enfurecido por estas maniobras, Erdoğan buscó garantías de que el respaldo estadounidense a los kurdos fuera temporario, y que los combatientes kurdos no cruzaran el río Éufrates. Pero, después que los turcos recibieron las garantías que querían, los kurdos bien armados cruzaron el Éufrates de todos modos.
Luego, en agosto de 2016, el vicepresidente Joseph Biden regañó públicamente a los combatientes del PYD, advirtiendo que perderían el apoyo de Estados Unidos si no se retiraban. Pero los militantes nunca retrocedieron, y Estados Unidos siguió armándolos y entrenándolos. En abril de 2017, un Erdoğan furibundo declaró que la administración Obama había "decepcionado" a Turquía por el tema del PKK. "No creo que la administración Trump vaya a hacer lo mismo", predijo.
Pero se equivocaba una vez más. A pesar de prometer, según consta, que las transferencias de armas estadounidenses no continuarían, el presidente Donald Trump no ha cambiado de curso, y las armas norteamericanas siguen llegando a manos de los kurdos.
Por estas razones, los líderes de Turquía han perdido la fe en cualquier cosa que diga el gobierno de Estados Unidos. Los dos países ni siquiera pueden ponerse de acuerdo sobre los contenidos de una llamada telefónica presidencial, como lo demuestran sus reportes contradictorios sobre una conversación el mes pasado.
¿Cómo fue que las relaciones entre dos aliados de la OTAN llegaron a un punto tan bajo?
Gran parte de la respuesta se puede rastrear en la negativa del presidente Barack Obama a desplegar tropas de combate contra EI, en favor de una presencia ligera utilizando fuerzas locales ayudadas por ataques aéreos y entrenamiento estadounidenses. Esta estrategia fue implementada por primera vez en Irak, pero resultó contraproducente cuando las Fuerzas de Movilización Popular (PMF) respaldadas por Irán ocuparon el territorio. Las consecuencias de esa decisión, que Estados Unidos esencialmente ha optado por ignorar, alcanzarán un punto crítico en abril, cuando los comandantes de PMF planean presentarse en la elección parlamentaria de Irak.
En Siria, los kurdos han demostrado ser un aliado más confiable. Pero su lealtad con Estados Unidos ha tenido un costo. Obama estaba dispuesto a pasar por alto los vínculos de sus combatientes con el PKK, utilizando argumentos sutiles para marcar diferencias entre grupos indistinguibles. Sin nunca valorar del todo los recelos de Erdoğan, Obama optó por abordar los temores de Turquía sólo de manera superficial.
Cuando Trump llegó a la presidencia, su falta de interés por los detalles y su inclinación a fanfarronear exacerbaron las tensiones. Una característica clave de la presidencia de Trump ha sido su deseo de congraciarse con sus invitados ofreciendo lo que no puede cumplir (como hizo en una reunión reciente con parlamentarios demócratas sobre inmigración). Esta tendencia a complacer parece haber resultado en que Trump hiciera promesas a Erdoğan que los responsables de las decisiones en el Pentágono en materia de las políticas de Estados Unidos para Irak y Siria nunca pensaron cumplir.
Pero, a diferencia de los legisladores estadounidenses, Erdoğan tiene un ejército que marcha a su discreción. Y Turquía ve al PKK como una amenaza existencial y considera al PYD como su apéndice letal sirio. Los mensajes confusos de Estados Unidos, ofrecidos por un presidente que no tiene un don para la sutiliza política o la diplomacia, ha incendiado una relación crítica, y a su vez, puesto en peligro la lucha contra EI. A pesar de la afirmación en el Discurso del Estado de la Unión de Trump de que EI está prácticamente derrotado, unos 3.000 combatientes siguen en Siria, inclusive por momentos capturando territorio.
En resumen, la política de Estados Unidos es contraproducente. No sólo envalentona a adversarios como Irán y sus aliados del PMF; también pone en peligro a unos 2000 soldados estadounidenses que están trabajando con los kurdos en Siria.
Los instintos de Obama no estaban equivocados. Las invasiones de gran escala rara vez logran erradicar las amenazas yihadistas. Pero la tercerización por parte de Estados Unidos de sus batallas a manos de combatientes locales en Siria ha creado nuevos peligros. Si Trump quiere romper con el pasado y ganarse el crédito que reclama, Estados Unidos debe encontrar una nueva manera de alcanzar sus objetivos de seguridad sin desplegar divisiones enteras. En este momento, en cambio, Estados Unidos le está ofreciendo a Turquía -y a la región- sólo incoherencia y más promesas vacías.