Ein türkischer Krieg aus amerikanischer Produktion
ANKARA – Derzeit verschärft die Türkei ihren Militäreinsatz gegen kurdische Kämpfer in Syrien, und die Versuchung ist groß, den Chauvinismus und die Fremdenfeindlichkeit des türkischen Präsidenten Recep Tayyip Erdoğan für die Gewalt verantwortlich zu machen. Immerhin warnt Erdoğan schon seit langem, die Türkei werde keine kurdische Militärpräsenz an der südlichen Grenze des Landes tolerieren. Also scheint es, dass er mit der jüngsten Offensive einfach nur seinen Worten Taten folgen lässt.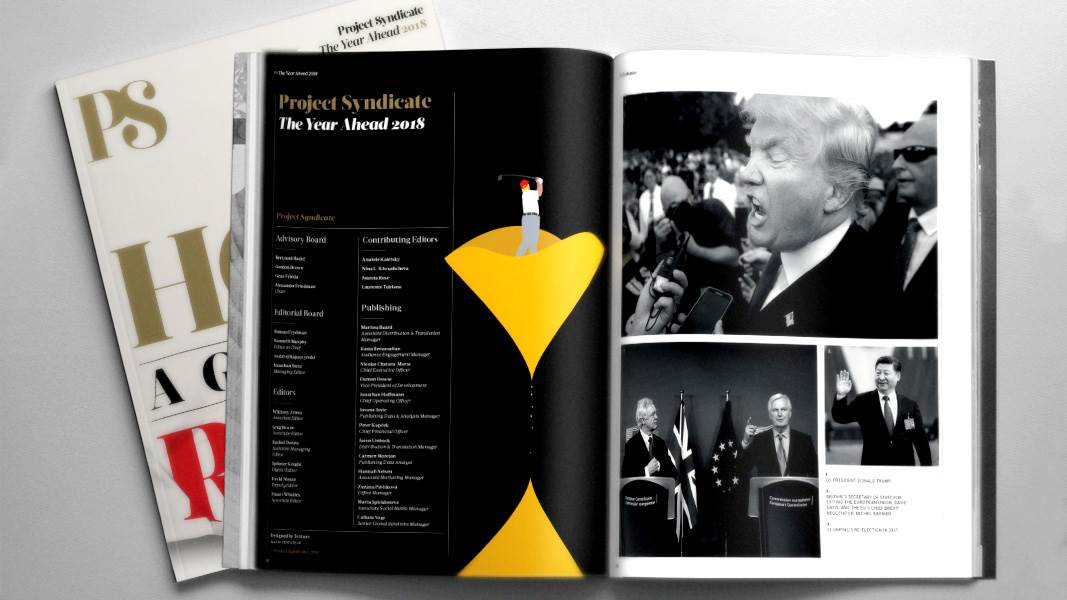 The Year Ahead 2018
The world's leading thinkers and policymakers examine what's come apart in the past year, and anticipate what will define the year ahead.
Aber obwohl die "Operation Olivenzweig" unter Erdoğans Befehl stattfindet, sind letztlich die Vereinigten Staaten mit ihrem kurzsichtigen Fokus auf den "Sieg gegen den regionalen Dschihadismus" dafür verantwortlich. Mangels einer schlüssigen Syrienpolitik haben sich verschiedene US-Regierungen immer wieder auf den Kampf gegen den Islamischen Staat (IS) fixiert, ohne die Folgen ihres Handelns ausreichend zu berücksichtigen. Und eine dieser Folgen ist der türkische Einmarsch im Nordwesten von Syrien.
Im Juli 2012 übernahm die kurdische Partei der Demokratischen Union (PYD) die Kontrolle über eine Reihe syrischer Grenzstädte, und die Türkei war alarmiert. Die PYD ist der syrische Ableger der türkisch-kurdischen Arbeiterpartei (PKK), die seit 1984 eine Art Guerillakrieg gegen die türkische Regierung führt.
Zunächst teilten die USA Erdoğans Besorgnis. Im August 2012 erklärte die damalige Außenministerin Hillary Clinton, Syrien dürfe "kein sicherer Hafen für PKK-Terroristen werden". Aber nachdem der IS große Teile Syriens und Iraks erobert hatte, fanden die USA in der PYD einen nützlichen Verbündeten. Und schon bald versorgten die Amerikaner den bewaffneten Flügel der PYD mit Waffen und militärischer Ausbildung.
Erdoğan, der darüber sehr wütend war, wollte bestätigt haben, dass die amerikanische Unterstützung der Kurden nur vorübergehend sei und die kurdischen Kämpfer den Fluss Euphrat nicht überqueren würden. Aber nachdem die Türken ihre gewünschten Garantien bekommen hatten, überschritten die gut bewaffneten Kurden den Euphrat trotzdem.
Dann, im August 2016, warnte Vizepräsident Joseph Biden die PYD-Kämpfer öffentlich, wenn sie sich nicht zurückzögen, würden sie die Unterstützung der USA verlieren. Aber die Milizen blieben wo sie waren, und die USA stellten ihnen weiterhin Waffen und Ausbildung zur Verfügung. Im April 2017 erklärte ein erboster Erdoğan dann, die Obama-Regierung habe ihn über die PKK "getäuscht". "Ich glaube nicht, dass sich die Trump-Regierung ebenso verhalten wird", vermutete er.
Aber Erdoğan lag erneut falsch. Obwohl Trump Berichten zufolge versprach, die US-Waffenhilfe einzustellen, hat er den amerikanischen Kurs nicht geändert und liefert weiterhin Waffen an die Kurden.
Aus diesen Gründen haben die türkischen Politiker jegliches Vertrauen in die Aussagen der US-Regierung verloren. Die zwei Länder können sich noch nicht einmal auf den Inhalt eines präsidentialen Telefongesprächs einigen, wie ihre widersprüchlichen Zusammenfassungen einer Unterhaltung im letzten Monat zeigen.
Wie konnten die Beziehungen zwischen den zwei Nato-Partnern einen solchen Tiefpunkt erreichen?
Ein großer Teil der Antwort lässt sich auf die Weigerung Präsident Barack Obamas zurückführen, gegen den IS Kampftruppen einzusetzen. Statt dessen hielten sich die USA eher im Hintergrund und unterstützten die Truppen vor Ort mit Luftangriffen und militärischem Training. Diese Strategie wurde bereits im Irak versucht, stieß dort aber an ihre Grenzen, als die vom Iran unterstützten Volksmobilisierungskräfte Gebiete erobern konnten. Die – von den USA weitgehend ignorierten – Folgen dieser Entscheidung werden besonders im April deutlich werden, wenn die Kommandeure dieser Einheit wie geplant bei den irakischen Parlamentswahlen antreten.
Die Kurden in Syrien haben sich als verlässlicher erwiesen. Aber ihr Bündnis mit den USA hat seinen Preis. Obama war bereit, über die Verbindung ihrer Kämpfer zur PKK hinweg zu sehen. Er betrieb subtile Haarspalterei, um zwischen Gruppen zu unterscheiden, die eigentlich nicht unterschieden werden konnten. Um die türkischen Sorgen kümmerte er sich nur oberflächlich und nahm Erdoğans Befürchtungen nie wirklich ernst.
Als dann Trump sein Amt antrat, wurden die Spannungen durch sein mangelndes Interesse und seine Neigung zur Effekthascherei noch verschärft. Ein Hauptmerkmal seiner Präsidentschaft war bisher sein Bedürfnis, sich bei Gästen durch Angebote beliebt zu machen, die er dann nicht einhalten konnte (wie etwa bei einem kürzlichen Treffen mit demokratischen Kongressmitgliedern zum Thema Einwanderung deutlich wurde). Dieser Wunsch zu gefallen hat dazu geführt, dass Trump Erdoğan Versprechungen gemacht hat, die die Entscheidungsträger der amerikanischen Irak- und Syrienpolitik im Pentagon nie zu erfüllen beabsichtigten.
Aber im Gegensatz zu den US-Gesetzgebern hat Erdoğan eine Armee, die sich auf seinen Befehl in Bewegung setzt. Und die Türkei sieht die PKK als existenzielle Bedrohung und die PYD als deren tödlichen syrischen Ableger. Amerikas konfuse Kommunikation durch einen Präsidenten, der sich nicht mit Diplomatie oder politischen Nuancen auskennt, hat zwischen den beiden Ländern ein kritisches Verhältnis geschaffen und damit auch den Kampf gegen den IS untergraben. Trotz Trump öffentlicher Behauptung, der IS sei beinahe besiegt, gibt es in Syrien immer noch etwa 3.000 Kämpfer, die manchmal sogar noch Gebiete erobern.
Kurz gesagt, die USA behindern sich mit ihrer Politik selbst. Nicht nur spielen sie ihren Gegnern wie dem Iran und dessen Stellvertretern bei den Volksmobilisierungskräften in die Hände, sondern gefährden auch noch die etwa 2.000 US-Soldaten, die in Syrien mit den Kurden zusammenarbeiten.
Obamas Instinkte waren richtig: Gegen dschihadistische Bedrohungen sind Invasionen kein gutes Mittel. Aber Amerikas Strategie, seinen Krieg an lokale Kämpfer in Syrien zu delegieren, hat neue Probleme geschaffen. Will Trump mit der Vergangenheit brechen und sich das Ansehen, das er beansprucht, wirklich verdienen, müssen die USA neue Wege finden, um ihre Sicherheitsziele zu erreichen, ohne dazu ganze Divisionen einsetzen zu müssen. Im Moment allerdings bieten die USA der Türkei – und der gesamten Region – nur Planlosigkeit und immer neue leere Versprechen.
Aus dem Englischen von Harald Eckhoff