Une guerre turque causée par l'Amérique
ANKARA – Alors que la Turquie intensifie sa campagne militaire contre les combattants kurdes syriens, elle tente de rejeter la responsabilité de la violence sur le chauvinisme véhément et la xénophobie du Président Recep Tayyip Erdoğan. Après tout, Erdoğan a prévenu de longue date que la Turquie ne tolérerait jamais une présence militaire kurde sur la frontière méridionale du pays : l'offensive récente semblerait suggérer que ses mots soient suivis d'action.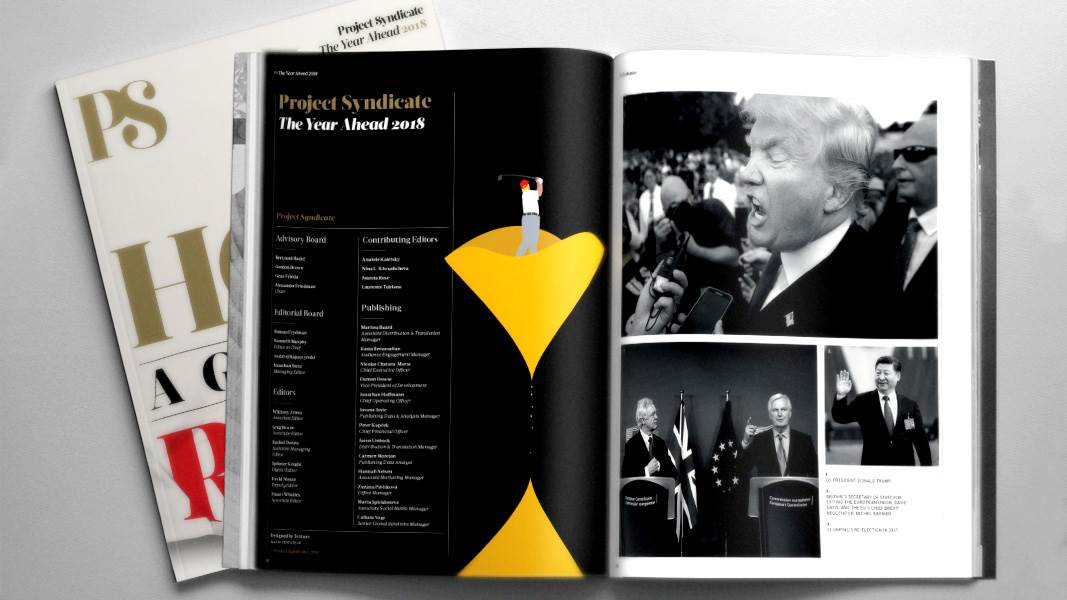 The Year Ahead 2018
The world's leading thinkers and policymakers examine what's come apart in the past year, and anticipate what will define the year ahead.
Pourtant, bien qu'Erdoğan ait pu ordonner « l'Opération Branche d'Olivier, » le vrai coupable est l'intérêt à courte vue des États-Unis d'une victoire sur le djihadisme régional. Faute d'une politique syrienne cohérente, les administrations américaines successives se sont entêtées à cibler l'État islamique (EI) sans tenir compte des ramifications complètes de leurs actions. L'incursion de la Turquie dans le Nord-Ouest de la Syrie n'en est qu'une conséquence.
En juillet 2012, quand le Parti de l'union démocratique kurde (PYD) a pris le contrôle d'une série de villes syriennes à la frontière, la Turquie s'en est inquiétée. Le PYD est la branche syrienne partie du Parti des travailleurs du Kurdistan (PKK), qui mène une guerre de type guérilla contre le gouvernement de la Turquie depuis 1984.
Au début, les États-Unis ont partagé les préoccupations d'Erdoğan. En août 2012, la Secrétaire d'État de l'époque, Hillary Clinton, a déclaré que « la Syrie ne doit pas devenir un refuge pour les terroristes du PKK. » Mais après que l'État islamique eut conquis de vastes étendues de territoire en Syrie et en Irak, l'Amérique a trouvé dans le PYD un allié utile. Bientôt, les États-Unis ont fourni des armes et un entrainement à l'aile armée du PYD.
Furieux de ces coups, Erdoğan a cherché à s'assurer que le soutien américain aux Kurdes soit temporaire et que les combattants kurdes ne traversent pas l'Euphrate. Mais une fois que les Turcs eurent reçu les garanties qu'ils voulaient, les Kurdes bien armés ont quand même traversé l'Euphrate.
Puis en août 2016, le vice-président Joseph Biden a adressé des réprimandes publiques aux combattants du PYD, en les avertissant qu'ils perdraient le soutien des États-Unis s'ils ne reculaient pas. Mais les militants ne se sont jamais repliés et les États-Unis ont continué à les armer et à les entraîner. En avril 2017, un Erdoğan enragé a déclaré que l'administration Obama avait « trompé » la Turquie sur le PKK. « Je ne crois pas que l'administration Trump agira de la même manière », a-t-il prédit.
Mais Erdoğan a eu tort une nouvelle fois. Malgré le fait apparemment prometteur de l'arrêt des transferts d'armement américains, le président Donald Trump n'a pas changé de cap et les armes américaines continuent d'affluer vers les Kurdes.
Pour ces motifs, les dirigeants turcs ont perdu confiance dans toutes les déclarations du gouvernement américain. Les deux pays ne peuvent même pas se mettre d'accord sur le contenu d'un appel téléphonique présidentiel, comme l'illustrent leurs comptes rendus contradictoires d'une conversation téléphonique du mois dernier.
Comment les relations entre deux alliés de l'OTAN ont-elles pu ainsi toucher le fond ?
Une bonne partie de la réponse peut être attribuée au refus du président Barack Obama de déployer des troupes de combat contre l'EI, en faveur d'une présence légère utilisant des forces locales aidées par les frappes aériennes et la formation des États-Unis. Cette approche a été tentée pour la première fois en Irak, mais a échoué lorsque les forces de mobilisation populaire (FMP) soutenues par l'Iran ont saisi le territoire. Les conséquences de cette décision, que les États-Unis ont en grande partie choisi d'ignorer, atteindront leur paroxysme en avril, lorsque les commandants du FMP prévoient de se présenter aux élections législatives irakiennes.
En Syrie, les Kurdes se sont avérés être un allié plus fiable. Mais leur allégeance aux États-Unis a un coût. Obama était prêt à négliger les liens de leurs combattants avec le PKK, en utilisant de subtiles distinctions pour différencier des groupes indiscernables. Sans avoir jamais vraiment tenu compte de l'appréhension d'Erdoğan, Obama a choisi de ne prendre en compte que superficiellement les préoccupations de la Turquie.
Quand Trump est arrivé au pouvoir, son manque d'intérêt pour les détails et son inclination pour la démagogie ont exacerbé les tensions. Un élément clé de la présidence de Trump a été son désir de se faire plaisir auprès de ses invités en faisant des promesses qu'il ne peut pas tenir (comme ce fut le cas lors d'une récente réunion avec les démocrates du Congrès sur l'immigration). Ce penchant à plaire semble avoir abouti à ce que Trump fasse des promesses à Erdoğan, que les décideurs du Pentagone à la tête des politiques américaines sur l'Irak et la Syrie n'ont jamais eu l'intention de tenir.
Mais contrairement aux législateurs américains, Erdoğan dispose d'une armée qui obéit à son bon vouloir. La Turquie considère le PKK comme une menace existentielle et considère le PYD comme son appendice syrien mortel. Les messages confus de l'Amérique, délivrés par un président non qualifié en matière de politique ou de diplomatie, ont enflammé un rapport critique qui, à son tour, a mis en péril la lutte contre l'EI. En dépit de l'affirmation du discours sur l'état de l'Union de Trump selon laquelle l'EI est presque vaincu, quelque 3 000 combattants sont toujours en Syrie, en prennent même parfois le contrôle de certains territoires.
Bref, la politique américaine est vouée à l'échec. Non seulement elle encourage des adversaires comme l'Iran et ses alliés. Mais elle met également en péril près de 2 000 soldats américains qui collaborent avec les Kurdes en Syrie.
Les instincts d'Obama ne l'ont pas trompé. Les invasions à grande échelle réussissent rarement à déraciner les menaces djihadistes. Mais la sous-traitance par l'Amérique de ses batailles à des combattants locaux en Syrie a créé de nouveaux dangers. Si Trump entend rompre avec le passé et jouir des mérites qu'il s'attribue, les États-Unis doivent trouver une nouvelle façon de parvenir à leurs objectifs de sécurité sans déployer des divisions entières. Pour le moment cependant, les États-Unis proposent à la Turquie – et à la région – leur seule incohérence et de nouvelles fausses promesses.