تغريدات ترامب المتهورة  مقابل آمال باكستان الديمقراطية
لاهور– انضمت باكستان الآن الى صفوف الدول التي ضربتها احد العواصف المميزة التي شنها الرئيس الامريكى دونالد ترامب. في أول تغريدة له لعام 2018، أعلن ترامب أن الولايات المتحدة بلد "أحمق" لأنه أعطى باكستان أكثر من 33 مليار دولار كمساعدات على مدى السنوات ال 15 الماضية، في حين أن باكستان لم تُعطِ سوى "الأكاذيب والخداع" ووفرت ملاذا آمنا للإرهابيين الذين تحاربهم أمريكا في أفغانستان. "لا أكثر!" انتهى كلام ترامب. والآن تقوم الولايات المتحدة بتجميد مساعداتها لباكستان.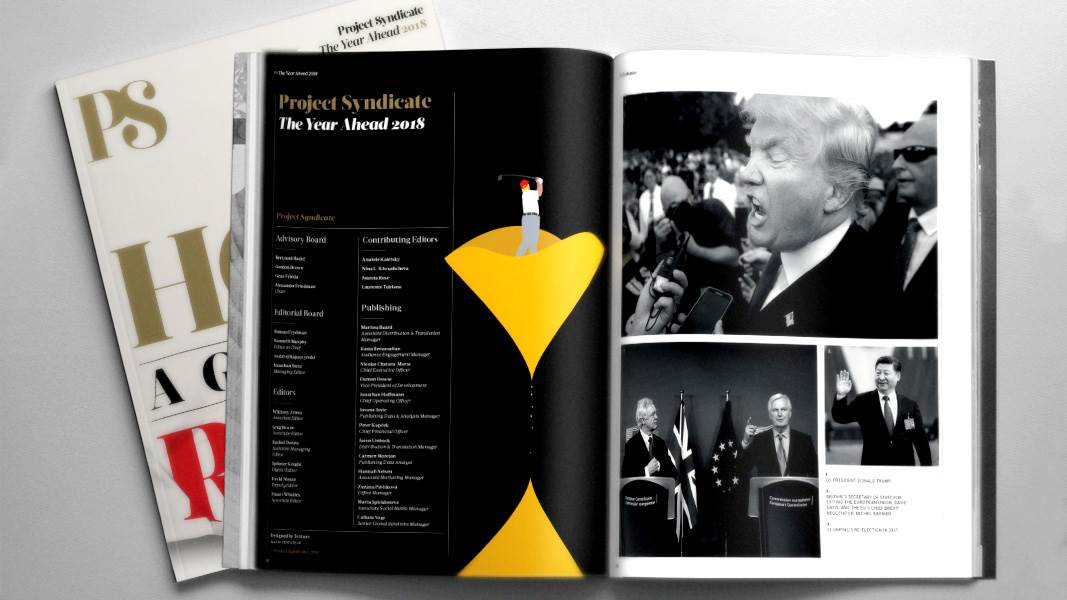 The Year Ahead 2018
The world's leading thinkers and policymakers examine what's come apart in the past year, and anticipate what will define the year ahead.
مثل هجماته على كوريا الشمالية أو قراره الأحادي الجانب بالاعتراف بالقدس عاصمة لإسرائيل، فإن هجمات ترامب على باكستان قد تعجب بشكل جيد قاعدته. ولكن سيكون لها أيضا تداعيات خطيرة على باكستان، حيث أدى عدد من الصدمات في النصف الثاني من عام 2017 إلى زعزعة استقرار البلاد سياسيا. وإذا تعثرت باكستان، فإن العواقب ستكون جمة عبر جنوب آسيا وفي أجزاء أخرى من العالم الإسلامي، حيث يعد النظام السياسي في باكستان نموذجا قيما.
وقد عانت نحو 50 دولة ذات أغلبية مسلمة تمتد من بنغلاديش إلى المغرب إلى حد كبير من أجل تطويرنفسها سياسيا. وتحت قيادة الرئيس رجب طيب أردوغان، أضحت تركيا، التي كانت تتباهى بنظام ديمقراطي فعال، تتجه نحو الحكم الاستبدادي. ويبدو أن بنغلاديش تتحول أيضا إلى نظام الحزب الواحد، بعد أن أحرزت تقدما ملحوظا، ولا سيما على الجبهة الاقتصادية. والآن، فإن باكستان -  أفضل أمل متبقي في المنطقة - تواجه أيضا نكسات محتملة.
وعلى النقيض من اتهامات ترامب، أحرزت باكستان تقدما مطردا، وإن كان بطيئا، على مدى العقد الماضي، في مكافحة الإرهاب وفي توطيد المؤسسات الديمقراطية. بدأ هذا التقدم فى عام 2007 عندما بدأت مجموعة من المحامين حركة احتجاج جماهيرية ردا على قرار غير دستوري من الرئيس الباكستانى الرابع برويز مشرف بتعليق رئيس المحكمة العليا. ودفعت الحركة، التى تدعمها عدة احزاب سياسية، مشرف في النهاية الى التنحي في عام 2008، لتجنب الاتهام.
وفي الانتخابات العامة اللاحقة، فاز حزب الشعب الباكستاني بعدد من المقاعد في الجمعية الوطنية لتشكيل حكومة قوية. وحصل المنافسون السياسيون من حزب الشعب الباكستانى، الرابطة الاسلامية الباكستانية / نواز / على اغلبية المقاعد فى مجلس مقاطعة البنجاب مما سهل السيطرة على اكبر مقاطعة فى البلاد. لقد وصلت السياسة التنافسية إلى باكستان.
بعد فترة خمس سنوات للحزب الشعب الباكستاني ، فاز حزب الرابطة الاسلاميةبقيادة رئيس الوزراء نواز شريف، في الانتخابات العامة الموالية، مع الحفاظ على سيطرتها على البنجاب. وقد حدث نقل سلمي للسلطة، مع تحول حزب الشعب الباكستاني إلى المعارضة. وهكذا تجاوزت باكستان مرحلة صعبة أخرى.
وقد شاهد الجنرالات الذين لا يزالون أقوياء هذه التطورات من الثكنات التي انطووا فيها. وبعد أكثر من 60 عاما من التغييرات في القيادة العسكرية التي جاءت بعد الانقلابات فقط، حلت الحكومة التي يقودها المدنيون محل قائد القوات المسلحة في نهاية فترة ولايته. وكان هذا هو الإنجاز الهائل الثالث لسيادة القانون والتنمية الديمقراطية في باكستان، الذي يبدو الآن أنه في وضع قوي لمواصلة تعزيز نظامه السياسي ومؤسساته. وقد تنافست أحزابه السياسية المتطورة إلى حد ما على تكافؤ الفرص، وأجريت الانتخابات عندما تطلب الدستور ذلك، وتحولت السلطة دون عنف.
ثم، في عام 2016، بعد نشر أوراق بناما الذي كشف مدى التهرب الضريبي من قبل الأثرياء في العالم. وتبين أن أفراد عائلة شريف قد قاموا بتحويل مبالغ هائلة من المال إلى شركات بحرية عديدة استثمرت بعد ذلك في عقارات باهظة الثمن في لندن والشرق الأوسط.
وقد فتحت هذه الإفصاحات الطريق أمام لحظة "الربيع العربي" الباكستانية، مع تمرد الشباب ضد النظام السياسي الذي تسيطر عليه النخب، بقيادة حزب "باكستان تحريك-إنصاف" - حزب سياسي بزعامة بطل الكريكيت السابق عمران خان – الذي وفر فقط أرضية لهذا التمرد.
وبفضل الأرضية التي تركز على العدالة والحوكمة الرشيدة، اكتسب حزب "باكستان تحريك-إنصاف"  تقدما منذ انتخابات 2008، وحصل على دعم جديد  من الشباب في المناطق الحضرية مطالبين بمحاربة الفساد وبخدمات أفضل. وهذه ليست مجموعة صغيرة: فحوالي 75 في المائة من السكان في المدن الباكستانية الكبيرة هم دون سن الخامسة والعشرين.
وقد هدد الحزب باستخدام نفوذه المتزايد بدعوة أنصاره الشباب إلى الشوارع إذا لم يتم التحقيق بشكل سليم في التعاملات المالية لأسرة شريف. ونظرا لتاريخ باكستان المعروف بالتدخل العسكري في السياسة - في 1958 و 1969 و 1977 - ردا على الاحتجاج الشعبي، كان يجب أن يُأخذ هذا  التهديد على محمل الجد.
وتجنبت باكستان تصعيدا سياسيا عندما قرر القضاء التحقيق فى كشفات أوراق بناما. في يوليو / تموز 2017، أعلنت المحكمة العليا حكمها: لقد تصرف شريف بشكل غير صحيح، ولا يمكن أن يبقى عضوا في الجمعية الوطنية، ناهيك عن رئيس الوزراء. وانتخب حزب الرابطة الاسلامية شهيد خقان عباسى، وهو عضو حكومي محترم، خلفا لشريف كزعيم للحزب ورئيس للوزراء. وأعرب القادة العسكريون عن ارتياحهم لكيفية معالجة الوضع.
وفي الوقت نفسه، وبالنظر إلى هشاشة مؤسساتها الديمقراطية وتهديد الإرهاب الذي لا يزال قائما، ينبغي عدم التقليل من إزالة شريف المزعزعة للاستقرار. إن إصرار ترامب على مغازلة قاعدته القومية وكراهية الأجانب (وعلى وجه التحديد، كراهية المسلمين)، بدلا من النهوض بالمصالح الأمنية الوطنية الحقيقية للولايات المتحدة، كمن يصب الزيت على النار.
ومع ذلك، هناك سبب يدعو إلى الأمل. إن استجابة باكستان لتحدياتها السياسية الأخيرة تشير إلى استمرار الالتزام بالنضال من أجل الديمقراطية - وهو التزام يمكن أن يكون نموذجا مُهما للغاية بالنسبة للعديد من البلدان الأخرى ذات الأغلبية المسلمة.