La politique économique de Trump et la croissance
WASHINGTON – Le président Trump et son secrétaire du Trésor, Steven Mnuchin, ont promis un miracle économique. Selon eux, leur politique devrait permettre aux USA d'atteindre un taux de croissance annuel supérieur à 3%, voire même à 4%. Depuis un an qu'il est au pouvoir, Trump a déréglementé à tours de bras et obtenu ce qu'il voulait en terme de baisses d'impôts. C'est donc le moment de dresser un premier bilan.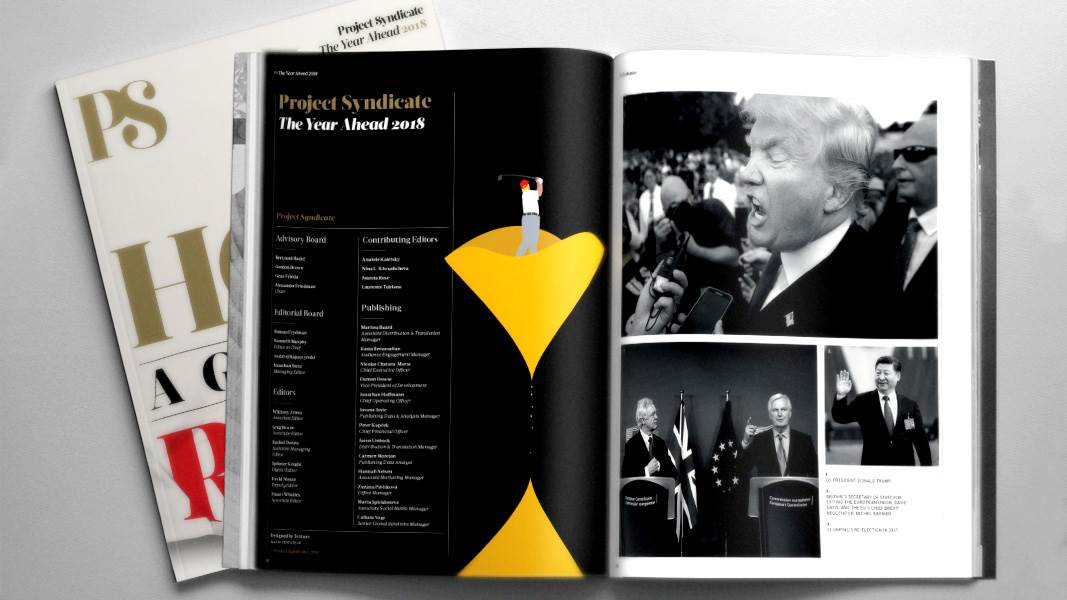 The Year Ahead 2018
The world's leading thinkers and policymakers examine what's come apart in the past year, and anticipate what will define the year ahead.
Ce n'est encore que le début de son mandat, mais jusqu'à présent les résultats sont décevants. Et s'il poursuit la politique qu'il a annoncé, à moyen terme la croissance pourrait en pâtir.
Il a déclaré à de multiples reprises qu'il faut considérer les performances de l'économie américaine en 2017 comme le résultat direct de sa politique et il a insisté lourdement sur le taux de croissance du troisième trimestre de l'année dernière, évalué initialement à 3,3%, avant d'être ramené à 3,2%. Mais il a chuté à 2,6% pour le quatrième trimestre, et selon les premières estimations, il ne devrait pas dépasser 2,3% sur l'ensemble de l'année. C'est un taux bien inférieur à ceux atteints sous la présidence d'Obama (2,6% en 2014 et 2,9% en 2015).
A l'époque d'Obama, le taux de croissance trimestriel a dépassé sept fois 3% et culminé par deux fois à 4,6%. Depuis le troisième trimestre 2009, à deux exceptions prés, la croissance a toujours été positive. Sous la présidence Obama, non seulement la croissance globale était robuste, mais il y a eu un grand nombre de créations d'emplois (2 millions par an sur les 8 ans de sa présidence, à une exception prés) et le chômage a diminué.
Loin d'accomplir un miracle, Trump n'a aucunement amélioré la croissance de l'économie américaine. Pour comprendre pourquoi, il faut se souvenir qu'il n'a pas fait grand chose depuis qu'il est à la Maison Blanche. Quelles que soient ses vantardises quant à ce qu'il a accompli en matière de déréglementation, l'impact des mesures qu'il a prises est insignifiant par rapport à la taille de l'économie. 
Par ailleurs, les baisses d'impôt qui ont fait l'objet d'une loi qu'il a signé à la fin de l'année dernière n'amélioreront guère la croissance. Elles avantagent les Américains les plus riches au détriment des classes moyennes - plus particulièrement dans les Etats où la fiscalité est élevée (notamment les Etats démocrates comme la Californie et l'Etat de New-York).
Les contribuables qui ont déjà investi leurs capitaux dans des actifs importants (de grands buildings à New-York par exemple) vont prospérer. Mais la loi n'incite guère à procéder à de nouveaux investissements - qu'il s'agisse de nouvelles usines ou de nouveaux équipements, de création d'entreprises ou du développement de nouveaux produits. Et comme je l'ai indiqué lors d'un récent débat organisé par Intelligence Squared US à New-York, la loi pourrait freiner la R&D (recherche et développement), alors que c'est un facteur clé de la croissance à long terme.
Bien que très volatiles au cours de l'année, les statistiques de 2017 ne montrent aucune hausse de l'investissement des entreprises depuis l'arrivée de Trump au pouvoir. C'est un autre domaine dans lequel Obama a fixé la barre à un niveau élevé au cours de ses deux mandats.
Sur le plan économique, Trump n'a pas tenu sa promesse de désorganiser le commerce mondial. C'est l'élément le plus positif de sa première année de présidence. Ainsi il n'a pas touché à l'Accord de libre-échange nord-américain (ALENA), ni altéré les relations commerciales avec la Chine et les autres partenaires commerciaux importants des USA. Son gouvernement impose depuis janvier des taxes douanières sur les panneaux solaires et les machines à laver importés, mais ce n'est pas grand chose par rapport à l'ensemble des échanges. Autrement dit, Trump n'a pas provoqué une grande récession auto-infligée et l'on pourrait féliciter son équipe d'avoir évité ce scénario. Néanmoins nous entrons dans une période où Trump pourrait se révéler encore plus dangereux pour l'économie américaine.
Ayant mis fin l'année dernière au programme d'Action différée pour les arrivées d'enfance (DACA, Deferred Action for Childhood Arrivals), il expose au risque d'expulsion 800 000 jeunes gens arrivés clandestinement aux USA au cours de leur enfance. Comme il s'agit d'une population très productive, la décision de Trump pourrait être lourde de conséquences non seulement sur le plan humain, mais aussi économique. Trump et ses alliés mènent également une politique de réduction drastique de l'immigration légale, ce qui pourrait menacer les perspectives de croissance à moyen terme.
Trump n'a pas renoncé à sa menace de se retirer de l'ALENA. Toute évolution dans cette direction pourrait être néfaste à l'économie des USA. Paradoxalement, elle pourrait aussi être néfaste à l'économie mexicaine, ce qui se traduirait alors par une augmentation de l'immigration illégale aux USA. Néanmoins en l'absence de ce scénario, du fait de l'évolution démographique, l'immigration en provenance de l'Amérique latine devrait continuer à diminuer.
Sur le plan économique, la dérégulation financière constitue le plus grand danger de la politique de Trump. Son gouvernement et le Congrès à majorité républicaine essayent de revenir sur les protections à l'égard des risques systémiques mises en place après la crise financière de 2008. Mais ce genre de coup de fouet destiné à relancer l'économie se termine généralement mal. Quand le gouvernement de George W. Bush s'y est essayé, cela a débouché sur la Grande récession.
Traduit de l'anglais par Patrice Horovitz