Trump está frenando el crecimiento económico de los Estados Unidos
CAMBRIDGE – Los cuatro jinetes de la política macroeconómica estadounidense son desde hace tiempo la tributación, la regulación, el comercio internacional y la infraestructura. He estudiado en detalle el primero de ellos, y concluí que las rebajas impositivas son un aporte positivo al crecimiento económico. El segundo tema lo analicé en menos detalle, pero la evidencia hace pensar que la regulación es, en el mejor de los casos, sólo un factor menor del crecimiento. La tercera área es muy importante, y por eso las tensiones comerciales actuales son tan preocupantes. La cuarta área sólo tiene existencia retórica: hoy el repertorio de políticas macroeconómicas en Estados Unidos no incluye un programa de infraestructuras.
En la primera área, calculo que la rebaja impositiva de 2017 añadió un 1,1% anual a la tasa de crecimiento del PIB de los Estados Unidos para 2018‑19. De eso, 0,9 puntos porcentuales corresponden a la rebaja impositiva para las personas, y 0,2 puntos porcentuales a la rebaja impositiva y la mejora de las normas sobre amortización para las empresas. Si bien no se espera que el efecto pro‑crecimiento de la rebaja impositiva para las personas se prolongue después de 2019, es probable que el efecto de la rebaja para las empresas persista por algún tiempo.
En cuanto al segundo jinete, hay ciertos indicios de una reducción del ritmo de expansión de las regulaciones federales, tras un largo período de crecimiento. Hasta 2017, la base de datos RegData (que hace un seguimiento de la cantidad de palabras relacionadas con restricciones de la actividad económica en el Registro Federal) muestra un amesetamiento de la creación de nuevas regulaciones: la carga regulatoria sobre las empresas y sobre la actividad económica ya no está en aumento, pero tampoco en disminución.
En tanto, el perfil de los Estados Unidos en el informe Doing Business del Banco Mundial, que presenta una medición a grandes rasgos del grado de regulación estatal según un promedio de diez indicadores, no muestra un progreso reciente. Estados Unidos subió del octavo lugar de la lista mundial en 2016 al sexto en 2017, para volver a caer al octavo en 2018. Y más allá del desempeño relativo, la presentación numérica de los indicadores subyacentes casi no muestra cambios en el período 2016‑2018.
Como han señalado muchos otros economistas, las políticas comerciales del presidente estadounidense Donald Trump son muy preocupantes. La agenda comercial de su gobierno se basa en la desacreditada idea mercantilista de que vender (exportar) es bueno y comprar (importar) es malo. Lo irónico es que Trump y algunos de sus principales asesores en temas de comercio comparten esta errada idea con los chinos.
En realidad, la administración Trump no se equivoca cuando dice que los chinos llevan mucho tiempo restringiendo las importaciones y la inversión extranjera (mientras practican el robo de tecnología, sea directamente o mediante la transferencia tecnológica forzada). Pero el intercambio punitivo de aranceles a las importaciones que se dio entre Estados Unidos y China durante el año que pasó perjudica a los dos países. Muchos suponen que el conflicto comercial dañará a China más que a los Estados Unidos, ya que aquella le vende a Estados Unidos mucho más de lo que le compra. Pero la pérdida de importaciones chinas afectará seriamente a la economía estadounidense.
Subscribe now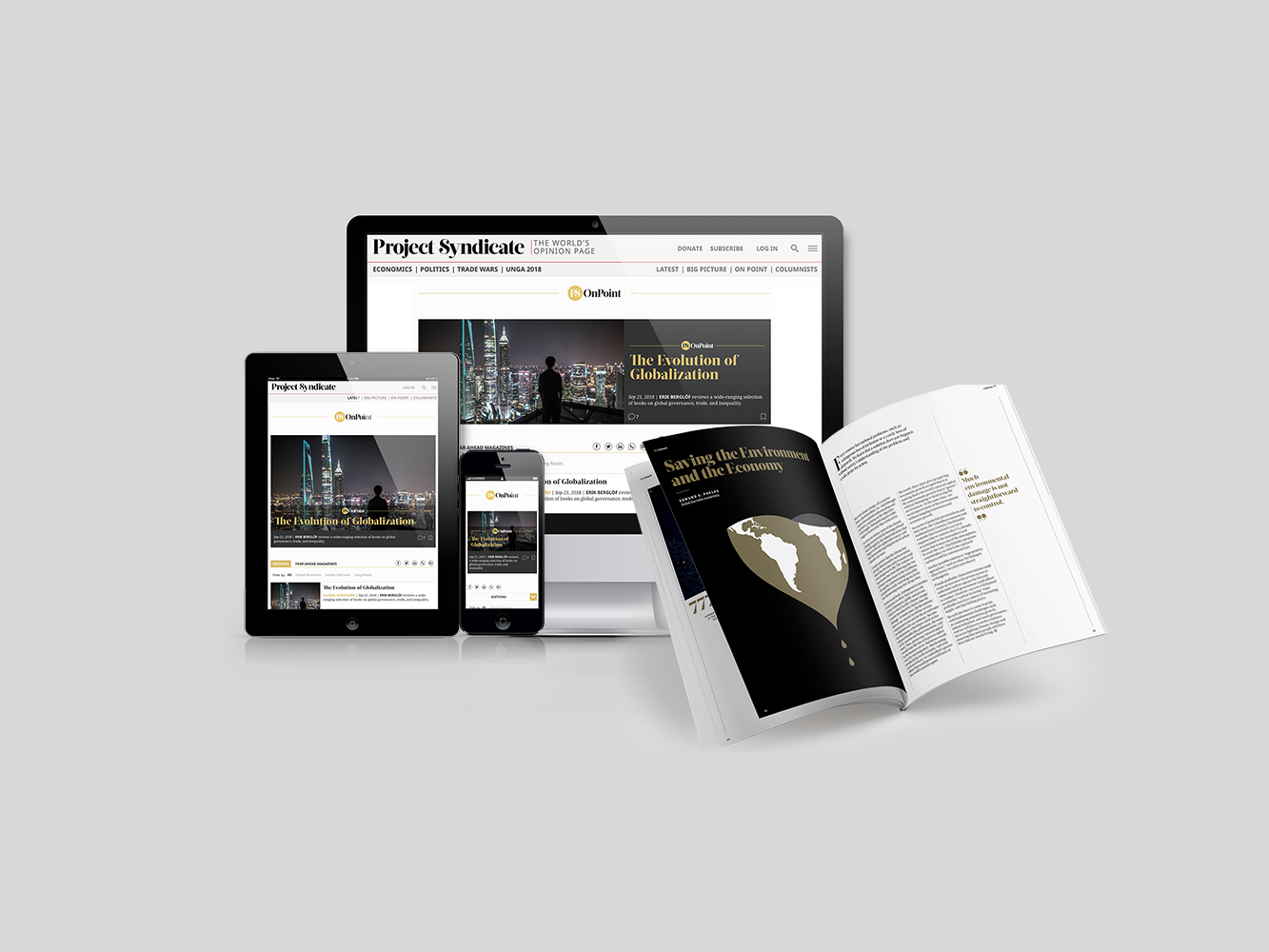 Subscribe now
Get unlimited access to OnPoint, the Big Picture, and the entire PS archive of more than 14,000 commentaries, plus our annual magazine, for less than $2 a week.
Las ideas de Trump en relación con los aranceles me recuerdan un discurso que dio Ronald Reagan en el Instituto Hoover de la Universidad Stanford antes de ser presidente. Reagan sostenía que los aranceles al acero y otros bienes se justificaban por motivos de seguridad nacional. Su razonamiento, criticado por miembros de la audiencia, era casi idéntico al de Trump en la actualidad. Pero para justificar sus aranceles, Trump llegó todavía más lejos, al igualar seguridad nacional con seguridad económica. Así que hay una forma sencilla de invalidar legalmente ese argumento: basta que un economista muestre ante un tribunal por qué los aranceles son malos para la seguridad económica.
El problema más amplio es que Trump parece personalmente encariñado con los aranceles, en parte porque piensa que aumentan la recaudación, y en parte porque piensa que aumentan el PIB (al limitar las importaciones, que luego serán reemplazadas como por arte de magia por producción local). No hay una solución fácil a este problema. Algunos han pedido que el Congreso reafirme su autoridad sobre la imposición de aranceles, al menos, limitando el argumento referido a la seguridad nacional. Pero esto puede traer consecuencias a largo plazo no deseadas, ya que desde los años treinta, los presidentes han sido en general mucho más favorables al libre comercio que los congresistas, cada uno de los cuales representa los intereses de un electorado más reducido.
Ahora la esperanza está puesta en que de los aranceles mutuamente nocivos se pase a un acuerdo por el que China liberalice sus políticas de comercio, momento en el cual se eliminarían las barreras a las importaciones. Pero aunque esto (para colmo de ironía) beneficiaría más a China que a los Estados Unidos, la situación está difícil, y la incertidumbre respecto del resultado genera volatilidad en las bolsas mundiales. Además, pase lo que pase con China, todavía tenemos que preocuparnos por la posibilidad de que Trump imponga aranceles a México, Europa, Japón, etcétera.
En cuanto a la infraestructura, aunque los beneficios potenciales para la productividad estadounidense de un aumento de la inversión son reales, no hay en esto ningún avance. Una reunión que tuvo en abril Trump con líderes congresistas resume perfectamente la situación. Según informes periodísticos, Trump abrió con una propuesta de invertir un billón de dólares en infraestructura, a lo que los demócratas respondieron sugiriendo que sean dos billones; parece que Trump aceptó la contrapropuesta casi sin dudarlo. Total, que el intercambio confirma una vez más que ambos partidos están convencidos de que el gasto público es gratis, al menos cuando se financia con deuda o emisión monetaria. Tal vez, que la "Semana de la Infraestructura" no vaya a ningún lado sea lo mejor que puede pasar.
En vista del estado de la política macroeconómica estadounidense, no es extraño que el último informe GDPNow del Banco de la Reserva Federal de Atlanta prevea para el segundo trimestre un crecimiento del PIB del 1,3%, contra 3,1% en el primer trimestre. La reforma impositiva de 2017 todavía estaría promoviendo el crecimiento económico si no fuera por la escalada de tensiones comerciales. Por desgracia, una tasa de crecimiento cercana al 3% en 2019 ya no parece probable.
Traducción: Esteban Flamini