La démocratie pas seulement au bout des doigts
DENVER – L'une des images d'actualité les plus symboliques – et peut-être l'une des plus trompeuses – du début du XXIe siècle n'est autre que le sourire des Irakiens montrant leur index tâché d'encre bleue après avoir voté aux élections de leur pays en janvier 2005. Pour beaucoup, il s'agissait du tout premier vote des Irakiens au cours de l'histoire.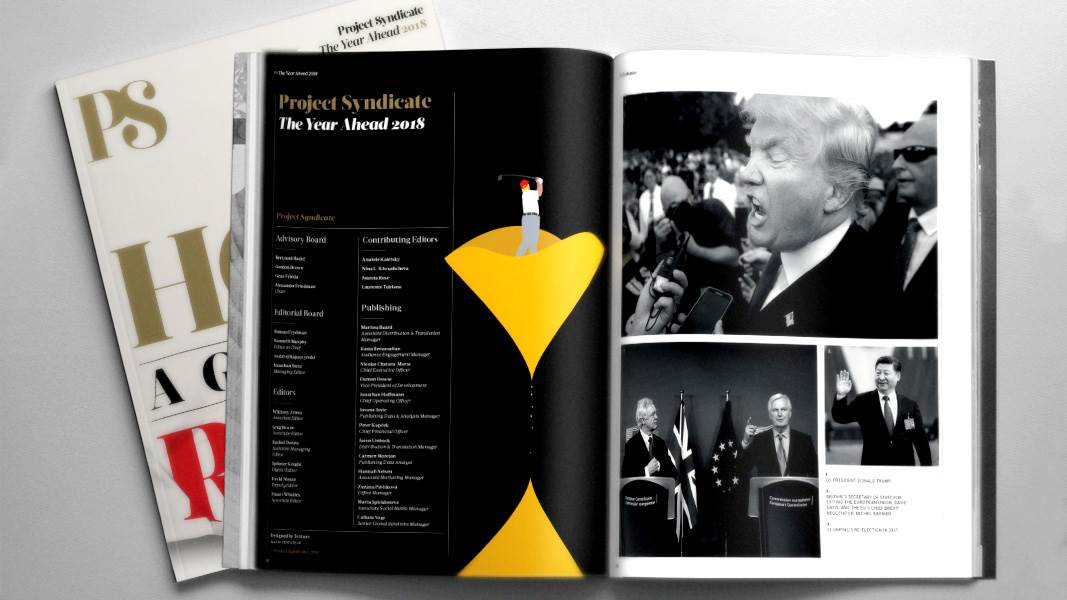 The Year Ahead 2018
The world's leading thinkers and policymakers examine what's come apart in the past year, and anticipate what will define the year ahead.
Ces images étaient censées démontrer que la démocratie était enfin arrivée en Irak. Sans élections, un régime politique ne peut s'affirmer démocratique. Ainsi, beaucoup ont pensé qu'un processus électoral consciencieusement organisé (l'index tâché d'encre empêchant les électeurs de voter plusieurs fois) suffisait à prouver que les choses avaient changé.
Seulement voilà, la démocratie est un régime très complexe, dans lequel la régularité des élections ne constitue qu'une nécessité parmi tant d'autres. L'absence d'élections est évidemment synonyme d'absence de démocratie. Mais la réciproque ne se vérifie pas nécessairement. Les élections sont une composante nécessaire mais pas suffisante de la démocratie, qui implique également l'existence d'institutions pérennes incarnant les valeurs démocratiques.
À l'heure où les pays du monde sont de plus en plus nombreux à organiser des élections, la démocratie elle-même est en péril. Au sein des pays développés et en voie de développement, la violation de la confiance du public et l'incapacité à préserver les institutions démocratiques mettent à mal les garde-fous politiques, pour certains en place depuis plusieurs siècles.
Les assauts à l'encontre des institutions démocratiques n'ont pas seulement lieu au sein de pays peu expérimentés sur le plan démocratique. Ces attaques s'observent presque partout, y compris dans la plus ancienne démocratie existante au monde, les États-Unis.
Les valeurs démocratiques prônées par les pays occidentaux ailleurs dans le monde ont longtemps ressemblé à du prosélytisme autour d'une religion séculaire, associé à la menace des flammes de l'enfer pour ceux qui n'adhéreraient pas au credo démocratique. Mais les leçons dispensées par les pays développées auprès des autres ne se sont jamais révélées particulièrement utiles.
Il y a plusieurs années, à l'issue d'une conférence de plusieurs heures sur la démocratie, conduite par un acteur caritatif international qui s'était par la suite empressé de retrouver le coucher de soleil à bord de son jet privé, le Premier ministre d'un État des Balkans, qui avait assisté à la conférence, m'a demandé : « Que suis-je censé faire avec ça ? ». Il était à l'époque au contact de problématiques sensibles liées aux minorités ethniques, et voici qu'un intervenant extérieur venait lui prodiguer un flux constant de conseils à prendre ou à laisser, dont cet acteur étranger n'aurait jamais à assumer la responsabilité.
On observe aujourd'hui une tendance précisément inverse, notamment dans la politique étrangère des États-Unis. En effet, sous l'administration du président Donald Trump, le gouvernement américain ne se donne même plus la peine de faire valoir les vertus de la démocratie.
Certes, cette passivité s'explique en partie par une lassitude de l'Occident après des décennies de promotion de la démocratie. Mais il y a autre chose. Aujourd'hui, la démocratie est directement menacée au sein même du pays dans lequel elle devrait puiser ses racines culturelles et politiques les plus profondes.
Si Trump agit de la sorte, ce n'est pas seulement pour éviter de reproduire les erreurs politiques du passé, comme il le prétend. Le président et ses soutiens prennent en effet pour cible les institutions fondamentales sur lesquelles repose la démocratie américaine, en s'attaquant notamment à la justice, au pouvoir législatif, ou encore à l'indépendance des médias.
Dès le XIXe siècle, l'officier et théoricien militaire prussien Carl von Clausewitz annonce avec clairvoyance l'ère d'une guerre totale, à venir moins d'un siècle après sa mort. Ce qu'il ne verra pas venir, c'est l'ère de la politique totale, dans laquelle toutes les institutions d'une société sont pressurisées au service d'un effort idéologique totalitaire. C'est l'ère dans laquelle est aujourd'hui plongée l'Amérique, et la manière dont nous y ferons face nous éclairera sur la façon dont d'autres pays géreront leurs propres difficultés de même nature.
Cette crise interne à l'Amérique empêche aujourd'hui le pays de jouer son traditionnel rôle international d'acteur rassurant sur le plan institutionnel, et de moteur du changement. Dans l'après-guerre, les États-Unis ont soutenu la sécurité collective au travers de l'OTAN et d'autres institutions, affrontant courageusement les menaces régionales et mondiales, souvent accompagnés de leurs alliés.
Malheureusement, Trump respecte bien peu cet héritage, de même que la tradition américaine d'optimisme et de confiance dans les institutions du pays. Par ignorance ou par indifférence, Trump n'a que faire d'un système de gouvernance américain qui a pourtant toujours été une source de prestige des États-Unis dans le monde. Il préfère négliger l'ascension historique de l'Amérique, et la refaçonner comme une parabole d'aveuglement et de naïveté, dans laquelle le pays aurait été le dindon de la farce pour les profiteurs du reste du monde.
D'ores et déjà, le silence de l'Amérique est assourdissant. En Syrie, les États-Unis ont confié le terrain à d'autres acteurs, bien que les combats soient susceptibles de sceller l'avenir du Moyen-Orient musulman. Dans le même temps, les rejets formulés par l'administration Trump face à divers accords commerciaux et d'investissement transocéaniques ont troublé les alliés de l'Amérique, et donné de la confiance à ses rivaux. Quoi qu'en dise son responsable assiégé Rex Tillerson, le département américain d'État a beaucoup perdu en influence mondiale. Or, sans une diplomatie proactive, les États-Unis seront rapidement éclipsés à l'international, sans surprise par la Chine.
Il n'en demeure pas moins que Trump a remporté l'élection en 2016, et qu'il dresse aujourd'hui son index tâché d'encre comme si c'était la seule chose qui importait. L'an prochain, il incombera aux Américains de tous bords politiques d'user de leur propre index – et de lui faire comprendre que la démocratie se compose de bien d'autres choses.
Traduit de l'anglais par Martin Morel