Los trucos comerciales de Trump
CAMBRIDGE – En materia de política comercial, el presidente de Estados Unidos, Donald Trump, hasta el momento ladró mucho pero mordió poco. Sin embargo, esto puede estar cambiando. En enero, elevó los aranceles sobre los lavarropas y las células solares importados. Ahora, ha ordenado fuertes aranceles sobre el acero y el aluminio importado (25% y 10%, respectivamente), basando la decisión en una excepción de seguridad nacional, rara vez utilizada, a las reglas de la Organización Mundial de Comercio.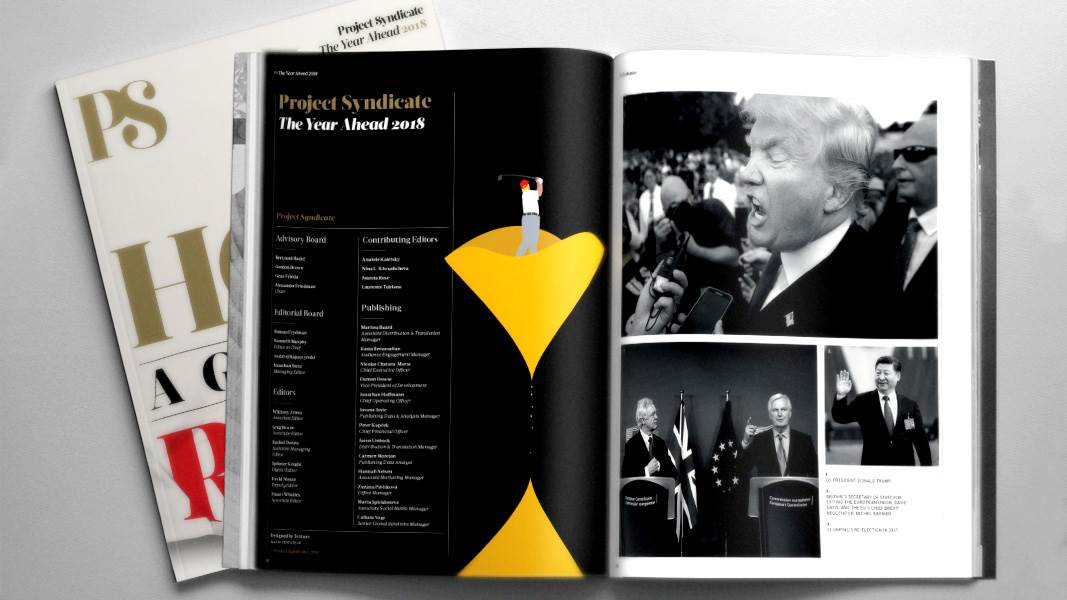 The Year Ahead 2018
The world's leading thinkers and policymakers examine what's come apart in the past year, and anticipate what will define the year ahead.
Muchos analistas han reaccionado exageradamente frente a la posibilidad de aranceles, prediciendo una "guerra comercial" o algo peor. Un experto definió los aranceles al acero y al aluminio como las restricciones comerciales más significativas desde 1971, cuando el presidente Richard M. Nixon impuso un recargo del 10% sobre las importaciones en respuesta al déficit comercial de Estados Unidos, y predijo: "Tendrá enormes consecuencias para el orden comercial global". El Wall Street Journal escribió que los aranceles de Trump eran "la mayor torpeza política de su presidencia" -una afirmación remarcable a la luz de los pasos en falso de la administración en cuanto a Rusia, el FBI, Corea del Norte, la inmigración, la tributación, el nacionalismo blanco y mucho más.
La realidad es que las medidas comerciales de Trump hasta la fecha representan poca cosa. En particular, empalidecen cuando se las compara con la escala y el alcance de las políticas proteccionistas de la administración del presidente Ronald Reagan en los años 1980. Reagan elevó los aranceles y ajustó las restricciones sobre un amplio rango de industrias, entre ellas los textiles, automóviles, motocicletas, acero, madera, azúcar y electrónica. Se sabe bien que presiono a Japón para que aceptara restricciones "voluntarias" a las exportaciones de autos. Impuso aranceles del 100% sobre determinados productos electrónicos japoneses cuando Japón supuestamente no mantuvo altos los precios de los microchips exportados.
De la misma manera que las políticas de Trump violan el espíritu, si no la letra, de los acuerdos comerciales de hoy, las restricciones comerciales de Reagan explotaban resquicios en los acuerdos existentes. Se alejaban tanto de las prácticas prevalecientes que el temor a un "nuevo proteccionismo" se volvió generalizado. "Existe un gran peligro de que el sistema se derrumbe", escribió un abogado comercial, "o de que colapse en una sombría repetición de los años 1930".
Esas advertencias resultaron ser alarmistas. La economía mundial no se vio muy afectada por el retroceso temporario durante los años 1980 de la tendencia hacia la liberalización comercial. En verdad, puede incluso haberse beneficiado. El proteccionismo de Reagan actuó como una válvula de seguridad que dejó escapar cierto vapor político, impidiendo así mayores alteraciones.
Y una vez que la macroeconomía de Estados Unidos mejoró, el ritmo de la globalización se aceleró significativamente. El Tratado de Libre Comercio de América del Norte, la OMC (que explícitamente prohibió las restricciones "voluntarias" a las exportaciones utilizadas por Reagan) y el boom de las exportaciones de China ocurrieron en los años 1990, al igual que la eliminación de las restricciones que todavía perduraban en cuanto a las finanzas transfronterizas.
El proteccionismo de Trump bien puede tener consecuencias muy diferentes; la historia no tiene por qué repetirse. Por un lado, aún si su impacto general sigue siendo limitado, las restricciones comerciales de Trump tienen más bien una característica unilateral y provocativa. Gran parte del proteccionismo de Reagan era negociado con los socios comerciales y estaba destinado a aliviar la carga económica sobre los exportadores.
Las restricciones voluntarias a las exportaciones (RVE) de los años 1980 sobre los autos y el acero, por ejemplo, estaban administradas por los países exportadores. Esto les permitía a las empresas japonesas y europeas complotarse para aumentar los precios de sus exportaciones al mercado estadounidense. Por cierto, estas empresas inclusive pueden haberse vuelto más rentables gracias a las restricciones comerciales de Estados Unidos. Existen pocas probabilidades de que a los exportadores surcoreanos de lavarropas o a los exportadores chinos de células solares les vaya a ir igual de bien hoy. El unilateralismo de Trump causará un mayor enojo entre los socios comerciales y, en consecuencia, es más factible que genere represalias.
Otro contraste con las medidas de la era Reagan es que estamos viviendo en una etapa más avanzada de la globalización, y los problemas que la han acompañado son mayores. La presión a favor de la híper-globalización en los años 1990 ha creado una profunda división entre quienes prosperan en la economía global y comparten sus valores, y quienes no. Como resultado de ello, las fuerzas del nacionalismo y del nativismo probablemente sean más poderosas que en cualquier otro momento desde el fin de la Segunda Guerra Mundial.
Si bien las políticas de Trump supuestamente apuntan a restaurar la justicia en el comercio global, es más lo que exacerban estos problemas de lo que los mejoran. Como señalan Jared Bernstein y Dean Baker, los aranceles de Trump probablemente beneficien a una pequeña minoría de trabajadores en industrias protegidas a expensas de una gran mayoría de otros trabajadores en industrias en dificultades y otras partes. Los desequilibrios y las desigualdades generados por la economía global no se pueden resolver protegiendo a unas pocas industrias bien conectadas políticamente y apelando a consideraciones de seguridad nacional claramente ridículas como excusa. Ese proteccionismo es un artilugio, no una agenda seria para una reforma comercial.
Una agenda de reforma seria, por el contrario, controlaría la protección de las compañías farmacéuticas y los profesionales capacitados como los médicos, tal como sostienen Bernstein y Baker. Abordaría los temores sobre el dumping social y la autonomía para establecer políticas al renegociar multilateralmente las reglas de la OMC. Y apuntaría a áreas donde las ganancias a partir del comercio siguen siendo muy grandes, como la movilidad internacional de los trabajadores, y no a áreas que benefician solamente a intereses especiales.
Sin embargo, el grueso del trabajo tiene que hacerse en el terreno doméstico. Reparar el contrato social doméstico requiere de un rango de políticas sociales, impositivas y de innovación para sentar las bases para una versión del New Deal del siglo XXI. Pero con sus recortes a los impuestos corporativos y su desregulación, Trump está avanzando en la dirección contraria. Tarde o temprano, la naturaleza desastrosa de la agenda doméstica de Trump se volverá evidente hasta para sus propios votantes. En ese momento, una guerra comercial anticuada puede parecer irresistible, para ofrecer distracción y protección política.