Les magouilles protectionnistes de Trump
CAMBRIDGE – En matière de protectionnisme, jusqu'à présent le président Trump a beaucoup aboyé, mais peu mordu. Cela pourrait changer. En janvier il a relevé les taxes douanières sur les importations de machines à laver et de panneaux solaires, et il vient d'annoncer qu'il va les augmenter sur les importations d'acier et d'aluminium (à hauteur de 25% et 10% respectivement). Pour justifier cette mesure, il s'appuie sur une exception relative à la sécurité nationale qui figure dans la réglementation de l'Organisation mondiale du commerce (OMC).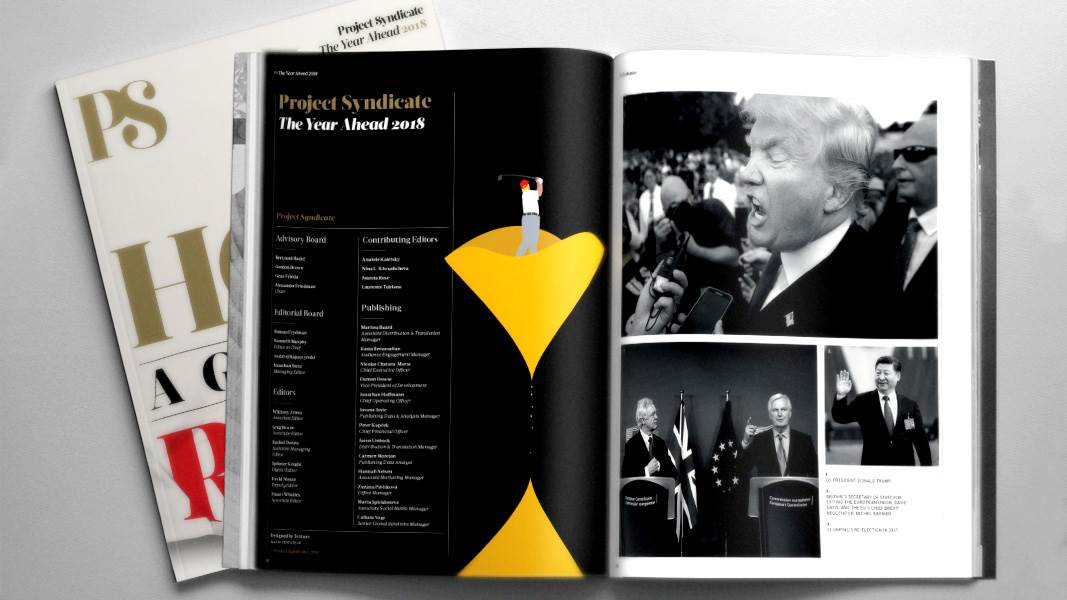 The Year Ahead 2018
The world's leading thinkers and policymakers examine what's come apart in the past year, and anticipate what will define the year ahead.
Beaucoup de commentateurs ont surréagi à cette possible hausse des barrières douanières et prédit une guerre commerciale, ou pire. Un expert a qualifié les nouvelles taxes sur l'acier et l'aluminium de barrière commerciale la plus importante depuis 1971. Le président Nixon avait alors décidé d'une taxe supplémentaire de 10% sur les importations pour réagir au déficit commercial des USA, tout en avertissant que cela aurait d'énormes conséquences sur les échanges commerciaux au niveau mondial. Selon le Wall Street Journal, la décision de Trump est "la plus grande bourde politique de sa présidence" - peut-être une exagération si l'on pense aux bévues de son gouvernement en ce qui concerne la Russie, le FBI, la Corée du Nord, l'immigration, la fiscalité, le nationalisme blanc, etc.
En fait, les mesures commerciales de Trump ne sont que des broutilles, surtout si on les compare au niveau et à l'étendue des mesures protectionnistes prises par le président Reagan dans les années 1980. Il a augmenté les barrières douanières et imposé des restrictions à une large gamme de produits, allant des textiles, aux voitures et aux motos, en passant par l'acier, le bois, le sucre et l'électronique. On se souvient notamment de la pression qu'il a exercée sur le Japon pour qu'il limite volontairement ses exportations d'automobiles à destination des USA. Il a imposé une taxe douanière de 100% sur certains produits électroniques japonais lorsqu'il a estimé que le prix des puces de silicium japonaises était trop bas.
De même que la politique de Trump viole l'esprit, si ce n'est la lettre des accords commerciaux d'aujourd'hui, celle de Reagan exploitait les failles des dispositions alors en vigueur. La politique de ce dernier s'éloignait tellement des pratiques dominantes que la peur d'un "nouveau protectionnisme" s'est répandue un peu partout. Un avocat spécialisé dans le droit commercial avait alors écrit que le système risquait de s'effondrer ou qu'il va rejouer le triste scénario des années 1930.
Les avertissements de ce type se sont révélés inutilement alarmistes. L'économie mondiale n'a été que peu affectée par l'arrêt temporaire imposé durant les années 1980 à l'évolution vers le libre-échange. Cela lui a peut-être même été bénéfique. Le protectionnisme de Reagan a servi de soupape de sécurité politique, évitant ainsi des remous plus importants.
Une fois la situation macroéconomique des USA améliorée, le rythme de la mondialisation s'est notablement accéléré. C'est ainsi que l'on a assisté dans les années 1990 à la signature de l'Accord de libre-échange nord-américain (ALENA), à la création de l'OMC (qui a explicitement interdit la restriction volontaire d'exportation - le type de pression exercée par Reagan sur le Japon pour qu'il limite ses exportations), au boom des exportations chinoises et à la levée des derniers obstacles aux flux financiers transfrontaliers.
L'Histoire ne se répète pas, et le protectionnisme de Trump pourrait avoir des effets très différents. Même si son impact international reste limité, il relève d'une décision unilatérale, alors que l'essentiel du protectionnisme de Reagan avait fait l'objet de négociations avec les partenaires commerciaux et avait été conçu de manière à ne pas alourdir le fardeau économique des exportateurs.
La restriction volontaire d'exportation qui concernait l'automobile et l'acier dans les années 1980 était alors appliquée par les pays exportateurs. C'est ce qui a permis aux entreprises japonaises et européennes de s'entendre pour augmenter le prix de leurs exportations à destination des USA. Ces entreprises sont même devenues plus rentables grâce au protectionnisme américain. Par contre, il y a peu de chance que les exportateurs sud-coréens de machines à laver et les exportateurs chinois de panneaux solaires s'en tirent aussi bien aujourd'hui. L'unilatéralisme de Trump suscitera une colère beaucoup plus grande parmi ses partenaires commerciaux, et de ce fait il pourrait entraîner des représailles.
Autre différence avec les mesures de l'ère Reagan, la mondialisation est plus avancée, et les problèmes qui l'accompagnent sont plus importants. La forte pression pro-mondialisation des années 1990 a créé un fossé entre ceux qui en bénéficient et partagent ses valeurs, et ses laissés-pour-compte. Ainsi le nationalisme et le nativisme sont-ils probablement plus puissants qu'ils ne l'ont jamais été depuis la fin de la Deuxième Guerre mondiale.
Le protectionnisme de Trump est censé restaurer l'équité dans le commerce mondial, mais il exacerbe les problèmes plutôt qu'il ne les résout. Ainsi que Jared Bernstein et Dean Baker le soulignent, les taxes douanières de Trump vont probablement bénéficier à une petite minorité de travailleurs dans des secteurs protégés, au détriment de la grande majorité des autres travailleurs. On ne peut traiter les déséquilibres et les iniquités engendrées par l'économie mondiale en protégeant quelques secteurs économiques bénéficiant de soutien politique, et en mettant en avant des considérations ridicules relatives à la sécurité nationale. Ce protectionnisme relève de la magouille et non d'un programme de réformes crédible.
Pour Bernstein et Baker, un tel programme limiterait la protection abusive dont bénéficient les laboratoires pharmaceutiques et certaines professions hautement qualifiées comme celle de médecin. Il répondrait aux préoccupations concernant le recul du droit social et l'autonomie politique en renégociant multilatéralement les règles de l'OMC. Il ciblerait les domaines potentiellement très bénéficiaires, au lieu d'être au service d'intérêts particuliers.
Mais c'est essentiellement sur le plan intérieur qu'il faut travailler. Améliorer le contrat social national exige toute une gamme de mesures sociales, fiscales et innovantes pour préparer le terrain à une version du New Deal adaptée au 21° siècle. Mais avec la baisse de l'impôt sur les sociétés et la dérégulation, Trump va dans la direction opposée. Tôt ou tard, la nature désastreuse de sa politique intérieure sera une évidence, même pour son électorat. A ce moment-là, une guerre commerciale à l'ancienne pourra sembler inévitable, ne serait-ce que pour détourner l'attention et servir de couverture politique.
Traduit de l'anglais par Patrice Horovitz