La faiblesse du dollar fort de Trump
SANTA BARBARA – Après avoir gagné plus de 8% depuis le début de l'année, la valeur du dollar américain approche des sommets inégalés depuis plus d'une décennie, et les indicateurs du marché pointent vers une appréciation supplémentaire au cours des prochains mois.
À première vue, cela semble aller dans le sens du président américain Donald Trump, qui est arrivé au pouvoir en promettant de « redonner sa grandeur à l'Amérique ». On pourrait penser qu'un dollar plus fort signifie que ses politiques économiques en faveur de la croissance fonctionnent. Pourtant, un examen plus attentif montre que les choses sont plus compliquées; en fait, Trump pourrait précipiter une forte chute du dollar.
Pour commencer, la responsabilité de Trump dans l'appréciation du dollar n'est pas du tout évidente. Mais, même s'il pouvait en revendiquer une, un billet vert fort n'est pas nécessairement bon pour ses objectifs politiques; et le taux de change n'est même pas une mesure précise de la véritable force de la monnaie.
L'administration Trump voudrait nous faire croire que la hausse du dollar reflète une croissance économique plus rapide, tirée par le programme du président de déréglementation, de réductions d'impôts massives et de dépenses de défense considérablement élargies. Après des années de mauvaise gestion, nous dit-on, le gouvernement a réussi à rétablir la confiance des entreprises; l'Amérique vit enfin à hauteur de son potentiel.
Pourtant, la plupart des économistes compétents attribuer
aient l'appréciation du dollar à la hausse des taux d'intérêt. Dans un effort pour juguler l'inflation, la Réserve fédérale américaine a déjà augmenté son taux directeur deux fois cette année, et a annoncé deux augmentations supplémentaires avant la fin de 2018. Lorsque les taux d'intérêt américains augmentent, les flux de capitaux financiers augmentent, ce qui génère une hausse de la demande de dollars. De fait, à l'heure actuelle, l'argent est en train d'affluer aux États-Unis depuis tous les coins du globe.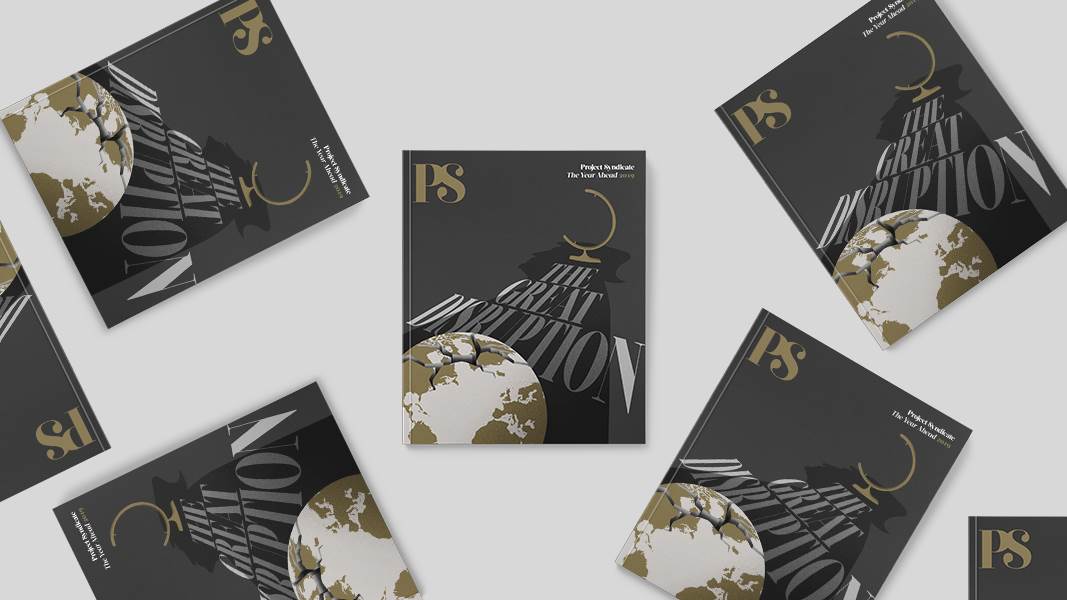 The Year Ahead 2019
Featuring commentaries by Joseph Stiglitz, Sri Mulyani Indrawati, Angus Deaton, Célestin Monga, Jean-Claude Juncker, and other leading thinkers. Now available for pre-order.
La situation actuelle n'est pas différente de celle de connue par les prédécesseurs républicains de Trump. Les anciens présidents Ronald Reagan et George W. Bush ont eux aussi fortement réduit les impôts, ce qui a entraîné des déficits budgétaires qui ont poussé la Fed à relever ses taux d'intérêt. Dans chaque cas, le dollar s'est apprécié de façon spectaculaire (par jusqu'à 60% sous Reagan entre 1981 et 1985). Aujourd'hui, la Fed agit encore une fois de manière indépendante pour conjurer l'effet inflationniste de l'expansion budgétaire. Ainsi, si quelqu'un doit prendre la responsabilité de l'appréciation du dollar, c'est la Fed.
Néanmoins, on peut imaginer Trump dire que les monnaies les plus faibles sont pour les « perdants ». Et il pourrait se vanter de la vigueur du dollar lors sa confrontation en cours avec le président turc Recep Tayyip Erdoğan, dont le pays a vu sa propre monnaie chuter de près de 60% depuis le début de l'année. Mais, bien qu'un taux de change fort du dollar puisse flatter l'ego de Trump, il ne sert pas nécessairement son programme dans un sens plus large.
Après tout, un renforcement du dollar augmente le prix des exportations à l'étranger et réduit le coût national des importations, décourageant ainsi les premières et encourageant les dernières. C'est en contradiction directe avec l'objectif déclaré de Trump de réduire le déficit commercial américain.
L'obsession de Trump pour le déficit commercial l'a conduit à imposer des droits de douane sur l'importation d'acier, d'aluminium et d'une large gamme de produits en provenance de Chine. Mais, ironie du sort, le renchérissement des importations a également tendance à faire augmenter le taux d'inflation intérieure, ce qui pourrait forcer la Fed à relever ses taux d'intérêt encore plus vite que prévu. Cela, à son tour, produirait une appréciation du dollar encore plus forte et aggraverait encore les déficits commerciaux, comme cela est arrivé sous Reagan et Bush.
Enfin, il faut se rappeler que les mouvements à court terme sur les marchés des changes ne sont pas un bon moyen de juger de la force sous-jacente d'une devise. Les tendances à long terme dans la façon dont la monnaie est utilisée au niveau international – en particulier en tant que réserve de valeur pour les investisseurs étrangers ou les banques centrales – sont beaucoup plus révélatrices.
Pendant des décennies, aucune monnaie n'a été plus largement utilisée que le dollar. En raison de cette domination, les Etats-Unis ont longtemps bénéficié de ce que l'ancien président français Valéry Giscard d'Estaing a décrit de manière célèbre comme un « privilège exorbitant ». Tant que les étrangers sont avides de dollars, les Etats-Unis peuvent dépenser ce dont ils ont besoin pour projeter leur puissance à travers le monde. Pour payer tout cela, il suffit de faire tourner la planche à billets.
Mais les politiques belligérantes de Trump mettent cette position privilégiée à risque. Sa promesse protectionniste de mettre « l'Amérique en premier » a des relents de nationalisme xénophobe, et son utilisation des tarifs douaniers comme instrument d'intimidation l'éloigne aussi bien de ses amis que de ses ennemis. Plus il maintient ces politiques, plus il est probable que les marchés se déplaceront progressivement vers des alternatives au dollar. Finalement, le dollar s'affaiblirait lentement, et le privilège exorbitant de l'Amérique ainsi que son influence mondiale s'évaporerait.
D'ailleurs, la Chine a déjà convaincu la Russie d'accepter le renminbi comme moyen de paiement pour le gaz naturel, alors qu'auparavant ces achats se faisaient uniquement en dollars. Et, plus récemment, la Chine a commencé à préparer la voie pour des achats de pétrole brut importé en renminbi. Par exemple, au début de cette année, elle a lancé un nouveau marché à terme du pétrole à Shanghai, qui semble destiné à établir une référence de prix libellée en renminbi à côté des bruts Brent et West Texas Intermediate. En cas de succès, le marché de Shanghai pourrait également déclencher un changement de mode de règlement pour le commerce d'autres matières premières – tout cela aux frais du dollar.
De même, un certain nombre de pays cherchent des moyens de contourner les sanctions de l'administration Trump sur les producteurs de pétrole iranien. L'Inde, par exemple, règle déjà une certaine quantité de pétrole iranien au moyen de matières premières plutôt que de dollars. Et la Russie et la Chine ont investi massivement en or pour réduire leur dépendance à l'égard des réserves en dollars. A eux deux, ces pays ont déjà acheté 10% de tout l'or disponible sur le marché mondial.
Ainsi, malgré l'appréciation du dollar d'aujourd'hui, un affaiblissement du billet vert pourrait être au programme à long terme. Loin de rendre sa grandeur à l'Amérique, Trump semble accélérer son déclin économique.
Traduit de l'anglais par Timothée Demont