Как проиграть торговую войну
НЬЮ-ХЕЙВЕН – Администрация президента США Дональда Трампа, протекционистски настроенная с самого начала, теперь перешла от риторики к действиям в своей разрекламированной кампании по защите американских рабочих от того, что Трамп называет «злодеянием» в виде «ужасных торговых сделок». К сожалению, этот подход выглядит в лучшем случае отсталым. В худшем случае он вполне может спровоцировать ответные меры, которые только усугубят и без того тяжелое положение американских потребителей из среднего класса. Вот так и начинаются торговые войны.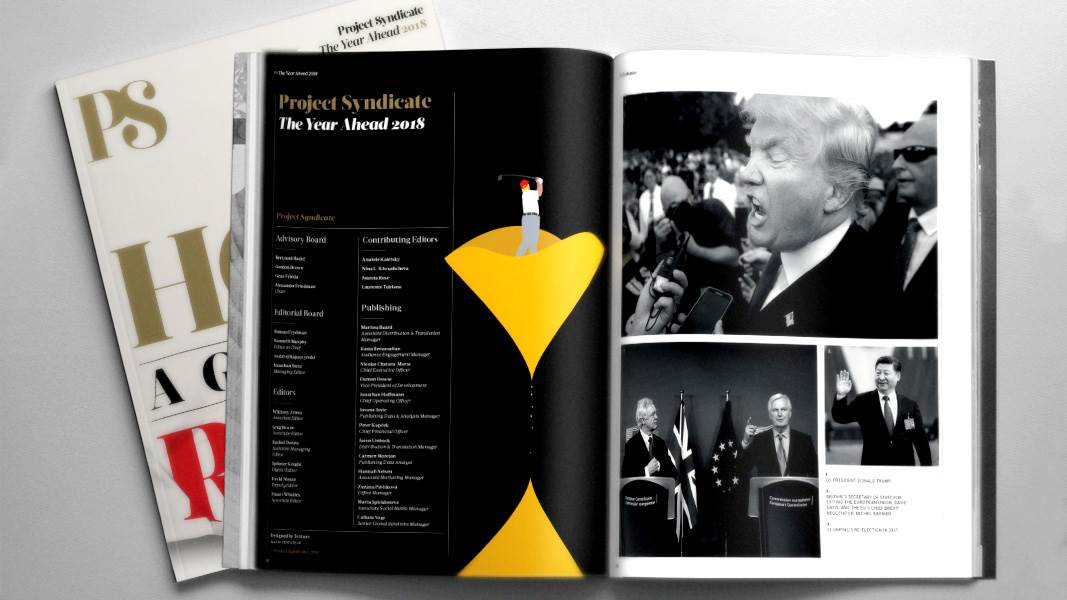 The Year Ahead 2018
The world's leading thinkers and policymakers examine what's come apart in the past year, and anticipate what will define the year ahead.
Очевидно, что мишенью является Китай. Введение 23 января так называемых защитных пошлин на импорт солнечных батарей и стиральных машин в соответствии со статьей 201 Закона о торговле США 1974 года направлено главным образом на Китай и Южную Корею. Важно вот что: этот шаг может стать первым залпом в серии ответных мер.
В августе прошлого года Торговый представитель США начал расследования по статье 301 в отношении Китая в трех широких областях: право интеллектуальной собственности, инновации и разработка технологий. В дальнейшем, вероятно, это приведет к санкциям. Более того, так называемое расследование по статье 232 об угрозе национальной безопасности, вызванной недобросовестным импортом стали, также нацелено на Китай как крупнейший в мире производитель стали.
Эти действия вряд ли удивительны для президента, который обещал в своем инаугурационном обращении год назад «...защитить [американские] границы от вторжений других стран, производящих ту же продукцию, что и мы, ворующих наши компании и уничтожающих наши рабочие места». Но именно в этом-то и проблема. Несмотря на cri de coeur (крик души) администрации Трампа «Америка прежде всего», США вполне могут оказаться в проигрыше в результате торговой войны.
Во-первых, пошлины на солнечные батареи и стиральные машины – это мера, безнадежно отставшая от трансформационных сдвигов в глобальных цепочках поставок обеих отраслей. Производство солнечных батарей уже давно переводится из Китая в такие страны, как Малайзия, Южная Корея и Вьетнам, на долю которых в настоящее время приходится около двух третей общего объема американского импорта солнечных батарей. А компания Samsung, ведущий зарубежный поставщик стиральных машин, недавно открыла новую фабрику в Южной Каролине.
Более того, зацикленность администрации Трампа на чрезмерном дисбалансе в двусторонней торговле с Китаем по-прежнему не учитывает гораздо более масштабные макроэкономические силы, породившие многосторонний дефицит внешней торговли США со 101 страной. Испытывая нехватку внутренних сбережений, но при этом желая потреблять и расти, Америка вынуждена импортировать излишки сбережений из-за рубежа и мириться с огромным дефицитом текущего счета и торговли ради привлечения иностранного капитала.
Следовательно, устраивать нападки на Китай или любую другую страну, не занимаясь при этом первопричиной низкого уровня сбережений – это как сжимать с одного конца шарик, наполненный водой: вода просто перетекает на другой конец. Поскольку дефицит бюджета США, вероятно, увеличится в течение следующих десяти лет не менее чем на 1 триллион долларов из-за недавнего снижения налогов, давление на внутренние сбережения будет только усиливаться. В этом контексте протекционистская политика представляет собой серьезную угрозу для и без того уже обременительных нужд внешнего финансирования Америки – влияния на процентные ставки в США, обменный курс доллара или на то и другое.
Кроме того, можно ожидать, что торговые партнеры Америки ответят тем же, и это создаст серьезную угрозу для экспортно-ориентированного экономического роста США. Например, ответные пошлины Китая – третьего по величине и самого быстрорастущего экспортного рынка США – могут действительно поставить заслон на пути основных статей американского экспорта: соевых бобов, самолетов, разнообразного оборудования и автомобильных запчастей. И, конечно же, Китай всегда может сократить покупку казначейских облигаций США, что будет иметь серьезные последствия для цен на финансовые активы.
Наконец, необходимо учитывать корректировки цен, которые могут возникнуть из-за инерции существующих торговых потоков. Конкурентное давление дешевой иностранной продукции привело к снижению средней стоимости солнечной установки в США на 70% с 2010 года. Новые пошлины вызовут повышение цен на импортные солнечные батареи – что практически эквивалентно повышению налогов на потребителей энергии и провалу усилий по переходу на неуглеродные виды топлива. Подобной реакции можно ожидать и от производителей импортных стиральных машин; компания LG Electronics, ведущий зарубежный поставщик, только что объявила о повышении цены каждой машины на 50 долларов в ответ на введение американских пошлин. Стычки с участием администрации Трампа только начались, а американские потребители уже в проигрыше.
Что бы ни заявлял на эту тему Трамп, но в торговой войне выигрышной стратегии нет. Это не означает, что политики США не должны принимать меры в отношении несправедливой торговой практики. Механизм разрешения споров Всемирной торговой организации был разработан именно с этой целью, и в течение многих лет он довольно успешно работал в интересах Америки. Со времени создания ВТО в 1995 году США инициировали 123 из 537 споров, проводившихся через эту организацию, в том числе 21 – в отношении Китая. Хотя разрешение спора через ВТО требует времени и усилий, большинство вынесенных ею вердиктов было в пользу США.
Как правовое государство, США вряд ли могут позволить себе действовать вне глобальной торговой системы, основанной на правилах. Во всяком случае, это подчеркивает, какой трагедией является выход администрации Трампа из Транс-Тихоокеанского партнерства, которое обеспечило бы новую надежную основу для разрешения проблем, связанных с китайской торговой практикой.
В то же время США имеют полное право настаивать на равном доступе своих многонациональных корпораций к работе на внешних рынках; за прошедшие годы во всем мире было подписано более 3000 двусторонних инвестиционных договоров, гарантирующих такое справедливое отношение. Отсутствие подобного договора между США и Китаем – вопиющее исключение, из-за которого, к сожалению, ограничены возможности участия американских компаний в быстром расширении внутреннего потребительского рынка Китая. В условиях растущей напряженности торговых отношений надежды на радикальный сдвиг в вопросе американо-китайского инвестиционного договора практически нет.
Торговые войны – для неудачников. Возможно, в этом заключается верх иронии для президента, обещавшего Америке, что она снова начнет «побеждать». Сенатор Рид Смут и член палаты представителей Уиллис Хоули дали такое же пустое обещание в 1930 году, что привело к протекционистским пошлинам, которые усугубили Великую депрессию и дестабилизировали международный порядок. К сожалению, один из самых болезненных уроков современной истории почти забыт.