Wie man einen Handelskrieg verliert
NEW HAVEN – Seit ihrem Amtsantritt war die Regierung von US-Präsident Donald Trump protektionistisch eingestellt. Jetzt hat sie ihren Worten Taten folgen lassen und versucht, US-Arbeiter vor dem zu schützen, was Trump ein "Blutbad schrecklicher Handelsabkommen" nennt. Leider ist dieser Ansatz bestenfalls rückschrittlich. Schlimmstenfalls könnte er zu Vergeltungsmaßnahmen führen, die das Los der geschundenen amerikanischen Mittelklasse nur noch verschärfen. Genau auf diese Art beginnen normalerweise Handelskriege.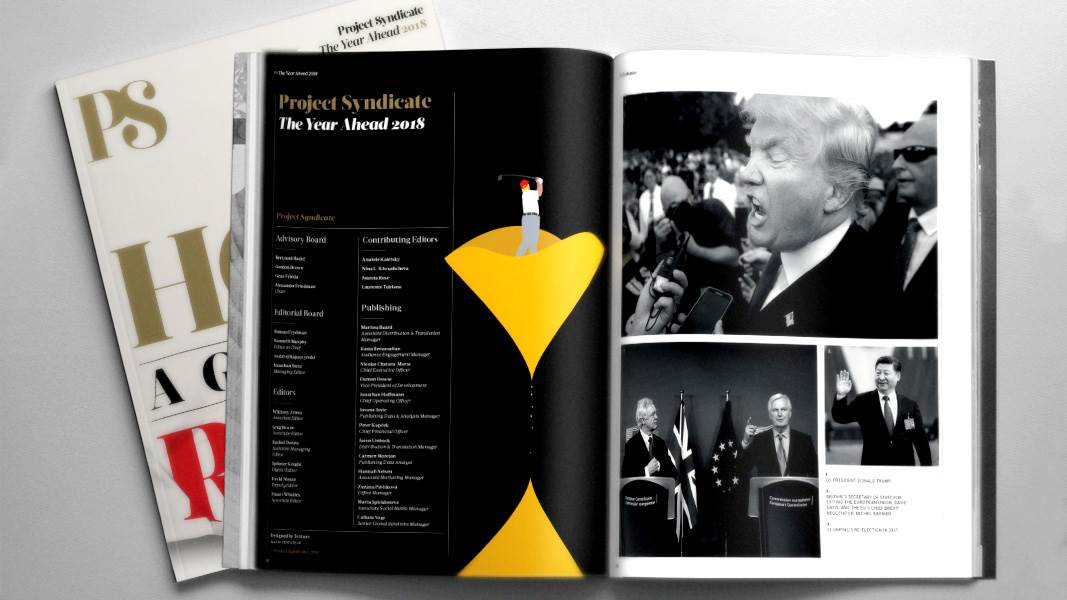 The Year Ahead 2018
The world's leading thinkers and policymakers examine what's come apart in the past year, and anticipate what will define the year ahead.
Das Ziel dieser Aktionen ist eindeutig China. Am 23. Januar wurden nach Abschnitt 201 des US-Handelsgesetzes von 1974 so genannte Schutzzölle auf den Import von Solarmodulen und Waschmaschinen eingeführt, was sich hauptsächlich gegen China und Südkorea richtet. Dies könnte die Eröffnungssalve für eine ganze Serie von Maßnahmen sein.
Im August letzten Jahres hat der US-Handelsbeauftragte Abschnitt-301-Untersuchungen gegen China veranlasst, die sich über drei große Bereiche erstrecken: intellektuelle Eigentumsrechte, Innovationen und technologische Entwicklung. Dies hat wahrscheinlich weitere Sanktionen zur Folge. Auch eine so genannte Abschnitt-232-Untersuchung über die Bedrohung der nationalen Sicherheit durch unfaire Stahlimporte richtet sich gegen China, den größten Stahlproduzenten der Welt.
Angesichts eines Präsidenten, der in seiner Antrittsrede vor einem Jahr versprach, Amerikas Grenzen "vor den Verwüstungen durch andere Länder zu schützen, die unsere Produkte herstellen, unsere Unternehmen stehlen und unsere Arbeitsplätze vernichten", kommen diese Maßnahmen kaum überraschend. Aber das ist genau das Problem. Trotz Trumps cri de coeur des "America First" könnte es passieren, dass sich die USA in diesem Handelskrieg auf der Verliererseite wiederfinden.
Zunächst einmal sind Zölle auf Solarmodule und Waschmaschinen völlig unzeitgemäß, da sich die globalen Lieferketten beider Industriebereiche momentan stark verändern: Seit einiger Zeit verlagert sich die Produktion von Solarmodulen aus China in Länder wie Malaysia, Südkorea und Vietnam, die heute gemeinsam für zwei Drittel der gesamten amerikanischen Solarimporte verantwortlich sind. Und Samsung, ein führender ausländischer Hersteller von Waschmaschinen, hat kürzlich eine neue Gerätefabrik in South Carolina eröffnet.
Darüber hinaus ignoriert die Trump-Regierung durch ihre enge Fixierung auf das große bilaterale Handelsdefizit gegenüber China immer noch die viel umfassenderen makroökonomischen Kräfte, die zu einem multilateralen Handelsdefizit der USA gegenüber 101 Ländern geführt haben. Da es den USA bei allen Konsum- und Wachstumswünschen an Inlandsersparnissen mangelt, muss das Land überschüssiges Geld aus dem Ausland importieren und dazu massive Handels- und Leistungsbilanzdefizite in Kauf nehmen.
Nimmt man also China oder andere Länder ins Visier, ohne das Hauptproblem der zu niedrigen Ersparnisse zu lösen, ist das, als würde man ein Ende eines mit Wasser gefüllten Ballons zusammendrücken: Das Wasser fließt einfach ans andere Ende. Angesichts dessen, dass sich aufgrund der jüngsten Steuererleichterungen die US-Haushaltsdefizite in den nächsten zehn Jahren wahrscheinlich um mindestens eine Billion Dollar erhöhen werden, wird der Druck auf die inländischen Ersparnisse nur noch stärker. In diesem Umfeld stellen protektionistische Maßnahmen für die bereits jetzt angespannte externe Finanzierungslage der USA eine ernste Bedrohung dar, da sie sich negativ auf die Zinssätze und den Wechselkurs des Dollar auswirken könnten.
Zusätzlich kann erwartet werden, dass die Handelspartner des Landes mit Gegenmaßnahmen reagieren, was das exportorientierte US-Wirtschaftswachstum stark unter Druck setzen könnte. China beispielsweise ist der drittgrößte und am schnellsten wachsende Exportmarkt der USA. Führt das Land seinerseits Strafzölle ein, würde dies den amerikanischen Exporten in das Land –Sojabohnen, Flugzeuge, Maschinen und Kfz-Teile – einen empfindlichen Dämpfer verpassen. Und natürlich könnte China jederzeit seine Käufe von US-Staatsanleihen drosseln, was ernste Auswirkungen auf die Wertpapierpreise hätte.
Und schließlich muss man berücksichtigen, dass das Versiegen der bestehenden Handelsflüsse wahrscheinlich zu Preisanpassungen führen würde. Der Wettbewerbsdruck durch kostengünstige Auslandsproduktion hat in den USA seit 2010 zu einer Senkung der Durchschnittskosten für Solaranlagen um 70% geführt. Durch die neuen Zölle werden sich die Preise für ausländische Solarmodule erhöhen – was letztlich einer Steuererhöhung für Energiekonsumenten entspricht und den Bemühungen um eine kohlenstofffreie Versorgung entgegen wirkt. Eine ähnliche Reaktion kann von den Produzenten importierter Waschmaschinen erwartet werden. LG Electronics, ein führender ausländischer Lieferant, hat als Reaktion auf die US-Zölle gerade eine Preiserhöhung von 50 Dollar pro Gerät angekündigt. Also befinden sich die amerikanischen Konsumenten nach dem ersten Geplänkel der Trump-Regierung bereits jetzt auf der Verliererseite.
Ganz im Gegensatz zu Trumps großspurigen Reden gibt es bei Handelskriegen keine Gewinnstrategie. Das bedeutet natürlich nicht, dass die US-Politiker davor zurückschrecken sollten, unfaire Handelspraktiken zu bekämpfen. Genau zu diesem Zweck wurde der Schlichtungsmechanismus der Welthandelsorganisation (WHO) eingeführt, der sich in den letzten Jahren für Amerika sehr vorteilhaft ausgewirkt hat. Seit der Gründung der WHO im Jahr 1995 wurden 123 der 537 vorgebrachten Fälle von den USA eröffnet, darunter 21 gegen China. Auch wenn die Rechtsprechung der WHO Zeit und Mühe benötigt, hat sie doch meist im Sinne der USA entschieden.
Als Rechtsstaat können es sich die USA kaum leisten, außerhalb eines regulierten globalen Handelssystems zu agieren. Besonders deutlich wird dies anhand der Tragödie des Rückzugs der Trump-Regierung aus der Transpazifischen Partnerschaft, da diese einen neuen und mächtigen Rahmen zum Umgang mit chinesischen Handelspraktiken mit sich gebracht hätte.
Gleichzeitig haben die USA alles Recht der Welt, auf einen fairen Zugang ihrer multinationalen Konzerne zu ausländischen Märkten zu bestehen. Im Laufe der Jahre wurden weltweit über 3.000 bilaterale Investitionsabkommen geschlossen, um eine solche Gleichbehandlung zu garantieren. Dass es zwischen den USA und China kein solches Abkommen gibt, ist eine extreme Ausnahme. Folglich sind die Möglichkeiten für US-Unternehmen, an der schnellen Expansion des chinesischen Konsumgütermarktes teilzunehmen, stark eingeschränkt. Und jetzt, angesichts der neuen Spannungen im Handelsbereich, gibt es auf ein solches Abkommen keinerlei Hoffnung mehr.
Handelskriege sind ein Tummelplatz für Verlierer. Angesichts eines Präsidenten, der versprach, Amerika werde endlich wieder "gewinnen", ist dies vielleicht die größte Ironie überhaupt. Im Jahr 1930 machten Senator Reed Smoot und Repräsentant Willis Hawley dasselbe leere Versprechen. Daraufhin wurden protektionistische Zölle eingeführt, die die Große Depression verschärften und die internationale Ordnung destabilisierten. Leider ist diese Lektion, die eine der schmerzhaftesten der modernen Geschichte war, heute in Vergessenheit geraten.
Aus dem Englischen von Harald Eckhoff