Trumps größeres Russland-Problem
,
WASHINGTON, DC – Kurz vor seiner Amtsübernahme wandte sich US-Präsident Donald Trump via Twitter an die Öffentlichkeit, um seine Vision der Beziehungen seines Landes mit Russland zu skizzieren. "Gute Beziehungen zu Russland sind eine gute und keine schlechte Sache", erklärte er in einem Tweet. "Wenn ich Präsident bin", so eine weitere seiner Kurznachrichten, werden Russland und die USA "vielleicht zusammenarbeiten, um manche der vielen großen und drängenden Probleme der WELT zu lösen!"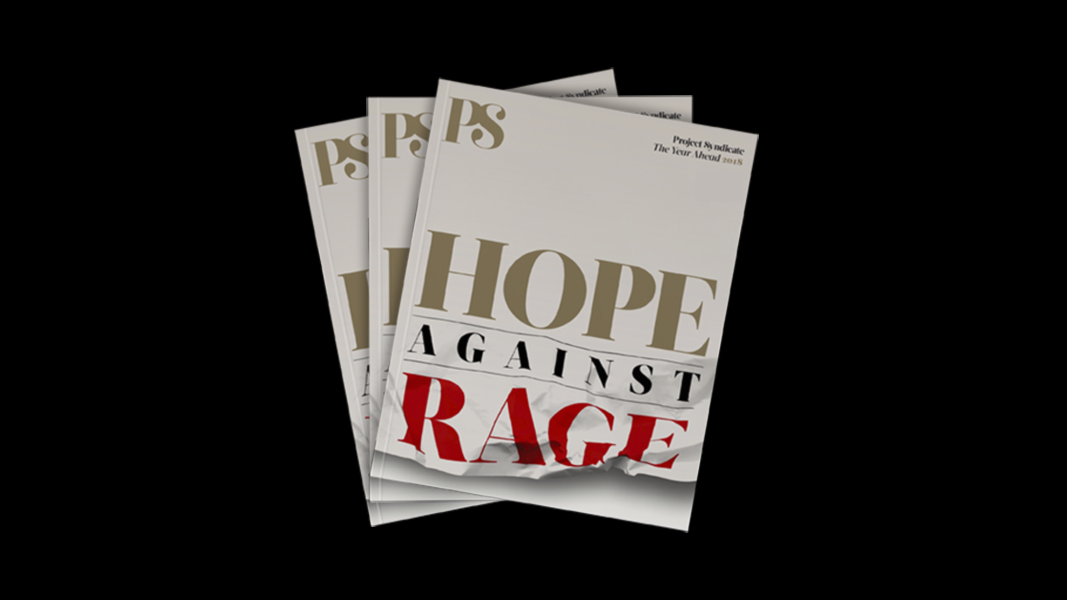 The Year Ahead 2018
The world's leading thinkers and policymakers examine what's come apart in the past year, and anticipate what will define the year ahead.
Freilich liegt Trump nicht falsch, wenn er versucht, die Beziehungen mit Russland zu verbessern. (Die letzten US-Präsidenten verfolgten alle dieses Ziel). Aber er muss erkennen, dass die Erreichung dieses Ziels es nicht wert ist, die prodemokratischen Aktivisten in Russland zu verprellen.
Der russische Präsident Wladimir Putin hat abweichende politische Meinungen in Russland weitgehend eliminiert. Im Jahr 2012, kurz nach Putins Rückkehr ins Präsidentenamt, verabschiedete die Duma das so genannte Gesetz zu ausländischen Agenten, dessen Schwerpunkt auf der Ausschaltung von Organisationen liegt, die aus dem Ausland finanziert werden und sich in einer Weise engagieren, die man als "politische Aktivitäten" bezeichnen kann.
Seit damals hat die russische Regierung einseitig 88 Organisationen als "ausländische Agenten" eingestuft – ein Ausdruck der sich sehr nach "Spion" anhört. Auf dieser Liste steht eine angesehene Wahlbeobachtungsgruppe ebenso wie Menschenrechtsaktivisten, Meinungsforscher und sogar einige wissenschaftliche Forschungsgruppen. Deren Mandate sind unterschiedlich, aber die Botschaft der Regierung an sie ist klar: wer dem Kreml kritisch gegenübersteht, wird mundtot gemacht.
Russlands Regierung unternahm in den letzten fünf Jahren einige weitere Schritte, um abweichende Meinungen zu unterdrücken. Mehrere internationale Organisationen, die Demokratie-Aktivisten unterstützten, wurden für "unerwünscht" erklärt und russische Bürger, die deren Engagement unterstützten, wurden kriminalisiert. Außerdem erweiterte man die Befugnisse der Sicherheitsbehörden, um den Online-Aktivitäten der Bürger nachzuspüren und ihr Recht auf freie Meinungsäußerung zu beschränken. Die Diskriminierung von LGBTQ-Menschen wurde intensiviert und religiöse Gruppen verfolgt. Kritiker des Kremls wurden inhaftiert und sogar umgebracht.
Derartige Aktivitäten stören Trump offenbar nicht. Selbst nach der Verhaftung tausender Antikorruptions-Demonstranten in über 100 Städten in ganz Russland im März, gab die Trump-Administration nur eine halbherzige Erklärung ab. Anlässlich seines Besuchs im Moskau im Folgemonat setzte US-Außenminister Rex Tillerson auf die gleiche Vorgehensweise und umging trotz des Drängens des US-Kongresses eine Tradition des amerikanischen Außenministeriums, öffentlich mit Aktivisten der Zivilgesellschaft zusammenzutreffen.
Wenn es darum geht, unangenehme Gespräche mit Putin zu vermeiden, sind Trump und Tillerson offenbar bereit, die Unterdrückung der Kreml-Gegner durch den Kreml zu übersehen  – von dessen Einmischung in die demokratischen Wahlen in Amerika ganz zu schweigen, von der beinahe täglich neue Beweise auftauchen. Ganz offensichtlich sind sie der Meinung, dieser Ansatz hätte Ergebnisse erbracht – vor allem den brüchigen Waffenstillstand in Syrien, den die USA und Russland im Juli vermittelten.
Russland ging diese Vereinbarung allerdings aus Eigeninteresse ein und nicht aufgrund der Unterwürfigkeit der Trump-Administration. Tatsächlich werden durch die Entschlossenheit der Regierung Trump, den russischen Bären nicht zu reizen, amerikanische Interessen untergraben.
Ungeachtet, welchen "Vorteil" Trump aus der Anbiederung an Russland auch zu ziehen vermag, dieser hat geringe Bedeutung im Vergleich zu Amerikas langfristigem Interesse an Leben, Freiheit und Gleichheit aller Menschen sowie an der Sicherstellung der Selbstverwaltung. Das soll nicht heißen, dass die USA sich nicht auf Regierungen einlassen oder mit ihnen zusammenarbeiten sollen, wenn diese auf Grundlage anderer Prinzipien operieren. Aber wir müssen klar zum Ausdruck bringen, was wir nicht bereit sind, zu akzeptieren – beginnend mit der Unterdrückung politisch abweichender Meinungen.
Es ist nicht nur richtig, die Grundprinzipien Amerikas zu wahren; es ist auch eine kluge Strategie. Putins Autorität erscheint vielleicht unerschütterlich, aber tatsächlich wird sie durch Propaganda und Angst gestützt. Wenn die USA ihre eigenen Werte verraten, um eine Auseinandersetzung mit Russland zu vermeiden, stärken sie Putins Macht damit erheblich. Der Eindruck, Putin hätte die USA unter Kontrolle, ermöglich es ihm weiterhin, seine Gegner zum Schweigen zu bringen. 
Im Vorfeld der Präsidentenwahlen im nächsten Jahr wird Putin nicht zögern, den Spielraum auszunutzen, den ihm ausländische Führungen verleihen. Putin hat bereits sichergestellt, dass Oppositionsführer Alexej Nawalny wegen Unterschlagung verurteilt wurde, was der russischen Regierung eine Rechtfertigung bietet, Nawalny von der Wahl auszuschließen.
Nawalny allerdings, der bereits jahrelangem Druck des Kremls widerstand, wird nicht so einfach aufgeben; ebenso wenig wie andere oppositionelle Aktivisten. Gerade letzten Sonntag, anlässlich der Regionalwahlen in Moskau, gewannen über 200 Putin-Gegner Sitze in lokalen Bezirksräten. Im ganzen heurigen Jahr fanden Proteste gegen die Korruption statt. Und Nawalny veröffentlichte kürzlich ein neues Dossier über Putins geheime Datscha nahe der Grenze zu Finnland.   
Selbstverständlich wird damit gerechnet, dass Putin eine vierte Amtszeit mit Leichtigkeit gewinnt. Aber er wird nicht ewig an der Spitze Russlands stehen. Bis dahin verdient es die gesamte russische Bevölkerung, an demokratischen Wahlen teilzunehmen. Doch keine der im Laufe Putins langer Amtszeit abgehaltenen Wahlen wurde von der Organisation für Sicherheit und Zusammenarbeit in Europa als frei und fair beurteilt. Durch öffentliche Unterstützung für Wahlbeobachter und Aktivisten, die sich für die Wahrung demokratischer Prinzipien engagieren, könnte die Regierung Trump die russische Opposition ermutigen und eine andere Vision für die Zukunft Russlands vorantreiben.  
Auf kurze Sicht scheint ein wenig Heuchelei ein geringer Preis für einen schnellen Sieg. Aber sowohl die US-Außenpolitik als auch Amerikas nationales Narrativ sind langfristige Angelegenheiten. Und auf lange Sicht ginge es den USA um vieles besser, wenn sie sich mit einem demokratischen Russland einlassen, wo Menschenrechte geschützt und abweichende politische Meinungen toleriert werden.
Die Wahlen 2018 in Russland stellen eine bedeutende Chance für Trump dar, sich für eine derartige Entwicklung stark zu machen und zu beweisen, dass amerikanische Werte nicht verhandelbar sind. Die USA würden sich nicht auf Putins Niveau begeben und sich heimlich in den russischen Wahlprozess einmischen. Vielmehr sollten sie sich für Demokratie und Menschenrechte einsetzen – und jenen beistehen, die den Aufbau freier Gesellschaften anstreben. Die Welt muss wissen, dass die USA immer noch Anstand besitzen.
Aus dem Englischen von Helga Klinger-Groier