Die US-Wirtschaftsblockaden und das Völkerrecht
NEW YORK – US-Präsident Donald Trump stützt seine Außenpolitik auf eine Reihe harscher Wirtschaftsblockaden, die darauf ausgelegt sind, das jeweilige Zielland in Angst zu versetzen, unter Druck zu setzen und sogar hungern zu lassen, damit es den amerikanischen Forderungen nachgibt. Während diese Praxis weniger gewalttätig ist als ein militärischer Angriff und die Blockade durch finanzielle Mittel statt durch die Marine erfolgt, sind die Folgen für die Zivilbevölkerung häufig katastrophal. Insofern sollten die US-Wirtschaftsblockaden vom UN-Sicherheitsrat auf ihre Vereinbarkeit mit dem Völkerrecht und der UN-Charta überprüft werden.
Als Präsidentschaftskandidat sprach sich Trump 2016 gegen die häufigen Kriegseinsätze der USA im Mittleren Osten aus. Von 1990 bis 2016 strengten die USA zwei größere Kriege gegen den Irak (1990 und 2003) sowie Kriege in Afghanistan (2001), Libyen (2011) und Syrien (2012) an. Sie nahmen zudem an vielen kleineren Militärinterventionen teil (u. a. in Mali, in Somalia und im Jemen). Während der Krieg in Syrien häufig als Bürgerkrieg beschrieben wird, handelte es sich in Wahrheit um einen Krieg mit dem Ziel des Regime-Wechsels, der von den USA und Saudi-Arabien im Rahmen eines Weisung des US-Präsidenten unter dem Namen Timber Sycamore betrieben wurde.
Keiner dieser US-geführten Kriege (und anderer in der jüngsten Geschichte) erreichte seine politischen Ziele, und auf die größeren Konflikte folgten chronische Gewalt und Instabilität. Der Versuch, den syrischen Präsidenten Bashar al-Assad gewaltsam zu stürzen, führte zu einem Stellvertreterkrieg unter letztlicher Beteiligung der USA, Syriens, Russlands, Saudi-Arabiens, Katars, des Iran, der Türkei, Israels und der Vereinigten Arabischen Emirate, bei dem über zehn Millionen Syrer vertrieben wurden und rund eine halbe Million gewaltsam ums Leben kamen.
Während Trump bisher einen neuerlichen Krieg gescheut hat, hat er die auf Regime-Wechsel ausgelegten Bemühungen der USA mit anderen Mitteln fortgesetzt. Trump wird häufig als Isolationist bezeichnet, aber er ist genauso interventionistisch wie seine Amtsvorgänger. Seine Strategie besteht zumindest bisher darin, sich stärker auf die Wirtschaftsmacht der USA zu stützen als auf ihre militärische Macht, um Gegner unter Druck zu setzen – was seine eigene Art von Grausamkeit und Destabilisierung hervorruft. Und es birgt das ständige Risiko eines Aufflackerns kriegerischer Handlungen, wie in diesem Monat in Bezug auf den Iran.
Die Trump-Regierung verfolgt derzeit in drei Fällen umfassende Wirtschaftsblockaden, nämlich gegenüber Nordkorea, Venezuela und dem Iran, sowie mehrere Blockaden geringeren Ausmaßes gegenüber Ländern wie Kuba und Nicaragua und sich verstärkende Anstrengungen, China den Zugriff auf Technologien zu versperren. Die Blockade Nordkoreas ist zumindest teilweise durch einen Beschluss des UN-Sicherheitsrates abgedeckt. Die Blockade gegenüber dem Iran steht im direkten Widerspruch zum Sicherheitsrat. Und in Bezug auf die Blockade Venezuelas hat sich der Sicherheitsrat bisher weder zustimmend noch ablehnend geäußert. Die USA versuchen, die drei Länder weitestgehend vom Welthandel zu isolieren, und verursachen so die Verknappung von Lebensmitteln, Medikamenten, Energie und Ersatzteilen für die grundlegende Infrastruktur, einschließlich der Wasserversorgung und des Stromnetzes.
Die Blockade Nordkoreas erfolgt weitgehend im Rahmen von Sanktionen, für die es ein UN-Mandat gibt, und umfasst eine umfangreiche Liste von Exporten nach Nordkorea, Importen aus Nordkorea und Finanzbeziehungen zu nordkoreanischen Organisationen. Die Welternährungsorganisation berichtet, dass zehn Millionen Nordkoreaner, teilweise sanktionsbedingt, der Gefahr des Hungers ausgesetzt sind. "[D]ie unbeabsichtigten negativen Folgen, die Sanktionen durch direkte und indirekte Auswirkungen für die landwirtschaftliche Produktion haben können, lassen sich nicht ignorieren", warnt die Organisation. "Die offensichtlichsten sind Beschränkungen der Einfuhr bestimmter für die landwirtschaftliche Produktion benötigter Artikel, insbesondere Kraftstoffen, Maschinen und Ersatzteilen für Ausrüstung."
Subscribe now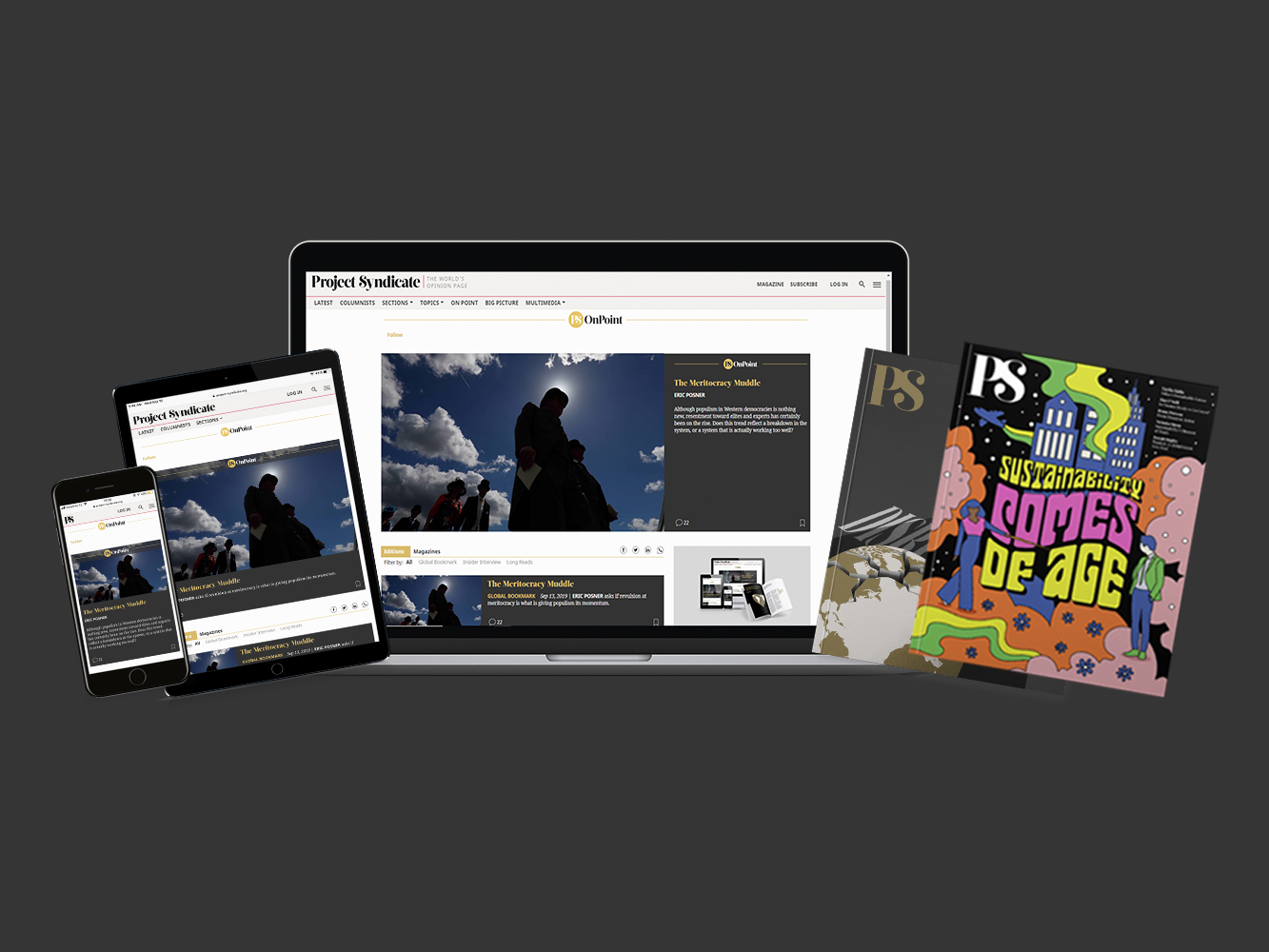 Subscribe now
Subscribe today and get a free copy of our new magazine, Sustainability Comes of Age, along with unlimited access to OnPoint, the Big Picture, the entire PS archive of more than 14,000 commentaries, and our annual magazine, for less than $2 a week.
Die drakonischen US-Sanktionen gegenüber Venezuela erfolgten in zwei Phasen. Die erste, die im August 2017 begann, richtete sich im Wesentlichen gegen die staatliche Ölgesellschaft PDVSA, die hauptsächliche Devisenquelle Venezuelas; die zweite Runde im Januar 2019 verhängter Sanktionen war umfassender und richtete sich gegen die venezolanische Regierung. Eine jüngste detaillierte Analyse der ersten Runde der Sanktionen zeigt deren verheerende Wirkung. Die US-Sanktionen verschärften die Auswirkungen der bestehenden Misswirtschaft auf gravierende Weise und trugen zu einem katastrophalen Rückgang der Ölproduktion, Hyperinflation, dem Zusammenbruch der Wirtschaft (die Produktionsleistung ist seit 2016 um die Hälfte gefallen), Hunger und einem Anstieg der Sterblichkeit bei.
Die US-Sanktionen gegenüber dem Iran sind seit 1979 mehr oder weniger kontinuierlich in Kraft. Die jüngsten und deutlich drakonischsten Maßnahmen, die im August 2018 eingeführt und in der ersten Hälfte dieses Jahres verschärft wurden, zielen darauf ab, den Iran vom Außenhandel abzuschneiden. Die US-Sanktionen stellen einen direkten Verstoß gegen die Resolution 2231 des UN-Sicherheitsrates dar, der dem Nuklearabkommen von 2015 mit dem Iran zugestimmt hatte. Die Auswirkungen sind verheerend. Der Internationale Währungsfonds prognostiziert, dass die iranische Wirtschaftsleistung zwischen 2017 und 2019 um 10% schrumpfen wird, und dass die Inflation dieses Jahr 30% erreichen wird. Es gibt einen Mangel an Medikamenten.
Man könnte erwarten, dass andere Länder die US-Sanktionen problemlos umgehen könnten. Doch die USA haben gedroht, ausländische Unternehmen, die gegen die Sanktionen verstoßen, zu bestrafen. Sie haben zudem den globalen Einfluss des Dollars als Keule genutzt und angedroht, ausländische Banken, die den Handel mit dem Iran finanzieren, mit Sanktionen zu belegen. Die europäischen Unternehmen haben gespurt, und das trotz des ausdrücklichen Wunsches der EU nach Wirtschaftskontakten zum Iran. Längerfristig ist es wahrscheinlich, dass man zusätzliche Möglichkeiten zur Umgehung der Sanktionen finden wird, bei denen die Finanzierung in Renminbi, Rubel oder Euro erfolgt. Doch wird die Erosion der US-Sanktionen nur allmählich vonstattengehen.
Trotz des intensiven wirtschaftlichen Leids – und sogar echter Not –, denen Nordkorea, Venezuela und der Iran ausgesetzt sind, hat keines dieser Länder den US-Forderungen nachgegeben. In diesem Sinne haben sich die Sanktionen als nicht erfolgreicher erwiesen als Militärinterventionen. Nordkorea hat sein nukleares Arsenal aufrechterhalten und vermutlich noch ausgebaut. Das iranische Regime lehnt die sein Raketenprogramm und seine Außenpolitik betreffenden US-Forderungen ab. Und Venezuelas Präsident Nicolás Maduro ist noch immer an der Macht.
Die US-Blockaden erfolgen im Rahmen von Weisungen des Präsidenten weitestgehend ohne öffentliche Debatte und ohne systematische Aufsicht durch den Kongress. Dies ist eine "One-Man-Show" – und zwar in noch stärkerem Maße als die von Präsidenten betriebenen Kriege, die sehr viel stärker im prüfenden Blick der Öffentlichkeit stehen. Trump hat erkannt, dass er im Ausland lähmende Sanktionen verhängen kann, und das weitgehend ohne direkte Kosten für die US-Bevölkerung oder den Haushalt, und praktisch ohne politische Rechenschaftspflicht.
Militärblockaden sind Kriegshandlungen und unterliegen daher dem Völkerrecht, einschließlich der Aufsicht durch den UN-Sicherheitsrat. Amerikas Wirtschaftsblockaden ähneln in Funktion und Ergebnis Militärblockaden, haben verheerende Auswirkungen auf die Zivilbevölkerung und drohen, Kriege zu provozieren. Es ist Zeit, dass der Sicherheitsrat sich mit den Sanktionsregimen der USA befasst und sie gegen die Anforderungen des Völkerrechts und der Wahrung des Friedens abwägt.
Aus dem Englischen von Jan Doolan