Camarada Trump
NUEVA YORK – "En apenas tres años", declaró el presidente norteamericano, Donald Trump, en su reciente discurso del Estado de la Unión, "hemos destrozado la mentalidad de decadencia estadounidense y hemos rechazado la reducción del destino de Estados Unidos". Este pronunciamiento infundado –más propaganda que realidad- recordó la proclama de Joseph Stalin de 1935 de que "la vida ha mejorado, camaradas; la vida se ha vuelto más alegre".
Cuando Stalin hizo alarde de "la mejora radical en el bienestar material de los trabajadores" generada por el régimen soviético, las estadísticas de producción estaban rezagadas; la hambruna había devastado a las poblaciones, especialmente en Ucrania; y la Gran Purga –una campaña brutal de represión política- ya estaba a la vista. De la misma manera, mientras Trump elogia a su administración por restablecer supuestamente la grandeza de Estados Unidos, los aliados y amigos de Estados Unidos están esforzándose por reducir su dependencia de Estados Unidos, lo que se ha tornado una amenaza para la estabilidad global y un hazmerreír internacional. 
Las declaraciones de Trump sobre la economía son igual de engañosas. Es verdad, el crecimiento del PIB sigue siendo relativamente fuerte, y los precios de las acciones han alcanzado picos sin precedentes. Pero, como señaló el gobernador de Michigan, Gretchen Whitmer, después del discurso del Estado de la Unión, "millones de personas luchan por salir adelante o no tienen suficiente dinero a fin de mes después de pagar por el transporte, los préstamos estudiantiles o los medicamentos recetados". El "boom de la clase obrera" de la que presumió Trump ha dejado afuera a un porcentaje importante de los obreros.
No estoy diciendo que Trump sea el nuevo Stalin, mucho menos comparo a los Estados Unidos de hoy con la Unión Soviética de los años 1930. Pero reconozco la propaganda cuando la escucho y las palabras de Trump no son nada menos que el artículo auténtico. También conozco lo efectiva que puede ser la buena propaganda en términos de crear espacio para un comportamiento dictatorial –y lo vulnerable que puede ser hasta la más fuerte de las democracias al totalitarismo.
Por supuesto, la propaganda implica algo más que palabras. Los gobernantes autoritarios utilizan otras herramientas para cultivar un aura de grandeza. La arquitectura es una de esas herramientas. Desde los faraones egipcios y los emperadores romanos hasta los dictadores contemporáneos como Kim Jong-un de Corea del Norte, los líderes autoritarios muchas veces han utilizado la arquitectura (o abusado de ella) para manipular las percepciones públicas, creando espacios públicos grandiosos que reflejan la imagen espléndida que tienen de sí mismos.
La polémica joya cinematográfica Olympia de Leni Riefenstahl de 1938, basada en las Olimpíadas de Verano de Berlín de 1936, se filmó con la intención de enfatizar el aire masculino y dominante del estadio –y, por extensión, el régimen nazi-. Luego vino la transformación de Berlín de Albert Speer en los comienzos de los años 1930, que canalizó la ambición totalitaria del régimen en una arquitectura neoclásica uniformemente imponente y brutal.
Subscribe now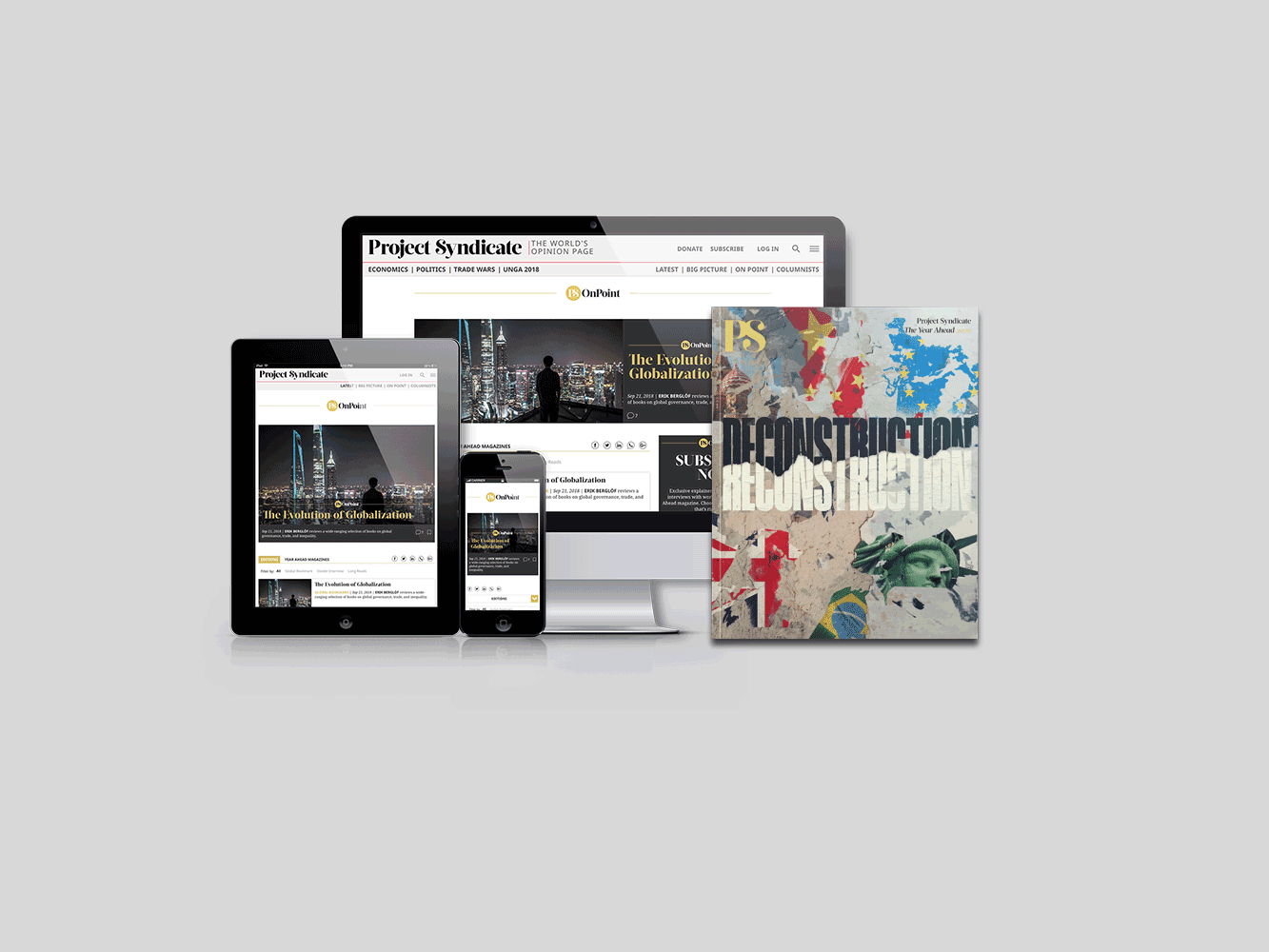 Subscribe now
Subscribe today and get unlimited access to OnPoint, the Big Picture, the PS archive of more than 14,000 commentaries, and our annual magazine, for less than $2 a week.
Stalin replicó el modelo imperial de Hitler con su propio "clasicismo" arquitectónico: edificios altos con cúpulas, torres y otros adornos destinados a denotar poder. Stalin también se inspiró en el Edificio Municipal de Manhattan de la ciudad de Nueva York, que representaba el esplendor del Empire State en los años 1910.
Hoy, la administración Trump está haciendo circular un borrador de orden ejecutiva llamado "Volviendo a hacer bellos los edificios federales", que obligaría a los arquitectos a adherir a estructuras "clásicas", inspiradas en la tradición griega y romana. La orden subraya el valor simbólico de los edificios, y se opone explícitamente a los "Principios Guía de la Arquitectura Federal" de 1962 –respaldados por el presidente John F. Kennedy- que instaban a que el diseño fluyera de la profesión arquitectónica al gobierno.
Quizás esto no debería sorprender. Mucho antes de ser presidente, Trump utilizaba la arquitectura para hacer valer su poder y privilegio. Las construcciones estridentes que caracterizan a sus varios edificios Trump, por ejemplo, tienen mucho en común con los gustos rococó fastuosos abrazados por autócratas contemporáneos como Xi Jinping de China, Vladimir Putin de Rusia y Recep Tayyip Erdoğan de Turquía. 
Estos líderes también han apelado a otra forma clásica de proyección de poder autoritaria: los desfiles militares, que son un método ya conocido a través del cual las figuras autoritarias buscan impresionar a seguidores y oponentes por igual. En 2017, Trump no pudo contener su emoción en un desfile militar en el Día de la Bastilla en París –allí, una ceremonia más que una demostración de fuerza- realizado junto al Arco de Triunfo (incidentalmente, una de las inspiraciones de Speer para la Berlín nazi). Dos años más tarde, Trump realizó su propio desfile militar con un despliegue de gasto vertiginoso.
Puede resultar tentador desestimar estas performances y considerarlas distracciones. Sin embargo, revelan directamente una predilección por comportamientos peligrosos o imprudentes, inclusive el rechazo de todos los controles del poder ejecutivo –cruciales para una democracia en funcionamiento.
La imposibilidad por parte de Trump de aceptar las críticas es particularmente preocupante. Stalin perseguía a quienes consideraba sus adversarios como "enemigos del pueblo", encarcelando o matando a miles por deslealtad. Por supuesto, Trump puede no ser capaz de llevar a cabo ese nivel de represión, pero ha utilizado la misma retórica, llamando a los medios críticos "enemigos del pueblo".
Es más, inmediatamente después de su absolución por parte del Senado controlado por los republicanos en una farsa de juicio político en la que no se llamó a ningún testigo, Trump despidió a quienes habían prestado testimonio en la Cámara de Representantes sobre sus esfuerzos por presionar al presidente ucraniano, Volodymyr Zelensky, a investigar a un rival político. Fue un ejemplo excelente de la retribución de las que dependen las dictaduras.
Por cierto, cuando el testigo del juicio político teniente coronel Alexander S. Vindman fue despedido, los oficiales de seguridad hicieron salir a su hermano mellizo, el teniente coronel Yevgeny Vindman, un abogado del Consejo Nacional de Seguridad, de la Casa Blanca junto con él. Fue pura venganza mezquina. En la URSS en los años 1930, Yevgeny habría sido catalogado como ChSVR (miembro de un enemigo de la familia popular) y sentenciado a cinco años en un gulag siberiano.
Así es como comienzan las dictaduras. En tanto Estados Unidos se prepara para su próxima elección presidencial en noviembre, es responsabilidad de cada ciudadano examinar racionalmente los impulsos dictatoriales de Trump, cuya reelección no haría más que reforzar. No es seguro suponer que no llegará demasiado lejos, o que es demasiado "mediocre" –como Leon Trotsky calificaba a Stalin (una evaluación con la que coincidían muchos bolcheviques)- para transformar a su país.
Vladimir Lenin, él mismo un bolchevique implacable, escribió en 1922 que "Stalin concentraba en sus manos un enorme poder, que no podrá utilizar de manera responsable", debido a rasgos como la rudeza, la intolerancia y el carácter caprichoso. Trump tiene todo esto en abundancia. Cuanto más poder concentra en sus manos, más lúgubre se vuelve la perspectiva de largo plazo para la democracia norteamericana. Su reelección podría significar un apagón de las luces.