Как Америка может изменить поведение Пакистанцев?
НОВОЕ ДЕЛИ – Недавнее решение Президента США Дональда Трампа о замораживании помощи Пакистану в размере $2 млрд, в качестве наказания за отказ страны бороться с транснациональными террористическими группами, это шаг в правильном направлении. Но необходимо еще больше шагов.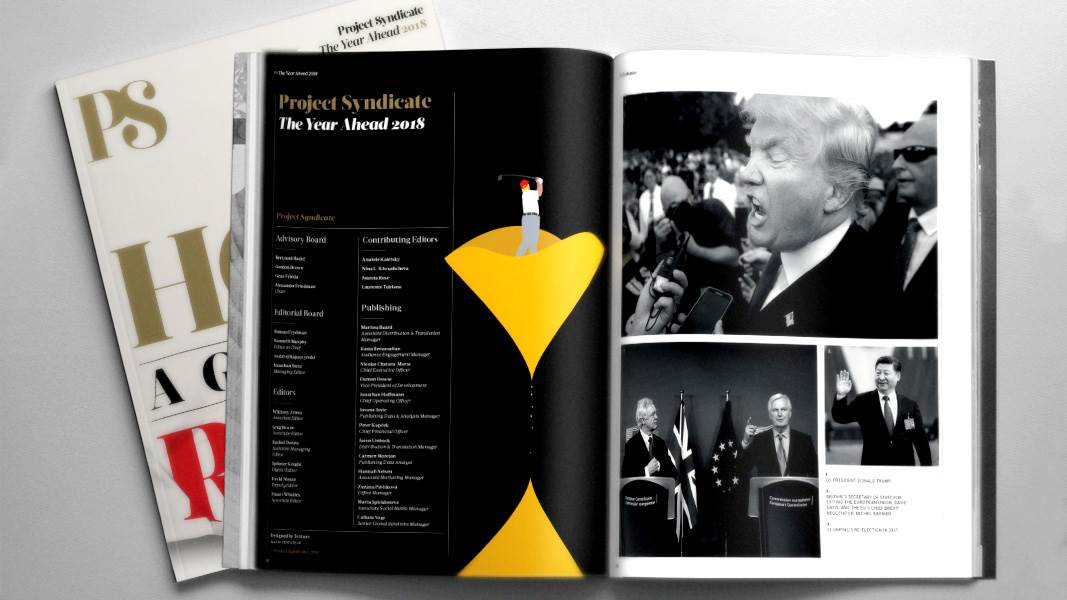 The Year Ahead 2018
The world's leading thinkers and policymakers examine what's come apart in the past year, and anticipate what will define the year ahead.
У Соединенных Штатов есть множество стимулов для оказания давления на Пакистан, страну, которая давно притворяется союзником, даже несмотря на то, что по-прежнему помогает воинствующим группировкам сражаться и убивать американских солдат в соседнем Афганистане. Фактически, отчасти из-за этой помощи, Афганистан представляет собой неустойчивое государство, в результате чего США погрязли в самой длинной войне в своей истории.
Спустя более 16 лет после вторжения США в Афганистан, его столица Кабул попала в осадное положение, примером чего стало недавнее террористическое нападение на отель Интерконтиненталь в Кабуле и взрыв в центре города, совершенный террористом-смертником, который использовал, начиненную взрывчаткой машину скорой помощи. В последние месяцы, США развернули массированное наступление с использованием авиации, с целью остановить быстрое продвижение Афганских талибов. С августа прошлого года США провели больше авиаударов, чем в 2015 и 2016 годах вместе взятых.
Тем не менее, ни воздушный блиц, ни задействование администрацией Трампа 3000 дополнительных американских военнослужащих не могут изменить ухудшающуюся ситуацию в области безопасности в Афганистане. Чтобы этого достичь, Пакистану пришлось бы ликвидировать трансграничные убежища, используемые талибами и их союзником, сетью Хаккани, а также их штабов, расположенных на Пакистанской территории. Как признал военный командир США в Афганистане, генерал Джон Николсон: "На поле битвы очень трудно добиться успеха, когда ваш враг пользуется внешней поддержкой и безопасным убежищем".
Проблема заключается в том, что мощные военные силы Пакистана, чьи генералы диктуют условия практически бессильному гражданскому правительству, по-видимому, привержены защите и даже воспитанию террористов на пакистанской земле. Только те боевики, которые угрожают Пакистану, становятся объектами Межведомственной разведки страны.
Далекие от мысли, что Пакистанские генералы несут ответственность за американскую кровь на своих руках, США предоставили им большие объемы финансовых средств – настолько большие, что Пакистан фактически был одним из крупнейших получателей Американской помощи. Даже когда США обнаружили Усаму бен Ладена, после десятилетней охоты, скрывавшимся в комплексе рядом с главной военной академией Пакистана, это не внесло значительных изменений в их стратегию пряника. Это позволило военным усилить свой контроль над Пакистаном, что сорвало внутренние усилия по достижению подлинного демократического перехода.
Что еще хуже, США отговорили своего союзника Индию – главную цель террористов, поддерживаемых Пакистаном, – от введения каких-либо санкций в отношении страны. Вместо этого, последующие администрации США оказали давление на Индию, чтобы она вела дипломатическое сотрудничество с Пакистаном, в том числе, посредством тайных встреч между советником по национальной безопасности Премьер-министра Индии Нарендра Моди и его пакистанским коллегой, имевших место в Бангкоке и в других местах.
Этот подход вдохновил пакистанских террористов на проведение трансграничных атак на цели от Мумбаи до Кашмира. Что касается США, новая Стратегия национальной безопасности Белого дома подтверждает, что Америка "продолжает сталкиваться с угрозами со стороны транснациональных террористов и боевиков, действующих изнутри Пакистана". Это заключение повторяет предупреждение, сделанное в 2009 году тогдашним госсекретарем Хиллари Клинтон о том, что Пакистан "представляет собой смертельную угрозу безопасности и сохранности нашей страны и мира".
На этом фоне, признание, со стороны администрации Трампа, о провале американской политики в Пакистане, является хорошей новостью. Но история показывает, что просто приостановки помощи в области безопасности – экономическая помощь и военная подготовка будут продолжаться – недостаточно для того, чтобы добиться значительных перемен в Пакистане (который, также, причисляет Китай и Саудовскую Аравию к своим благотворителям).
Еще один дополнительный шаг, который могли бы предпринять США, это обозначить Пакистан как государство, поддерживающее терроризм. Если США предпочитают не делать этого, они должны, по крайней мере, лишить Пакистан его статуса, приобретенного в 2004 году, как крупного союзника, не являющегося членом НАТО, тем самым положив конец его преференциальному доступу к американскому оружию и технологиям.
Более того, США должны наложить целенаправленные санкции, включая блокирование средств высокопоставленных офицеров, которые поддерживают тесные связи с террористами. Так как в США проживают дети многих пакистанских военных офицеров, было бы также целесообразно запретить этим семьям выезд из страны.
Наконец, США должны воспользоваться своей устойчивой позицией как крупнейшего экспортного рынка Пакистана для ужесточения экономических винтов в стране, не имеющей денег. С 2013 года, Пакистан пытался компенсировать резкое снижение своих валютных резервов, увеличив многомиллиардный долг, деноминированный в долларах, выпустив десятилетние облигации. Усилия Пакистана по предотвращению дефолта создают рычаги, которыми должны воспользоваться США.
Аналогичным образом, Пакистан согласился приватизировать 68 государственных компаний в обмен на кредит в размере $6,7 млрд от Международного валютного фонда. Если бы США расширили финансовые и торговые санкции на многостороннее кредитование и приостановили поставки запасных частей для военных, это стало бы еще одним эффективным средством заставить Пакистан подчиниться.
Безусловно, Пакистан мог бы отреагировать на такие санкции, путем блокирования сухопутного доступа Америки к Афганистану, тем самым увеличив расходы на снабжение американских войск до 50%. Но, как стало известно Пакистану из урока, извлеченного в 2011-2012 годы, такой шаг навредит его собственной экономике, особенно его индустрии грузоперевозок, где преобладают военные. Между тем, добавленная стоимость для США будет ниже, чем прошлогодние военные выплаты Пакистану со стороны Америки, которые, среди прочего, охватывают маршруты снабжения и предполагаемые контртеррористические операции страны.
Если Пакистан откажется от своей двойной игры, претендуя на роль союзника США, в то же время укрывая террористов, США должны будут прекратить его стимулирование за то, что он предложил, как высказался Трамп, "ничего, кроме лжи и обмана". Более того, США необходимо будет наказать Пакистан за его двуличность. А директивные органы США должны действовать без промедления, или все более уязвимый Пакистан вполне может трансформироваться из государства – спонсора терроризма в государство, спонсируемое террористами.