Trump échappe de justesse à une collision avec l'Iran
WASHINGTON, DC – Les récents échanges tendus et périlleux entre les États-Unis et l'Iran en disent long sur la gestion de politique étrangère du président américain Donald Trump. La principale conclusion, c'est que cette gestion n'existe pas. Les décisions les plus lourdes de conséquences sont prises sur la base de réactions instinctives et de pulsions souvent contradictoires, qui consistent parfois à rechercher un accord tout en menaçant d'user de la force. Seule vision ou philosophie globale de Trump, il s'agit d'éviter une nouvelle guerre longue et coûteuse. Or, le président américain et sa maladresse ne sont pas passés loin d'en déclencher une tout récemment.
Lors de sa campagne présidentielle, Trump a promis de ramener les troupes américaines à la maison. Il a parfois refusé de répondre à des provocations, notamment de la part de groupes soutenus par l'Iran au Moyen-Orient. Ceci a             donné aux Iraniens – comme à beaucoup de monde – la fausse impression que Trump continuerait de tendre l'autre joue. Finalement, plusieurs acteurs du Parti républicain, et plus important encore certains commentateurs de Fox News, ont commencé à parler d'un président faible. Qu'il est dangereux d'affirmer cela de Trump : sa présidence démontre combien une personne aussi peu sûre d'elle ne devrait jamais être élue à la tête du pays.
Autre caractéristique de la conduite de Trump en politique étrangère, le président est aujourd'hui entouré d'une équipe de médiocres, qui ne compte aucun esprit visionnaire, aucun penseur stratégique créatif, ni aucun cerveau un tant soit peu indépendant. Trump en est désormais à son quatrième conseiller à la sécurité nationale en seulement trois ans, à son deuxième secrétaire de la Défense, et à son deuxième secrétaire d'État, sachant par ailleurs que nombre de postes majeurs de politique étrangère demeurent vacants. La leçon à tirer par autrui est claire : le seul moyen de durer aux côtés de Trump consiste à ne pas s'opposer à lui. Ce besoin de déférence aveugle est d'autant plus problématique de la part d'un président chez qui la curiosité manque, voire n'existe pas.
Mike Pompeo, secrétaire d'État très sûr de lui-même, est largement considéré comme le laquais le plus accompli de toute l'équipe des hauts conseillers de Trump. Ancien membre de la Chambre des représentants américains, Pompeo est également au sein du Congrès un partisan affirmé du « changement de régime » en Iran, lui qui depuis un certain temps œuvrait auprès de Trump pour que le président ordonne l'assassinat de Qassem Soleimani, commandant de la force iranienne Al-Quds, que les États-Unis ont désignée comme une organisation étrangère terroriste. Un rapport révèle que Trump aurait finalement décidé d'ordonner l'élimination du numéro deux politique de l'Iran le 3 janvier, en présence d'une « nouvelle équipe à la plus grande cohésion, moins encline que les précédentes à s'opposer aux souhaits du président ».
En l'absence de déclaration de guerre contre l'Iran, l'assassinat d'un dirigeant étranger – via une frappe de drone en territoire irakien – est possiblement illégale. Mais les subtilités de ce genre ne perturbent pas Trump. À l'évidence, sa décision a été prise sans considération pour les conséquences potentielles. Le système de sécurité nationale établi sous Dwight D. Eisenhower pour empêcher les mesures trop imprudentes en est aujourd'hui réduit à peau de chagrin, un pouvoir sans cesse croissant étant placé entre les mains du président. Or, lorsque le président est instable, le monde entier rencontre un très sérieux problème.
En réalité, si une guerre totale avec l'Iran a été évitée de justesse, c'est parce que les dirigeants iraniens se sont montrés un peu plus malins que Trump. Dans cet épisode périlleux, les pertes de vies humaines les plus conséquentes découlent du tir de missile tragique sur un avion civil ukrainien, qui venait de décoller de l'aéroport de Téhéran, et dans lequel sont mortes 176 personnes. L'appareil avait été autorisé à décoller par les autorités aériennes iraniennes environ trois heures après que l'Iran ait lancé ses missiles sur des installations militaires irakiennes abritant potentiellement des troupes américaines. Destinées à venger la mort de Soleimani, ces représailles soigneusement ciblées, qui n'ont fait aucune victime, tout comme les messages secrets de Téhéran transmis par les Suisses, illustraient combien les Iraniens entendaient cesser une escalade dangereuse. L'Iran perdrait certainement la guerre contre les États-Unis, mais pas avant d'avoir infligé de sérieux dommages aux installations américaines, y compris via des cyberattaques. C'est donc un Trump soulagé qui a accepté le message des Iraniens, et qui leur a emboîté le pas.
Subscribe now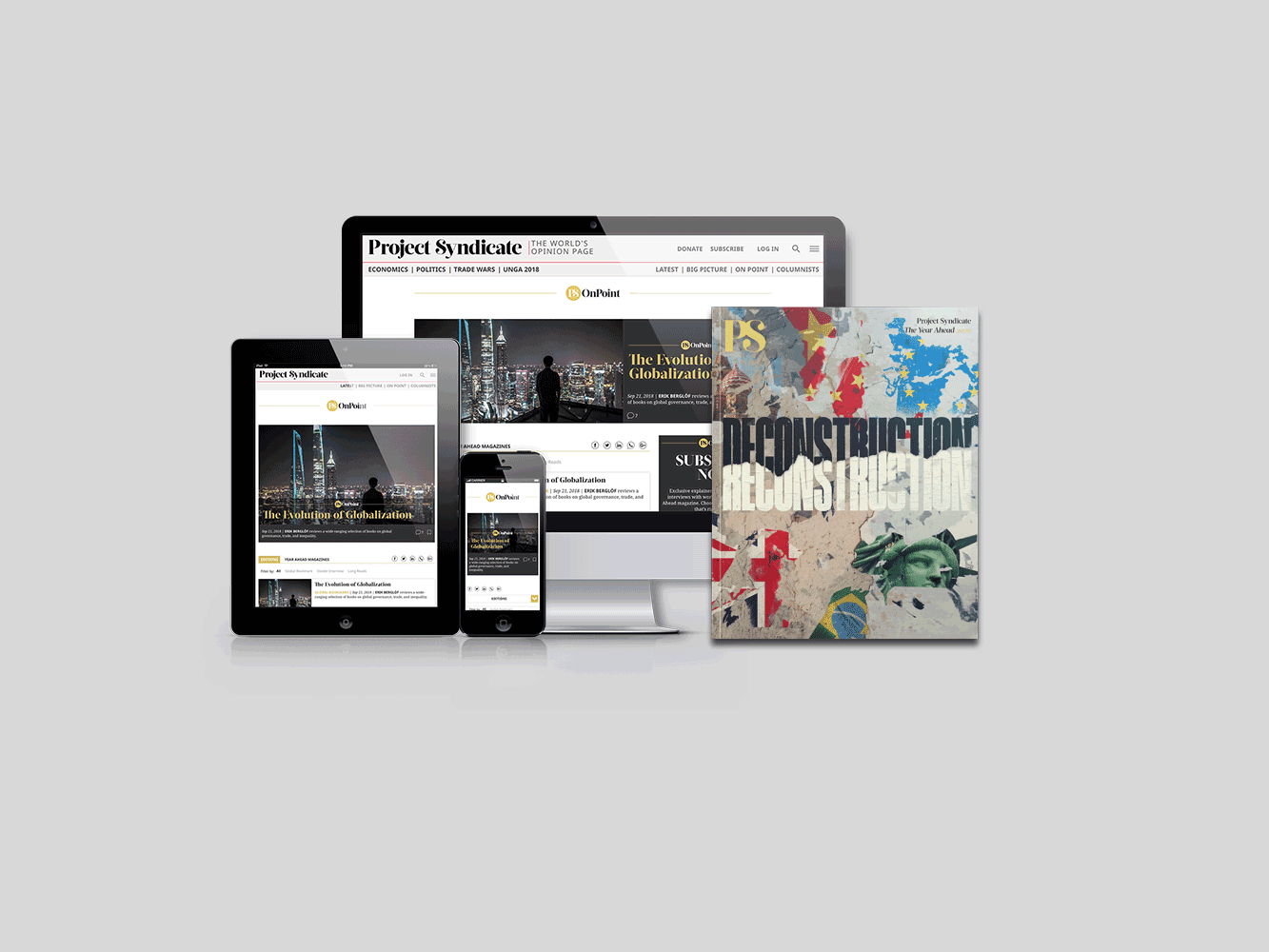 Subscribe now
Subscribe today and get unlimited access to OnPoint, the Big Picture, the PS archive of more than 14,000 commentaries, and our annual magazine, for less than $2 a week.
Secoué par les événements, le Congrès a demandé à l'administration de lui fournir une synthèse du raisonnement ayant fondé l'assassinat de Soleimani. Le manque de clarté du gouvernement à cet égard s'est retourné contre Trump et ses responsables à la sécurité nationale. Formulant des raisonnements contradictoires et changeants, l'administration n'a pas su convaincre le législateur qu'une menace « imminente » avait forcé la main du président. Ce manquement, ainsi que le mépris habituel de l'administration à l'égard du Congrès et de ses membres, qui ont pour devoir constitutionnel d'exiger des comptes de l'exécutif, et qui sont constitutionnellement les seuls à pouvoir déclarer un guerre, ont conduit à une nouvelle dynamique parlementaire de limitation des pouvoirs de guerre du président s'agissant de l'Iran. Il est toutefois peu probable que la Chambre et le Sénat (lequel est contrôlé par les alliés républicains de Trump) s'entendent sur une approche précise, et encore moins qu'ils produisent une mesure susceptible de survivre au veto présidentiel.
Pendant ce temps, la relation entre les États-Unis et l'Iran se trouve plus dégradée que jamais, l'Amérique ayant beaucoup perdu en assassinant Soleimani. Téhéran a en effet annoncé que l'Iran ne se conformerait plus aux limites convenues pour son programme nucléaire, ce qui fait passer d'environ 15 ans (lorsque Trump est arrivé au pouvoir) à seulement cinq mois le délai estimé nécessaire à la conception d'une tête nucléaire. Les États-Unis sont de plus en plus vivement invités à retirer leurs troupes d'Irak – objectif de longue date du général Soleimani. Raison pour laquelle l'Amérique a été de nouveau sollicitée en Irak pendant la présidence Obama, la formation militaire américaine des forces irakiennes est désormais suspendue. Et loin de retirer ses troupes du Moyen-Orient, comme il l'avait promis, Trump engage désormais plusieurs milliers de soldats dans la région.
Pourtant, comme l'on pouvait s'y attendre, Trump et ses acolytes crient victoire, et accusent leurs détracteurs de sympathie à l'égard de l'Iran, voire de partialité à l'endroit du vicieux Soleimani. Actuellement, plusieurs signaux démontrent que l'opinion publique n'est pas dupe. La plupart de Américains considèrent en effet que l'épisode récent fait des États-Unis un pays moins sûr, sans doute à raison. Car si les hostilités entre l'Amérique et l'Iran (ainsi que ses nombreux intermédiaires) semble s'apaiser, il est peu probable aux yeux du plus grand nombre que l'accalmie dure bien longtemps.
Traduit de l'anglais par Martin Morel