Les dangers de la grandiloquence nucléaire
MADRID – Au cours de l'été 2012, le théoricien des relations internationales Kenneth N. Waltz a publié un article intitulé « Pourquoi l'Iran doit obtenir la bombe », dans lequel il a fait valoir qu'un Iran nucléaire pourrait rétablir un équilibre souhaitable du pouvoir au Moyen-Orient, en agissant comme un contrepoids à Israël.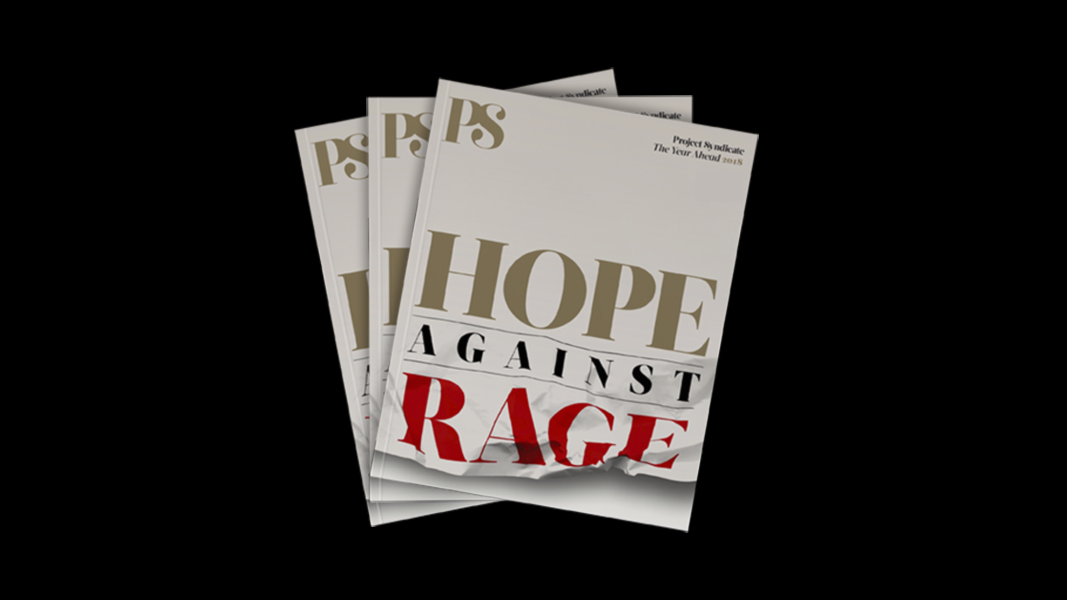 The Year Ahead 2018
The world's leading thinkers and policymakers examine what's come apart in the past year, and anticipate what will define the year ahead.
La même année, Waltz a également fait valoir que la stratégie consistant à associer les sanctions à la diplomatie était peu susceptible de dissuader l'Iran de développer sa capacité nucléaire. « Hormis l'utilisation de la force militaire, écrivait-il dans Foreign Affairs en septembre 2012, il est difficile d'imaginer comment l'Iran pourrait être empêché d'acquérir des armes nucléaires s'il est déterminé à le faire. »
Waltz a eu tort sur deux points. Premièrement, en défendant les armes nucléaires comme une source de stabilité régionale ou mondiale, il a profondément sous-estimé le danger qu'elles puissent tomber entre les mains de terroristes ou qu'elles soient utilisées suite à une erreur de calcul.
Deuxièmement, Waltz a omis de prévoir le succès des négociations nucléaires avec l'Iran (ou leur « échec » du point de vue de ceux qui voulaient vraiment que l'Iran soit doté de l'arme nucléaire). Waltz est mort en 2013, mais s'il était vivant aujourd'hui, il aurait sans doute remarqué les questions en suspens dans le Plan d'action global conjoint (JCPOA), que l'Iran, le P5 +1 (les cinq membres permanents du Conseil de sécurité des Nations Unies, plus l'Allemagne) et l'Union européenne ont adopté en 2015. Pourtant, il aurait également dû reconnaître que le JCPOA va plus loin que ce que lui-même et beaucoup d'autres avaient cru possible, en démontrant la puissance de la diplomatie, en particulier à ceux qui avaient préconisé des moyens militaires.
Le JCPOA a fait date dans l'histoire du multilatéralisme. Malgré cela (ou peut-être à cause de son mépris pour le multilatéralisme sous  toutes les formes), le président américain Donald Trump l'a appelé le « traité plus stupide de tous les temps » et a prédit qu'il allait « conduire à un holocauste nucléaire. » De nombreux analystes, tels que Stephen M. Walt de l'Université de Harvard, ont montré que ces thèses sont totalement infondées et hyperboliques à l'extrême. Mais cela n'a pas empêché Trump de refuser de « renouveler » le JCPOA en octobre dernier.
Le coup politique de Trump laisse au Congrès le soin de décider de réimposer des sanctions liées au nucléaire sur l'Iran, ce qui constituerait une violation de l'accord. Même si le Congrès décide de ne rien faire sur ce front, la rhétorique anti-iranienne de Trump ainsi que d'autres initiatives républicaines au Congrès ont mis à mal le JCPOA et lui ont laissé des séquelles.
L'effondrement du JCPOA risque de provoquer des risques importants pour le Moyen-Orient et pour le monde. Le redémarrage d'un nouveau programme nucléaire iranien viendrait ajouter une dimension inquiétante à la rivalité stratégique de l'Iran face à l'Arabie Saoudite. En fait, la guerre froide des deux pays semble déjà être en train de tourner au conflit ouvert. L'Arabie Saoudite, dont le jeune prince héritier audacieux Mohammed ben Salman a l'appui sans réserve de Trump, a récemment accusé l'Iran d'un « acte de guerre » suite au lancement d'un missile depuis le Yémen vers Riyadh.
À l'heure où les États-Unis sont déjà dans une impasse nucléaire avec la Corée du Nord, la dernière chose dont ils ont besoin consisterait à faire augmenter un risque similaire au Moyen-Orient. Heureusement l'Allemagne, la Chine, la France, le Royaume-Uni, la Russie et l'UE se sont tous engagés à défendre le JCPOA, en prenant leurs distances avec la position réticente de l'administration Trump.
La politique étrangère de Trump vient s'ajouter à une longue liste d'incitations à effet pervers dans le domaine de la prolifération nucléaire. Pensez par exemple à l'invasion de l'Irak en  2003 menée par les États-Unis, lancée sous le prétexte que Saddam Hussein cachait des armes de destruction massive. Il n'en cachait pas. Et quand il a été renversé, les deux autres membres de ce que le président américain George W. Bush appelait l'axe du mal, à savoir l'Iran et la Corée du Nord, en ont conclu que le fait de ne pas avoir d'armes nucléaires les rendait vulnérables aux tentatives américaines d'un changement de régime. Cette conclusion s'est encore renforcée en 2011, avec le renversement (sous assistance des États-Unis), du leader libyen Mouammar Kadhafi, qui avait abandonné son programme nucléaire huit ans auparavant.
En Corée du Nord, Kim Jong-un est arrivé au pouvoir quelques semaines après l'exécution sommaire de Kadhafi aux mains des combattants rebelles, ce qui a sans aucun doute influencé sa conception des relations internationales. Plutôt que de faire reculer Kim, les menaces de Trump de « feu et de fureur » ont davantage convaincu le leader nord-coréen que sa survie et celle de la dynastie des Kim dépendaient de l'arme nucléaire. De fortes sanctions punitives ne suffiront pas à le faire changer d'avis. Kim semble parfaitement disposé à faire subir des privations de toutes sortes à la population nord-coréenne afin de rester au pouvoir.
Bien sûr, il existe des différences notables entre la Corée du Nord et l'Iran. La plus évidente est que le programme nucléaire de l'Iran n'a pas décollé, alors que la Corée du Nord (qui contrairement à l'Iran, s'est retirée du Traité de non-prolifération), dispose déjà d'environ 60 ogives nucléaires et semble faire des progrès en vue d'un missile balistique intercontinental à tête nucléaire capable d'atteindre le continent américain. En bref : un conflit militaire avec la Corée du Nord entraînerait des risques mondiaux.
Trump a peut-être commencé à se rendre compte qu'une pression de plus en plus forte sur la Corée du Nord n'exclut pas de négocier avec Kim. En fait, la combinaison de ces deux méthodes est la solution la plus raisonnable.
Mais pour donner une chance à la diplomatie, il faudra que Trump abandonne sa rhétorique incendiaire et ses positions maximalistes afin de collaborer de façon constructive avec le président chinois Xi Jinping. Après avoir récemment renforcé son pouvoir dans le cadre du 19ème Congrès national du Parti Communiste Chinois, Xi va probablement jouer un rôle plus proactif dans la résolution des conflits internationaux, en particulier dans les domaines qui concernent directement la Chine. Un dirigeant mondial efficace doit être en mesure de faire face à son allié et de tendre la main à son adversaire lorsque les circonstances l'exigent.
La recherche d'une stratégie visant à contenir de manière crédible la menace nord-coréenne est la seule façon de s'assurer que la Corée du Sud et le Japon ne fassent pas le choix regrettable de rejoindre le club nucléaire. Comme Waltz l'a observé, les armes nucléaires ont tendance à se propager. Mais cela ne veut pas dire que nous devons nous résigner à la prolifération, encore moins minimiser son potentiel catastrophique. La sécurité internationale dépend de la préservation de réussites diplomatiques comme le JCPOA, qui sont cruciales pour éviter la contagion et pour mettre fin une fois pour toutes aux spirales dangereuses de l'antagonisme et de la polarisation.