Las consecuencias económicas internacionales del Sr. Trump
PARÍS – El Foro Económico Mundial de este año en Davos demostró ser una nueva oportunidad para que la administración del presidente norteamericano, Donald Trump, desplegara su habitual incontinencia verbal y enviara ondas sísmicas a toda la economía global. Esta vez, hubo dos causas.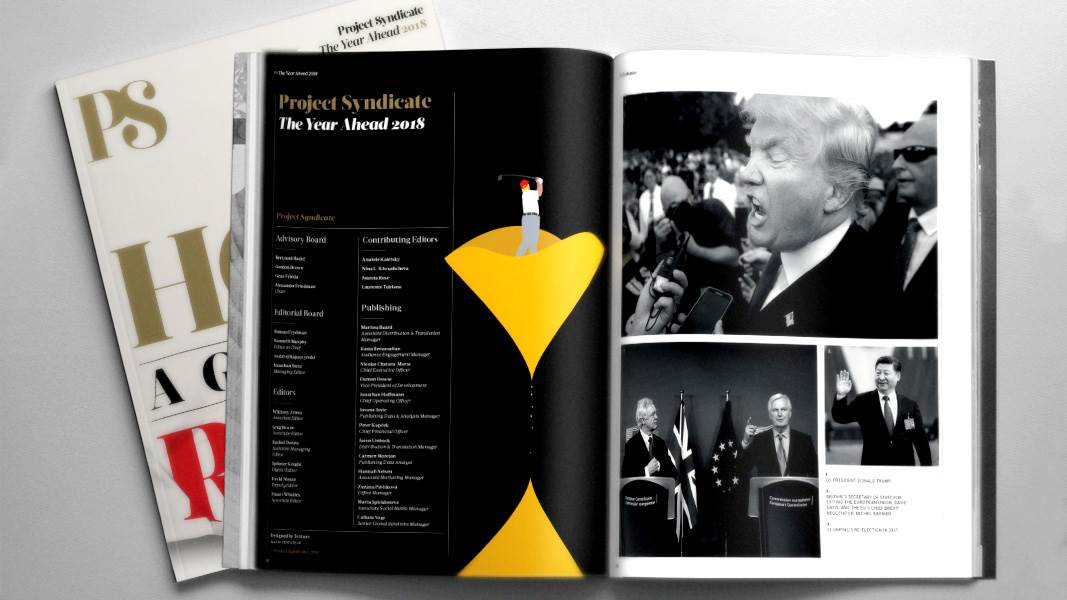 The Year Ahead 2018
The world's leading thinkers and policymakers examine what's come apart in the past year, and anticipate what will define the year ahead.
La primera sacudida provino del secretario del Tesoro de Estados Unidos, Steven Mnuchin, quien rompió con más de dos décadas de disciplina estricta al sugerir que a Estados Unidos le convendría un dólar más débil. La segunda provino del secretario de Comercio, Wilbur Ross, quien pareció regocijarse ante la perspectiva de declarar y ganar una guerra comercial. 
Por una vez, fue el propio Trump quien restableció la calma al negar que Estados Unidos estuviera apelando a una estrategia proteccionista. Pero lo hizo recién después que las declaraciones de los secretarios de su gabinete ya habían generado respuestas filosas de los socios comerciales.
Si el primer año de Trump en el poder ofrece una pista de lo que viene, existen pocos motivos para esperar un liderazgo económico estadounidense más estable. Un año después de que asumiera el cargo, Davos ofreció un fuerte recordatorio de que Trump está lejos de haberse normalizado.
En honor a la verdad, la administración Trump no es la primera en poner a "Estados Unidos primero". Debido a su sistema político encerrado en sí mismo y a la persistencia de fuertes corrientes subyacentes aislacionistas, Estados Unidos normalmente se ha mostrado más reacio que los países europeos a firmar compromisos internacionales o respetarlos. El rechazo en 1948 de la Carta de La Habana (un intento temprano por crear una organización de comercio global), la hostilidad parlamentaria ante las instituciones de Bretton Woods o la negativa por parte del presidente George W. Bush a ratificar el Protocolo de Kyoto sobre cambio climático son apenas unos ejemplos.
De la misma manera, la adopción de medidas inflexibles para defender los intereses de Estados Unidos no empezó con Trump. La decisión unilateral del presidente Richard Nixon en 1971 de abandonar el patrón oro fue un golpe duro para el sistema monetario internacional. El experimento monetarista de la Reserva Federal de Estados Unidos a fines de los años 1970 precipitó la crisis de deuda latinoamericana. El forcejeo con Japón en los años 1980 eludió reglas comerciales establecidas. Y, después de la crisis financiera global de 2008, la Fed implementó un alivio cuantitativo a pesar de las protestas de que esto hacía que Estados Unidos exportara deflación.
Sin embargo, esta vez hay algo diferente. Desde el momento en que heredó el liderazgo global de manos del Reino Unido -simbólicamente con la firma de la Carta del Atlántico en el verano de 1941- hasta que Trump fue elegido presidente 75 años después, pocos pueden dudar de que Estados Unidos fue el máximo dueño del régimen económico internacional. Dependiendo del momento y de las condiciones políticas, podía amañar las reglas o ayudar a hacerlas cumplir; podía comportarse de manera más egoísta o más generosa, y podía perseguir intereses estrechos y de corto plazo u objetivos amplios y de largo plazo. Pero no importa lo que hiciera Estados Unidos, seguía siendo el actor dominante del sistema global. Y el resto del mundo lo sabía perfectamente.
Existían fuertes razones geopolíticas para esta postura. Hasta el fin de la Guerra Fría, el sistema de reglas y organizaciones que conformaba la infraestructura institucional del comercio internacional, la inversión y las finanzas era considerado vital por el establishment estadounidense para la prosperidad del "mundo libre" y la contención de la influencia soviética. Después del colapso de la Unión Soviética, el sistema sirvió como un medio estratégico para integrar a los ex países comunistas a la economía capitalista internacional. 
Finalmente, a comienzos de los años 2000, llegó a considerarse que el sistema económico global ofrecía la mejor plataforma para dar cabida al ascenso de China. China fue invitada a sumarse al club, con la promesa implícita de que después de que hubiera aprendido a respetar las reglas, podría contribuir a modificarlas. Tendría la oportunidad de participar en la conducción del sistema internacional y gradualmente ganar en poder e influencia. El acceso de China a la Organización Mundial de Comercio en 2001 fue un hito importante en este sentido.
Lo que cambió esencialmente con la administración Trump no es que se comporte de manera más egoísta que sus antecesores. Es que parece no estar convencida de que apuntalar el sistema global favorece los intereses estratégicos de Estados Unidos. Básicamente, parece no estar convencida de que integrar a China a este sistema y ofrecerle un lugar en la mesa principal es la mejor manera de dar cabida a su creciente poder económico.
Para el resto del mundo, la cuestión clave hoy es si el sistema global es lo suficientemente resiliente como para sobrevivir al retiro de su creador.
En términos generales, las consecuencias económicas internacionales de Trump parecen considerablemente benignas. Los temores por las guerras monetarias han menguado. La economía global no ha caído en una espiral proteccionista. Hasta el retiro de Estados Unidos del frágil acuerdo climático de París no ha resultado en su colapso. Por el contrario, todos los otros líderes -empezando por el presidente Xi Jinping de China- han confirmado su compromiso con el acuerdo y 174 países lo han ratificado formalmente. Los temores en el campo de la seguridad parecen más serios, debido a disputas por el acuerdo nuclear iraní y la incertidumbre por cómo manejar los lanzamientos de misiles norcoreanos.
Sin embargo, la visión de que la economía, al fin, está en terreno firme es peligrosamente errónea, ya que supone que las reglas económicas y las instituciones globales han creado el equivalente de una constitución económica y financiera. De hecho, el sistema sigue siendo demasiado incompleto como para autorregularse, y su funcionamiento requiere de una guía constante y de iniciativas discrecionales frecuentes. Es por esto que las agrupaciones informales como el G7 y el G20 siguen siendo esenciales: ofrecen el impulso político necesario. Pero ellas también dependen de manera crucial del respaldo y del liderazgo estadounidense.
Por ejemplo, no fueron las reglas del sistema las que ofrecieron una respuesta a la crisis de 2008; fue una serie de iniciativas ad hoc -un estancamiento del proteccionismo comercial, rescates bancarios coordinados, un estímulo global y la oferta de liquidez en dólares a través de líneas swap, para nombrar sólo las principales- que le debió mucho a Estados Unidos. Sin su liderazgo y las iniciativas de actores clave como el Reino Unido y Francia, la crisis habría sido mucho peor.  
Es verdad, es probable que los otros actores importantes -Europa, China, India y Japón- llegado el caso puedan ejercer un liderazgo global. Pero, por el momento, no tienen ni la voluntad, ni la capacidad ni la cohesión que harían falta. De manera que el mundo no debería hacerse ilusiones. Para mantener el rumbo de la embarcación si el piloto abandonó el timón es una cosa; manejarlo en una tormenta es otra. Esperemos que la próxima tormenta no se forme demasiado pronto.