Le Conseguenze Economiche Internazionali di Mr. Trump
PARIGI – Il World Economic Forum di Davos di quest'anno ha rappresentato una nuova occasione per l'amministrazione del presidente degli Stati Uniti Donald Trump di manifestare la consueta incontinenza verbale generando onde d'urto sull'economia mondiale. Questa volta, l'origine era duplice.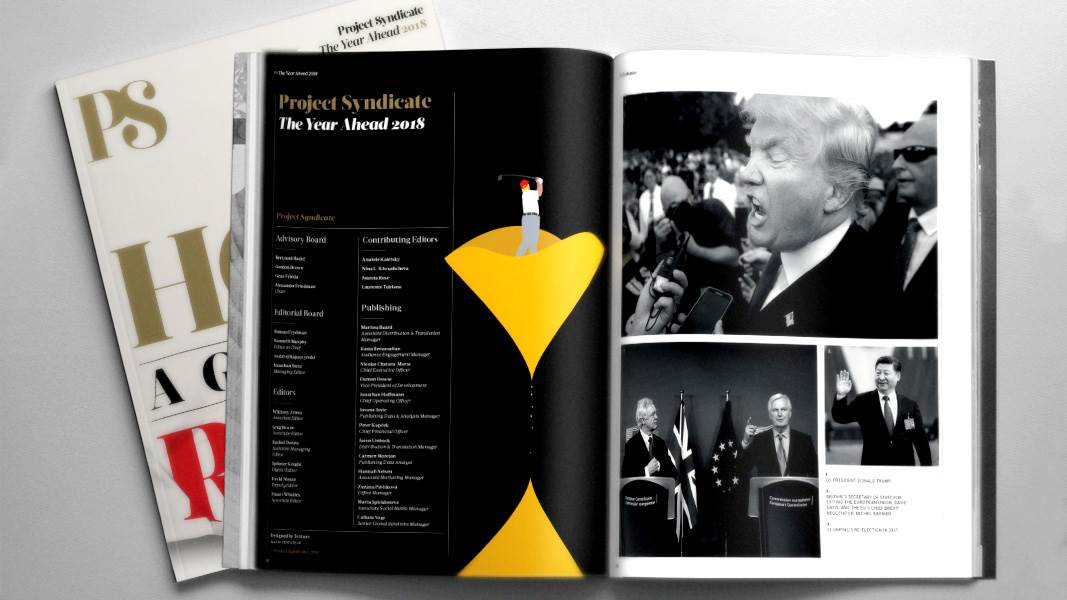 The Year Ahead 2018
The world's leading thinkers and policymakers examine what's come apart in the past year, and anticipate what will define the year ahead.
Il primo scossone è arrivato dal Segretario al Tesoro americano Steven Mnuchin, che ha rotto con più di due decenni di rigida disciplina suggerendo che un dollaro più debole sarebbe nell'interesse degli Stati Uniti. Il secondo è pervenuto dal Segretario al Commercio Wilbur Ross, che sembrava rallegrarsi per la prospettiva di intraprendere e vincere una guerra commerciale.
Per una volta, è stato lo stesso Trump a ristabilire la calma negando che gli Stati Uniti stessero perseguendo una strategia "beggar-thy-neighbor". Ma lo ha fatto solo dopo che le dichiarazioni dei suoi segretari di gabinetto avevano suscitato forti reazioni da parte dei partner internazionali.
Se il primo anno al potere di Trump fornisce un'indicazione di quello che ci aspetta, ci sono poche ragioni di confidare in una leadership economica statunitense più stabile. Ad un anno dal suo insediamento, Davos ha fornito una potente testimonianza del fatto che egli è ben lontano dall'essersi normalizzato.
Per essere onesti, l'amministrazione Trump non è certamente la prima a mettere "l'America al primo posto". A causa del suo sistema politico concentrato su se stesso e della persistenza di forti correnti isolazioniste, gli Stati Uniti sono stati sistematicamente più riluttanti dei paesi europei a sottoscrivere e rispettare impegni internazionali. Il rifiuto del 1948 della Carta dell'Avana (un primo tentativo di creare un'organizzazione commerciale globale), l'ostilità del Congresso alle istituzioni di Bretton Woods, o il rifiuto da parte del presidente George W. Bush di ratificare il Protocollo di Kyoto sui cambiamenti climatici, rappresentano solo alcuni esempi.
Allo stesso modo, la tendenza ad assumere misure spietate in difesa degli interessi americani non è iniziata con Trump. La decisione unilaterale del presidente Richard Nixon nel 1971 di abbandonare il gold standard è stato un duro colpo per il sistema monetario internazionale. L'esperimento monetarista della Federal Reserve statunitense alla fine degli anni '70 ha fatto precipitare la crisi del debito latino-americano. Il braccio di ferro con il Giappone negli anni '80 ha comportato l'aggiramento delle regole commerciali già stabilite. E all'indomani della crisi finanziaria globale del 2008, la Fed ha attuato il quantitative easing nonostante le proteste, consentendo così agli Stati Uniti di esportare la deflazione.
Eppure c'è qualcosa di diverso questa volta. Dal momento in cui gli Stati Uniti hanno ereditato la leadership globale dal Regno Unito – simbolicamente con la firma della Carta Atlantica nell'estate del 1941 – fino a quando Trump è stato eletto 75 anni dopo, pochi potevano dubitare che essi fossero i veri padroni del regime economico internazionale. A seconda dei momenti e delle condizioni politiche, il paese poteva stravolgere le regole o aiutare a rafforzarle; poteva comportarsi in modo più egoistico o più generoso; e poteva perseguire interessi ristretti a breve termine, o ampi obiettivi a lungo termine. Ma qualunque cosa facessero, gli USA rimanevano "l'azionista di maggioranza" del sistema globale. E il resto del mondo lo sapeva perfettamente.
C'erano forti ragioni geopolitiche per questa posizione. Fino alla fine della Guerra Fredda, il sistema di regole ed organizzazioni che costituiva l'infrastruttura istituzionale del commercio internazionale, degli investimenti e della finanza era considerato dall'establishment statunitense vitale per la prosperità del "mondo libero" e il contenimento dell'influenza sovietica. Dopo il crollo dell'Unione Sovietica, il sistema è servito come mezzo strategico per integrare gli ex paesi comunisti nell'economia capitalista internazionale.
Infine, nei primi anni 2000, il sistema economico globale è stato considerato come la migliore piattaforma per contenere l'ascesa della Cina. La Cina è stata invitata a far parte del "club", con l'implicita promessa che, dopo aver imparato a giocare secondo le regole, avrebbe potuto contribuire a modificarle. Poteva avere la possibilità di partecipare alla guida del sistema internazionale e guadagnare gradualmente potere e influenza. L'adesione della Cina alla World Trade Organization nel 2001 ha rappresentato un traguardo importante.
Ciò che è radicalmente cambiato con l'amministrazione Trump non è il suo comportamento maggiormente egoistico rispetto a quello delle precedenti. Ma il fatto che essa non appare convinta che il rafforzamento del sistema globale serva agli interessi strategici statunitensi. Essa sembra, seriamente, ritenere che integrare la Cina in questo sistema ed offrirle di prenderne parte ai vertici non sia il modo migliore per contenere la sua crescente potenza economica.
Oggi il resto del mondo sostanzialmente si domanda se il sistema globale sia abbastanza resiliente da sopravvivere al ritiro del suo creatore.
Ad un'analisi superficiale, le conseguenze economiche internazionali di Trump possono apparire notevolmente positive. Le preoccupazioni per eventuali guerre valutarie sono scemate. L'economia globale non è degenerata in una spirale protezionistica. Anche il ritiro degli Stati Uniti dal fragile accordo sul clima di Parigi non ne ha provocato il crollo. Al contrario, tutti gli altri leader – a cominciare dal presidente cinese Xi Jinping – hanno confermato il loro impegno nei confronti di esso, e 174 paesi lo hanno formalmente ratificato. Appaiono più gravi le preoccupazioni nel campo della sicurezza, a causa delle dispute sull'accordo nucleare con l'Iran e dell'incertezza sulla gestione dei lanci missilistici nordcoreani.
Ma l'idea che l'economia, almeno, sia ancorata a solide basi è pericolosamente errata, poiché presuppone che le regole e le istituzioni economiche globali abbiano creato l'equivalente di una costituzione economica e finanziaria. In effetti, il sistema rimane troppo incompleto per autoregolarsi, e il suo funzionamento richiede una guida costante e frequenti iniziative discrezionali. Questo è il motivo per cui i raggruppamenti informali come il G7 e il G20 rimangono essenziali: forniscono il necessario impulso politico. Ma anche loro dipendono in modo cruciale dal sostegno e dalla leadership degli Stati Uniti.
Non sono state le regole del sistema, per esempio, ad offrire una risposta alla crisi del 2008; si è trattato di una serie di iniziative ad hoc – blocco del protezionismo commerciale, salvataggi bancari coordinati, incentivi globali e fornitura di liquidità in dollari attraverso linee di swap, per nominare solo le principali – dovute per la gran parte agli Stati Uniti. In assenza di tale leadership e delle iniziative di attori chiave come il Regno Unito e la Francia, la crisi sarebbe stata molto peggiore.
Certo, gli altri principali attori – Europa, Cina, India e Giappone – potrebbero alla fine essere in grado di esercitare una leadership globale. Ma, per il momento, questi paesi sono privi della volontà, capacità e coesione che ciò richiederebbe. Quindi il mondo non dovrebbe farsi illusioni. Mantenere la barca in rotta dopo che il pilota ha lasciato il timone è una cosa; governarla in una tempesta è un'altra questione. Speriamo che la prossima bufera non arrivi troppo presto.