Que veulent les États-Unis en Syrie ?
DENVER – Vue l'effervescence qui règne aujourd'hui au Moyen-Orient, on devrait louer le secrétaire d'État américain Rex Tillerson pour n'avoir pas perdu de vue, lors de son dernier voyage dans la région, le conflit syrien.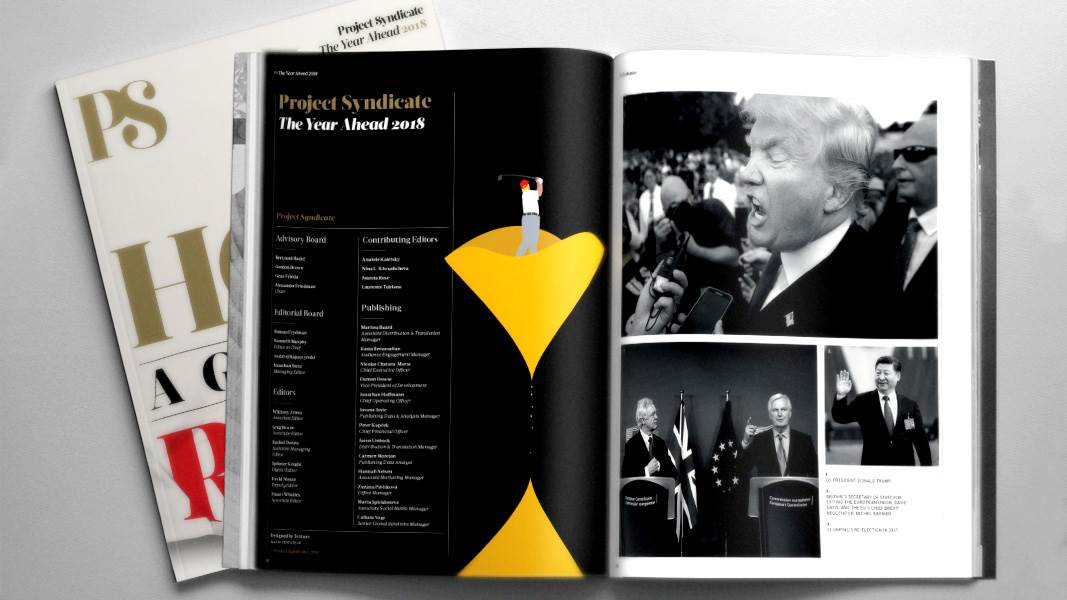 The Year Ahead 2018
The world's leading thinkers and policymakers examine what's come apart in the past year, and anticipate what will define the year ahead.
Le travail n'avait rien de facile. La diplomatie américaine est à peu près invisible au Moyen-Orient, et le département d'État ne semble pas avoir la moindre idée ni – ce qui est plus préoccupant – le moindre budget qui lui permettrait de prendre l'initiative. Si les États-Unis veulent véritablement intervenir dans la crise de plus en plus meurtrière qui sévit en Syrie, ils doivent commencer par faire preuve d'un intérêt un peu plus marqué – et joindre le geste – l'argent – à la parole.
La situation en Syrie est devenue tellement compliquée que le monde n'a plus, loin s'en faut, les capacités de la contrôler. Les événements, qui changent sans cesse, les acteurs qui se multiplient et le déplacement constant des lignes de front laissent craindre l'enlisement.
Voici seulement six mois, le conflit s'articulait autour de deux grands axes : la président syrien Bachar Al-Assad, avec le soutien de la Russie, de l'Iran et du Hezbollah s'engageait sur la voie de la victoire ; et l'organisation État islamique (EI) s'apprêtait à subir une défaite sans appel de la coalition menée par les États-Unis. Aujourd'hui, le succès de la campagne contre l'EI semble, au mieux, une victoire à la Pyrrhus. Des centaines de milliers de vies ont été perdues, et la solution globale du conflit n'est pas même en vue.
Le monde, au contraire, est ces jours-ci plus tendu. Ces dernières semaines, Israël s'est attaqué aux forces iraniennes dans le Sud de la Syrie, pour bien monter qu'il n'y tolérera pas que l'Iran y établisse sa présence. Et la Turquie a lancé une campagne résolue contre les Kurdes de Syrie, qu'elle espère déloger de la province d'Afrin, au nord-ouest, afin de les empêcher de joindre les Kurdes de Turquie, de l'autre côté de la frontière. Assad s'est rendu à la réalité et a laissé entendre qu'il céderait du territoire aux Kurdes syriens. Mais les Turcs continuent de refuser la constitution d'une entité autonome kurde le long de leur frontière.
Les États-Unis, pour leur part, ont passé les six dernières années à rassembler différents groupes de combattants arabes sunnites sous les auspices des soi-disant Forces démocratiques syriennes (FDS), sous-produit de ce qu'on appelait autrefois l'Armée syrienne libre. Certains éléments des SDF se sont montrés plus efficaces que d'autres, et ont même combattu aux côtés des Kurdes contre l'EI. Mais elles se trouvent aujourd'hui dans le collimateur non seulement d'Assad, mais aussi de la Russie et de diverses milices chiites soutenues par l'Iran.
Les États-Unis ont eu raison de concentrer leurs efforts sur la défaite de l'EI, mais ils sont aujourd'hui confrontés à un défi d'une autre ampleur : garantir la survie de leurs différents alliés sur le terrain. Cela soulève la perspective d'un conflit plus ou moins direct avec d'autres puissances, notamment avec la Russie. De fait, les États-Unis ont peut-être déjà tué des dizaines de soldats contractuels russes lors d'une récente frappe aérienne.
Les États-Unis et leurs partenaires européens ne se sont guère empressés de sanctionner la Turquie, leur alliée au sein de l'OTAN, se contentant d'exhorter le président turc Recep Tayyip Erdoǧan à faire preuve de retenue. Mais les exploits rhétoriques, parmi les outils diplomatiques favoris des Américains, impressionnent rarement ceux qui sont dans le feu du combat.
En outre, la Turquie semble ne faire aucun cas de ce que pensent ses alliés. Ainsi a-t-elle à nouveau fait froncer quelques sourcils dans l'OTAN en achetant aux Russes des batteries anti-aérienne S-400 de nouvelle génération. Cela n'augure rien de bon d'un futur processus de paix. Après tout, les pays occidentaux ont besoin de la Turquie pour faire contrepoids aux Russes, dont l'agenda stratégique s'étend bien au-delà du Moyen-Orient.
Lorsque les historiens se pencheront sur le conflit syrien, ils loueront tant les présidents Barack Obama que Donald Trump d'avoir sans relâche pourchassé l'EI. Mais ils blâmeront les États-Unis de n'avoir pas compris la guerre plus vaste qui se jouait.
Il est déjà clair que l'administration Obama ne savait pas à quoi elle voulait aboutir lorsque, sans penser à ce qui viendrait ensuite, elle appela en 2011 au remplacement d'Assad. En juillet de la même année, l'ambassadeur des États-Unis en Syrie, Robert S. Ford, fut envoyé dans la ville sunnite de Hama, où le père d'Assad avait ordonné, trente ans plus tôt, un massacre. Selon le département d'État, l'objet de cette visite était d'« exprimer notre profond soutien au droit du peuple syrien de se rassembler pacifiquement et de s'exprimer librement ». Est-il possible que l'administration n'ait pas prévu qu'Assad – comme son père avant lui – ne répondrait pas au soulèvement populaire par la violence ?
Lorsque les États-Unis prirent position contre Assad, voici sept ans, ils affirmèrent leur intérêt national en Syrie mais en ignorant ceux des autres acteurs clés comme la Turquie, la Russie, l'Iran et Israël. Et aujourd'hui, devant toutes leurs hésitations, le danger d'une guerre pure et simple par alliés interposés devient on ne peut plus réel.
Jusqu'à présent, la catastrophe humanitaire à laquelle sont confrontés les civils syriens n'a pas poussé l'administration Trump à l'action. Mais peut-être celle-ci s'agitera-t-elle lorsqu'elle comprendra la menace que fait peser le conflit sur toute la région.
Si l'administration veut montrer sa détermination, elle doit commencer par consulter les autres puissances régionales afin de cerner leurs intérêts et de juger s'ils peuvent être conciliés. C'est peut-être ce que Tillerson, précisément, est en train de faire. Mais avant même de demander ce qu'ils veulent aux acteurs régionaux, l'administration Trump doit se poser cette question à elle-même. Les enjeux en Syrie grimpent vite, on ne peut que se demander quelle sera la position des Américains.
Traduction François Boisivon