Amerikas Katastrophe
WASHINGTON, DC – Es ist eine Katastrophe für die USA, dass, als in diesem Frühjahr zwei nationale Tragödien – die COVID-19-Krise und das rassistische Erbe des Landes – kollidierten, im Weißen Haus ein instabiler und völlig regierungsunfähiger Präsident residierte.
Die Unfähigkeit von Präsident Donald Trump im Umgang mit der Pandemie hat inzwischen zu mehr als 112.000 Todesfällen geführt; das ist eine der welthöchsten Sterblichkeitsraten pro Kopf für COVID-19, und noch immer breitet sich das Coronavirus in bisher nicht betroffene Gebiete aus. Die Gesundheitskrise hat zudem den schlimmsten Wirtschaftsabschwung in den USA seit der Großen Depression der 1930er Jahre ausgelöst.
Angesichts der zwischenzeitlichen Entwicklung ist es keine Übertreibung, zu sagen dass das amerikanische Experiment – das im kommenden Monat 244 Jahre alt wird – in ernster Gefahr ist. Diese ist sogar noch größer als während der durch den Watergate-Skandal der 1970er Jahre verursachten Verfassungskrise. Die Pandemie fiel mit der jüngsten einer langen Reihe rassisch bedingter Schandtaten zusammen, und das hat das Land zum Explodieren gebracht.
Millionen zu Hause eingepferchter Amerikaner sahen sich immer wieder den kaltblütigen Mord an einem unbewaffneten, Handschellen tragenden Schwarzen – George Floyd – durch vier Polizisten in Minneapolis an. Einer von ihnen, Derek Chauvin, kniete sich lässig fast neun Minuten lang auf Floyds Nacken, bis dieser das Bewusstsein verlor; zwei andere saßen auf Floyds Rücken, was ihm weiter die Sauerstoffzufuhr abschnitt, und der vierte sah zu und hielt entsetzte Passanten in Schach, während der um sein Leben kämpfende Floyd ausstieß: "Bitte, ich kann nicht atmen."
Der Mord an Floyd erschütterte das Gewissen des Landes. Er veranschaulichte den Amerikanern auf unmissverständliche Weise die wahre Bedeutung des Begriffs "Polizeibrutalität". Und nach wochenlangen Ausgangssperren und Abstandsregeln hatte sich bei vielen Menschen eine beträchtliche Energie aufgestaut, die angesichts der Aufnahmen von Floyds Tod nun freigesetzt wurde. Am nächsten Tag begannen die Proteste in Minneapolis und breiteten sich rasch im gesamten Land aus. Zehntausende von Menschen aller Rassen und Altersgruppen beteiligten sich.
Dass einige Demonstranten Gewalttaten begingen, plünderten und Sachschäden anrichteten (und u. a. Polizeifahrzeuge in Brand steckten) war ein gefundenes Fressen für Trump, dessen politischer Stil darin besteht, seine Anhänger aufzustacheln. Seine Nixon-artige Beschwörung von Recht und Ordnung zielte darauf, die Unterscheidung zwischen den gewalttätigen Protestierenden und der viel größeren Zahl friedlicher Demonstranten zu verwischen.
Subscribe to Project Syndicate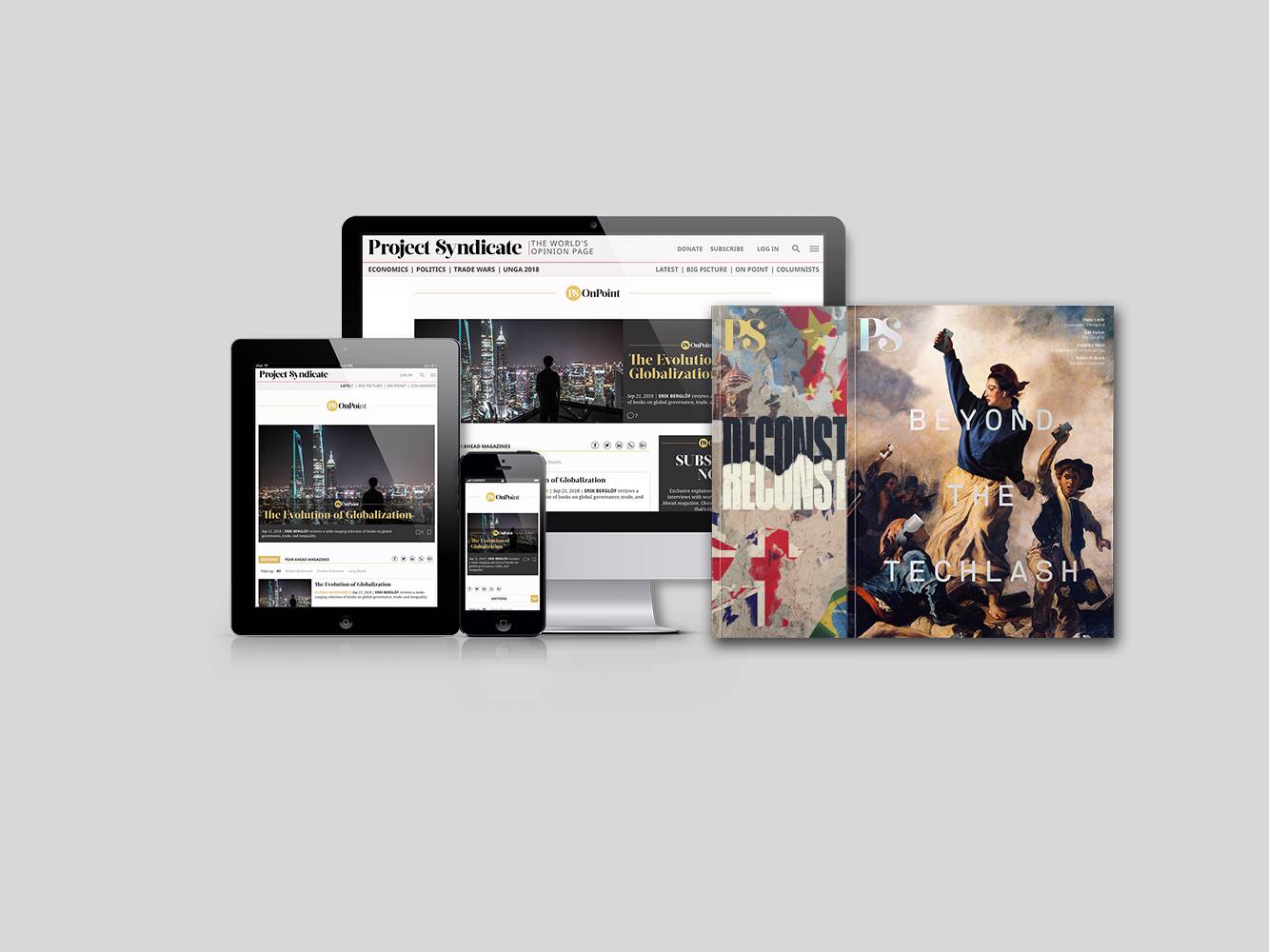 Subscribe to Project Syndicate
Enjoy unlimited access to the ideas and opinions of the world's leading thinkers, including weekly long reads, book reviews, and interviews; The Year Ahead annual print magazine; the complete PS archive; and more – all for less than $2 a week.
US-Justizminister William Barr war wie immer bereit, Trump dabei zu unterstützen, die Situation auszunutzen und noch mehr Macht anzuhäufen. Und weil Washington, D.C. kein US-Bundesstaat ist, hatten Trump und Barr freie Hand, ihre eigene Lösung durchzusetzen. Sie setzten dazu die Nationalgarden verschiedener Bundesstaaten, die militärartigen Einsatzkräfte von Bundesbehörden und, verstörenderweise, einige nicht identifizierbare Kräfte ein. Washington wurde zu einer besetzten Stadt.
Trump gibt vor, ein harter Hund zu sein, und ist autoritär bis auf die Knochen. Doch als die Proteste außerhalb des Weißen Hauses anschwollen, entschied er – so behauptete er jedenfalls –, dass es Zeit sei, den riesigen unterirdischen Präsidentenbunker zu "inspizieren". Das Weiße Haus war zu diesem Zeitpunkt bereits selbst ein Bunker: Während des Chaos nach dem Mord an Floyd wurde die Höhe des Zaunes, der das Gelände umgibt, fast verdoppelt. Entsprechend seiner Neigung zur Provokation twitterte Trump, dass, wenn Demonstranten diesen Zaun überwunden hätten, sie "mit den bösartigsten Hunden und bedrohlichsten Waffen konfrontiert worden wären, die ich je gesehen habe".
Der zutiefst verstörende Gewalteinsatz gegen eindeutig friedliche Demonstranten am Lafayette Square gegenüber dem Weißen Haus – eine Verletzung von deren Rechten, die sich Barr zunächst zugute schrieb – erschüttere das nationale Gewissen weiter. Trumps nicht gerade brillante Berater – an erster Stelle seine Tochter Ivanka und sein Schwiegersohn Jared Kushner – hatten sich einen politischen Stunt einfallen lassen, bei dem Trump über den Platz zur mit Brettern vernagelten St John's Church gehen sollte, deren Keller in Brand gesteckt worden war. Doch sie vergaßen, sich zu überlegen, was er machen sollte, nachdem er dort angekommen war. Trump winkte linkisch mit einer Bibel, die er teils verkehrtherum hielt, und posierte für Fotos, die ihn nur töricht aussehen ließen.
Zudem stieß Trumps Forderung nach einem großflächigen Einsatz aktiver Soldaten in Amerikas Städten auf weit verbreiteten Widerstand und Hohn. Eine Kaskade ehemaliger hochrangiger Militärs, darunter der Marinegeneral a. D. James Mattis, der bis letztes Jahr Trumps Verteidigungsminister gewesen war, kritisierte den Präsidenten öffentlich. Mattis beschrieb sich selbst als "zornig und angewidert" angesichts der Vorstellung, dass zur Niederschlagung der Demonstrationen Truppen eingesetzt werden sollten, und erklärte, die Amerikaner sähen jetzt "die Folgen von drei Jahren ohne eine reife politische Führung".
Doch wer in diesen Aussagen den Zerfall von Trumps Präsidentschaft zu sehen glaubte, hatte die anhaltende Treue der Republikaner außer Acht gelassen. Vor die Wahl zwischen Mattis und Trump gestellt, hielten fast alle republikanischen Abgeordneten zum Präsidenten. Sie hatten ihn schon so lange verteidigt, so viele seiner Ansichten übernommen und waren so abhängig von ihm und seinen Spendern geworden, dass sie nicht bereit waren, mit ihm zu brechen – obwohl sie wissen, dass er laut aktuellen Meinungsumfragen die Wahl im November verlieren und sie mit sich in den Abgrund reißen könnte.
Während der landesweite Aufstand gegen rassistische Polizeimaßnahmen zu ein paar Reformen führen wird – wie etwa verbesserten Schulungsmaßnahmen und dem Verbot von Würgegriffen wie dem, der George Floyd tötete –, kann ein Überdenken der Rolle der Polizei allein, egal wie radikal seine Ergebnisse sind, den Rassismus – den großen Makel, den der von den Gründervätern in der Frage der Sklaverei eingegangene Kompromiss hinterlassen hat – nicht beseitigen.
Regierungen können nichts gegen die täglichen Beleidigungen tun, denen man als Schwarzer in Amerika ausgesetzt ist – die leeren Taxis, die sich weigern, anzuhalten, dass man im Supermarkt fälschlich für einen Angestellten gehalten wird, die unzähligen absichtlichen und unabsichtlichen Kränkungen. Viele derjenigen, die gegenwärtig auf den Straßen demonstrieren, werden erst zufrieden sein, wenn das Ergebnis dieser nationalen Konvulsion verbesserte Schulen, eine bessere Krankenversorgung und bessere berufliche Chancen für Minderheiten sind: eine faire Behandlung der Schwarzen. Was wird passieren, wenn Amerika seine angeblichen Werte neuerlich missachtet?
Aus dem Englischen von Jan Doolan