Warum Trump?
WASHINGTON, DC – Ganz gleich, was aus seiner Kandidatur wird – ob er die Nominierung der Republikanischen Partei erringt oder gar zum Präsidenten der USA gewählt wird –, Amerika und die übrige Welt werden sich noch lange fragen, wie das Phänomen Donald Trump passieren konnte. Sie tun es bereits jetzt.
Zunächst einmal muss man verstehen, dass die Parteien in den USA nichts damit zu tun haben, wer sich um die Präsidentschaft bewirbt. Tatsächlich laufen die Parteien in den USA auf eine Ansammlung von Funktionären hinaus, die das Verfahren für die Auswahl des nominierten Präsidentschaftskandidaten organisieren und sich um Siege der Partei bei den Wahlen im November bemühen.
Die Präsidentschaftskandidaten selbst arbeiten in Wahrheit auf eigene Rechnung. Sie entscheiden eigenständig über ihre Kandidatur, und diese Entscheidung beruht auf ihrem Gefühl (und vielleicht Meinungsumfragen), wie sie abschneiden würden und ob sie das notwendige Geld auftreiben können.
Einige kandidieren schlicht wegen ihres Egos oder aus Gier. Die öffentliche Aufmerksamkeit, die eine Präsidentschaftskandidatur erregt, kann selbst einem gescheiterten Kandidaten einen Buchvertrag, Fernsehauftritte oder eine gut bezahlte Karriere als Gastredner einbringen (oder vielleicht alle drei). Trump kandidierte auf der Basis seiner Berühmtheit. Er ist nicht nur ein bekannter Bauunternehmer mit privatem Vermögen, dessen Name alle möglichen Gebäude ziert, sondern auch der Star einer langjährigen "Reality Show" – ein Magnet der US-Alltagskultur. Er wusste, dass Amerikas Parteiensystem so nebulös ist, dass er selbst entscheiden konnte, für die Präsidentschaft zu kandidieren, und dass keine Parteienstruktur da war, die ihn stoppen konnte. (Das wird zumindest seine Hoffnung sein, falls er sich im Sommer ohne ausreichend Delegierte zum Parteitag in Cleveland aufmacht, um seine Nominierung festzunageln.)
Trump hat den Zeitgeist gut gelesen: Er setzte auf die Wut der Arbeiterschicht – jener Menschen, die beim Wandel von der fertigungsorientierten Volkswirtschaft zur Informationswirtschaft abgehängt wurden. Dies war die Gruppe, die am meisten unter Handelsverträgen wie dem Nordamerikanischen Freihandelsabkommen (NAFTA) gelitten hatte, die US-Unternehmen ermutigten, ihre Fabriken nach Mexiko zu verlagern, und Unternehmern, die im Lande blieben, einen Hebel verschaffte, um die Löhne niedrig zu halten.
Trump kritisiert NAFTA scharf und verspricht, dass er als Präsident Handelsvereinbarungen schließen würde, die die Arbeitnehmer stärker begünstigen. Er hat seinen Wahlkampf von Anfang an auf einer einwanderungsfeindlichen Stimmung aufgebaut und begann seine Kandidatur damit, dass er mexikanische Einwanderer als "Vergewaltiger" und "Mörder" titulierte.
Subscribe to PS Digital Now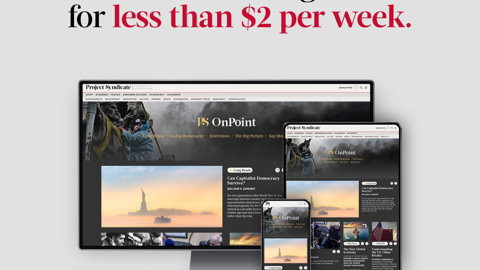 Subscribe to PS Digital Now
Access every new PS commentary, our entire On Point suite of subscriber-exclusive content – including Longer Reads, Insider Interviews, Big Picture/Big Question, and Say More – and the full PS archive.
Trumps Wahlkampf setzt bei seinem Ruf als enorm erfolgreicher Geschäftsmann an. Allerdings ist unklar, wie erfolgreich er tatsächlich war; er musste viermal Konkurs anmelden, und einige der auf seiner Marke beruhenden Unternehmungen scheiterten. Er sträubt sich gegen Fragen darüber, ob sein Vermögen wie von ihm behauptet zehn Milliarden Dollar beträgt, und weigert sich, seine Steuerbescheide zu veröffentlichen, wie das von Präsidentschaftsanwärtern erwartet wird.
Obwohl Trump noch immer die groteske Mauer erwähnt, von der er versprochen hat, dass er sie entlang der Grenze zu Mexiko errichten würde (und die Mexiko bezahlen soll), hat er inzwischen den Handel zu seinem Kernthema gemacht. Es ist kein Zufall, dass sowohl Trump als auch Bernie Sanders, Hillary Clintons Gegner beim Kampf um die Nominierung der Demokratischen Partei, den Handel zu einem zentralen Thema gemacht haben. Beide gründen ihre Kandidatur auf eine Revolte der Mittelschicht. Die Arbeitslosigkeit bei frischen Hochschulabsolventen – einer wichtigen Unterstützergruppe von Sanders – beträgt 12%. Die meisten von Trumps Anhängern sind vermutlich nicht aufs College gegangen, und wenn sie aufgrund von Handelsverträgen ihre Arbeitsplätze verloren haben – oder das glauben –, haben sie nicht die versprochenen Umschulungen erhalten (oder haben Jobs, bei denen die Löhne seit Jahren stagnieren).
Von Beginn an haftete Trumps Wahlkampf ein Hauch von Faschismus an: Der starke Mann wird die Barrieren einreißen, die seinen Anhängern den Aufstieg verwehren. Durch schiere Willenskraft wird er ihr Leben verbessern.
Als einige von Trumps Unterstützern bei einer Wahlkampfveranstaltung im November in Birmingham, Alabama, einen schwarzen Demonstranten verprügelten, ermutigte Trump sie, den Mann härter zu schlagen, und schrie: "Schafft ihn hier raus!" Da ihm der Klang dieser Äußerung und die begeisterte Reaktion seines Publikums gefielen, wiederholte Trump die Formulierung mehrere Male und auch bei späteren Wahlkampfauftritten. Statt sie zu ignorieren, wie das viele Politiker tun, lenkt Trump die Aufmerksamkeit auf Protestierende, um zu zeigen, wie ein starker Mann auf sie reagiert.
Zur Gewalt anzustacheln ist eines von Trumps Instrumenten, um Macht zu erringen. Sollte er Präsident werden – was derzeit nicht auszuschließen ist –, gibt es wenig Grund, zu glauben, dass er Gewalt nicht als Mittel nutzen würde, um an der Macht zu bleiben. Dass es am Standort einer geplanten Wahlveranstaltung in Chicago Mitte März zu Ausschreitungen kam, dürfte kein Zufall gewesen sein: Der gewählte Veranstaltungsort lud dazu ein. Trump nahm für sich in Anspruch, die Veranstaltung abgesagt zu haben, und da er weiß, wie die Medien arbeiten, gab er den drei wichtigsten Kabel-Nachrichtensendern Interviews, während wieder und wieder Aufnahmen der Ausschreitungen abgespielt wurden.
Das in Panik geratene Republikanische Establishment sucht derzeit zu verhindern, dass Trump genügend Delegierte zusammenbekommt, um die Nominierung zu erringen. Es ist aber möglicherweise zu zerstritten und ineffektiv, um damit Erfolg zu haben. Es ist sich zudem uneins, ob es versuchen sollte, Trumps Nominierung auf dem Parteitag zu blockieren, weil es weiß, dass Trumps Anhänger dann rebellieren könnten. Vor ein paar Wochen begann eine kleine Anzahl von Republikanern, sich mit der Idee abzufinden, dass ein Präsident Trump so schlimm nicht wäre, aber dies endete, als Trump anscheinend fortfuhr, zur Gewalt zu ermutigen. Andere Republikaner kamen zu dem Schluss, dass sein Nationalismus und Nativismus sowie seine Ignoranz in politischen Fragen Trump zu einer Gefahr machen. Und nun haben sie Grund zu der Befürchtung, dass hier etwas losgelassen wurde, das niemand aufhalten kann.
Aus dem Englischen von Jan Doolan