Perfide Amérique que l'Amérique de Trump
TEL AVIV – La décision de retirer les troupes américaines de Syrie, brusquement prise par le président des États-Unis Donald Trump, ouvrant la voie à l'offensive turque contre les Kurdes, est une impensable trahison envers un allié stratégique. Venant d'un régime fasciste ou d'une dictature, on s'attendrait à une telle déloyauté. Ce sont pourtant les États-Unis – leader mondial censé défendre de nobles idéaux – qui apparaissent dans le monde d'aujourd'hui comme l'empire perfide.
Les Kurdes, le plus utile et le plus loyal des alliés dans la lutte contre l'organisation État islamique (EI), qui partageaient encore, la semaine dernière, des positions avec les soldats des États-Unis, ont été abandonnés sans vergogne, mais ce n'est que la dernière en date de la longue et consternante liste des trahisons commises par l'administration Trump, lequel a lui-même donné le la de sa présidence en retirant les États-Unis des accords de Paris sur le climat, c'est-à-dire en choisissant impudemment de placer les intérêts financiers des grands patrons américains de l'industrie pétrolière au-dessus des intérêts vitaux de l'humanité.
Trump a également dénoncé l'accord avec l'Iran sur le nucléaire et rétabli les sanctions contre ce pays, alors que celui-ci respectait ses engagements (et les a encore tenus pendant un an). Même les alliés européens des Américains ne sont pas à l'abri : non seulement Trump n'a cessé de critiquer ses partenaires au sein de l'OTAN, mais son administration impose aujourd'hui des sanctions commerciales sur des biens de consommation estimés à 750 milliards de dollars en provenance de l'Union européenne. Les États-Unis, s'est récemment vanté Donald Trump, gagneraient sans difficulté une guerre commerciale contre l'Union européenne.
L'Europe a en outre tout à perdre de l'abandon des Kurdes par Trump. Si, dans le chaos actuel, les milliers de prisonniers de l'EI détenus par les Forces démocratiques syriennes, à majorité kurde, venaient à s'évader – et c'est déjà ce qu'on fait certains –, les alliés de l'Amérique, qui n'ont pas été consultés, vont souffrir. Mais Trump n'est pas concerné. « Eh bien, ils vont s'échapper et se rendre en Europe, c'est là qu'ils veulent aller », a-t-il lancé négligemment lors d'une conférence de presse. « Ils veulent revenir chez eux. »
L'inconstance de l'Amérique, comme leader mondial et comme allié ou partenaire, est désormais chose avérée – et les pays du monde s'adaptent en conséquence. L'Inde resserre par exemple ses liens avec la Chine et avec la Russie, après dix années de relations toujours plus étroites avec les États-Unis. (Les Kurdes, remarquons-le, se sont empressés de conclure un accord avec la Russie, renforçant encore l'influence régionale du Kremlin.)
Pendant ce temps, en Asie orientale, les alliés de l'Amérique évaluent leurs chances de réduire la menace nord-coréenne, dont Trump semble désormais se désintéresser. Le Nord a en effet multiplié les essais de missiles balistiques à courte portée – qui menacent Séoul et Tokyo mais ne peuvent atteindre New York ou Washington – sans émouvoir outre mesure le président des États-Unis, qui est allé jusqu'à déclarer n'en être pas « personnellement » affecté.  
Subscribe now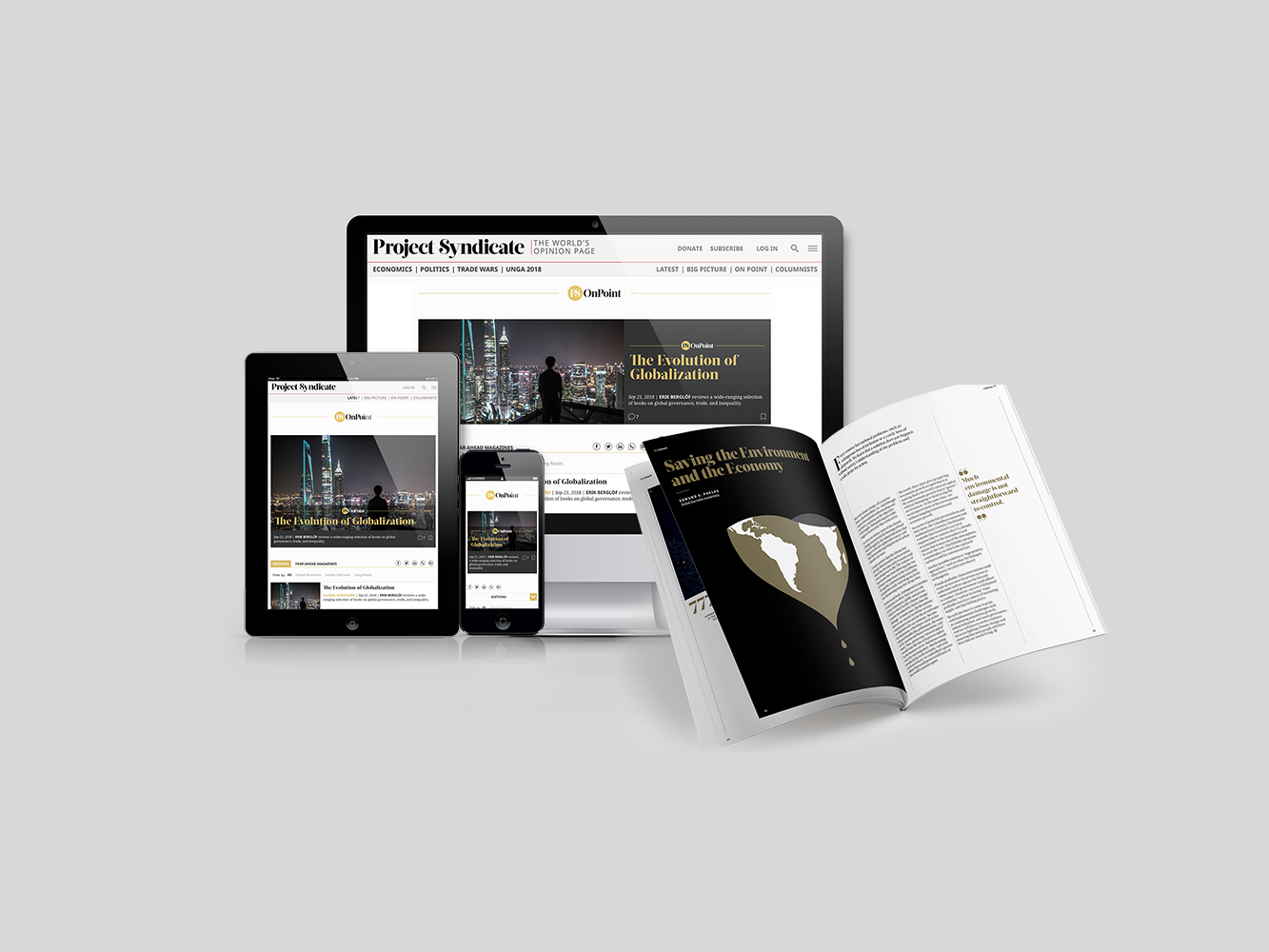 Subscribe now
Subscribe today and get unlimited access to OnPoint, the Big Picture, the PS archive of more than 14,000 commentaries, and our annual magazine, for less than $2 a week.
La Corée du Sud tente aujourd'hui de se réconcilier avec le Nord, tandis que le Japon porte à des niveaux historiques la part de la défense dans son budget. Et Taïwan, comme le montre la méfiance envers les États-Unis exprimée lors d'un récent scrutin [les primaires du Kouomintang], semble de plus en plus portée à se rapprocher de la Chine.
L'Arabie saoudite s'adapte elle aussi à la perfidie de Trump. Juste après l'attaque du mois dernier contre des installations pétrolières saoudiennes – revendiquée par les rebelles houthistes soutenus par l'Iran, mais dont on s'accorde généralement à tenir Téhéran pour responsable – Trump a envisagé l'éventualité d'une action militaire. Mais les Saoudiens savent qu'il vaut mieux ne pas se fier à la parole des États-Unis. 
À vrai dire, le retrait des États-Unis de Syrie survient peu de temps après qu'ils ont rapatrié le centre de commandement des opérations aériennes et spatiales installé dans le Golfe voici bientôt trente ans, ce qui renforce encore les présomptions d'un désengagement plus important au Moyen-Orient. L'initiative fait suite au refus de Trump de répondre par la force aux Iraniens après qu'ils ont abattu un drone américain valant 150 millions de dollars et montré qu'ils n'hésitaient pas à perturber la navigation dans le détroit d'Ormuz, stratégiquement vital.
Aujourd'hui, dans ce qui pourrait être la mère de toutes les révolutions diplomatiques de la région, un rapprochement irano-saoudien semble être en perspective. Les autres États du Golfe rejoindraient très probablement un accord entre Riyad et Téhéran s'il devait voir le jour.
Les États-Unis eux-mêmes souhaitent ardemment ramener l'Iran à la table de négociation. Trump saluerait sûrement un nouvel accord sur le nucléaire comme une victoire majeure, même s'il apportait peu d'améliorations par rapport à son prédécesseur, à l'instar de l'accord États-Unis-Mexique-Canada, qui ne présente pas d'avancées sur l'Accord de libre échange nord-américain. Trump a beau s'autoproclamer un maître dans l'« art de la négociation », il n'est, en comparaison des Iraniens, qu'un apprenti.
La situation régionale de l'Iran est encore renforcée du fait qu'Israël – l'allié des États-Unis le moins capable peut-être d'affronter une trahison – demeure totalement sous la coupe de Trump. Certes, celui-ci a déclaré son soutien au Premier ministre Benyamin Nétanyahou et appuie les discussions en vue d'un traité de défense israélo-américain. Mais si l'Iran décide d'exercer des représailles suite aux multiples attaques lancées par Israël sur ses installations militaires en Syrie et en Irak, on ne peut être certain que les États-Unis se tiendront aux côtés de leur allié. Après tout, pas plus que les Kurdes, les Israéliens n'ont « aidé [les États-Unis] en Normandie » – ce qui est apparemment devenu l'indispensable condition préalable à la loyauté de Washington. (Trump s'est évidemment gardé de préciser que son propre père n'avait pas, lui non plus, aidé les États-Unis durant la Seconde Guerre mondiale, parce qu'il s'était fait réformer, exemple suivi par le jeune Donald lors de la guerre du Vietnam.)
Quant à la Turquie, Trump a menacé de « détruire et anéantir » son économie si elle faisait quoi que ce soit dans sa guerre contre les Kurdes qui, à ses yeux, « dépasserait les limites ». Puis il a fait parvenir une étrange lettre au président Recep Tayyip Erdoğan, l'enjoignant à ne pas « être un type dur ».
Mais pourquoi Erdoğan l'écouterait-il ? N'a-t-il pas acquis des missiles de fabrication russe S-400 en tout impunité, malgré les objections présumées de Trump ? Et Trump ne lui a-t-il pas déjà offert le cadeau dont il rêvait : le feu vert pour massacrer les Kurdes dans le nord de la Syrie. Quoi d'étonnant qu'Erdoğan ait, dit-on, jeté à la poubelle la lettre du président des États-Unis ?
Aux diplomates, Théodore Roosevelt conseillait : « Parlez doucement et tenez un gros bâton. » Trump semble faire exactement le contraire. Si l'on ajoute à cela son ignorance de l'histoire et de la géopolitique, sa croyance aveugle en sa soi-disant « grande et inégalable sagesse » et son mépris affiché pour la vie de ceux qui n'appartiennent pas à son cercle rapproché, le danger que le quarante-cinquième président des États-Unis fait courir au monde ne saurait guère être surestimé.
Traduit de l'anglais par François Boisivon