Una semana movidita para la presidencia de Trump
WASHINGTON, DC – A estas alturas uno casi podría sentir pena por Donald Trump. Si bien ese "casi" es un abismo demasiado ancho para que lo crucen sus opositores, puede decirse que lo que va de febrero ha sido cruel con el presidente de los Estados Unidos (aunque él, claro, no es una víctima inocente).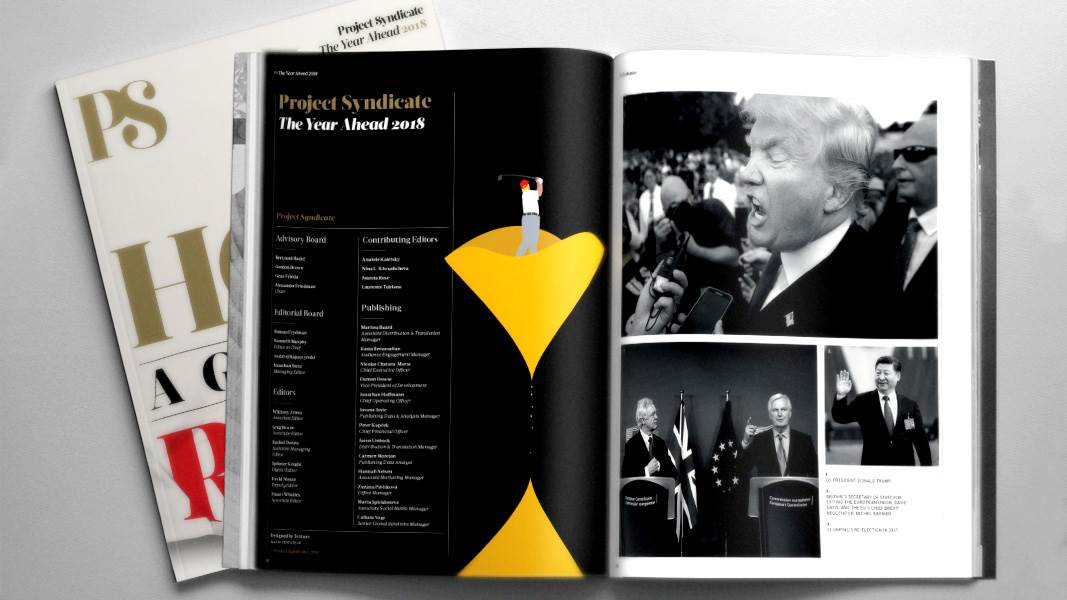 The Year Ahead 2018
The world's leading thinkers and policymakers examine what's come apart in the past year, and anticipate what will define the year ahead.
Durante la primera semana entera del mes, la Casa Blanca de Trump enfrentó más problemas de los que acaecen a la mayoría de las presidencias en un par de meses, o más. El índice Dow Jones tuvo dos caídas de 1000 puntos, que borraron todas las ganancias acumuladas por el período alcista desde el principio del año. Nadie sabía cuándo volverían a estabilizarse los mercados, o si las tan publicitadas rebajas impositivas de Trump (entre otras medidas) estarían alimentando temores de sobrecalentamiento económico y subas de intereses.
Trump se lo puso más difícil, al hacer aquello que sus predecesores en la Oficina Oval tuvieron el tino de evitar: se atribuyó una y otra vez el mérito por la suba de la bolsa. El presunto gran hombre de negocios se olvidó de que todo lo que sube en algún momento tiene que bajar.
Esa misma semana, el Congreso aprobó un acuerdo presupuestario bienal. En circunstancias normales, un acuerdo bipartidario de largo alcance sería buena noticia, pero se calcula que este provocará un asombroso déficit anual de un billón de dólares. El Partido Republicano, que siempre dijo ser el partido de la responsabilidad fiscal, renunció a esa identidad. El acuerdo fue posible porque los congresistas demócratas y republicanos básicamente cedieron a las demandas de nuevas partidas de gasto de la otra parte, sin aprobar recortes presupuestarios o aumentos de impuestos que compensen el efecto sobre el déficit.
Los presidentes Ronald Reagan, George Bush (padre) y Bill Clinton gobernaron con aumentos de impuestos: la política fiscal de Clinton incluso generó superávit presupuestario en los últimos años de su segundo mandato. Pero entonces apareció George Bush hijo y dijo que había que devolver ese superávit a la gente. Y lo devolvió (con creces). Desde entonces, subir los impuestos es mala palabra para los republicanos, y con el tiempo, la mayoría de las rebajas impositivas "temporales" de Bush se hicieron permanentes.
Casi todos coinciden en que la promesa de Trump de volver a bajar los impuestos es una de las principales razones del apoyo que le dieron los líderes republicanos en el Congreso (y sobre todo, los grandes donantes del partido) en 2016 y después. Pero otra razón es el temor de los congresistas a la "base" de Trump, que aunque tal vez no represente más de un tercio del electorado, es muy fuerte en los distritos legislativos republicanos, y podría respaldar a un contendiente más derechista en la primaria del partido.
Aunque los republicanos dijeron que la reforma impositiva es para la clase media, lo cierto es que beneficia sobre todo a los ricos y a las empresas. Trump y sus aliados defendieron insistentemente las rebajas, diseñadas de modo que la ayuda a los contribuyentes se concentre al principio, antes de las elecciones intermedias de 2018 en las que estarán en juego toda la Cámara de Representantes, un tercio del Senado y muchas gobernaciones y legislaturas de los estados. Los republicanos tienen pánico de perder al mismo tiempo la Cámara y el Senado, aunque lo segundo es menos probable, ya que los senadores demócratas en ejercicio que deben defender el escaño son muchos más que los republicanos. Y pueden pasar muchas cosas que cambien la ecuación electoral.
Por si todo esto no fuera bastante, de pronto se abatió sobre la Casa Blanca de Trump una oleada de acusaciones de maltrato doméstico. El Partido Republicano ya venía mal con las mujeres, y la forma en que Trump y sus asistentes manejaron la situación no fue de mucha ayuda. A principios de la semana se supo que dos exesposas del poco conocido Rob Porter (un funcionario cuyo anodino título de secretario de personal no evidencia la importancia de su trabajo, que es manejar el flujo de documentos que llegan al presidente) habían acusado a Porter ante el FBI de tratarlas con violencia física y emocional durante sus (breves) matrimonios.
Eso impidió a Porter obtener el nivel de acceso a temas confidenciales requerido por su cargo, e incluso después de un año, sólo tenía autorización "interina". No es común que la aptitud de un alto funcionario de la Casa Blanca para tratar cuestiones confidenciales esté en duda durante tanto tiempo (como también sucedió con el yerno de Trump, Jared Kushner, que maneja asuntos de política exterior). En estos casos el temor es a que pueda haber información que exponga al funcionario a chantaje. Denuncias de otra exesposa obligaron también a renunciar a un redactor de discursos de Trump.
La historia se complicó todavía más cuando se supo que el jefe de gabinete de Trump (John Kelly) y un asesor de la Casa Blanca (Don McGahn) ya sabían de la situación de Porter hace tiempo (un año en el caso de McGahn y al menos varios meses en el de Kelly), y al parecer no tomaron medidas para evitar que Porter manejara información altamente clasificada. Así que un escándalo de maltrato matrimonial pronto se transformó en otro por posibles fallas de seguridad.
La presidencia de Trump tiene una lista inusualmente larga de funcionarios despedidos o forzados a renunciar por diversos motivos. En general, este gobierno no convocó a veteranos con experiencia en el poder ejecutivo; Trump y su círculo de asesores vedaron a cualquiera que se le hubiera opuesto en la elección de 2016. Así que la presidencia de Trump no empezó con personal óptimo (y después no mejoró).
No es extraño. Es sabido que Trump es un jefe difícil, impetuoso e irascible, acostumbrado a gritarles a sus subordinados. Hay gente que subió y bajó en su estima en cuestión de días, y la Casa Blanca ha sido escenario de un combate de facciones internas constante.
Kelly, general cuatro estrellas del Cuerpo de Marines retirado, que a fines de julio de 2017 pasó de ser secretario de seguridad nacional a jefe de gabinete de la Casa Blanca, logró poner algo de orden en el Ala Oeste; pero tuvo que renunciar a tratar de cambiar la conducta de Trump, que incluye desde tuits impredecibles y a menudo problemáticos a llamadas que hace en privado con teléfonos personales (de modo que Kelly no puede supervisar o escuchar lo que dice).
Kelly resultó casi tan moralmente obtuso como su jefe: ya había mostrado insensibilidad en cuestiones raciales, y su respuesta al caso de violencia doméstica fue un desatino. Para él lo único importante era que Porter había hecho un buen trabajo y era necesario, así que emitió una declaración pública altamente elogiosa de Porter, y en privado lo exhortó a no dejar el puesto.
Pero conforme el escándalo periodístico se extendió, Kelly empezó a contar otra historia, e instruyó al personal de la Casa Blanca para que mintiera por él y asegurara que ante las noticias referidas a las exesposas de Porter había reaccionado de inmediato en forma negativa. Hoy el destino de Kelly es una incógnita.
¿Y Trump, acusado por numerosas mujeres de avances sexuales no deseados (o cosas peores)? Pues, como broche de una semana bien cargada, empezó otra controversia al solidarizarse con Porter y sugerir que las mujeres que hacen esas denuncias no siempre son dignas de crédito.
Traducción: Esteban Flamini