Globální obchodní systém se může zhroutit
WASHINGTON, DC – Deset let po pádu Lehman Brothers víme, že multilaterální úsilí mělo zásadní význam pro odvrácení toho, aby takzvaná Velká recese proběhla ještě hůř, než jsme zažili. Tehdy vrávoral globální finanční systém. Dnes je v ohrožení globální obchodní soustava.
Multilateralismus světu posledních 70 let dobře sloužil. Spojeným státům jde významně ke cti, že se po druhé světové válce vyhnuly odvetám a reparacím. Místo toho šly v čele při zakládání tří hlavních hospodářských institucí – Mezinárodního měnového fondu, Světové banky a Světové obchodní organizace (WTO, dříve Všeobecná dohoda o clech a obchodu čili GATT) – tvořících základy mezinárodního ekonomického řádu, který platí dodnes.
K celosvětovému hospodářskému růstu významně přispěla každá z těchto institucí, ale nejvíc že všech WTO. Díky rozmachu otevřené mnohostranné obchodní soustavy podle pravidel GATT/WTO obchod od druhé světové války roste 1,5krát rychleji než globální HDP.
Třebaže dnes multilateralismus není o nic méně důležitý než během celé poválečné éry, pohrůžky na adresu WTO sílí. V prvé řadě se jedná o vytrvalé útoky ze strany administrativy prezidenta USA Donalda Trumpa, která se instituci snaží oslabit nahlodáváním jak litery pravidel, tak jejich ducha.
Během nástupu finanční krize před deseti lety se mnozí báli, že země vztyčí nové obchodní bariéry, protože právě to se stalo ve 30. letech minulého století a během dalších poválečných recesí. Obchodním omezením se ale do značné míry předešlo, neboť se do věci vložily WTO a G20 s cílem napomoci multilaterální spolupráci. Celkový objem obchodu se ani zdaleka nescvrkl, jak se mohlo stát, a už v roce 2011 se zotavil na předkrizovou úroveň.
164 členských ekonomik WTO se zavázalo k podpoře otevřeného mnohostranného systému a k dodržování společných pravidel a postupů, které mají systému pomoci dál růst. Tato pravidla odvádějí pro mezinárodní obchod tutéž práci, jakou pro smlouvy a transakce mezi stranami v určité jurisdikci dělají domácí obchodní zákoníky.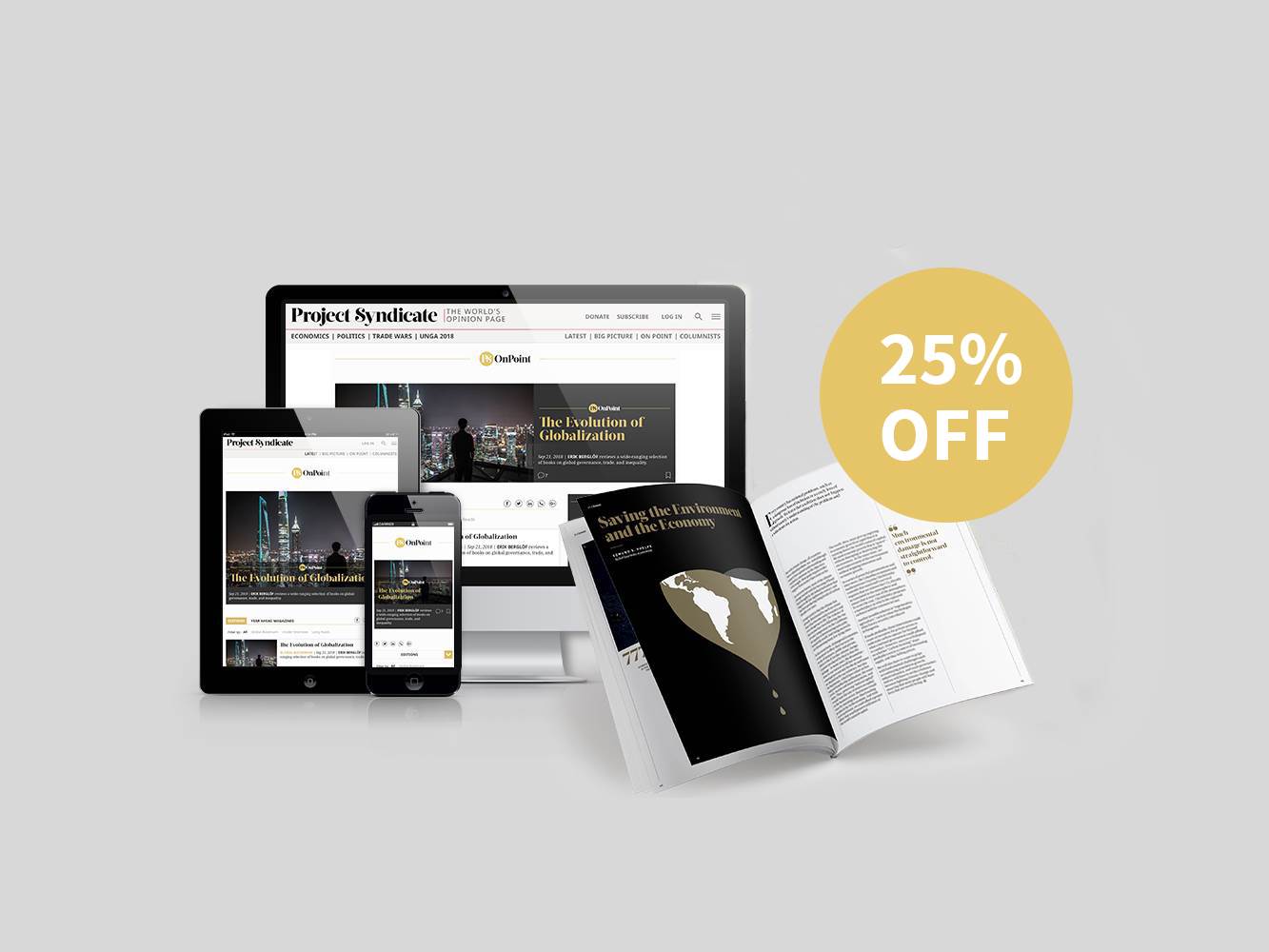 Subscribe now
For a limited time only, get unlimited access to On Point, The Big Picture, and the PS Archive, plus our annual magazine and a tote bag, for just $75.
Podle pravidel WTO podléhají mezinárodní obchodní společnosti stejným národním předpisům jako domácí firmy a před soudy v partnerské zemi mají obchodníci stejná práva jako místní občané. Vlády nesmí jiné členy WTO diskriminovat (takže výhoda přiznaná jednomu obchodnímu partnerovi se musí uplatnit na všechny). Cla jsou povolena jen za určitých okolností. Konečně nařčení z porušení pravidel se předkládají Orgánu WTO pro řešení sporů.
Ujištění, že obchodním společnostem se od vlád členských států dostane spravedlivého regulatorního a justičního zacházení, je zásadní; nediskriminace je přitom principem globální obchodní soustavy od jejího ustavení. Právě díky těmto ujednáním je systém skutečně multilaterální.
Doložka nejvyšších výhod uplatňovaná v rámci WTO umožňuje mnohostranná obchodní jednání mezi sobě rovnými stranami. Díky takovým jednáním průměrné clo u průmyslového zboží mezi vyspělými ekonomikami kleslo z více než 40 % na konci 40. let na dnešní přibližně 4 % – což významně prospívá všem členům.
Mechanismus WTO pro řešení sporů (DSM) je pro globální obchod také stěžejní. Když mají orgány země za to, že obchodní partner porušuje vzájemně dohodnutá pravidla, mohou svůj případ předložit WTO. Rozhodčí panely WTO pak zváží argumenty obou stran a v případě potřeby udělí postih. Spojené státy uspěly ve více než 90 % rozhodčích případů, jež vyvolaly.
Podobně jako hnací pero mechanických hodinek působí WTO jako vnitřní hybatel globální obchodní soustavy. Není vidět, ale je naprosto nezbytná, aby mechanismus fungoval.
Přesto je WTO, navzdory jejímu zásadnímu významu, oslabována. Nejbezprostředněji je ohrožen DSM. K projednání podnětu jsou zapotřebí nejméně tři rozhodci, ale Trumpova administrativa zatím blokuje všechny kandidáty, kteří by nahradili ty, jejichž funkční období končí. Jakmile orgán ztratí schopnost se usnášet, nebude možné projednat žádný podnět a některé země by mohly začít beztrestně porušovat pravidla WTO.
Další významnou hrozbou pro rámec WTO je, že Trumpova administrativa využívá ujednání o národní bezpečnosti, aby ospravedlnila svá diskriminační cla z dovozu oceli a hliníku. Je zřejmé, že USA nečelí opravdovému ohrožení národní bezpečnosti ze strany spojenců typu Kanady či Japonska, což znamená, že jejich cla jistě porušují ducha – a pravděpodobně i literu – pravidel WTO.
Americká cla už podrývají globální růst a oslabila WTO. Ve světě přeshraničních dodavatelských řetězců a zvyšující se vzájemné propojenosti vyústí zbytečné narušení obchodu s hutními materiály v úbytek výroby nejen ve vyvážejících zemích, ale i v USA. Nadto nebezpečnost situace zvyšuje pravděpodobnost, že ostatní země zavedou odvetná opatření.
Každopádně se diskriminačním clům téměř jistě nepodaří dosáhnout Trumpem vyhlášeného cíle: zmírnit bilaterální obchodní nevyváženosti USA. Bilance běžného účtu země je rozdíl mezi jejími domácími úsporami (veřejnými i soukromými) a domácími investicemi. Pokud se nezvýší úspory nebo nepoklesnou investice, mezera na běžném účtu se nezúží.
Každá snaha podkopat mezinárodní obchod – hlavní motor globálního hospodářského růstu od konce druhé světové války – nevyhnutelně vyjde draho všechny, včetně příslušníků dělnické třídy v řadách Trumpovy politické základny. Mezinárodní společenství mimo USA se musí Trumpovi vzepřít a potvrdit zásady otevřeného multilaterálního systému – než bude pozdě.
Z angličtiny přeložil David Daduč