Três Soluções para uma Nova África do Sul
JOANESBURGO – Jacob Zuma renunciou à presidência da África do Sul - um passo inevitável após o Congresso Nacional Africano ter retirado o seu apoio. Duas décadas após Nelson Mandela ter tentado – sem sucesso - passar a presidência a Cyril Ramaphosa, o antigo vice-presidente e actual líder do Congresso Nacional Africano tornou-se o líder da África do Sul. E os desafios que Ramaphosa terá de enfrentar são quase tão desafiadores quanto aqueles com que Mandela se viu confrontado ao erguer o seu país das ruínas do apartheid.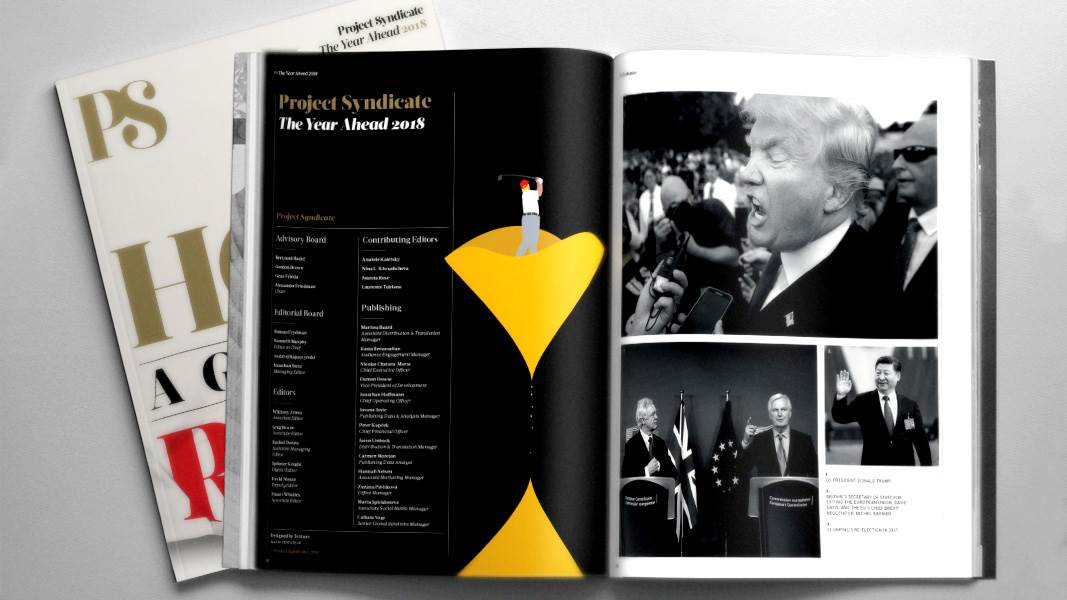 The Year Ahead 2018
The world's leading thinkers and policymakers examine what's come apart in the past year, and anticipate what will define the year ahead.
Há quase um quarto de século, quatro anos após Mandela ter sido libertado da prisão, os sul-africanos celebraram o nascimento de um Estado constitucional inclusivo. No entanto, durante o mandato de Zuma a euforia desvaneceu. Num ambiente de alegações de corrupção endémica, reduções das notações de risco, actos de incivilidade empresarial e agravamento do mal-estar entre empresas estatais (EE), o posicionamento regional e internacional da África do Sul enfraqueceu.
Para muitos, Ramaphosa significa um regresso à força nacional. O líder prometeu restaurar a credibilidade da gestão dos assuntos da África do Sul e revigorar os valores da inclusão democrática. As suas atitudes simples, como começar reuniões e encontros a horas, representam um distanciamento da abordagem mais indiferente de Zuma.
Porém, devolver a responsabilização e a boa governação à África do Sul requererá muito mais do que pontualidade. Três domínios-chave necessitarão de atenção urgente caso o novo líder do país queira traçar uma nova rota.
O primeiro desafio, restaurar a confiança no Estado de direito do país, poderá ser o mais difícil de alcançar. A "tomada" de empresas por Zuma, a Autoridade Judicial Nacional e as nomeações para os gabinetes estavam tão arraigadas que desembaraçar as redes de influência levará o seu tempo. No entanto, restaurar a confiança pública nestas instituições vitais deverá constituir a primeira prioridade.
Em segundo lugar, o governo de Ramaphosa, quando tomar posse, necessitará mover-se rapidamente para reformar a relação do Estado com as EE. Zuma tratou estas empresas como meios para benefício pessoal e a sua má gestão prejudicou o crescimento económico e o desenvolvimento. Uma economia caracterizada pela pobreza, pela desigualdade e pelo desemprego nunca recuperará se os impulsionadores da riqueza não estiverem a funcionar eficazmente.
Por exemplo, a indústria mineira continua a proporcionar uma contribuição significativa para a economia da África do Sul; se controlado devidamente, o sector poderá ser uma alavanca poderosa de apoio ao crescimento da produção a montante. A África do Sul tem alguns dos maiores depósitos de crómio e de manganésio do mundo, minerais que são essenciais para a produção de veículos eléctricos, turbinas de vento e outros componentes da chamada Quarta Revolução Industrial.
Infelizmente, devido à má utilização da riqueza de recursos por parte do governo de Zuma, através da redistribuição dos rendimentos do sector mineiro aos clientes leais, a confiança entre a indústria mineira e o Estado é nula. A única maneira de restaurá-la - e dessa forma aumentar a exploração e a produção - será através da reforma da legislação e da regulamentação para assegurar uma protecção mais forte dos interesses da indústria.
A recuperação da confiança e da responsabilização no contexto empresarial permitiria atrair o investimento, criar postos de trabalho, encher os cofres do Estado e melhorar a redistribuição, especialmente no que diz respeito às pessoas cujas perspectivas de emprego permanecem limitadas. Este último ponto é crucial; nos últimos anos, os programas de assistência social da África do Sul foram ameaçados por uma governação deficiente e pela má gestão, e só poderão ser reformados se houver uma retoma do crescimento económico.
Finalmente, Ramaphosa necessitará investir profundamente no sistema de ensino da África do Sul, um sector largamente negligenciado por Zuma. Um bom ponto de partida seria o ensino pré-escolar, um domínio em que o investimento gera frequentemente grandes recompensas a longo prazo. Com uma taxa de desemprego juvenil actualmente situada num valor vertiginoso de 39%, a entrada de mais jovens no mercado de trabalho exigirá uma reformulação da formação das futuras gerações.
A África do Sul é um país pequeno, mas com uma liderança adequada e orientada para a reforma, pode reassumir o seu papel regional como um centro de poder económico e político. De facto, este poderá ser o momento ideal para fazer mudanças no topo; uma boa parte do continente africano atravessa transições semelhantes, o que poderá trazer novas oportunidades em termos de cooperação económica. No vizinho Zimbabué, por exemplo, o fim da má administração de Robert Mugabe poderia estimular o crescimento associado não só aos recursos naturais como também aos produtos, serviços e comércio de valor acrescentado.
No contexto de transição presidencial que a África do Sul atravessa, o país deve redefinir o seu papel num panorama geopolítico emergente. Para tal, o país deve reiterar o seu papel de influência, enquanto prossegue uma estratégia de investimento mais dinâmica, mais eficaz e mais integrada. O reforço da diplomacia e da projecção comercial serão essenciais e os líderes da África do Sul deverão adoptar e aderir a clubes económicos, tal como o grupo BRICS das principais economias emergentes (que inclui também Brasil, Rússia, India e China).
Os sul-africanos estão prontos para uma nova liderança. Porém, para alcançar um futuro caracterizado por emprego pleno, justiça social, governação forte e credibilidade internacional - a era que Mandela representou - Ramaphosa deverá retomar a via que Zuma abandonou de forma flagrante.