Les Trois Clés de la nouvelle Afrique du Sud
JOHANNESBOURG – Jacob Zuma a démissionné de la présidence de l'Afrique du Sud – dénouement inévitable, dès lors que le Congrès national africain (ANC) lui avait refusé son soutien. Cyril Ramaphosa, vice-président de la République et actuel président de l'ANC, à qui Nelson Mandela avait tenté, sans succès, de transmettre sa succession, est devenu le chef de l'État sud-africain. Les défis auxquels il doit aujourd'hui faire face sont presque aussi colossaux que ceux auxquels fut confronté Mandela lorsqu'il releva son pays des ruines de l'apartheid.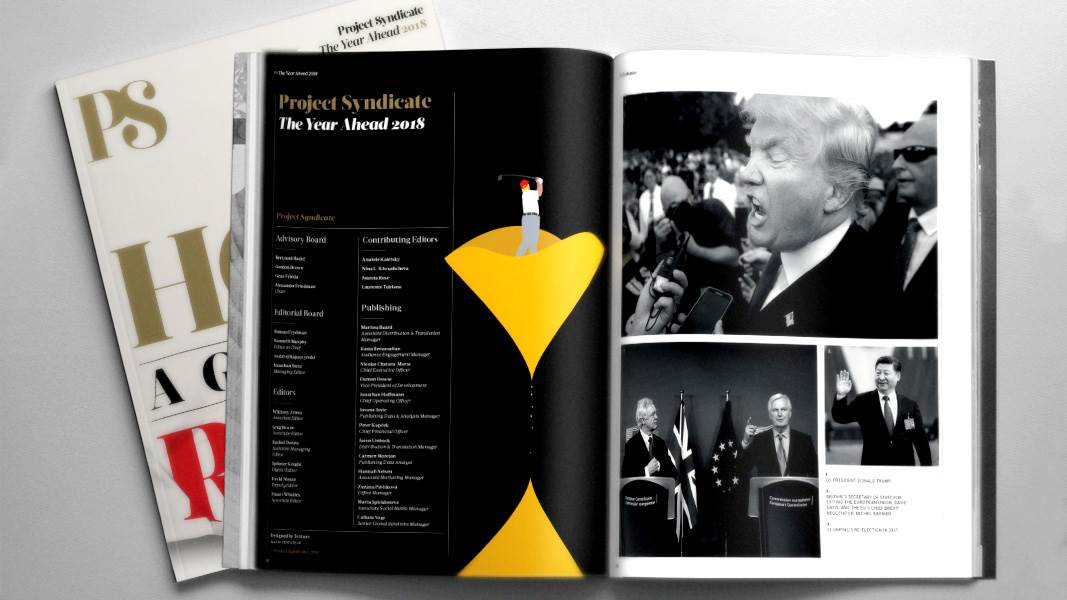 The Year Ahead 2018
The world's leading thinkers and policymakers examine what's come apart in the past year, and anticipate what will define the year ahead.
Voici presque un quart de siècle, quatre après la libération de Nelson Mandela, l'Afrique du Sud fêtait la naissance d'un État pluriethnique et constitutionnel. Mais durant le mandat de Zuma, l'euphorie est retombée. Miné par les allégations de corruption endémique, par les mauvaises appréciations des agences de notation, par les malversations dans le monde des affaires et par le malaise de plus en plus profond qui règne dans les entreprises publiques, le prestige dont jouissait l'Afrique du Sud au niveau régional et international s'est affaibli.
Pour beaucoup, Ramaphosa représente le retour de l'intégrité. Il a promis de rétablir la confiance dans la gestion des affaires du pays, et de redonner vie aux valeurs de l'intégration démocratique. Ses manières simples, comme l'habitude d'arriver à l'heure aux réunions, le distinguent de l'arrogance de son prédécesseur.
Mais pour restaurer le sens des responsabilités et la bonne gouvernance en Afrique du Sud, il faudra beaucoup plus que de la ponctualité. Trois points essentiels demandent une attention urgente si le nouveau dirigeant du pays souhaite lui tracer un nouveau cap.
Le premier défi à relever, c'est la foi dans l'état de droit, et c'est peut-être aussi le plus difficile. L'emprise de Zuma sur le monde des affaires, sur la magistrature (notamment sur la National Prosecuting Authority, responsable devant le parlement) et sur la nomination des ministres était si totale qu'il faudra du temps pour démêler tous ces écheveaux d'influence. Mais le retour de la confiance publique dans ces institutions vitales doit être considéré comme la priorité des priorités.
Deuxième point, le gouvernement Ramaphosa, dès qu'il siégera, devra rapidement prendre des initiatives pour réformer les relations de l'État avec les entreprises publiques. Zuma les a réduits à des instruments d'enrichissement personnel, et leur mauvaise gestion a ruiné la croissance économique et le développement. Une économie qui se définit par la pauvreté, l'inégalité et le chômage ne se redressera jamais si les facteurs de richesse ne sont pas exploités et gérés efficacement.
Le secteur minier contribue ainsi à une part importante de l'économie sud-africaine. S'il était correctement géré, il pourrait devenir un levier puissant pour soutenir le développement des procédés d'exploration et d'extraction. L'Afrique du Sud dispose des réserves de chrome et de manganèse parmi les plus importantes au monde, et ces minerais sont essentiels à la fabrication des véhicules électriques, des éoliennes et autres emblèmes de ce qu'on nomme la quatrième révolution industrielle.
Malheureusement, le gouvernement Zuma a gaspillé ces ressources en distribuant à sa clientèle la rente minière et, pour cette raison, la confiance entre l'industrie minière et l'État a complètement disparu. La seule façon de la rétablir – et par conséquent de relancer l'exploration et la production – passera par une refonte de la         législation et de la réglementation pour garantir à cette industrie une meilleure protection de ses intérêts.
En restaurant la confiance et le sens de la responsabilité dans les milieux d'affaires, il sera possible d'attirer les investissements, de créer des emplois, de remplir les coffres de l'État et d'améliorer la redistribution, notamment vers ceux dont les perspectives d'emploi demeurent limitées. Ce dernier point est crucial : au cours des dernières années, les programmes de protection sociale en Afrique du Sud ont été compromis par une mauvaise gouvernance et par une gestion défaillante ; et ils ne pourront être réformés qu'avec le retour de la croissance économique.
Enfin, Ramaphosa devra investir massivement dans le système éducatif, un secteur dont Zuma s'est bien peu préoccupé. Il serait bon de commencer par l'école primaire et maternelle, où les dépenses offrent souvent à long terme de très bons résultats. Avec un chômage des jeunes atteignant actuellement le taux ahurissant de 39 %, il faudra, pour mettre plus de jeunes au travail, repenser la façon dont les futures générations seront formées.
L'Afrique du Sud est un petit pays, mais avec une bonne direction, convaincue des réformes, elle peut reprendre son rôle régional de moteur économique et politique. De fait, nous sommes peut-être au moment idéal pour réaliser des changements au sommet ; de nombreux pays d'Afrique connaissent une évolution similaire, ce qui pourrait offrir de nouvelles opportunités de coopération économique. Au Zimbabwe voisin, par exemple, la fin du régime de Robert Mugabe pourrait relancer une croissance non seulement liée aux ressources naturelles, mais aussi aux produits à valeur ajoutée, aux services et aux échanges.
Tandis que l'Afrique du Sud mène sa propre transition présidentielle, le pays doit redéfinir son rôle dans un paysage géopolitique en transformation. À cette fin, il doit renouer avec sa fonction de médiateur influent, tout en poursuivant une stratégie d'investissement plus dynamique, plus efficace et mieux intégrée. Une diplomatie forte et un rayonnement commercial seront essentiels, et les dirigeants du pays devraient cultiver leur appartenance à des clubs économiques de grande puissances émergentes comme celui des BRICs (originellement constitué du Brésil, de la Russie, de l'Inde et de la Chine).
Les Sud-Africains sont prêts à assumer de nouvelles responsabilités. Mais pour bâtir un avenir de plein emploi, de justice sociale, de gouvernance solide et de crédibilité internationale – l'ère que Mandela avait ouverte – Ramaphosa devra reprendre le chemin dont Zuma s'est si présomptueusement et dramatiquement écarté.
Traduction François Boisivon