Det nye Kinasjokket
BERLIN – For noen måneder siden kontaktet kinesiske myndigheter noen av de største utenlandske bedriftene i landet og ba de sende en representant til å delta på et møte med en høytstående kinesisk tjenestemann. Møtet skulle gå for lukkede dører og ville dreie seg om Kinas nye økonomiske strategi. Tid og sted for møtet ble ikke gjort kjent. Ifølge to personer med direkte kjennskap til saken, som insisterer på å være anonyme, ble bedriftene bedt om å sende etnisk kinesiske representanter. I både form og innhold illustrerer denne hendelsen ønsket om å gjøre økonomien merkbart mer kinesisk. Målet er å utvikle egen teknologi og egne energikilder samt basere den økonomiske utviklingen på kinesisk konsum framfor utenlandsk etterspørsel.
Den nye strategien til Kinas president, Xi Jinping, bygger på begrepet «todelt sirkulasjon». Bak denne tørre teknokratiske formuleringen gjemmer det seg en ide som kan forandre verdensøkonomiens virkemåte. Framfor å fungere som en enkelt økonomi som er koblet til verden gjennom handel og investeringer, ønsker Kina å bli en todelt økonomi. En sfære («ekstern sirkulasjon») vil fortsatt være forbundet med resten av verden, men den vil gradvis overskygges av en annen sfære («intern sirkulasjon») som vil kultivere hjemlig etterspørsel, kapital og ideer.
Hensikten med den todelte sirkulasjonen er å gjøre Kina mer selvforsynt og selvstendig. Kinas utvikling har vært basert på eksportledet vekst. Men nå forsøker politiske beslutningstakere å diversifisere landets forsyningskjeder slik at man kan få tilgang på teknologi og kunnskap uten å bli herset med av USA. Med dette vil også andre land bli mer avhengig av Kina. Dermed vil Kinas eksterne økonomiske forbindelser omsettes i global politisk makt.
Den nye sirkulasjons-strategien skaper bekymringer for et nytt «Kina-sjokk» — langt større enn det første sjokket som slo inn over vestlige økonomier etter at Kina ble medlem av Verdens handelsorganisasjon (WTO) i 2001. Kinas medlemskap bidro til omfattende verdiskaping og til å løfte millioner av kinesere ut av fattigdom. Men det bidro også til å skape tapere på steder som det amerikanske rustbeltet og de britiske «red wall»-distriktene. Dette la grunnlaget for Brexit og Trumps valgseier i 2016.
Det tok lang tid før vestlige politikere fikk øynene opp for Kina-sjokket, fordi de hadde forpliktet seg til en strategi basert på ideen om «gjensidig engasjement». Tanken var at vestlige forbrukere ville nyte godt av billige importvarer fra Kina samtidig som vestlige bedrifter ville tjene på Kinas økonomiske vekst ved å nyttiggjøre seg av landets enorme marked. Man trodde at denne dynamikken ville presse Kina til å åpne opp økonomien og samfunnet ytterligere. Men der tok man feil.
Det nye Kina-sjokket vil ramme de vestlige landene på en annen måte enn det tidligere sjokket. For det første, vil den todelte sirkulasjons-strategien påvirke andre deler av økonomien og samfunnet. Framfor å utfordre tradisjonelle næringer, er målet å dominere de sektorene som ligger helt i front av den teknologiske og økonomiske utviklingen. Nå vil kinesere konkurrere med advokatfirmaer og finansselskaper i City of London, bilprodusenter i Baden-Württemberg og biotech-bedrifter i Sverige.
Subscribe to Project Syndicate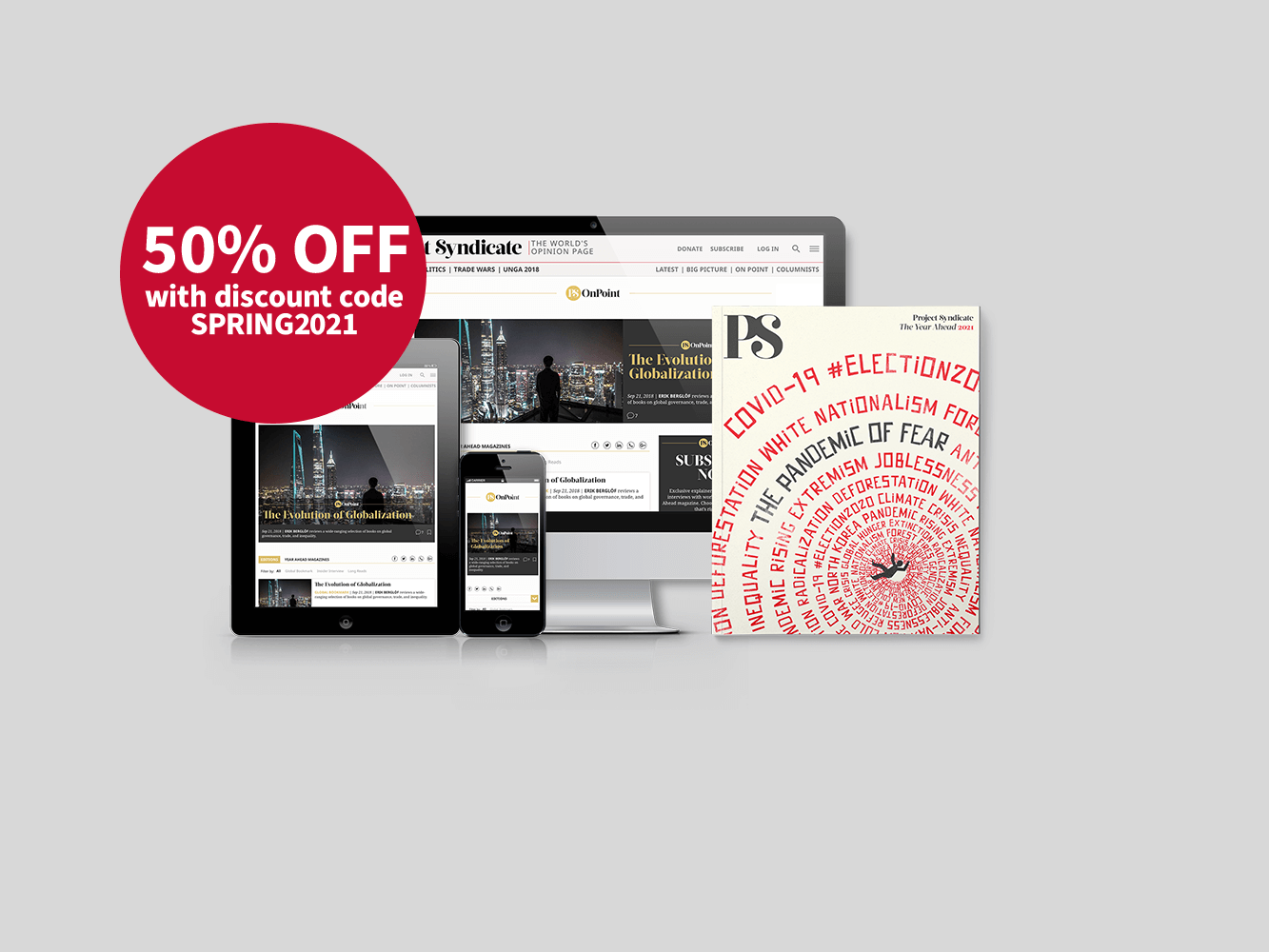 Subscribe to Project Syndicate
Enjoy unlimited access to the ideas and opinions of the world's leading thinkers, including weekly long reads, book reviews, topical collections, and interviews; The Year Ahead annual print magazine; the complete PS archive; and more. All for less than $5 a month.
I 2015 la Xi fram planen «Made in China 2025». Den vektlegger spesielt sektorer som kunstig intelligens, halvledere, batterier og elektriske kjøretøy — og har som mål å øke den kinesisk-produserte andelen av viktige teknologiske komponenter til 40 % innen 2020 og 70 % innen 2025. Tanken er å anvende statlige subsidier, eksportkontroll og kontroll av data slik at kinesiske bedrifter kan erstatte utenlandske — eller at de utenlandske bedriftene blir mer kinesiske. Hvis Xi lykkes med sin plan, kan det nye Kina-sjokket uthule like mange høytlønnede jobber i teknologi- og tjenestesektoren som det første sjokket gjorde i tungindustrien og tekstilsektoren.
Sjokket slutter ikke der. Dagens viktigste geopolitiske rivalisering dreier seg ikke bare om å håndheve globale regler, men også om hvem som utformer reglene. Tidligere har Vesten forsøkt å få kineserne til å etterleve regler for handel, investeringer og immaterialrettigheter (IP) — regler de vestlige landene selv har utformet. Men nå ønsker Kina både å lage og håndheve reglene. Til nå har det vært kinesiske ledere for Den internasjonale telekommunikasjonsunionen (ITU), Den internasjonale standardiseringsorganisasjonen (ISO) og Den internasjonale elektrotekniske kommisjonen (IEC). Kinesiske selskaper forsøker i økende grad å definere den teknologiske framtiden. Huawei alene sitter på mer enn 100 000 aktive patenter, spesielt innen 5G-teknologi, og konkurrerer med vestlige selskaper som Ericsson og Nokia om å sette globale standarder.
Dagens rivalisering og globale gnisninger dreier seg om mer enn den bilaterale relasjonen mellom Kina og Vesten. Med Belte-vei-initiativet har Kina allerede etablert et nettverk av økonomiske bånd til mer enn 100 land, og landets ledere vil ikke nøle med å bruke disse kanalene til å eksportere kinesiske standarder sammen med den kinesiske modellen — statskapitalisme og statlige subsidier. Om ikke lenge (og muligens allerede nå) vil vestlige selskaper møte på den samme forskjellsbehandlingen i andre markeder som den de møter på i Kina.
Som en følge av det nye Kina-sjokket vil de nye reglene for data, standarder samt forskning og utvikling (FoU) tvinge framtredende vestlige selskaper til å etterligne sine kinesiske rivaler, med mindre de trekker seg helt ut av Kina. Som en person med inngående kjennskap til det kinesiske markedet har sagt til meg: «Kinas ide er at dersom selskaper som Daimler og Volkswagen ønsker å operere i Kina, må de flytte tjenester, FoU og nye produkter dit. Beijing håper at den todelte sirkulasjonen vil gjøre dem om til kinesiske selskaper.»
Det sier seg selv at det nye Kina-sjokket krever en helt annen respons enn det gamle sjokket. Framfor å forsøke å få Kina til å endre seg eller gjøre innhugg i det kinesiske markedet, må Vestens prioritet være å endre seg selv, ikke minst ved å utvikle næringspolitikk og investeringstiltak som kan stimulere til innovasjon og beskyttelse av egen IP. Og for å forsikre seg om at egne «vinnerbedrifter» kan dra nytte av stordriftsfordeler, må vestlige land etablere felles standarder for personvern, databeskyttelse, karbonprising m.m. Ideelt sett vil et slikt samarbeid formalisere nye handelsavtaler, investeringspakker, finansiering og reguleringer og øke andelen av det globale markedet som er åpent for ikke-kinesisk teknologi og ikke-kinesiske regler.
Europeere må på sin side iverksette nasjonale reformer for å beskytte seg mot økonomiske tvangsmidler i en verden preget av oppstykket globalisering og økonomiske relasjoner omgjort til politiske våpen. Mens Kinas hardhendte framferd i Hongkong og undertrykkelsen av uigurene i Xinjiang har fått mye oppmerksomhet, er en enda større sjokkbølge på vei. Vestlige ledere må ikke la seg vippe av pinnen igjen.
Oversatt av Marius Gustavson