Ein neuer Schock aus China
BERLIN – Vor einigen Monaten wandten sich die chinesischen Behörden an einige der größten ausländischen Unternehmen im Lande und forderten sie auf, einen Vertreter für ein kleines Treffen hinter verschlossenen Türen über Chinas neue Wirtschaftsstrategie zu benennen. Die Sitzung sollte mit einem führenden Regierungsvertreter zu einem geheimgehaltenen Zeitpunkt an einem geheimgehaltenen Ort stattfinden, und laut zwei Personen mit direkten Kenntnissen über diesen Sachverhalt, die für Gespräche darüber anonym bleiben wollten, wurden die Unternehmen ausgefordert, nur ethnische Chinesen als Vertreter zu schicken. Diese Episode macht sowohl vom Inhalt wie von der Form her das Bestreben Chinas deutlich, seine Wirtschaft erkennbar chinesischer zu machen, eigene Technologien und Energiequellen zu entwickeln und sich dabei auf den Binnenkonsum statt auf die Auslandsnachfrage zu stützen. 
Im Mittelpunkt der neuen Strategie des chinesischen Präsidenten Xi Jinping steht das Konzept des "Parallelumlaufs". Diesem technisch klingenden Begriff liegt eine Idee zugrunde, die die globale Wirtschaftsordnung verändern könnte. Statt als eine einzelne Wirtschaft zu operieren, die durch Handel und Investitionen mit der Welt verbunden ist, verwandelt sich China in eine zweigleisige Wirtschaft. Ein Bereich (die "äußere Zirkulation") wird dabei Kontakt zur übrigen Welt halten, dabei jedoch allmählich durch einen zweiten Bereich (die "innere Zirkulation") überschattet werden, der die chinesische Binnennachfrage, chinesisches Kapital und chinesische Ideen kultiviert.
Der Zweck des Parallelumlaufs besteht darin, China autarker zu machen. Nachdem sie Chinas Entwicklung in der Vergangenheit auf exportgestütztem Wachstum aufbauten, versuchen die politischen Entscheidungsträger nun, die Lieferketten des Landes zu diversifizieren, sodass es auf Technologie und Know-how zugreifen kann, ohne durch die USA unter Druck gesetzt zu werden. Dabei wird sich China zugleich bemühen, andere Länder stärker von sich abhängig zu machen und so seine wirtschaftlichen Außenbeziehungen in globale politische Macht umzumünzen.
Die Umstellung auf eine Strategie des Parallelumlaufs beschwört das Schreckgespenst eines neuen "China-Schocks" herauf, der die Auswirkungen des ersten derartigen Schocks, der die westlichen Volkswirtschaften nach Chinas Beitritt zur Welthandelsorganisation 2001 traf, vergleichsweise winzig erscheinen lassen könnte. Auch wenn Chinas Aufnahme in die WTO enormen Reichtum hervorbrachte und Millionen Chinesen aus der Armut befreite, brachte sie – etwa im amerikanischen Rostgürtel und der britischen "Red Wall"-Region – auch Verlierer hervor und bereitete den Boden für das britische Brexit-Referendum und die Wahl des ehemaligen US-Präsidenten Donald Trump im Jahr 2016.
Die politische Klasse im Westen brauchte lange, um sich des China-Schocks bewusst zu werden, weil sie sich einer Strategie des "wechselseitigen Engagements" verschrieben hatte, bei der westliche Verbraucher von preiswerten chinesischen Importen und westliche Unternehmen – durch Anzapfen des enormen chinesischen Marktes – von Chinas Wirtschaftswachstum profitieren würden. Diese Dynamik, so die Annahme, würde China unter Druck setzen, seinen Markt und seine Gesellschaft noch stärker zu öffnen. Doch diese Annahme bewahrheitete sich nicht.
Die Auswirkungen des neuen China-Schocks auf den Westen werden sich von diesem ersten Schock grundlegend unterscheiden. Zunächst einmal wird sich die Strategie des Parallelumlaufs auf andere Teile von Wirtschaft und Gesellschaft auswirken. Statt bestehende Industriezweige zu gefährden, ist das Ziel dabei, Zukunftsbranchen zu dominieren und mit Kanzleien und Finanzunternehmen in der Londoner City, Automobilherstellern in Baden-Württemberg und Biotechnologie-Unternehmen in Schweden zu konkurrieren.
Subscribe to Project Syndicate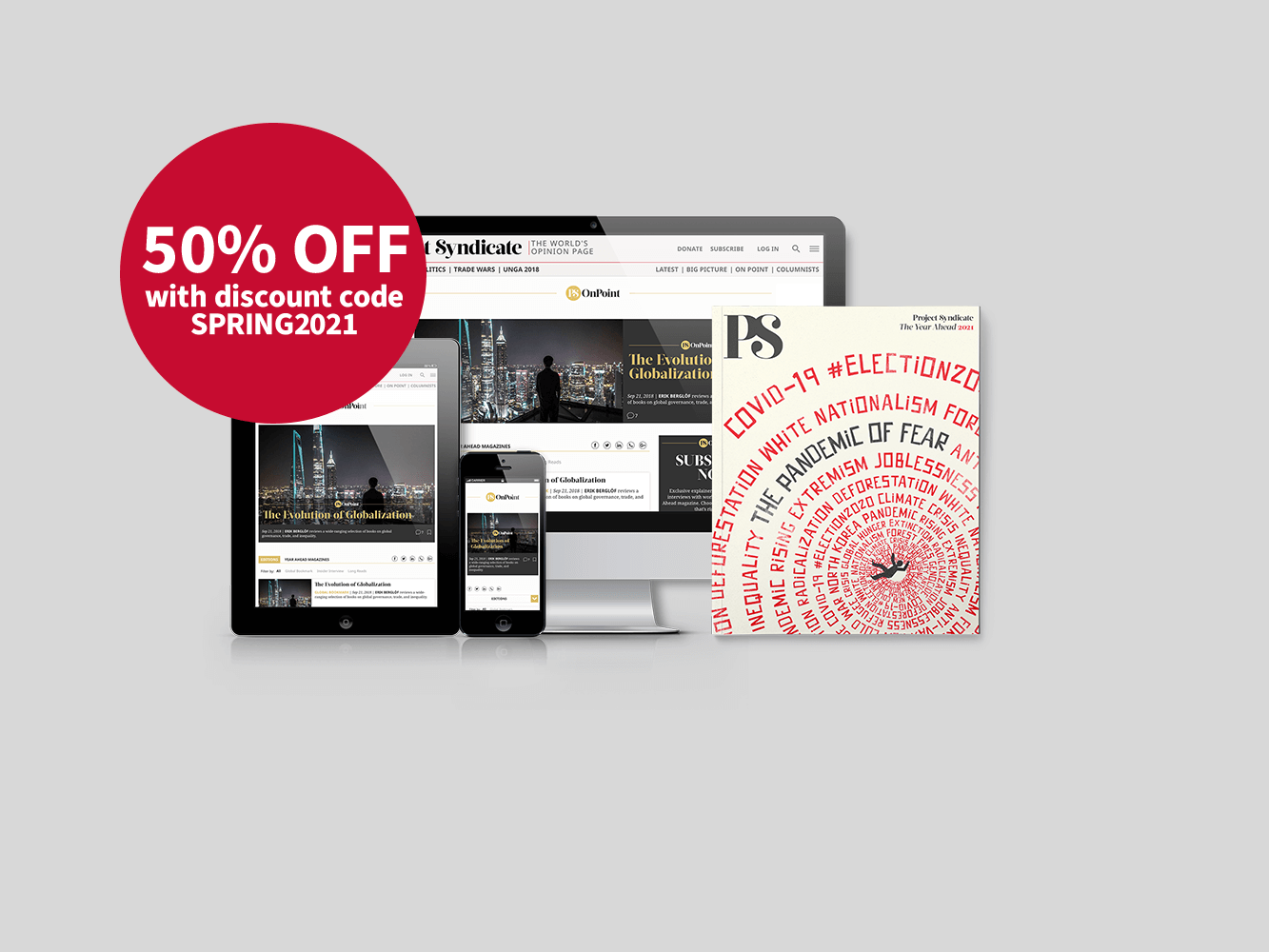 Subscribe to Project Syndicate
Enjoy unlimited access to the ideas and opinions of the world's leading thinkers, including weekly long reads, book reviews, topical collections, and interviews; The Year Ahead annual print magazine; the complete PS archive; and more. All for less than $5 a month.
Insbesondere stellt Xis 2015 ins Leben gerufener Plan "Made in China 2025" auf Sektoren wie die künstliche Intelligenz, Halbleiter, Akkus und Elektrofahrzeuge ab und verfolgt das Ziel, den im Inland produzierten Gehalt zentraler technologischer Bauteile bis 2020 auf 40% und bis 2025 um 70% zu steigern. Dabei sollen staatliche Subventionen, Exportkontrollen und die Kontrolle über Daten genutzt werden, um chinesische Unternehmen in die Lage zu versetzen, ausländische Firmen zu ersetzen, oder um Letztere stärker chinesisch zu machen. Wenn Xis Plan Erfolg hat, könnte der neue China-Schock genauso viele hochbezahlte Arbeitsplätze im Bereich der Technologie und der Dienstleistungen aushöhlen wie es der erste im Bereich der Schwer- und der Textilindustrie tat.
Damit nicht genug: Es geht beim heutigen zentralen geopolitischen Wettkampf nicht bloß um die Durchsetzung globaler Regeln, sondern darum, wer diese Regeln aufstellt. Während sich der Westen bisher schon schwertat, die Einhaltung der von ihm konzipierten Regeln im Bereich von Handel, Investitionen und geistigem Eigentum sicherzustellen, strebt China nun zusätzlich danach, selbst die Regeln aufzustellen und durchzusetzen. Die Internationale Fernmeldeunion, die Internationalen Organisation für Normung (ISO) und die Internationale Elektrotechnische Kommission (ICE) hatten bereits chinesische Vorsitzende, und chinesische Unternehmen versuchen zunehmend, die Zukunft der Technologie zu bestimmen. Huawei allein hält mehr als 100.000 aktive Patente, insbesondere im Bereich der 5G-Technologie, wo es mit westlichen Unternehmen wie Ericsson und Nokia um die Festlegung globaler Standards ringt.
Darüber hinaus sind die heutigen Wettbewerbsspannungen nicht länger auf eine bilaterale Beziehung zwischen dem Westen und China begrenzt. Mit seiner Neuen Seidenstraßen-Initiative hat China bereits ein Netz wirtschaftlicher Beziehungen zu mehr als 100 Ländern geknüpft, und es wird nicht zögern, diese Kanäle zum Export chinesischer Standards und des chinesischen Modells des Staatskapitalismus und staatlicher Subventionen zu nutzen. Schon bald werden sich westliche Unternehmen (soweit dies nicht bereits jetzt der Fall ist) in Drittmärkten mit denselben ungleichen Wettbewerbsbedingungen konfrontiert sehen wie in China selbst.
Eine Folge des neuen China-Schocks ist, dass die neuen Regeln zu Daten, Normung und Forschung und Entwicklung wichtige westliche Unternehmen zwingen werden, chinesische Merkmale anzunehmen oder sich komplett aus China zurückzuziehen. Ein gut platzierter Beobachter aus dem privaten Sektor hat es mir gegenüber so beschrieben: "Chinas schwebt vor, dass, wenn Unternehmen wie Daimler oder Volkswagen in China tätig sein wollen, sie Dienstleistungen, Forschung und Entwicklung und neue Produkte dorthin verlagern müssen. Peking hofft, dass der Parallelumlauf sie in chinesische Unternehmen verwandeln wird."
Es versteht sich von selbst, dass der neue China-Schock eine andere Reaktion erfordert als der alte. Statt zu versuchen, China zu verändern oder den chinesischen Markt zu erschließen, muss die Priorität des Westens darin bestehen, sich selbst zu verändern, und zwar nicht zuletzt, indem er eine eigene Industrie- und Investitionspolitik entwickelt, um sein geistiges Eigentum zu schützen. Und um sicherzustellen, dass ihre wirtschaftlichen "Champions" Skalenvorteile nutzen können, müssen die westlichen Länder gemeinsame Standards bei Privatsphäre, Datenschutz, CO2-Preisen und anderen Themen festlegen. Im Idealfall würde diese Kooperation zur Formalisierung neuer Handelsabkommen, Investitionspakete, Finanzvereinbarungen und Regeln führen, um den Anteil der Weltwirtschaft, der für nicht-chinesische Technologien und Regeln offen ist, auszuweiten.
Die Europäer werden dabei Binnenreformen umsetzen müssen, um sich in einer Welt zugangsbeschränkter Globalisierung und als Waffe eingesetzter Interdependenz vor wirtschaftlichem Zwang zu schützen. Während ein großer Teil der Aufmerksamkeit derzeit Chinas hartem Vorgehen in Hongkong und seiner Unterdrückung der uighurischen Minderheit in Xinjiang gilt, naht bereits eine noch größere Schockwelle. Die westlichen Regierungen dürfen sich nicht wieder auf dem falschen Fuß erwischen lassen.
Aus dem Englischen von Jan Doolan