El invernadero de las relaciones Estados Unidos-China
Cuando Hu Jintao, Secretario General del Partido Comunista y Presidente de China, se dispone a visitar los Estados Unidos el 20 de abril, una miríada de cuestiones no resueltas están perturbando las relaciones chino-estadounidenses. Hay debates encarnizados sobre la balance comercial bilateral y la reevaluación del renminbi, las situaciones de Taiwán y el Tíbet, las violaciones de los derechos humanos y el robo de la propiedad intelectual. El papel de China en la contención de las ambiciones nucleares de Corea del Norte y sus tensas relaciones con el Japón son una carga suplementaria. Hay desacuerdo incluso sobre si el viaje de Hu a Washington es una "visita de Estado" oficial.
Esas cuestiones figurarán preferentemente en los titulares, pero palidecen en comparación con otro problema que no figura en el programa de ninguno de los dos: el calentamiento de la atmósfera mundial. Es una lástima, porque, como observó recientemente el Primer Ministro británico Tony Blair, a largo plazo "no hay una cuestión más importante que el cambio climático" y no puede haber un acuerdo para reducirlo "en el que no participen China, los Estados Unidos y la India".
Además, el cambio climático ya no es un problema tan a largo plazo y sólo un sector lunático sigue dudando que el calentamiento de la atmósfera mundial se deba a la intensificación del uso de combustibles basados en el carbono. De hecho, evaluaciones recientes por parte del Servicio Antártico británico indican que las temperaturas en el Antártico han aumentado 3,6 grados desde el comienzo del decenio de 1970 y que el calentamiento se está produciendo más rápidamente de lo que los investigadores habían creído hasta ahora. Asimismo, la revista Science informa de que nuevos estudios muestran que los niveles de los océanos pueden elevarse mucho más rápida y vertiginosamente de lo previsto.
Aunque los Estados Unidos y China son los dos productores principales de gases que provocan el efecto de invernadero del mundo –y de los dos los EE.UU. son el mayor--, ninguno de ellos ha firmado el Protocolo de Kyoto, que obliga a los países a reducir sus emisiones de carbono en un 5 por ciento por debajo de los niveles de 1990 en 2008-12. Sin la participación de China y los EE.UU., es probable que el problema se agrave mucho más antes de mejorar.
El peligro del cambio climático en aumento se debe a la evolución de la situación en China. Este país satisface casi el 76 por ciento de sus necesidades energéticas con el carbón, pues en 2005 quemó 2.200 millones de toneladas de éste y se calcula que el consumo aumentará a 2.600 millones en 2010. Además, la producción de automóviles ha experimentado un aumento vertiginoso, al pasar tan sólo de 640.000 en 2000 a 3,1 millones en 2005 y se espera que el crecimiento anual siga aumentando en un 80 por ciento. China, independiente en materia de petróleo hasta 1993, consume ahora cada vez más petróleo importado todos los años y se prevé que en 2025 el consumo de energía eléctrica se habrá duplicado, lo que requerirá por término medio la puesta en marcha de una nueva central térmica todas las semanas.
Así, pues, no es de extrañar que el agua del 75 por ciento de los ríos de China no sea potable, que el país albergue siete de las ciudades más contaminadas del mundo y que con frecuencia se puedan pasar semanas en Beijing o Shangai sin ver el sol. De hecho, China va camino de volverse un erial medioambiental.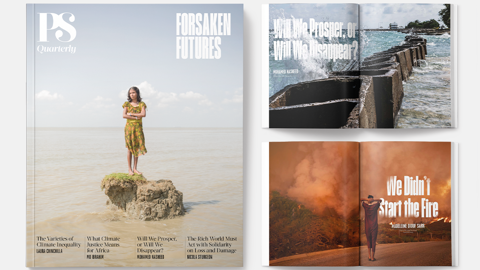 PS Quarterly: Forsaken Futures is here, and available exclusively to Premium subscribers.
Subscribe now to read all the magazine's content, including exclusive insights from Laura Chinchilla, Mohamed Nasheed, Nicola Sturgeon, Laurence Tubiana, and more.
A diferencia del gobierno de George W. Bush, que sigue pasando por alto las señales que avisan del peligro climático xxxxxxx tanto en su país como a escala mundial, la dirección de Hu Jintao ha empezado a dar prueba de una firmeza esperanzadora, al menos en la política medioambiental interior. A ese respecto hay una paradoja: mientras que el gobierno central de China está intentando imponer una dirección medioambiental nacional, los gobiernos locales se han resistido con frecuencia. En los EE.UU, el gobierno federal es el que se ha mostrado débil –retrógrado incluso—a la hora de encabezar una dirección medioambiental, mientras que estados como, por ejemplo, California han tomado la iniciativa con normas más estrictas.
Mientras que el Vicepresidente Dick Cheney denigra la idea de la conservación de la energía, los dirigentes de China han adoptado un nuevo plan quinquenal por el que el país se compromete a reducir la utilización de la energía en una quinta parte y de la contaminación industrial en un décima parte y el consumo industrial de agua en una tercera parte. Se ha impuesto un aumento de los impuestos del 12 por ciento a los coches que consumen mucha gasolina, junto con reducciones a los de motores pequeños y se va a establecer un nuevo impuesto del 5 por ciento a los entarimados de madera e incluso a los palillos para comer, para los que, según cálculos aproximados, se utilizan dos millones de metros cúbicos de madera al año.
No obstante, como tanto Hu como Bush temen los efectos económicos de la reducción de las emisiones de carbono de sus países, los dos se han ocultado tras la no participación del otro para justificar su ausencia en las gestiones internacionales y su decisión de no encabezar la iniciativa mundial. Tras haber comprendido la amenaza medioambiental, el nuevo imperativo de Hu es el de empezar a plasmar parte de la nueva conciencia y audacia de China en su política exterior... exactamente lo que los EE.UU. no han hecho.
Sería una lástima que China, el nuevo centro industrial del mundo, pasara por alto los beneficios de capitalización económica de las medidas multinacionales para controlar las emisiones de carbono que resultan inevitables para que el medio ambiente mundial siga siendo habitable. De hecho, cualquier dirección nacional que se adelante a las nuevas investigaciones, innovaciones y posibilidades de fabricación y comercio que resultarán de ese nuevo imperativo podría verse situada en la posición ideal para lograr el tipo de crecimiento económico sostenido al que todos los países aspiran.
Si los EE.UU. y China se unieran para abordar la amenaza del cambio climático, los resultados podrían ser no sólo una atmósfera más agradable y una mejor relación chino-estadounidense, sino también nuevos sectores económicos muy vivos en los dos países. Si el cambio climático figurara en el programa del próximo viaje de Hu, la reunión, independientemente de que se la califique o no de "visita de Estado", podría tener consecuencias transcendentales.