Der Krieg in Syrien und seine wachsenden Risiken
BERLIN – Der Krieg in Syrien hat viel gemein mit dem Dreißigjährigen Krieg, der zwischen 1618–48 das Zentrum Europas, nämlich Deutschland, verheerte und erst nach langen dreißig Jahren mit dem Westfälischen Frieden endete. Dieser Frieden, der erst mit der Erschöpfung aller Beteiligten möglich wurde, war ein Erschöpfungsfrieden. Aleppo hieß damals Magdeburg.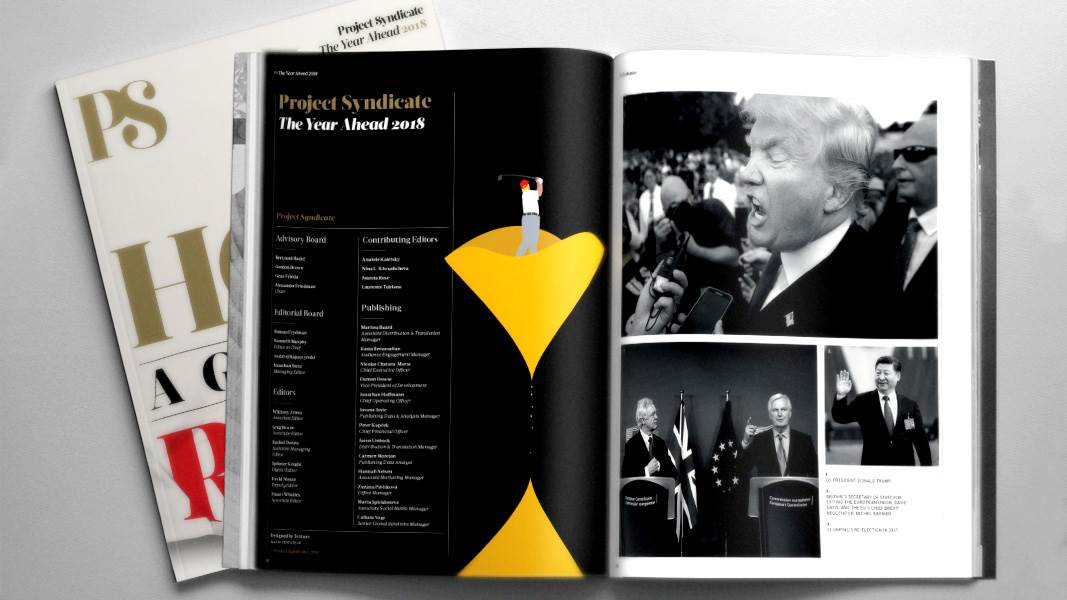 The Year Ahead 2018
The world's leading thinkers and policymakers examine what's come apart in the past year, and anticipate what will define the year ahead.
Es war ein Religionskrieg zwischen dem katholischen und dem protestantischen Lager des Christentums, wie heute zwischen Sunniten und Schiiten im islamischen Nahen Osten, vor allem aber ein Krieg um die Macht, verborgen hinter dem Vorhang der Religion, ein höchst weltlicher Kampf um die Hegemonie in der Region. Und wie heute litt die Bevölkerung furchtbar, wurde das Land zerstört, zog sich der Krieg in die Länge und war bei Lichte besehen eine Verbindung mehrerer Kriege.
Der syrische Bürgerkrieg begann als Teil des arabischen Frühlings, als Kampf um Demokratie und zum Sturz der Diktatur Assads. Iran und die libanesische Hisbollah, die von diesem massiv gestützt wird und schließlich die direkte militärische Intervention Russlands verhinderten den Sturz Assads und internationalisierten diesen Krieg endgültig. Auf der anderen, der sunnitischen Seite intervenierten die Türkei und Saudi-Arabien mit massiver Unterstützung für die Rebellen gegen Assad.
Jahre später wurde dieser Kampf zum Krieg einer internationalen, von den USA angeführten Koalition gegen den Islamischen Staat. Nach dessen militärischer Niederlage folgte der türkisch-kurdische Krieg im Norden des Landes. Die kurdischen Kämpfer der YPG waren am Boden zugleich die wichtigsten militärischen Partner der USA im Krieg gegen den IS, sodass eine direkte militärische Konfrontation zwischen den beiden NATO-Verbündeten, Türkei und USA, droht, ebenso wie zwischen den beiden Weltmächten USA und Russland. In Syrien kam es mittlerweile in der direkten Konfrontation zwischen den USA und russischen Söldnern zu den ersten Toten, was eine erhebliche Verschärfung der Lage bedeutet.
Mit jeder weiteren Umdrehung der syrischen Tragödie scheint diese immer heißer und gefährlicher zu werden. Schon seit langem geht es nicht mehr vor allem um die Macht in Damaskus, sondern um die Vorherrschaft im Nahen Osten. Russland oder die USA, Iran (schiitische Vormacht und Verbündeter Russlands) oder Saudi-Arabien (sunnitische Vormacht und Verbündeter der USA und Israels) heißen die Alternativen, um die tatsächlich gefochten wird.
Hinzu kommt noch die Türkei mit ihren eigenen Interessen, an erster Stelle ihre Furcht vor einem Kurdenstaat im Norden Syriens mit Auswirkungen auf die Kurden im Südosten der Türkei. Die staatenlosen Kurden mit ihrem Unabhängigkeitsstreben in mehreren Staaten der Region, und schließlich die regionale militärische Supermacht Israel mit ihren Sicherheitsinteressen als direkter südlicher Nachbar Syriens und des Libanon. Israel hatte sich bisher aus dem Krieg herausgehalten und nur aus der Luft eingegriffen, wenn es seine Sicherheit, etwa durch die Aufrüstung oder Bodengewinne der libanesischen Hisbollah und die verstärkte Präsenz Irans gefährdet sah.
Und exakt hier droht ein weiterer, ein israelisch-iranischer Krieg, an dem keine Seite zwar wirklich Interesse hat, der sich aber fast von selbst absehbar aus den sich verschiebenden Realitäten am Boden ergeben wird. Denn es war eine Illusion zu meinen, Israel könnte sich aus den syrischen Wirren heraushalten. Denn der militärische Sieg Assads und der ihn stützenden russisch-iranischen-Hisbollah Allianz, wird Israels Sicherheitslage fundamental zu seinen Ungunsten verändern und seinen Hauptfeind Iran in Syrien und Libanon dramatisch stärken, der sich zudem der Rückversicherung durch Russland gewiss sein kann.
Ein durch den Syrienkrieg ausgelöster iranisch-israelischer Krieg wäre aber für die gesamte Region brandgefährlich, ein Waffengang um die regionale Hegemonie (mit Saudi-Arabien im Hintergrund) und auch mit dem verschärften Risiko der direkten Konfrontation der beiden Weltmächte. Vor wenigen Tagen war es fast soweit.
Eine in Syrien gestartete Drohne Irans drang tief in den israelischen Luftraum ein, wurde dort abgeschossen und von den danach aufgestiegenen Flugzeugen der israelischen Luftwaffe wurde eines über Syrien abgeschossen. Die Piloten konnten sich auf israelisches Territorium retten. Sich daran anschließende Vergeltungsangriffe richteten sich gegen iranische Ziele in Syrien.
Es zeigte sich, dass das Vertrauen Israels auf eine Sonderbeziehung zwischen Putin und Netanjahu nicht belastbar war und Russland mitnichten den Iran kontrollieren kann oder will. Damit aber wird Israel definitiv zum Akteur in Syrien. Die syrische Tragödie wird um ein weiteres Kapitel fortgeschrieben.
Europa, das von einem iranisch-Israelischen Krieg recht unmittelbar nicht nur wegen der Flüchtlinge betroffen wäre, sieht bislang zu. Hinzu kommt die Gefahr für das Atomabkommen mit dem Iran, das die USA am liebsten aufkündigen würden. Für Europa aber hieße ein solcher Schritt sehenden Auges ein nukleares Wettrüsten zu Lasten seiner eigenen Sicherheit in Kauf zu nehmen oder gar mit den Folgen eines großen Krieges in seiner unmittelbaren Nachbarschaft konfrontiert zu werden, der Israels Sicherheit unmittelbar gefährden würde.
Angesichts dieser Gefahr kann sich der regionale Nachbar des Nahen Ostens, Europa, Passivität nicht länger erlauben. Einerseits werden die Europäer das Nuklearabkommen mit dem Iran im eigenen Sicherheitsinteresse verteidigen müssen, andererseits kann Europa einen von Syrien und dem Libanon ausgehenden Hegemonialkrieg des Irans mit Israel nicht akzeptieren. Europa ist Israel gegenüber verpflichtet. Jetzt ist die europäische Diplomatie gefragt, denn noch ist Zeit für eine diplomatische Lösung. Allerdings läuft diese schneller ab, als viele meinen. Ein großer Krieg droht in Nahost und Brüssel  und die europäischen Hauptstädte müssen handeln.