De Syrische tijdbom
BERLIJN – Het voortdurende conflict in Syrië kent veel overeenkomsten met de Dertigjarige oorlog, die van 1618 tot 1648 het hart van Europa – en dan vooral de Duitse stad Magdeburg, het Aleppo van die tijd – verwoestte. Van een afstand gezien was deze oorlog een opeenvolging van conflicten die de Europese bevolking een onafzienbaar lijden oplegde die pas eindigde met de Vrede Westfalen toen alle partijen volledig uitgeput waren.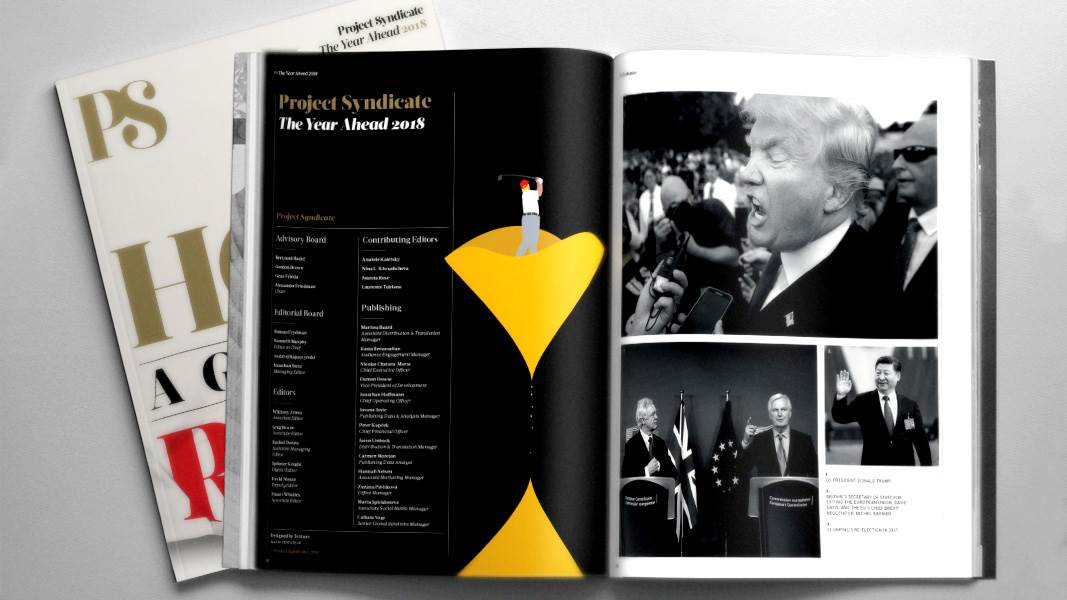 The Year Ahead 2018
The world's leading thinkers and policymakers examine what's come apart in the past year, and anticipate what will define the year ahead.
De Dertigjarige Oorlog was in naam een religieus conflict tussen katholieke en protestantse christenen, net zoals de belangrijkste scheidslijn in het huidige Midden-Oosten die tussen soennitische en sjiitische moslims is. Maar net zoals in het Syrië van nu maskeerde de religie slechts een diepere strijd om de macht en regionale hegemonie.
De Syrische oorlog begon tijdens de Arabische Lente nadat Syrische demonstranten riepen om democratie en een eind aan de dictatuur van president Bashar al-Assad. Maar al snel werd deze een internationale kwestie. Iran en Hezbollah, de door het land gesteunde Libanese sjiitische militie, intervenieerden samen met Rusland militair en voorkwamen zo de val van Assad in de handen van rebellen die werden gesteund door Turkije en Saudi-Arabië, die de soennitische zijde vertegenwoordigden.
Ondertussen was de oorlog inmiddels zo uitgegroeid dat deze ook een door de VS geleide campagne tegen de Islamitische Staat ging omvatten. En toen IS vorig jaar verslagen werd volgde er snel een nieuw conflict, deze keer tussen Turkije en de Koerden in noord-Syrië. En nu worden de strijders van de met de VS geallieerde Koerdische YPG (de zogeheten Volksbeschermingseenheden) die onmisbaar bleken in het gevecht tegen IS door Turkije onder vuur genomen, wat de kans op een directe militaire confrontatie tussen twee NAVO-bondgenoten steeds groter maakt. Bovendien is er ook het groeiend gevaar van een directe militaire confrontatie tussen de VS en Rusland, nog eens onderstreept door recente rapporten dat een luchtaanval van de VS tientallen Russische huurlingen in Syrië zou hebben gedood.
Met elk nieuw hoofdstuk lijkt de Syrische tragedie nog gevaarlijker te worden. Het conflict gaat niet langer om wie de macht heeft in Damascus, maar om de heerschappij in het Midden-Oosten. De strijd gaat niet alleen tussen Rusland en de VS, maar zet het sjiitische Iran tegenover het soennitische Saudi-Arabië, dat zichzelf steeds meer aan Israël – nog een Amerikaanse bondgenoot – lieert.
Turkije op zijn beurt wordt primair gedreven door de angst dat er een Koerdische staat uitgeroepen zal worden in Noord-Syrië, wat separatistische Koerdische facties in zuidoost-Turkije aan zou moedigen. En de Koerden in Noord-Irak (Koerdistan) maken zich dan ook al hard voor een eigen staat, en hebben vorig jaar zelfs een referendum voor onafhankelijkheid gehouden.
Ten slotte heeft Israël, de enige militaire supermacht in de regio, nog zijn eigen veiligheidsbelangen in Libanon en zuid-Syrië. Tot voor kort wist Israël grotendeels buiten de oorlog te blijven. Maar toen moest het vanuit de lucht ingrijpen om te voorkomen dat wapentransporten Hezbollah zouden bereiken en dat Iran aanwezigheid in de buurt van zijn noordelijke grenzen zou verkrijgen.
De Israëlische betrokkenheid groeide eerder deze maand verder toen een Iraanse drone werd neergehaald die het luchtruim vanuit Syrië binnengedrongen was. Toen Israëlische gevechtsvliegtuigen antwoordden met luchtaanvallen op Iraanse doelwitten in Syrië werd er een neergehaald door Syrische luchtafweer (de piloten bereikten ongedeerd Israëlisch grondgebied), wat Israël er toe dreef de troepen van Assad direct aan te vallen.
Terwijl deze gebeurtenissen zich ontvouwden werd het al snel duidelijk dat Israël niet kon vertrouwen op de zogenaamde speciale relatie tussen de Russische president Vladimir Poetin en de Israëlische premier Benjamin Netanyahu. Rusland bleek onwillig of onmachtig om Iran te controleren. Dus of het nou wil of niet is Israël nu een actieve speler in Syrië geworden.
Het is precies op dit front dat een nieuwe oorlog zou kunnen uitbreken, deze keer tussen Israël en Iran. Zo een conflict zou de belangen van geen van beide partijen dienen, maar het is makkelijk voor te stellen hoe het desondanks toch zou kunnen gebeuren gegeven de huidige realiteit. Israël kan terwijl het Assads regime, Rusland, Iran, en Hezbollah een militaire overwinning veilig stellen simpelweg niet buiten het conflict blijven. De realiteit op de grond bedreigt Israëls eigen veiligheid fundamenteel, en maakt vijand Iran drastisch sterker.
Een oorlog tussen Iran en Israël (met Saudi-Arabië op de achtergrond) zou de hele regio in gevaar brengen daar dit weer een nieuw front in de strijd om hegemonie zou zijn. Maar ook Europa zou direct geraakt worden, en niet alleen omdat een groter conflict zelfs nog meer vluchtelingen naar het noorden zou drijven. Nu president van de VS Donald Trump dreigt het Iraanse atoomverdrag te saboteren zou Europa zichzelf kunnen terugvinden met een gevaarlijke wapenwedloop – of zelfs nog een grote oorlog – niet ver van zijn grenzen.
Gegeven deze gevaren kan Europa het zich niet langer veroorloven om van de zijlijn toe te kijken. Europa moet het Iraanse atoomverdrag omwille van de eigen veiligheid verdedigen. En omdat de Europese Unie langlopende verplichtingen tegenover Israël heeft mag het geen gewelddadige strijd om de hegemonie die Israël direct bedreigt toestaan.
Het is nu meer dan ooit tevoren tijd voor Europese diplomatie. Met een volgende grote oorlog op de loer in het Midden-Oosten moeten de Europese leiders nu in actie komen.
Vertaling Melle Trap