Un appel pour l'avenir du Soudan
KHARTOUM – Le 19 décembre 2018, des protestations pacifiques éclataient spontanément dans les villes du Soudan. Quatre mois plus tard seulement, les courageux manifestants parvenaient à renverser le régime despotique d'Omar Al-Bachir, qui avait dirigé le pays pendant trente ans. Au Soudan, fait remarquable, ce sont les groupes sociaux les plus opprimés – les femmes, la jeunesse et les minorités ethniques – qui ont ouvert la voie.
Au mois d'août, la société civile soudanaise et les chefs militaires signaient une Déclaration constitutionnelle. Cet accord de partage du pouvoir a permis la formation d'un gouvernement de transition, qui dirigera le pays pendant trois ans et trois mois, au terme desquels seront tenues des élections démocratiques.
Le nouveau gouvernement comprend la première femme nommée à la présidence de la Cour suprême du pays, deux femmes membres du Conseil souverain, ainsi que, pour la première fois, une femme ministre des Affaires étrangères (l'une des quatre femmes du cabinet). Il comprend aussi des technocrates, notamment le Premier ministre, qui ont travaillé pour des organisations internationales.
Le partenariat conclu entre les dirigeants civils et l'armée a sauvé le pays d'une longue guerre civile et épargné de nombreuses vies humaines. Le gouvernement a trois priorités : résoudre les conflits intérieurs, réinstaller les millions de personnes déplacées et reconstruire une économie dévastée.
Aujourd'hui, après trente ans de mauvaise gestion, de corruption, de guerre et de divisions internes, la misère guette. Selon le Fonds monétaire international, le PIB par habitant du Soudan en dollars a été divisé par deux depuis 2013. Le FMI prévoit en outre une contraction de 2,6% de l'économie cette année, avec une inflation supérieure à 50%. Le chômage dépasse les 20% et la dette publique brute du Soudan est supérieure à 200% du PIB.
La paix dépend des solutions qui seront apportées à ces redoutables défis. Depuis 2011, le Soudan souffre d'une chute catastrophique de ses recettes pétrolières à l'exportation, l'essentiel de la production pétrolière étant concentré dans ce qui est aujourd'hui le Soudan du Sud, devenu indépendant après un référendum soutenu par les puissances occidentales. En conséquence de quoi, le pays a un besoin vital et urgent de créer de nouvelles industries et de moderniser son vaste secteur agricole.
Subscribe now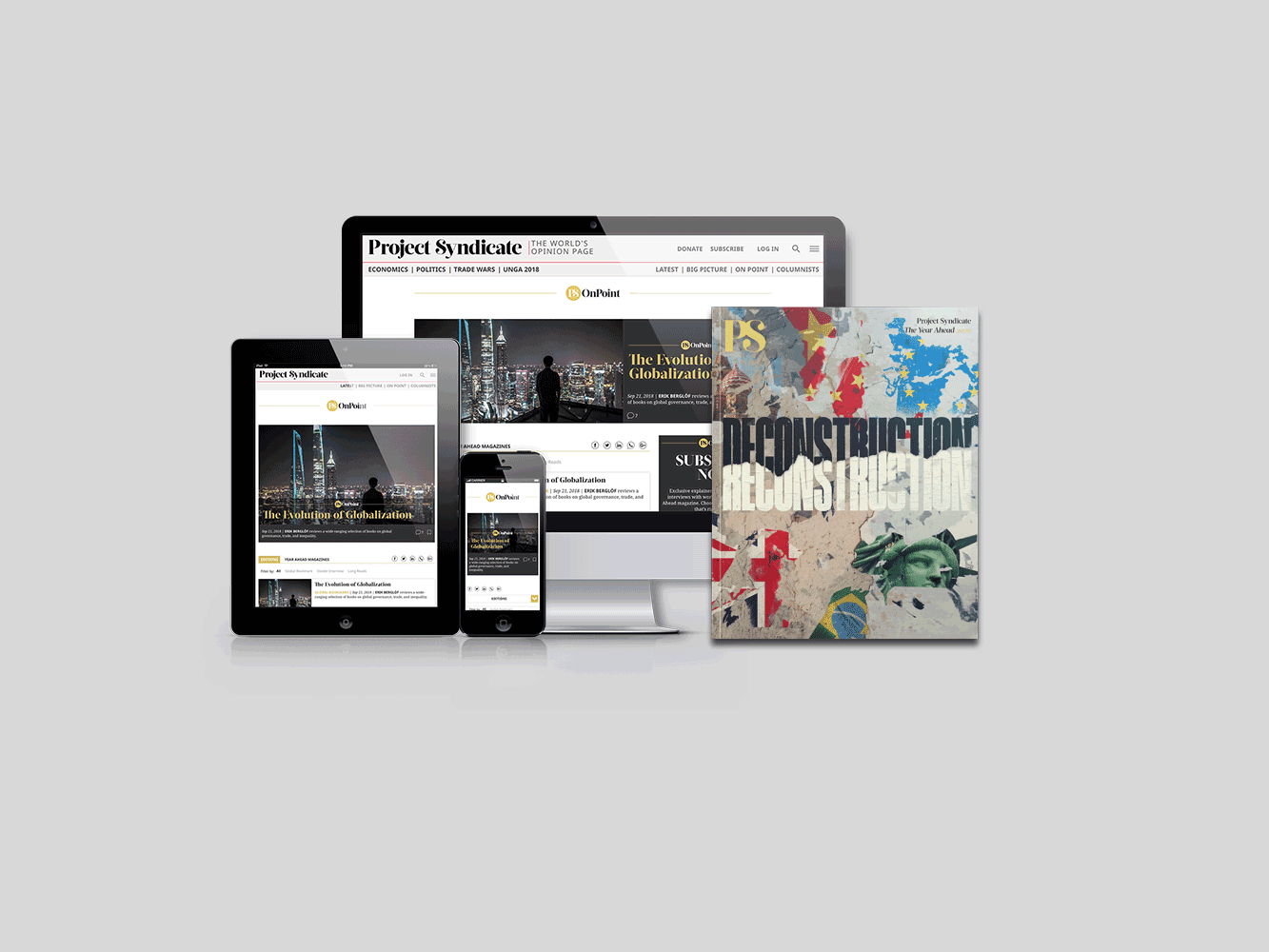 Subscribe now
Subscribe today and get unlimited access to OnPoint, the Big Picture, the PS archive of more than 14,000 commentaries, and our annual magazine, for less than $2 a week.
Le Soudan est donc aujourd'hui sur le fil du rasoir : il peut se diriger vers la paix et la démocratie ou s'engouffrer dans un tourbillon d'instabilité et de violence. Lors de nos carrières respectives, nous avons connu les deux types d'évolution. En Pologne, l'un de nous (Sachs) a assisté et participé à la consolidation de la démocratie et au rétablissement de la croissance économique après la chute du régime communiste, voici trente ans. Mais nous avons aussi été témoins de situations dégradées qui se sont encore détériorées, d'espoirs déçus, de la démagogie, de conflits ethniques ayant conduit à des années de violence, d'instabilité et de marasme économique.
Nous en appelons donc au monde pour qu'il affirme sa solidarité avec le Soudan, après que celui-ci a triomphé du despotisme. Nous savons, bien sûr, que l'opinion publique mondiale ne porte aux pays lointains qu'une attention de courte durée. Les préoccupations de l'heure concernent les incertitudes du commerce et de la finance mondiale, les tensions qui s'accumulent entre les grandes puissances, et les résultats d'importantes élections, qui approchent dans plusieurs de pays.
Nous demandons néanmoins au monde d'accorder un moment d'attention à un pays pauvre de 43 millions d'habitants, dont la première ressource naturelle est aujourd'hui l'espoir. Si le Soudan réussit, il aidera à stabiliser la Corne de l'Afrique et le Moyen-Orient. S'il devait échouer, l'instabilité qui en découlerait entraînerait de nombreux pays. Une assistance internationale vitale, délivrée à temps, peut faire la différence entre la réussite et l'échec des réformes du nouveau gouvernement.
La mesure la plus urgente est la levée par le gouvernement des États-Unis des barrières réglementaires qui touchent le commerce, les flux financiers et les mouvements de population. Plus particulièrement, les États-Unis devraient retirer sans délai le Soudan de la liste des pays accusés de soutenir le terrorisme, vestige de l'ère Al-Bachir, de sorte que le gouvernement soudanais puisse répondre à certaines des exigences auxquelles il est confronté. 
Le nouveau gouvernement a rapidement présenté un plan de redressement économique, soit une stratégie de réforme pour les années 2020-2030 fondée sur les objectifs de développement durable des Nations Unies. Suivant ce plan, le gouvernement entend consacrer les maigres recettes de son budget à l'éducation, à la santé et à des infrastructures de base durables.
Pour réussir, le gouvernement soudanais doit non seulement augmenter la recette publique, mais aussi réorienter ses dépenses pour les désengager du service de la dette contractée durant l'ère Al-Bachir et financer les services publics et les infrastructures. C'est pour cette raison que le Soudan doit voir sa dette allégée, immédiatement, et pouvoir accéder à de nouveaux financements, par le canal de la Banque mondiale ou d'autres institutions financières internationales.
Depuis le milieu des années 1990, des dizaines d'économies à faible revenu ont bénéficié d'un allègement de leurs dettes au titre du programme institué par le FMI et la Banque mondiale pour les pays pauvres lourdement endettés (PPLE). Mais le Soudan en demeura exclu tant qu'Al-Bachir fut au pouvoir. Il est désormais parti, et le nouveau gouvernement en appelle au FMI, à la Banque mondiale et aux créanciers internationaux pour permettre que le Soudan bénéficie du programme d'allègement de la dette en faveur des PPLE et puisse prendre un nouveau départ financier.
Voici trente ans, la Pologne s'est vu accorder un allègement des dettes contractées durant l'ère communiste, ce qui a posé les fondements de sa croissance ultérieure. Le Soudan connaît aujourd'hui un besoin similaire d'allègement de sa dette.
Les défis que le Soudan doit aujourd'hui relever semblent insurmontables à de nombreux observateurs, au-dedans et au-dehors du pays, et les sceptiques pensent qu'une grave crise économique et politique est inévitable. Mais les Soudanais continuent d'espérer. Ils pensent, et nous pensons avec eux, que le Soudan peut devenir pour la région un modèle démocratique, et montrer comment un gouvernement soutenu par la population peut rétablir la stabilité, lancer des réformes et parvenir au développement durable.
Les Soudanais, innovateurs, ethniquement divers, pacifiques et politiquement engagés – notamment la jeunesse et les femmes – se sont libérés de l'oppression à force de ténacité et de courage. Ils désirent ardemment, aujourd'hui, un avenir meilleur. Pour citer le poète tunisien Abou el Kacem Chebbi : « Lorsqu'un jour un peuple veut vivre, force est pour le destin de répondre. »
Traduit de l'anglais par François Boisivon
,