Vrouwelijke boeren in Afrika moeten meer financiële verantwoordelijkheid krijgen
NAIROBI – Over de hele wereld inspireren sociale bewegingen als #MeToo en #TimesUp belangrijke gesprekken over de onbillijke praktijken waarmee vrouwen lange tijd zijn geconfronteerd bij ieder aspect van hun leven. In sommige gevallen hebben deze gesprekken geleid tot meetbare veranderingen in de manier waarop vrouwen op het werk, thuis en elders in de samenleving worden behandeld.
Helaas heeft het grootste deel van de nadruk tot nu toe gelegen op vrouwen in het Westen, of op vrouwen die in stedelijke gebieden leven. Vrouwen op het platteland, en met name arme vrouwelijke boeren in het ten zuiden van de Sahara gelegen deel van Afrika, hebben nog niet geprofiteerd van de recente nadruk op de gelijkheid van man en vrouw. Maar als we de gender-kloof in Afrika ooit willen dichten, moeten de unieke hindernissen waarmee Afrikaanse vrouwen te maken hebben deel gaan uitmaken van de mondiale dialoog.
Het ten zuiden van de Sahara gelegen deel van Afrika behoort tot de delen van wereld waar de ongelijkheid tussen man en vrouw het grootst is. Volgens het United Nations Development Programme (Ontwikkelingsprogramma van de Verenigde Naties, kortweg UNDP), belemmeren "percepties, houdingen en historische gender-rollen" de toegang van vrouwen tot de gezondheidszorg en het onderwijs, en leiden zij tot overmatige verantwoordelijkheid van vrouwen voor het gezin, segregatie op het werk en seksueel geweld.
Maar wellicht het grootste obstakel voor de gender-gelijkheid in het ten zuiden van de Sahara gelegen deel van Afrika is geld; eenvoudig gezegd: vrouwen hebben daar minder van tot hun beschikking. Volgens de Wereldbank heeft 37% van de vrouwen in de regio een bankrekening, tegen 48% van de mannen. En hoewel de percentages laag zijn voor beide seksen, is het verontrustend dat de kloof zich de afgelopen jaren heeft verbreed, ook al is de totale hoeveelheid financiering die beschikbaar is gekomen voor de armen in de wereld gestaag toegenomen.
Vandaag de dag domineren vrouwen in de Afrikaanse landbouw, de belangrijkste bedrijfstak van het land. Maar dit heeft zich niet vertaald in een grotere zeggenschap over de financiën. Eén maatstaf voor deze tekortkoming is de mate waarin wordt geleend; in Oost-Afrika, waar mijn organisatie werkt, lenen vrouwen 13% minder geld voor met de landbouw samenhangende activiteiten dan mannen. Ongeletterdheid, beperkte grondeigendom, en restricties op de handelingsbekwaamheid en mobiliteit zorgen er allemaal voor dat de toegang van plattelandsvrouwen tot de financiering van hun bedrijvigheid gelimiteerd is.
Deze hindernissen hebben dramatische gevolgen gehad voor de sociale en economische vooruitgang. Om te beginnen maakt het gebrek aan kapitaal het moeilijk voor vrouwen om kwalitatief goede zaden en meststoffen te kopen, of zelfs om toegang te verkrijgen tot landbouwgrond, waardoor de agrarische productiviteit terugloopt. De oogst van gewassen in de regio blijft ver achter bij de mondiale gemiddelden, deels omdat vrouwen niet in staat zijn om genoeg te investeren in hun werkzaamheden.
Subscribe to Project Syndicate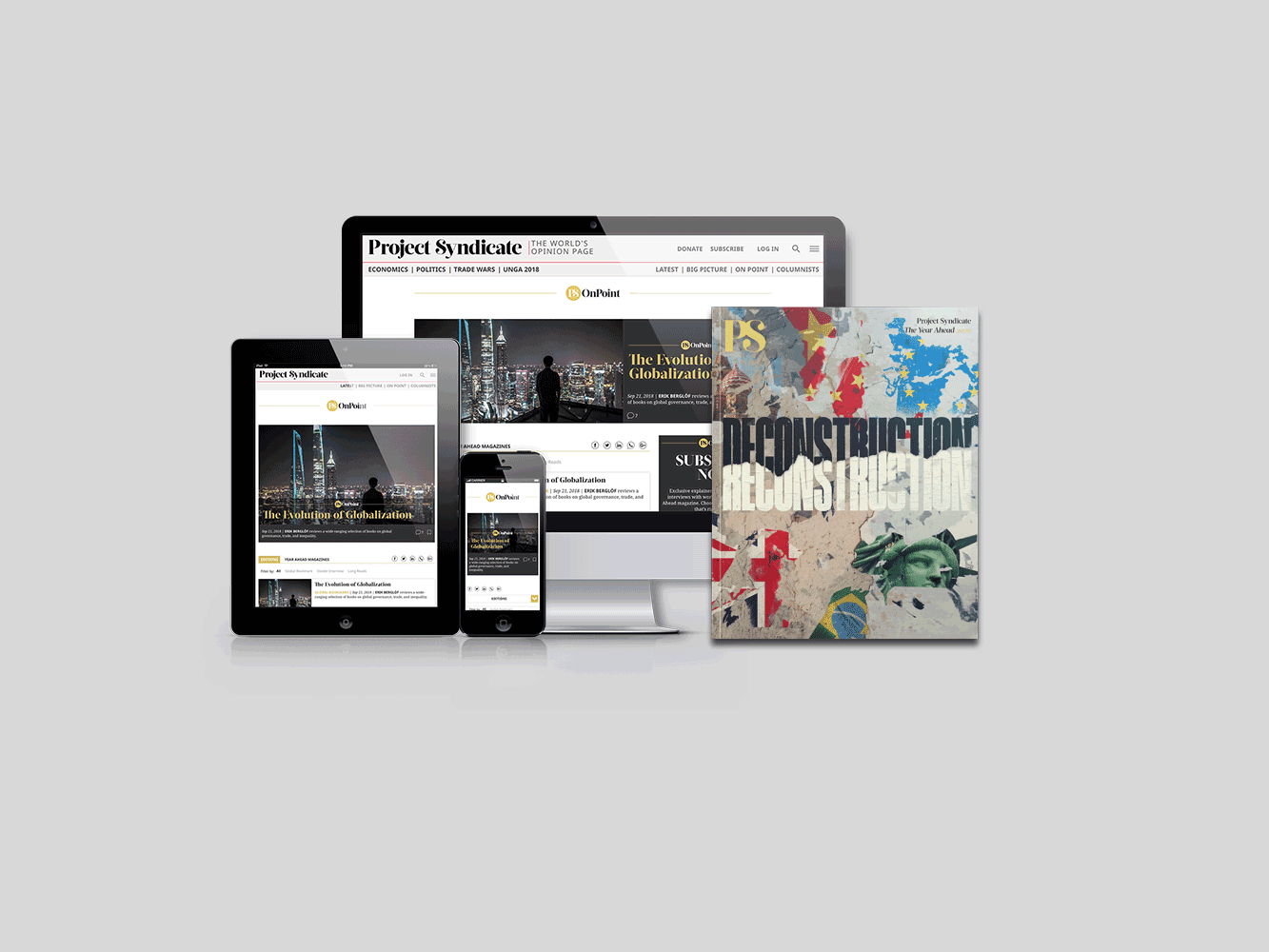 Subscribe to Project Syndicate
Enjoy unlimited access to the ideas and opinions of the world's leading thinkers, including weekly long reads, book reviews, and interviews; The Year Ahead annual print magazine; the complete PS archive; and more – all for less than $2 a week.
De ongelijkheid tussen man en vrouw is ook kostbaar op macroniveau. Het UNDP schat dat het onvermogen om vrouwen in de nationale economieën van de ten zuiden van de Sahara gelegen Afrikaanse landen te integreren deze landen ieder jaar gezamenlijk $95 mrd aan verloren gegane productiviteit kost. Als vrouwen die in armoede leven niet in staat zijn om te werken of een sociale bijdrage te leveren, stagneert de groei.
Aan de andere kant strekken de voordelen – als vrouwelijke boeren toegang tot financiering hebben – zich veel verder uit dan tot de velden alleen. Bewezen is dat financiële empowerment de vrouwelijke participatie in het gemeenschappelijke besluitvormingsproces bevordert.  Bovendien draagt de insluiting van vrouwen in het financiële systeem ertoe bij dat de sociale marginalisering wordt bestreden en dat het welzijn van gezinnen wordt verbeterd; als moeders een zekere mate van controle hebben over de huishoudelijke financiën, zal het minder waarschijnlijk zijn dat hun kinderen sterven door gebrek aan voeding en zal het waarschijnlijker zijn dat het goed met hen gaat.
Gezien deze voordelen is het niet zozeer de vraag of vrouwen op het Afrikaanse platteland betere toegang moeten krijgen tot aan hun werkzaamheden gerelateerd kapitaal, maar eerder hoe dit kapitaal ter beschikking moet worden gesteld. Eén oplossing is het ontwerpen van programma's die rekening houden met ongelijkheden in onderwijs en mobiliteit bij het verstrekken van leningen. Het in aanmerking nemen van sociale discriminatie is essentieel als meisjes en vrouwen volledig moeten kunnen profiteren van de beschikbare financieringsmogelijkheden. Een andere optie is het voortbouwen op succesvolle bemiddelingspogingen die vrouwen helpen financiële verantwoordelijkheid te bespreken met hun echtgenoten.
Maar één van de belangrijkste veranderingen zou toegewijd leiderschap van de financiële instellingen zijn. Als banken en kredietinstellingen producten zouden aanbieden die beantwoorden aan de behoeften van vrouwen, zouden meer vrouwen toegang hebben tot financiële middelen. Banken zouden bijvoorbeeld specifieke kredietprogramma's kunnen ontwerpen voor gewassen die van oudsher door vrouwelijke boeren worden verbouwd – zoals aardnoten of zonnebloemen. Financiële instellingen zouden ook het vrouwelijk leiderschap kunnen aanmoedigen in boerencoöperaties, en markten kunnen ondersteunen waar vrouwen hun oogst slijten.
In het huidige tempo van financiële insluiting zal het de wereld ruim tweehonderd jaar kosten om gelijkheid tussen man en vrouw te bereiken. Dat is onaanvaardbaar. De vooruitgang op het gebied van de empowerment van vrouwen hoeft niet zo traag te verlopen. Als overheden, internationale spelers en de financiële sector een samenhangende poging doen om een meer op gender gericht beleid te ontwerpen en ondersteunen, zal dat ook niet het geval zijn.
Vertaling: Menno Grootveld