Народ против демократии?
ПРИНСТОН – По итогам выборов в Италии в лидерах оказались партии популистов и ультраправых. Этот результат, последовавший за двойной катастрофой Брексита в Великобритании и избрания Дональда Трампа в США, несомненно, лишь укрепит сложившееся у либералов мнение: народ сам себе накликал все эти беды. Согласно этой точке зрения, «рядовые граждане» слишком иррациональны и плохо информированы, и поэтому их выбор ужасен. А кое-кто даже делает шаг вперёд и приписывает таким гражданам осознанную привязанность к антидемократическим лидерам. Более того, как утверждается в одной новой книге, проблема в том, что «Народ против демократии».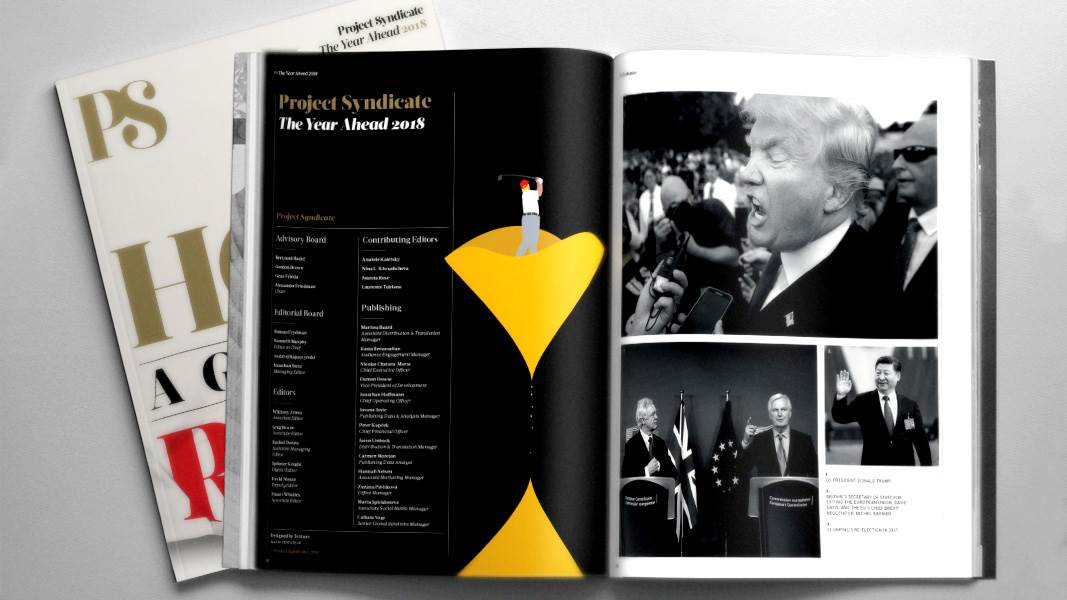 The Year Ahead 2018
The world's leading thinkers and policymakers examine what's come apart in the past year, and anticipate what will define the year ahead.
Подобные диагнозы глубоко ошибочны. Обращая внимание на убеждения отдельных граждан, они упускают из вида структурные причины нынешних угроз для демократии. И, как следствие, неизбежно делаются ошибочные практические выводы. Если действительно поверить в то, что избиратели некомпетентны или антилиберальны, тогда очевидным будет следующий шаг – ещё больше ограничить их участие в принятии решений. Однако вместо отступления к технократии мы должны взяться за конкретные структурные проблемы, которые способствуют триумфу политиков-популистов.
Есть масса доказательств того, что граждане не так хорошо информированы, каким они должны были бы быть, согласно демократической теории. В частности, в США политологи неоднократно демонстрировали радикальные отличия реальных взглядов людей от мудростей учебников обществоведения. Но выборы не являются ни контрольной работой по обществоведению, ни магистерским экзаменом по государственному управлению. Избирателям не нужны детальные знания и предпочтения по всем политическим вопросам; им может быть достаточно широко очерченной ориентации и способности улавливать сигналы от авторитетных фигур, пользующихся доверием (политиков, журналистов или, не дай Бог, экспертов).
Проблемы возникают, когда граждане начинают воспринимать каждый вопрос исключительно с точки зрения партийной идентичности, например, доверие к науке о климате начинает зависеть от того, как является данный человек республиканцем или демократом. Ситуация ещё больше ухудшается, когда партийная идентичность становится настолько сильной, что любые аргументы противоположной стороны перестают восприниматься и считаться легитимными.
Трамп ведь не был избран в качестве кандидата некоего самозваного движения белых неудачников, озлобленных на глобализацию; он был лидером партии истеблишмента. И задолго до Трампа эта партия (и её адепты в правой прессе) начала демонизировать оппонентов, фактически уговаривая своих сторонников, чтобы те никогда, ни при каких обстоятельствах не выбирали «подражающих Европе социалистов» и тому подобные неамериканские мерзости. В итоге, республиканцы, с готовностью признававшие, что Трамп недостаточно квалифицирован, чтобы быть президентом, всё равно за него проголосовали.
Поляризация в США не является объективным следствием реальных культурных различий; по крайней мере, отчасти она является совершенно сознательным проектом элиты, стремящейся расколоть общество ради политической выгоды, а иногда и личной. Действительно, поляризация – это большой бизнес, что подтверждает даже беглый взгляд на доходы ключевых фигур телеканала Fox News и радиостанций с ток-шоу.
Ту же самую ошибку совершают обозреватели, заявляющие, что Европа сейчас разделилась на либерально-демократические страны Запада и страны Востока, в которых глубоко нелиберальный электорат привёл к власти популистов. Они объясняют любые политические события с точки зрения культуры, а появление авторитаризма – тем, что избиратели его якобы «реально хотели».
Но вспомните решающие выборы в Венгрии в 2010 году и в Польше в 2015-м. Как подчёркивает моя коллега Ким Лейн Шеппели, избиратели тогда сделали ровно то, что в двухпартийной системе им предписывала сделать демократическая теория. Печальная ситуация в экономике и коррупция в Венгрии дискредитировали основную левую партию, поэтому пришло время проголосовать за её оппонентов. А в Польше правоцентристская «Гражданская платформа» могла похвастаться отличными экономическими показателями, но многие считали, что она слишком расслабилась после многих лет у власти.
Во время избирательной кампании 2010 года Виктор Орбан не обещал составить проект новой конституции, ослабить систему сдержек и противовесов, радикально снизить уровень плюрализма в прессе. Вместо этого он представлял себя в качестве компетентного, традиционного политика, христианского демократа. А в Польше партия «Право и справедливость» (ПиС) из всех сил доказывала, что является благоразумной консервативной партией, которая стремиться лишь расширить помощь семьям с детьми.
Многие ещё помнили мрачное, поляризующее общество выступление лидера «ПиС» Ярослава Качиньского в качестве премьер-министра в 2006-2007 годах. Но на этот раз Качиньский держался вдали от сцены, позволив другим возглавить правительство. Даже сегодня он номинально является простым депутатом Сейма (парламента Польши), хотя и контролирует администрацию страны из-за кулис.
Оказавшись у власти, популисты, подобные Орбану, развязывают полномасштабную культурную войну. Во имя «объединения нации» они раскалывают общество, делая ставку на то, что, получив контроль над большинством СМИ, они смогут манипулировать общественным мнением с целью сохранения власти.
Как и в США, надо не жаловаться на авторитарные склонности народа, а решать структурные проблемы, позволяющие популистам добиваться успеха. Например, далеко не всё, что говорят популисты об «оставшихся позади», ложно; и не всегда ошибочными будут подозрения, что часть государства захвачена частными интересами. Но это базовое недовольство всегда должно находить выражение и быть представлено при поддержке СМИ и политических партий. Пресса и партийные системы во многих странах совершенно явно не работают так, как должны, и требуют системной перестройки.
Разумеется, расширение и улучшение качества гражданского воспитания тоже может помочь. Это воспитание находится в упадке уже несколько десятилетий, потому что с трудом вписывается в учебные программы, которые слишком сильно опираются на стандартизированные тесты. Кроме того, на качественное обучение обществоведению требуется много времени, что может отвлечь от предметов, которые в краткосрочной перспективе выглядят более полезными (в том смысле, что они, как ожидается, будут напрямую способствовать экономическому успеху). Гражданское обучение может сыграть критическую роль, помогая молодым людям урегулировать разногласия и признавать в других гражданах легитимных оппонентов в демократических конфликтах. Культурные различия не исчезнут и не должны исчезать, но если люди научатся жить с ними, тогда популисты не добьются успеха, используя эти различия в качестве политического оружия.