As lições da Segunda-feira Negra
BERKELEY – O presidente dos EUA, Donald Trump, tem apontado regularmente para o mercado bolsista como fonte de validação do programa económico da sua administração. Mas, embora o Dow Jones Industrial Average (DJIA) tenha subido perto de 30% desde a tomada de posse de Trump, é incerta a medida em que esse aumento do mercado se deveu às políticas do presidente. O que é certo, como fomos recentemente recordados, é que aquilo que sobe pode descer.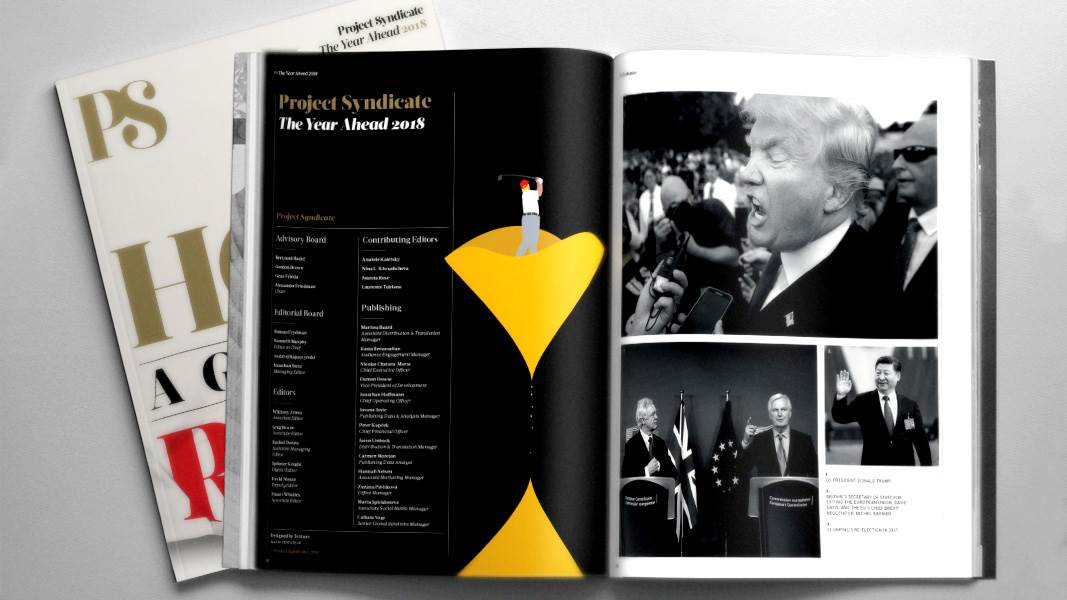 The Year Ahead 2018
The world's leading thinkers and policymakers examine what's come apart in the past year, and anticipate what will define the year ahead.
Para interpretar quedas abruptas nos preços das acções e o seu impacto, muitos pensarão em 2008 e na turbulência dos mercados que acompanhou o pedido de insolvência do Lehman Brothers. Mas um precedente histórico mais adequado às condições actuais é a Segunda-feira Negra: 19 de Outubro de 1987.
A Segunda-feira Negra foi muito importante: a quebra de 22,6% nos preços das acções é ainda a maior queda percentual do DJIA registada num único dia. Uma queda equivalente hoje seria igual a – preparem-se – 6000 pontos no Dow.
Além disso, o crash de 1987 ocorreu num contexto de retracção da política monetária da Reserva Federal dos EUA. De Janeiro a Outubro de 1987, a Fed aumentou a taxa real dos fundos federais quase 100 pontos-base, encarecendo o crédito e a compra de acções. No período anterior a Outubro de 2008, pelo contrário, as taxas de juro desceram abruptamente, reflectindo uma economia em deterioração. Não é esse o caso actual, claramente, o que faz de 1987 uma melhor analogia.
O crash de 1987 também aconteceu durante um período de fraqueza do dólar. Na semana imediatamente anterior, o secretário do Tesouro, James Baker, fez alguns comentários que foram interpretados como uma ameaça de desvalorização do dólar. Tal como o actual secretário do Tesouro, Steven Mnuchin, presente este ano em Davos, Baker poderia lamentar-se de que os seus comentários foram descontextualizados. Mas é revelador que a tendência de venda da Segunda-feira Negra tenha começado no estrangeiro, em países com probabilidade de serem negativamente afectados por um dólar fraco, antes de se espalhar para os EUA.
Finalmente, a negociação algorítmica também desempenhou o seu papel. Os algoritmos em questão, desenvolvidos pela Universidade da Califórnia, eram conhecidos como "seguros de carteira". Usando modelações computorizadas para optimização da proporção entre acções e disponibilidades, os seguros de carteira aconselhavam que os investidores reduzissem a proporção de acções em mercados em descida, como modo de limitar o risco de perdas. Assim, estes modelos encorajaram os investidores a venderem quando os mercados estavam em perda, amplificando as variações de preço.
Embora o papel dos seguros de carteira seja questionável, é difícil imaginar como o mercado poderia ter sofrido quedas tão grandes sem a sua influência. A negociação algorítmica do século XXI pode ser mais complexa, mas também ela terá consequências involuntárias, e também ela poderá amplificar a volatilidade.
Apesar de todo o drama de Wall Street em 1987, o impacto sobre a actividade económica foi abafado. Os gastos dos consumidores caíram abruptamente em Outubro, devido aos efeitos negativos sobre a riqueza e à incerteza acrescida, mas rapidamente estabilizaram e recuperaram, ao mesmo tempo que as despesas de investimento permaneceram essencialmente inalteradas.
O que esteve na origem da limitação dessas consequências? Em primeiro lugar, a Fed, sob a orientação do seu recém-eleito presidente, Alan Greenspan, afrouxou a política monetária, tranquilizando os investidores para que o crash não criasse problemas sérios de liquidez. A volatilidade de mercado decresceu, assim como a incerteza associada, o que reforçou a confiança dos consumidores.
Em segundo lugar, o crash não desestabilizou instituições financeiras de importância sistémica. Os grandes bancos dos centros financeiros tinham usado os cinco anos decorridos desde a eclosão da crise da dívida latino-americana para fortalecerem os seus balanços. Embora a crise nas Instituições de Poupança e Crédito (IPC) (NdT: "Savings & Loan, S&L", no original) continuasse latente, as IPC eram demasiado pequenas, mesmo consideradas em conjunto, para que os seus problemas tivessem um impacto significativo sobre a economia.
Então quais seriam os efeitos actuais de um crash análogo? Actualmente, o sistema bancário dos EUA parece suficientemente robusto para absorver a tensão. Mas também sabemos que os bancos que são saudáveis quando o mercado está a subir podem adoecer rapidamente quando o mercado se altera. As iniciativas do Congresso no sentido de enfraquecer a Lei Dodd-Frank, aliviando muitos bancos do requisito de serem regularmente sujeitos a testes de esforço, sugerem que esta saúde robusta não deve ser tomada como certa.
Além disso, há hoje menos espaço para reduzir taxas de juro do que existia em 1987, quando a taxa de financiamento federal era superior a 6% e a taxa preferencial cobrada pelos grandes bancos excedia os 9%. Com efeito, caso o mercado caísse acentuadamente, a Fed activaria a "Venda Greenspan-Bernanke", disponibilizando grandes quantidades de liquidez a intermediários em dificuldades. Mas permanece em aberto se a Fed de Jay Powell responderia tão criativamente como a de Bernanke em 2008 – disponibilizando empréstimos interligados (NdT: "back-to-back", no original) a bancos não-membros em dificuldades, por exemplo.
Muito dependerá, finalmente, da reacção do presidente. Responderá Trump como FDR fez em 1933, tranquilizando a opinião pública dizendo que a única coisa que devemos temer é o próprio medo? Ou procurará alguém para responsabilizar pelo colapso do seu indicador económico favorito, e atacará os Democratas, os governos estrangeiros, e a Fed? Um presidente que participe num jogo de culpabilização só agravará mais ainda o problema.