Trumpův našeptávač
NEW YORK – Ve svitě amerického prezidenta Donalda Trumpa je řada excentriků, ale jen málokdo z nich je tak podivínský – a zlověstný – jako 33letý Stephen Miller, Trumpův vrchní politický poradce. Podobá se krajně pravicovým zjevům běžnějším v Evropě než USA: mladí, uhlazení, v šik obleku, až trochu šviháci. Miller je protřelý podněcovatel mas, jehož štvavé výroky proti přistěhovalcům a uprchlíkům – "My tu zeď postavíme velikou, my tu zeď postavíme vysokou!" – přivádějí zástupy na Trumpových shromážděních do varu. Jedním z jeho davových trháků je názor, že migranti nakazí Američany příšernými chorobami.
Miller hraje na všechny Trumpovy nejhorší instinkty: agresivní šovinismus, záštiplnou nenávist k liberálům a nepřátelství vůči menšinám. Je extrémně stranický. Jeho vlastními slovy: "Za všechno, co je dnes v této zemi špatně, nesou odpovědnost ti, kdo jsou proti Donaldu Trumpovi!" Možná že tomu skutečně věří.
Prazvláštní je na Millerovi, mimo jiné, zřejmý nesoulad mezi jeho názory na přistěhovalce, uprchlíky a menšiny a jeho osobním původem. Je potomkem Židů, kteří do Spojených států přišli po útěku před pogromy v Bělorusku. Vyrůstal v Kalifornii. Jeho rodiče byli demokraté. Už na střední škole ale četl krajně pravicovou literaturu (časopisy orientované proti regulaci držení zbraní a podobně) a od té doby se spolčuje s ideology, jejichž názory je často těžké odlišit od antisemitismu. Trumpův loňský projev u příležitosti Dne památky na holocaust se ani nezmínil o Židech; někteří mají za to, že autorem proslovu byl Miller.
Miller se označuje za patriota. Není samozřejmě nic zvláštního na tom, aby Židé byli americkými, francouzskými, britskými, ruskými, nebo dokonce německými vlastenci. Stejně tak není důvod, proč by Židé neměli být konzervativní. Margaret Thatcherová jmenovala do vysokých funkcí několik Židů, což dřívějšího ministerského předsedu Harolda MacMillana přimělo k opovržlivé poznámce, že její kabinet obsahuje "víc starých Estonců než starých Etonců" (absolventů elitní školy Eton).
Kromě Millera jsou v Trumpově okolí i další Židé. Garyho Cohna Trump jmenoval ředitelem Národní ekonomické rady a Stevena Mnuchina učinil svým ministrem financí. Ani jeden nevystupuje nativisticky. Cohn loni málem rezignoval, když Trump obhajoval násilnické tlupy hlásající ve virginském městě Charlottesville nadřazenost bílé rasy. Letos skutečně odstoupil, leč na protest proti zavedení cel z dovozu oceli. Cohn tak jako Mnuchin věří v nízké daně a nespoutanou svobodu podnikání. (Jareda Kushnera lze z této úvahy vynechat, neboť jediným důvodem jeho přítomnosti v Bílém domě je manželství s Trumpovou dcerou Ivankou.)
Neobvyklé je být Žid a nativista (přinejmenším mimo Izrael). List Frankfurter Allgemeine Zeitung nedávno uvedl, že k protipřistěhovalecké straně Alternative für Deutschland (AfD) se připojila řada Židů. Mnozí z nich jsou patrně ruského původu. Jejich hlavní motivací ke vstupu na krajní pravici je, zdá se, přehnaný strach, že se muslimové chystají zničit Západ. Millera pronásleduje podobná apokalyptická vize. Jsou tu i další téhož ražení: třeba magnát se sítí kasin a významný Trumpův podporovatel Sheldon Adelson.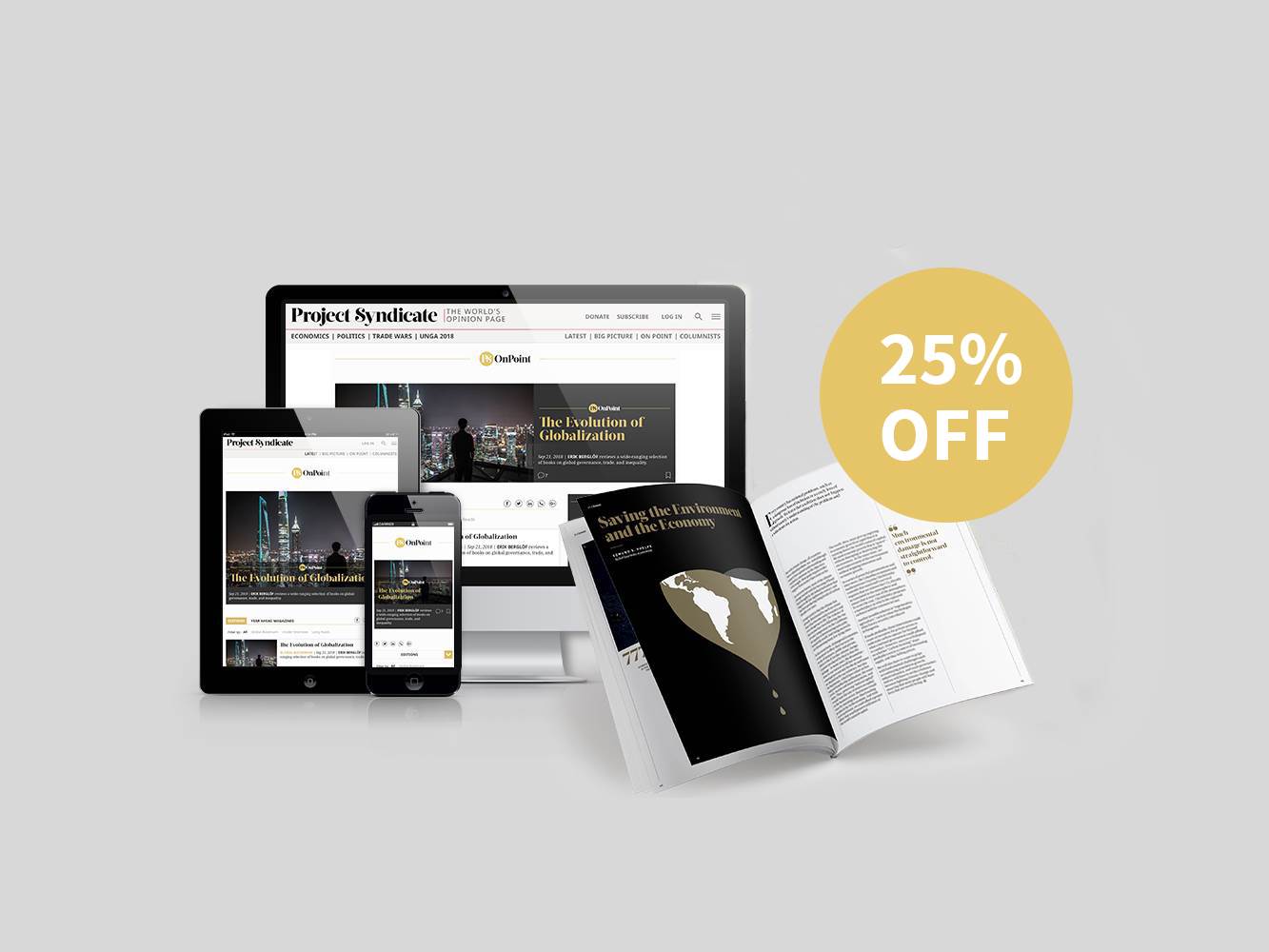 Subscribe now
For a limited time only, get unlimited access to On Point, The Big Picture, and the PS Archive, plus our annual magazine, for just $75.
Existují ale rozumné důvody, proč se Židé v diaspoře běžně nativisty nestávají. Nativistická hnutí, trvající na zvláštních výsadách krve a půdy, vždy menšinám, zejména Židům, škodila, což vedlo k onomu druhu násilí, jež vyhnalo Millerovy praprarodiče z vlasti.
Některé lidi zaráží, že antisemité Židy obviňují, že jsou buď archetypem bolševika, anebo archetypem kapitalisty. Historicky většina Židů žijících v chudých vesnicích nebyla ani jedním. Přitažlivost levicových myšlenek pro židovské intelektuály je však sotva záhadou. Sám Karl Marx doufal, jakmile se dělníci všech zemí sjednotí, na etnických a náboženských rozdílech přestane záležet. Voltaire, žádný velký přítel Židů, zase kdysi na adresu londýnské burzy poznamenal: "Žid, mohamedán a křesťan tu spolu obchodují, jako by byli všichni téže víry, a slovem bezvěrec počastují jen ty, kdo zbankrotují…" Kapitalismus, jak víme, překračuje hranice.
Emigrace, zdaleka ne vždy dobrovolná, je osudem Židů už od 8. století před Kristem. Otevřené společnosti, náboženská tolerance a svoboda pohybu jsou zřídkavým požehnáním. Odtud plyne tradiční přitažlivost míst jako Amsterdam nebo právě USA. Vysvětluje to, proč američtí Židé dál volí převážně Demokratickou stranu i poté, co se jim daří blahobytněji. Norman Podhoretz, americký konzervativní intelektuál, napsal kdysi knihu s názvem Proč jsou Židé liberální? Podivoval se nad představou, již proslule žertem vystihl jeho konzervativní kolega Milton Himmelfarb: "Židé vydělávají jako episkopálci, a volí jako Portorikánci."
Nic hodného podivu na tom ale není. Nedůvěra k nativismu je plodem dlouhé a krvavé zkušenosti. Dnes je mezi americkými Židy rovněž příčinou sílícího rozčarování z Izraele. I ve Svaté zemi je na vzestupu nativismus, zdůrazňující práva Židů na úkor Arabů. Izraelský premiér Benjamin Netanjahu se sice dovolává holocaustu, kdykoli se mu to hodí, ale ideologicky má blíž ke křesťanským evangelikálním fanatikům a k tvrdě pravicovým nativistům, jako je jeho maďarský protějšek Viktor Orbán, než k většině židovských Američanů.
Navzdory mnoha řečem o mocných židovských lobby ve Washingtonu bude proto většina Židů dál hlasovat proti Trumpovi, přestože téměř otrocky podporuje izraelskou vládu a je otevřeně nepřátelský k Palestincům. Právě proto také Miller zůstává podivínem. Minulý měsíc během oslav židovského Nového roku, Roš hašana, Millerův bývalý rabín, Neil Comess-Daniels, odsoudil Millerovu politiku jako "naprostý protiklad ke všemu, co vím o judaismu". Nejsem si jistý, zda židovská teologie podporuje tak vehementní tvrzení, ale jeho smýšlení je jasné.
Když William Kristol, neokonzervativní komentátor, který kdysi koketoval s krajní pravicí, vyjádřil znechucení z Trumpa, David Horowitz, jeden z Millerových duchovních otců, označil Kristola za "odpadlého Žida". Sigmund Freud by to nazval "projekcí". Ve skutečnosti tato představa sahá přinejmenším až k babylonskému Talmudu, který upozorňuje: "Neposmívej se bližnímu za kaz, který je i tvůj vlastní."
Z angličtiny přeložil David Daduč