Estados Desunidos, ¿solución al problema de las armas?
LONDRES – La masacre de Las Vegas y sus secuelas son puro Estados Unidos. Un desequilibrado acarrea veintitrés armas de asalto de alta tecnología a un cuarto en el piso 32 de un hotel, para esparcir muerte sobre los asistentes a un concierto: asesinato en masa seguido de suicidio. En respuesta, vuelve a estallar una guerra cultural: los partidarios del control contra los entusiastas de las armas, en acalorada disputa. Pero hay algo en lo que todos coinciden: no habrá demasiados cambios. Tras una semana de desgarradores funerales televisados, la vida en Estados Unidos continuará como siempre, hasta la próxima masacre.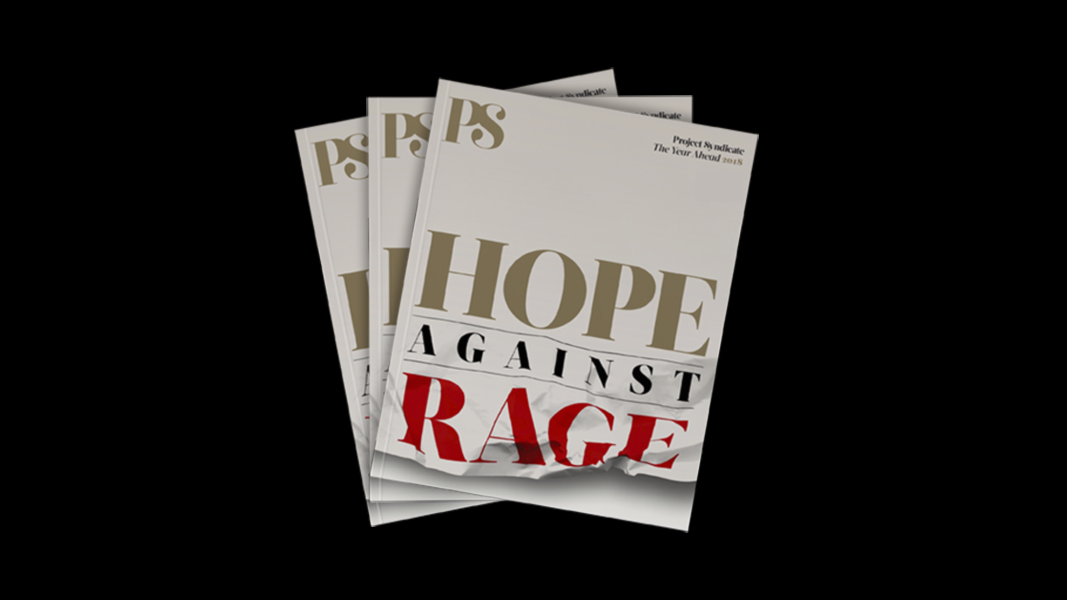 The Year Ahead 2018
The world's leading thinkers and policymakers examine what's come apart in the past year, and anticipate what will define the year ahead.
La violencia masiva está profundamente arraigada en la cultura estadounidense. Los colonos europeos cometieron un genocidio de dos siglos contra los habitantes nativos, y establecieron una economía esclavista tan enraizada que sólo una devastadora guerra civil pudo ponerle fin (en casi todos los demás países, incluso la Rusia zarista, la esclavitud y la servidumbre terminaron por decreto o legislación: no hicieron falta cuatro años de derramamiento de sangre). Después de eso, Estados Unidos estableció y ejecutó durante un siglo un sistema de apartheid.
Hasta el día de hoy, las tasas de homicidio y encarcelamiento en Estados Unidos son varias veces superiores a las de Europa. Cada año se producen varios tiroteos con numerosas víctimas, mientras se siguen librando guerras aparentemente interminables en ultramar. En síntesis, Estados Unidos es un país con un pasado y un crudo presente de racismo, chauvinismo étnico y violencia a gran escala.
La matanza de Las Vegas dejó otra vez en claro la necesidad de prohibir las armas de asalto. Entre septiembre de 1994 y septiembre de 2004 estuvieron prohibidas, y eso ayudó a reducir los tiroteos; pero la intensa presión de los amantes de las armas consiguió que el Congreso no renovara la prohibición (y es improbable que vaya a reinstaurarse en el nivel federal por bastante tiempo). Tal vez se prohíban las culatas especiales que usó el asesino de Las Vegas para convertir sus rifles semiautomáticos en armas automáticas, pero fuera de eso, no habrá grandes iniciativas en el nivel federal.
Cuando en 1996 Australia prohibió las armas de asalto, los tiroteos masivos se terminaron de un día para el otro. Pero los estadounidenses que aman las armas rechazan la evidencia, y hechos como el de Las Vegas sólo logran instalarlos más en la creencia de que las armas de fuego son la única protección real en un mundo peligroso. Según una encuesta reciente, el apego a las armas es especialmente intenso entre los varones blancos republicanos con menor nivel de educación que viven sobre todo en áreas rurales y suburbanas del sur y centro del país (el mismo grupo demográfico que forma el núcleo de apoyo del presidente Donald Trump).
Pero a pesar de las profundas divisiones ideológicas que atraviesan Estados Unidos, hay un rayo de esperanza. Según la constitución nacional, los estados tienen autoridad para prohibir las armas de asalto y regular las armas de fuego (aunque no pueden impedir de plano la posesión de pistolas y rifles, por la interpretación que hace la Suprema Corte del derecho en tal sentido establecido en la Segunda Enmienda). Mi propio estado, Nueva York, prohíbe las armas de asalto, lo mismo que unos pocos estados más. De modo que en vez de iniciar otra batalla con destino incierto en Washington, tal vez sea más útil alentar a más estados a ejercer sus prerrogativas.
Los que lo hagan tendrán menos tiroteos, más seguridad para los ciudadanos y mejor actividad económica. Las Vegas no sólo sufrirá el trauma de la masacre reciente, sino también el alejamiento de turistas y congresos, al menos hasta que Nevada controle las armas de asalto y pueda garantizar la seguridad de sus visitantes.
En Estados Unidos hoy no hay estados rojos (conservadores) y azules (progresistas), sino países de facto rojos y azules, es decir, regiones distintas con diversidad de culturas, héroes, políticas, dialectos, economías y conceptos de libertad. En la ciudad de Nueva York, libertad quiere decir poder andar por la calle sin temor a que alguno de los miles de extraños con que uno se cruza en un día cualquiera sea portador de armas mortales. Pero en Texas o Las Vegas, libertad es la tranquilidad de poder ir armado dondequiera que uno vaya.
Es hora de dejar que los estados rojos y azules sigan su propio camino. Podemos acordar una transición amigable y limitada hacia un vínculo más flexible entre los estados, sin necesidad de librar una guerra civil. En esto, los conservadores tienen razón: reduzcamos el poder del gobierno federal y devolvamos a los estados más poder de manejar impuestos y regulaciones, dentro de los límites constitucionales de la división de poderes y los derechos fundamentales. Así, cada bando de la guerra cultural podrá acercarse a la situación que prefiere sin impedirle al otro hacer lo mismo.
Esa federación más flexible beneficiaría a mi propio estado, al permitirle usar el margen de maniobra adicional para aplicar reglas más estrictas y ampliar servicios sociales con lo que se ahorre por impuestos que ahora paga al gobierno federal. Y la reducción del poder federal también llevaría a menos "guerras optativas" de Estados Unidos en Medio Oriente.
Tarde o temprano, Estados Unidos tendrá una legislación federal de control de armas. Cuando más congresistas se den cuenta de que ellos mismos están en la mira (como ocurre lamentablemente), veremos por fin alguna acción en el nivel nacional. Esta década ya hubo dos congresistas baleados (Gabrielle Giffords en 2011 y Steve Scalise a mitad de este año). Pero por ahora, los miembros del Congreso seguirán atrapados en el fuego político cruzado entre pistoleros locos y el lobby de las armas. Aterrador, pero lamentablemente cierto.
En los Estados Unidos de Trump, hay un estímulo constante a la violencia armada y la inestabilidad. Lo ideal sería implementar rápidamente una solución en el nivel nacional, pero hasta que eso ocurra, hay que alentar a más estados a elegir para sí la cordura en la cuestión de las armas.
Traducción: Esteban Flamini