Les Etats désunis de l'Amérique du contrôle des armes
LONDRES – Le massacre de Las Vegas et ses conséquences est un pur produit de la société américaine. Une personne dérangée trimballe près de deux douzaines d'armes d'assaut de haute technologie jusqu'à une chambre d'hôtel au 32ème étage pour arroser de balles les spectateurs d'un concert, se soldant par un assassinat de masse et un suicide. En réponse, les guerres culturelles reprennent de plus belle : les défenseurs du contrôle des armes à feu engagent une bataille rangée contre les fervents des armes à feu. Pourtant, un consensus existe à propos d'une vérité profonde: il n'y aura pas grand-chose qui changera. Après une semaine de funérailles télévisées, déchirantes, la vie américaine se poursuivra jusqu'au prochain massacre.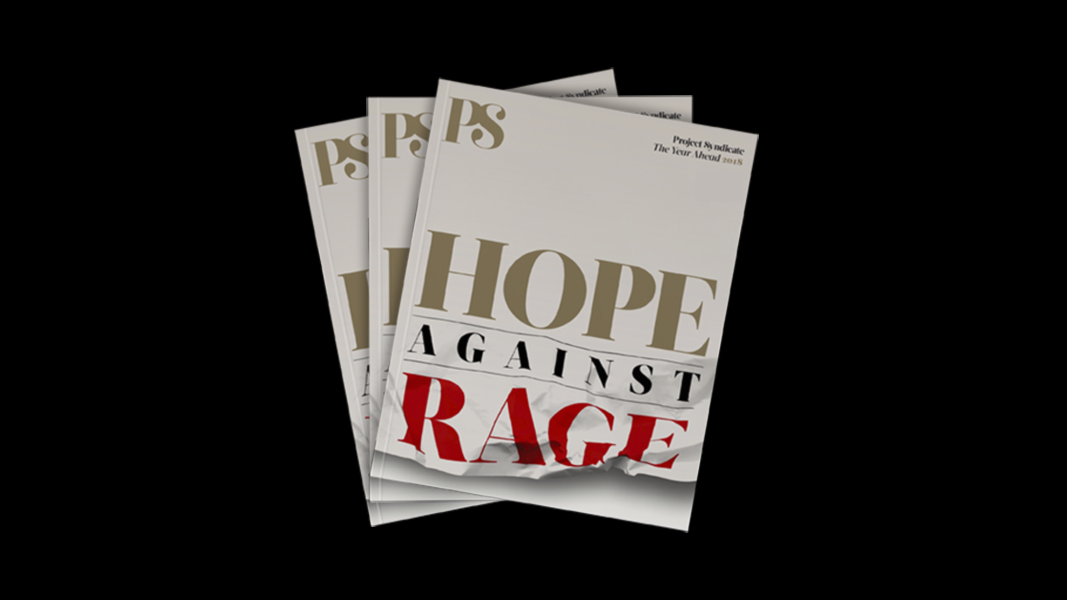 The Year Ahead 2018
The world's leading thinkers and policymakers examine what's come apart in the past year, and anticipate what will define the year ahead.
La violence de masse est profondément enracinée dans la culture américaine. Les colons européens de l'Amérique ont commis un génocide long de deux siècles contre les habitants indigènes, et mis en place une économie esclavagiste si profondément enracinée que seule une guerre civile dévastatrice a pu lui mettre fin. Dans presque tous les autres pays, même en Russie tsariste, l'esclavage et le servage ont pris fin par un décret ou une loi, sans avoir besoin d'une effusion de sang de quatre ans. Après tout cela, l'Amérique a établi et appliqué un système d'apartheid pendant un siècle.
À ce jour, les taux d'homicide et d'emprisonnement de l'Amérique sont plusieurs fois plus élevés que ceux de l'Europe. Plusieurs grandes fusillades se produisent chaque année – dans un pays qui mène aussi plusieurs guerres apparemment sans fin outre-mer. L'Amérique est, en bref, un pays avec une histoire passée et une triste réalité actuelle de racisme, de chauvinisme ethnique et de recours à la violence de masse.
La fusillade de Las Vegas souligne clairement, une fois de plus, la nécessité d'interdire les armes d'assaut. Pareille interdiction, lorsqu'elle était en vigueur aux USA entre septembre 1994 et septembre 2004, avait contribué à limiter les fusillades de masse; pourtant le Congrès n'a pas renouvelé l'interdiction, du fait du lobbying intense des partisans des armes à feu. Et elle ne sera certainement pas rétablie dans un avenir proche au niveau fédéral. Une interdiction des « bump stocks », le dispositif utilisé par le tueur de Las Vegas pour permettre à ses fusils semi-automatiques de tirer comme des armes automatiques, semble possible; mais il n'y aura guère d'autres actions fédérales à attendre.
Lorsque l'Australie a interdit les armes d'assaut en 1996, les fusillades se sont brusquement arrêtées. Les partisans des armes à feu des USA rejettent ces éléments de preuve, et les fusillades de masse comme celle de Las Vegas ne font que renforcer leur conviction que les armes à feu sont leur seule véritable protection dans un monde dangereux. Selon les données d'une récente enquête convaincante, l'attachement aux armes à feu est particulièrement intense chez les hommes blancs républicains moins instruits résidant principalement dans les zones rurales et les banlieues du sud et du Midwest – la même démographie qui forme le noyau de soutien au président Donald Trump.
Malgré les divisions idéologiques profondes dans le pays, il y a une lueur d'espoir. En vertu de la Constitution des États-Unis, les états ont le pouvoir d'interdire les armes d'assaut et de réglementer les armes à feu (mais pas d'interdire les armes de poing et l'ensemble des fusils, compte tenu de l'interprétation de la Cour suprême du « droit de porter des armes » prévu par le deuxième amendement). Mon propre état, New York, interdit déjà les armes d'assaut, tout comme une poignée d'autres états. Au lieu de mener une autre vaine bataille à Washington, il est plus prometteur d'encourager beaucoup plus d'états à exercer leurs prérogatives.
Les états qui le feront connaitront des taux plus faibles de fusillades, une plus grande sécurité de leurs citoyens et des économies plus dynamiques. Las Vegas souffrira non seulement du traumatisme causé par le récent massacre, mais aussi d'un détournement du tourisme et des conférences, au moins jusqu'à ce que le Nevada s'attaque aux armes d'assaut et puisse garantir la sécurité des visiteurs.
L'Amérique d'aujourd'hui n'est pas seulement composée d'états rouges (conservateurs) et bleus (progressistes), mais de facto de pays rouges et bleus, c'est à dire, de régions avec des cultures, des héros, une politique, des dialectes, des économies et des idées de liberté distinctes. A New York, la liberté signifie ne pas avoir à craindre que les milliers d'étrangers qui partagent avec vous les trottoirs et les parcs de la ville chaque jour soient en possession d'armes mortelles. Au Texas ou Las Vegas, la liberté est le confort de porter vos propres armes à feu de confiance partout où vous le voulez.
Il est temps de laisser les états rouges et les états bleus suivre leur propre chemin. Il n'est pas nécessaire d'entamer une autre guerre civile pour se mettre d'accord sur une évolution à l'amiable et limitée vers des liens beaucoup plus souples entre les états. En cela, les conservateurs ont raison: réduisons le pouvoir du gouvernement fédéral et rendons plus de revenus et de règlementations aux états, sous réserve des limites constitutionnelles sur la répartition des pouvoirs et des droits fondamentaux. De cette façon, chaque côté de ces guerres culturelles pourra se rapprocher de ses résultats préférés sans empêcher l'autre côté de faire de même.
Mon propre état prospérerait dans une telle fédération plus souple, utilisant sa marge de manœuvre accrue pour renforcer ses propres règlementations et augmentant l'échelle de ses services sociaux grâce aux économies d'impôts par rapport à ce qui est actuellement versé au gouvernement fédéral. De plus, un gouvernement fédéral plus faible signifierait moins de « guerres délibérées » menées par les États-Unis au Moyen-Orient.
À un certain moment, les États-Unis finiront par adopter une législation fédérale pour contrôler les armes à feu. Lorsque davantage de membres du Congrès se rendront compte que leur propre vie est en jeu – ce qui, malheureusement, est le cas – nous verrons enfin une action nationale. Deux membres du Congrès ont déjà été tués cette décennie (Gabrielle Giffords en 2011 et Steve Scalise au début de cette année). Pour l'instant, cependant, les membres du Congrès restent pris entre les deux feux politiques des assassins fous et des lobbyistes pro-armes. C'est terrifiant, mais malheureusement le cas.
Dans l'Amérique de Trump, la violence des armes à feu et l'instabilité sont attisées quotidiennement. Une solution à l'échelle nationale mise en œuvre rapidement serait idéale. Mais, en attendant, davantage d'états américains devraient être encouragés à choisir le bons sens concernant les armes à feu pour eux-mêmes.
Traduit de l'anglais par Timothée Demont