Regulace zbraní v rozpojených státech amerických
LONDÝN – Masakr v Las Vegas a jeho ozvuky patří k ryzí tradici Ameriky. Vyšinutý člověk přivleče téměř dvacítku špičkových útočných zbraní do pokoje ve 32. patře hotelu, aby jako masový vrah a sebevrah kropil smrtí návštěvníky koncertu. V reakci na to znovu vzplály kulturní války, v nichž se zastánci regulace střelných zbraní zuřivě mydlí s jejich fanoušky. Na jedné hluboké pravdě přesto panuje všeobecná shoda: nic moc se nezmění. Po týdnu srdceryvných pohřbů přenášených televizí půjde americký život dál až do příštího masakru.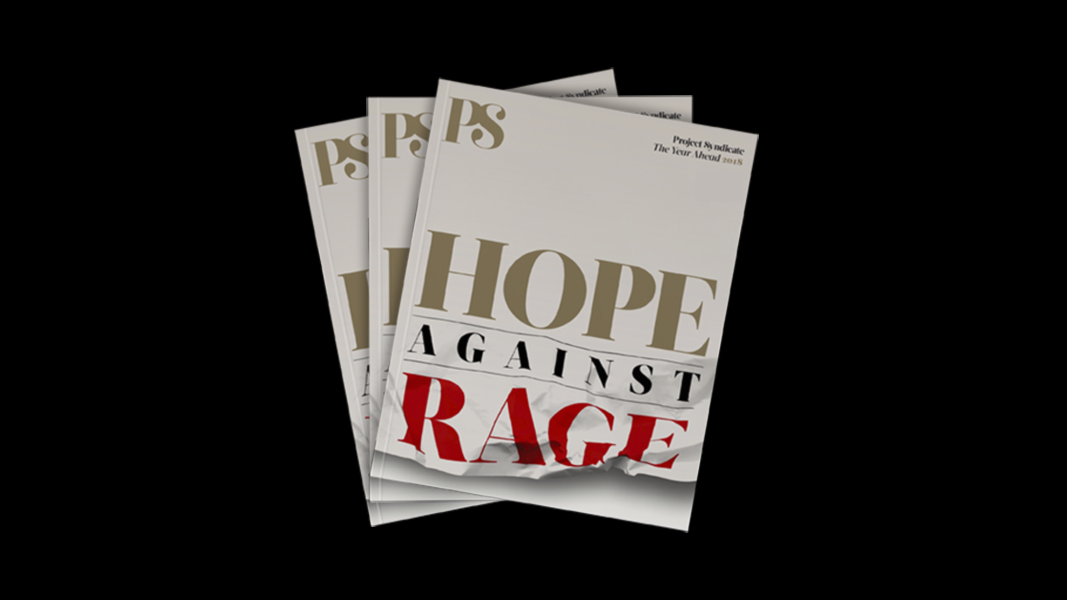 The Year Ahead 2018
The world's leading thinkers and policymakers examine what's come apart in the past year, and anticipate what will define the year ahead.
Masové násilí je v americké kultuře hluboce zakořeněné. Evropští osadníci Ameriky dvě stě let páchali genocidu původních obyvatel a vytvořili tak hluboce ukotvenou otrokářskou ekonomiku, že s ní skoncovala až pustošivá občanská válka. Téměř ve všech ostatních zemích, včetně carského Ruska, bylo otroctví a nevolnictví zrušeno výnosem či zákonem, bez čtyřletého krveprolití. Po zániku otroctví Amerika vytvořila a vynucovala sto let trvající systém apartheidu.
V současnosti je četnost násilných úmrtí a věznění v Americe několikanásobně vyšší než v Evropě. Každoročně dojde k několika velkým případům hromadné střelby – v zemi, která zároveň vede několik zdánlivě nekonečných válek v zámoří. Amerika je, stručně řečeno, země s prožitou historií a neúprosnou současností rasismu, etnického šovinismu a masového násilí.
Lasvegaská střelba znovu jasně dokládá nutnost zakázat útočné zbraně. Když Amerika takový zákaz měla, od září 1994 do září 2004, pomohl hromadnou střelbu omezit; přesto Kongres zákaz neprodloužil, kvůli intenzivnímu lobbingu zbrojních nadšenců. Na federální úrovni se jeho opětovné zavedení v brzké době nechystá. Možný se zdá zákaz "rázové pažby," zařízení, jež lasvegaskému vrahovi umožnilo pálit z poloautomatických pušek jako z plně automatických zbraní; o mnoho větší aktivitu však od federální vlády očekávat nelze.
Když Austrálie v roce 1996 zakázala útočné zbraně, masové střílení okamžitě ustalo. Američtí milovníci zbraní takové důkazy odmítají a případy hromadné střelby jako v Las Vegas jen posilují jejich přesvědčení, že střelné zbraně jsou v nebezpečném světě jejich jedinou skutečnou ochranou. Podle přesvědčivých údajů z nedávných průzkumů je příchylnost ke zbraním obzvlášť silná mezi méně vzdělanými bělošskými muži republikánských názorů, kteří bydlí zejména ve venkovských a příměstských oblastech na jihu a středozápadě – tatáž demografická skupina, která tvoří jádro podporovatelů prezidenta Donalda Trumpa.
Vzdor hlubokým ideologickým rozporům v zemi existuje jiskřička naděje. Podle Ústavy USA mají státy pravomoc zakázat útočné zbraně a regulovat střelné zbraně (byť ne zcela zakázat ruční střelné zbraně a pušky, vzhledem k tomu, jak Nejvyšší soud USA vykládá "právo nosit zbraň" zakotvené ve druhém dodatku ústavy). Můj domovský stát New York už útočné zbraně zakazuje, stejně jako hrstka dalších států. Slibnější nežli jít do další prohrané bitvy ve Washingtonu je povzbudit řadu dalších států, aby této své výsady využily.
Státy, které tak učiní, budou mít nižší výskyt hromadných střeleb, bezpečnější občany a živější ekonomiky. Las Vegas nepostihne jen trauma z nedávného masakru, ale také odklon cestovního ruchu a konferencí, přinejmenším do doby, než Nevada zasáhne proti útočným zbraním a dokáže zaručit bezpečnost návštěvníků.
Ameriku dnes netvoří jen červené (konzervativní) a modré (progresivní) státy, ale fakticky červené a modré říše, tedy odlišné kraje s vlastní kulturou, hrdiny, politikou, dialekty, ekonomikou a idejemi svobody. Ve městě New Yorku svoboda znamená, že se člověk nemusí bát, že tisíce neznámých lidí, s nimiž se setkáváte na chodnících a v parcích, u sebe dnes či jindy nosí smrtící zbraně. V Texasu či Las Vegas znamená svoboda útěchu z toho, že si svou věrnou zbraň můžete vzít, kam chcete.
Je načase nechat červené a modré státy jít jejich vlastní cestou. Není třeba vést další občanskou válku, abychom se dohodli na přátelském a omezeném posunu k mnohem volnějším vazbám mezi státy. V tom mají konzervativci pravdu: omezme moc federální vlády a vraťme víc příjmů a regulatorních pravomocí státům, v rámci ústavních mezí dělby moci a základních práv. Každá ze stran kulturních válek tak bude moci jít vstříc svému upřednostňovanému cíli, aniž by druhé straně bránila učinit totéž.
Můj domovský stát by v takové volnější federaci vzkvétal; širší manévrovací prostor by využil ke zpřísnění vlastních předpisů a posílení sociálních služeb za pomoci úspor na daních, které dnes odvádí federální vládě. Slabší federální vláda by zároveň znamenala méně amerických "válek z rozhodnutí" na Středním východě.
Jednou se USA k regulaci zbraní prostřednictvím federální legislativy dopracují. Až si víc kongresmanů uvědomí, že v sázce je i jejich vlastní život, což je bohužel pravda, dočkáme se konečně národní iniciativy. V nynější dekádě byli postřeleni už dva členové Kongresu (Gabrielle Giffordsová v roce 2011 a Steve Scalise letos). Prozatím však budou kongresmani dál vězet v politické přestřelce šílených pistolníků a lobbistů za právo nosit zbraň. Je to děsivé, ale bohužel je to tak.
V Trumpově Americe se denně rozdmýchává ozbrojené násilí a nestabilita. Ideální by byla urychlená realizace celonárodního řešení. Než k ní však dojde, je třeba povzbudit víc amerických států, aby ve vztahu ke střelným zbraním vzaly do hrsti vlastní zdravý rozum.
Z angličtiny přeložil David Daduč