¿Cuál es el punto del poder agudo?
WASHINGTON, DC – En los últimos años, Rusia y China han destinado recursos considerables a ámbitos que por lo general se asocian con el "poder blando", término acuñado por el cientista político estadounidense Joseph S. Nye y que se entiende como la "capacidad de afectar a los demás por la atracción y la persuasión". Ya sea directamente o a través de suplentes complacientes, los dos países han gastado miles de millones de dólares a aumentar su influencia mediante los medios de comunicación, la cultura, centros de estudios, el mundo académico y otras esferas.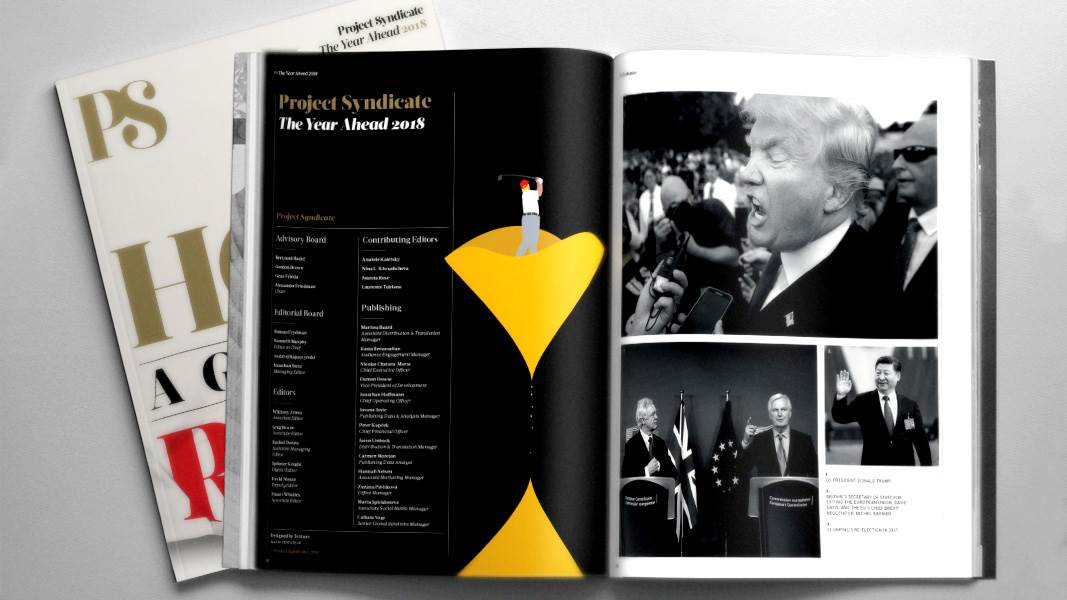 The Year Ahead 2018
The world's leading thinkers and policymakers examine what's come apart in the past year, and anticipate what will define the year ahead.
Sin embargo, a pesar de estas inmensas inversiones los observadores (incluido Nye mismo) se rascan la cabeza, preguntándose por qué estos regímenes autoritarios siguen sufriendo un profundo déficit de poder blando, incluso tras haberse vuelto más asertivos en el ámbito internacional.
A Rusia y China les tiende a ir mal en las encuestas globales de opinión pública e índices de poder blando, reforzando la noción de que la atracción y la persuasión son incompatibles con el autoritarismo. En lo internacional, los autócratas no están "ganando los corazones y las mentes". No obstante, Rusia, China y otros regímenes ambiciosos y con abundancia de recursos proyectan más influencia más allá de sus fronteras que en cualquier momento de la historia reciente, y no principalmente a través de lo que Nye llama "poder duro", es decir, la potencia militar o coerción económica bruta.
No hay duda de que Rusia ha usado la fuerza militar con cierta frecuencia en la última década, por ejemplo, en Georgia, Ucrania y Siria. Pero sus aviones de combate y sus tanques no impulsan el aumento global de la influencia de Moscú. De manera similar, China está mostrando sus fuerzas militares en el Mar del Sur de China y a lo largo de su frontera en disputa con India. Pero, al igual que Rusia, ha sido mucho más activa en el uso de otras formas de influencia en la pasada década.
Por consiguiente, los teóricos están en apuros: son regímenes que no dependen principalmente del poder duro, no consiguen generar poder blando, pero siguen siendo capaces de proyectar una influencia real en el extranjero. Considerando el resurgimiento del autoritarismo en el mundo, se trata de una buena oportunidad para reflexionar sobre esta aparente paradoja.
Hace poco, The Financial Times observaba que los "esfuerzos de China de generar poder blando más allá de sus fronteras", el país debe "correr más ligero y adoptar un enfoque más recíproco y menos autoritario". En un comentario reciente, Nye hace la observación similar de que "China podría generar más poder blando si relajara parte del firme control de su partido sobre la sociedad civil". Lo mismo se podría decir de Rusia y otros países con gobiernos que priorizan en control estatal sobre la apertura, la cultura independiente y la sociedad civil, todos ingredientes del poder blando.
Pero estas exhortaciones a las autoridades chinas o rusas seguramente caerán en oídos sordos. Cualquier liberalización importante iría en dirección contraria a las necesidades y objetivos políticos de estos mismos regímenes de retener el control a cualquier coste.
La trampa analítica es suponer que los gobiernos autoritarios, que suprimen el pluralismo político y la libre expresión para conservar el poder interno, se inclinarían a actuar distinto en el plano internacional. Son regímenes que han adoptado hábilmente algunas de las formas, no la sustancia, del poder blando. Buscan lo que se podría entender como "poder agudo", cuyos atributos clave son la censura, la manipulación y la distracción abiertas, en lugar de la persuasión y la atracción.
Si bien las "guerras de la información" forman parte del repertorio de los regímenes autoritarios, por sí mismas son una descripción inadecuada del poder agudo. Gran parte de la actividad de los regímenes autoritarios (sea en China en América Latina o Rusia en Europa Central) queda fuera de esta definición, como detallamos yo y mis colegas en un informe de diciembre de 2017, "Sharp Power: Rising Authoritarian Influence" (Poder agudo: influencia autoritaria en aumento).
En retrospectiva, podemos advertir la idea equivocada que se asentó al fin de la Guerra Fría, cuando el análisis convencional supuso que los regímenes autoritarios se liberalizarían y democratizarían. Hace casi tres décadas, cuando Estados Unidos salió de la Guerra Fría como el poder hegemónico global y se acuñara el término "poder blando", los analistas políticos no tomaron lo suficientemente en cuenta a los regímenes que hoy controlan Rusia y China.
Como escribí con mi colega Jessica Ludwig en el número de noviembre de Foreign Affairs "la complacencia de las democracias acerca de un poder maligno y agudo se ha ido formando por su confianza en el paradigma del poder blando". Los analistas que ven la conducta de los autoritarios en términos de esfuerzos por "reforzar el poder blando de sus países pierden el punto y se arriesgan a perpetuar un falso sentido de seguridad".
Es preciso un diagnóstico sólido para dar una respuesta adecuada. Los regímenes autoritarios no están siguiendo las reglas de las democracias gobernantes. Su rasgo característico es la represión sistemática y el "poder agudo" que generan no se puede forzar en el marco más familiar y tranquilizador del "poder blando". Sin terminología más precisa, las democracias del mundo tendrán pocas esperanzas de contrarrestar la creciente y multifacética influencia de estos estados.
Traducido del inglés por David Meléndez Tormen