Tech gegen Demokratie
BRÜSSEL – Die im Eigentum von Facebook stehende Foto- und Videoplattform Instagram gab kürzlich einer Forderung der russischen Regierung nach, Postings des Oppositionsführers Alexej Nawalny zu löschen, auf denen ein angebliches Fehlverhalten des russischen Vize-Ministerpräsidenten Sergej Prichodko zu sehen war. In einem YouTube-Video, das beinahe sechs Millionen Mal angesehen wurde (und immer noch verfügbar ist), zeigt Nawalny Prichodko mit dem russischen Oligarchen Oleg Deripaska auf einer Jacht in Norwegen, wo die von Nawalny behauptete Bestechung stattgefunden haben soll.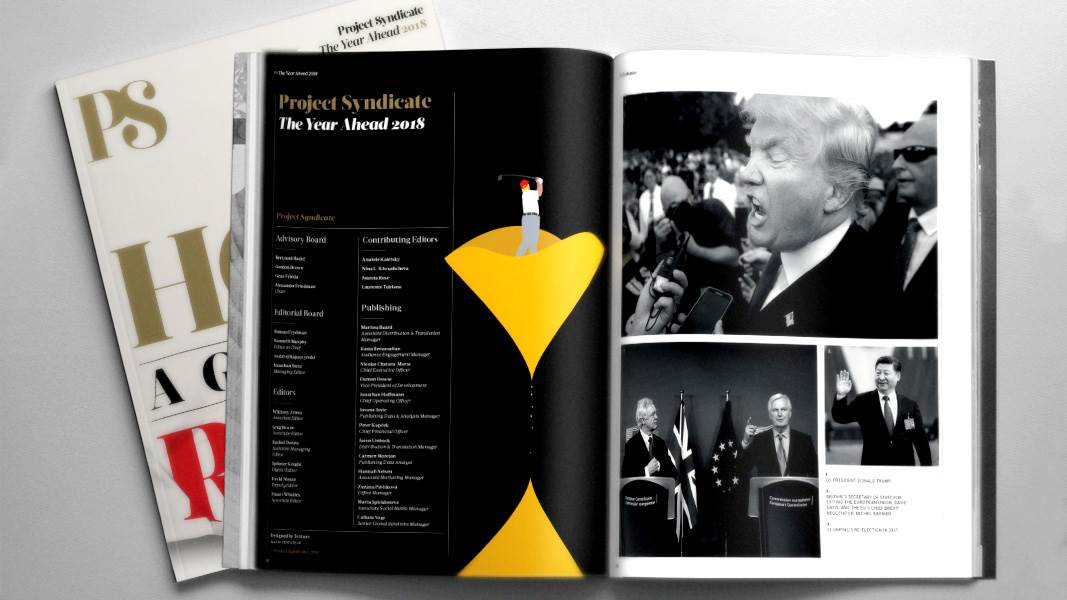 The Year Ahead 2018
The world's leading thinkers and policymakers examine what's come apart in the past year, and anticipate what will define the year ahead.
Nachdem Nawalnys Posting erschienen war, wandte sich Deripaska an die russische Medienaufsicht Roskomnadsor und forderte von Facebook, den Inhalt zu löschen, was auch sofort geschah. Diese Episode hat mittlerweile viel Aufsehen erregt und Facebook einiges an Kritik eingebracht. Und doch gibt es tausende gleich gelagerte Fälle.
In einer Zeit, da die meisten Menschen Nachrichten aus den sozialen Medien beziehen, haben Mafia-Staaten kein Problem, jene Inhalte in sozialen Medien zu zensurieren, die Staatsführungen als ihren Interessen abträglich empfinden. In liberalen Demokratien allerdings ist die Regulierung der sozialen Medien nicht so einfach, weil die Regierungen ein Gleichgewicht zwischen konkurrierenden Prinzipien herstellen müssen. Schließlich spielen Social-Media-Plattformen nicht nur eine entscheidende Rolle im freien Informationsfluss; sie werden auch heftig kritisiert, weil sie illegale oder missbräuchliche Inhalte, insbesondere Hasspostings oder extremistische Propaganda, nicht kontrollieren.   
Diese Versäumnisse veranlassten zahlreiche europäische Regierungen und die Europäische Union, aktiv zu werden. Die EU hat Richtlinien für Internet-Unternehmen herausgebracht und droht im Falle der Nichteinhaltung mit formellen Gesetzen.  Wie der frühere Direktor des britischen Geheimdienstes Robert Hannigan kürzlich anmerkte, schließt sich das Zeitfenster für die freiwillige Selbstreform der Tech-Unternehmen rasch. In Deutschland wurde bereits ein Gesetz verabschiedet, das empfindliche Strafen für Plattformen vorsieht, die illegale Nutzerinhalte nicht rasch löschen.
Diese Maßnahmen sind eine Reaktion auf die Versuche von Geheimdiensten illiberaler Staaten und extremistischen Gruppierungen, Social-Media-Plattformen als Waffen einzusetzen, um westliche Gesellschaften mit Hasspostings und Desinformation zu spalten.
Insbesondere wissen wir mittlerweile, dass die mit dem Kreml in Verbindung stehende "Internet Research Agency" auf Facebook und Twitter eine groß angelegte Kampagne betrieb, um Donald Trumps Chancen bei der amerikanischen Präsidentschaftswahl 2016 zu erhöhen. Laut der jüngst veröffentlichten Anklageschrift des US-Sonderermittlers Robert Mueller gegen 13 Russen und drei Organisationen verbrachte eine Armee russischer Internet-Trolle die Monate vor den Wahlen 2016 damit, ethnische Spannungen unter den Amerikanern zu schüren und Angehörige von Minderheiten davon abzuhalten, beispielsweise für Trumps Gegnerin Hillary Clinton zu stimmen.
Muellers Erkenntnisse werfen offenkundig wichtige Fragen im Hinblick auf Transparenz und den Schutz demokratischer Institutionen im digitalen Zeitalter auf. Obwohl sich die wichtigsten Social-Media-Plattformen vom Kreml als Instrumente für spezielle Operationen einspannen ließen, zögern sie, demokratischen Regierungen und der Öffentlichkeit Informationen zur Verfügung zu stellen.
In Großbritannien beispielsweise leitete der Parlamentsabgeordnete Damian Collins eine Untersuchung über russische Einmischung in die Brexit-Volksabstimmung des Jahres 2016 ein, wobei er jedoch alle Mühe hatte, die Kooperation von Facebook und Twitter zu gewinnen. Im Dezember beschrieb er die Reaktion Twitters auf seine Fragen als "völlig unzureichend." Das ist bedauerlich. Wenn die Demokratie selbst auf dem Spiel steht, haben Social-Media-Plattformen eine Verantwortung für Transparenz. 
Außerdem: wenn sich Russland so tiefgreifend in den demokratischen Prozess der Vereinigten Staaten einmischen kann, stelle man sich seine Aktivitäten in Europa vor, wo wir noch immer nicht wissen, wer manche Online-Werbekampagnen im Laufe der jüngsten nationalen Wahlen und Referenden finanzierte. Ich vermute, dass wir gerade einmal an der Oberfläche kratzen, wenn es um Einmischung aus dem Ausland in unsere demokratischen Institutionen und Prozesse geht. Angesichts der Tatsache, dass im Mai 2019 Wahlen zum Europäischen Parlament anstehen, müssen wir besser vorbereitet sein.
Die große Tech-Unternehmen ihrerseits werden weiterhin behaupten, sie würden Informationen lediglich verbreiten.  Tatsächlich aber agieren sie als Herausgeber und sollten entsprechend reguliert werden – und nicht nur als Herausgeber, sondern auch als Vertriebsunternehmen mit Beinahe-Monopolstellung.
Freilich sind Zensur und die Manipulation von Information so alt wie Nachrichten selbst. Aber die Art staatlich gesponserter hybrider Kriegsführung, wie wir sie heute zu sehen bekommen, ist neu. Feindlich gesinnte Mächte haben unser offenes Internet in eine Kloake der Desinformation verwandelt, wobei vieles davon durch automatische Bots verbreitet wird, die von den großen Plattformen eliminiert werden könnten, – wenn man wirklich wollte -  ohne dadurch die offene Debatte zu untergraben.
Die Unternehmen hinter den sozialen Netzwerken haben die Macht, beträchtlichen Einfluss auf unsere Gesellschaften auszuüben, aber sie haben nicht das Recht, die Regeln zu bestimmen. Das fällt in die Zuständigkeit unserer demokratischen Institutionen, die verpflichtet sind, sicherzustellen, dass Social-Media-Unternehmen sehr viel verantwortungsbewusster agieren, als es derzeit der Fall ist.
Aus dem Englischen von Helga Klinger-Groier