Das Ende des Shareholder-Primats?
MAILAND – In diesem Monat hat der Business Roundtable, eine Gruppe von CEOs der größten und mächtigsten amerikanischen Konzerne, offiziell die Sichtweise aufgegeben, dass die Maximierung des Shareholder Value das höchste Ziel eines Unternehmens sein sollte. Dies bedeutet, dass die Anteilseigner gegenüber Interessengruppen wie Kunden, Arbeitnehmern, Lieferanten und dem unternehmerischen Umfeld nicht mehr grundsätzlich bevorzugt werden. Zur Rechtfertigung ihrer Entscheidung erklärte die Organisation, es sei wichtig, gerechte Löhne zu zahlen, sich für höhere Sozialleistungen einzusetzen und stärker in die Ausbildung zu investieren, damit die Arbeitnehmer mit den schnellen wirtschaftlichen Veränderungen zurechtkommen können.
In diese Richtung bewegen sich die Unternehmensführer bereits seit längerer Zeit. Die Erkenntnis, dass zur Lösung der schwersten gesellschaftlichen Probleme auch das Engagement des privaten Sektors nötig ist, wächst stetig. Kunden, Angestellte und Investoren haben diesen Trend beschleunigt, indem sie zunehmend ihre Besorgnis über soziale Themen äußern. Dieser neue Konsens kann entscheidend dazu beitragen, das Modell der unterschiedlichen Interessengruppen (multi-stakeholder model) wieder mit den langfristigen finanziellen Interessen der Unternehmensinvestoren in Einklang zu bringen.
Eine ähnliche Entwicklung fand auch im Sektor der Vermögensverwaltung und Anlageberatung statt. Der Anteil der Investoren, die sich für "ökologische, soziale und politische" Kriterien (ÖSP) einsetzen, ist in den letzten Jahren gewachsen, und viele große Vermögensverwalter haben dabei eine führende Rolle gespielt.
Dieser Trend wirft die Frage auf, ob Anteilseigner mit rein finanziellen Interessen immer noch die Oberhand haben. Dies hängt erheblich von ihrer Anzahl, den von ihnen kontrollierten Vermögenswerten und ihrem Zeithorizont ab. Klar ist jedenfalls, dass auch Langfristinvestoren wie Pensionsfonds und andere Verwalter großer Vermögenswerte dazu beigetragen haben, den Trend hin zu den ÖSP-Kriterien zu verstärken.
Dabei liegt der Sinn des Modells der unterschiedlichen Interessengruppen keineswegs darin, Investoren und Aufsichtsräte zu entmachten oder zu lähmen. Wir kehren nicht zum "Manager-Kapitalismus" zurück – also zu dem Unternehmensmodell, das der Zeit der aktiven Investoren und dem Primat des Shareholder Value vorausging. Aber man sollte die Ankündigung des Business Roundtable auch nicht so interpretieren, als sei sie lediglich ein weiterer kleiner Schritt innerhalb eines größeren Trends. Sie ist erheblich mehr als das.
Zunächst einmal ist die Aussage der Gruppe in diesem Monat ein klares Signal: Die amerikanischen CEOs wollen nicht nur die Art ihrer Unternehmensführung ändern, sondern auch die gesellschaftliche Rolle der Unternehmen. Sie führen neue Grenzen für das Streben nach Kapitalerträgen ein – Grenzen zum Schutz von Interessengruppen (Arbeitnehmern, schlecht informierten Kunden, Lieferanten, zukünftigen Generationen), denen es häufig an der nötigen Marktmacht mangelt, um sich selbst schützen zu können. Und am wichtigsten ist dabei, dass dieser Vorstoß in einer Zeit erfolgt, in der die Ungleichheit der Vermögen immer mehr steigt und sich das Eigentum an Finanzwerten immer stärker konzentriert.
Subscribe now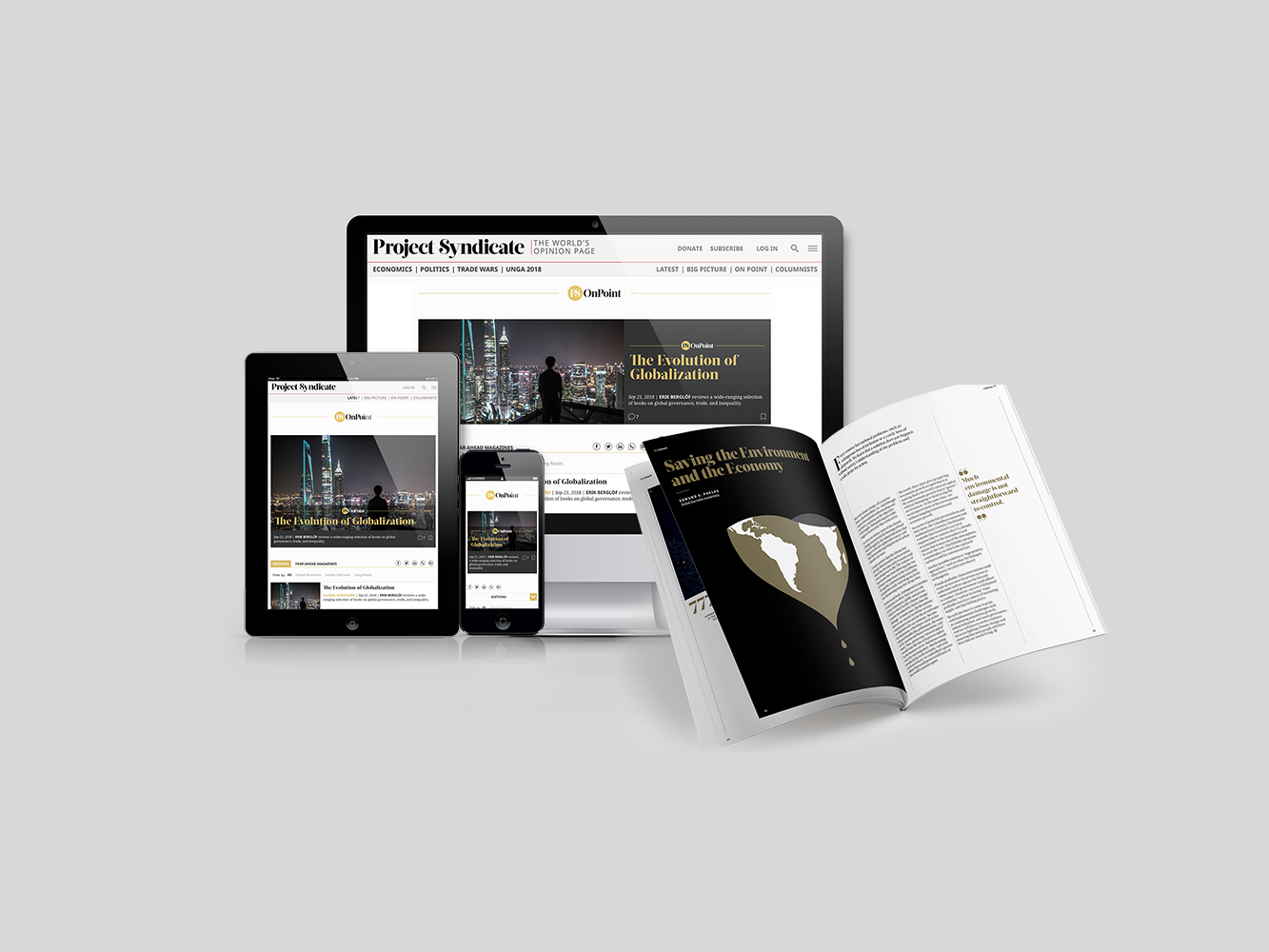 Subscribe now
Subscribe today and get unlimited access to OnPoint, the Big Picture, the PS archive of more than 14,000 commentaries, and our annual magazine, for less than $2 a week.
Aber es gibt noch einen weiteren, spannenden Aspekt einer sozial bewussteren Unternehmensführung: Sie öffnet die Tür für neue, kreativere Unternehmensmodelle. Die (bezüglich ihrer Rendite) weltweit beeindruckendsten Konzerne haben ihre Unternehmensmodelle auf die Lösung wirtschaftlicher und sozialer Probleme ausgerichtet. Nehmen wir den chinesischen E-Commerce-Giganten Alibaba. Er wurde mit dem Ziel gegründet, den Marktzugang kleiner und mittlerer Unternehmen zu verbessern, und fühlt sich – gemeinsam mit seiner Finanztochter Ant Financial – dieser Mission nach wie vor verpflichtet. Immer mehr Zeichen aus China und anderen Ländern deuten darauf hin, dass ein lebhaftes E-Commerce- und Fintech-Ökosystem der Art, wie es von Alibaba entwickelt wurde, einen erheblichen Beitrag zum inklusiven Wachstum leisten kann.
Anfang dieses Monats, vor der Ankündigung des Business Roundtable, hielt das indische Industriekonglomerat Reliance Industries Limited in Mumbai seine Jahresversammlung ab. Dort überraschte dessen Vorsitzender Mukesh Ambani mit einer bemerkenswerte Rede: Zuerst betonte er, dass die Wertschöpfung des Konzerns heute nicht nur von Partnerschaften mit indischen Unternehmen abhängt, sondern auch von solchen mit multinationalen Konzernen wie Microsoft (wegen seiner Cloud-Dienste). Dann sagte Ambani, Reliance müsse die "indische Wirtschaft, die indischen Menschen, unsere Kunden, unsere Arbeitnehmer und unsere Aktionäre" berücksichtigen. Dafür, dass auch hier das Modell der unterschiedlichen Interessengruppen im Mittelpunkt steht, könnte es keine klarere Aussage geben.
Eine entscheidende Bedeutung für die Strategie des Reliance-Konzerns hat dessen Tochterfirma Jio, die 2016 begann, erschwingliche Smartphones zu verkaufen, um alle Menschen in Indien miteinander zu verbinden. Laut Ambani hat Jio über 340 Millionen Teilnehmer, und jeden Monat kommen weitere zehn Millionen hinzu. Mit anderen Worten, ein Unternehmen, dass vor weniger als drei Jahren mit einer sozialen Mission gegründet wurde, ist bereits jetzt der größte Smartphone-Betreiber Indiens und der zweitgrößte in einem einzigen Land aktive Betreiber weltweit.
Darüber hinaus scheint Jio mithilfe des indischen Programms zur biometrischen Erkennung (Aadhaar) für viele Inder – darunter auch Arme, die bisher keinen Zugang zu Bankkonten oder Krediten hatten – einen erheblichen Beitrag zur digitalen Konnektivität zu leisten. Und während das Unternehmen weiter wächst, wird es eine Vielzahl weiterer wertvoller Dienste für kleine Firmen und Millionen von Selbständigen entwickeln und so den positiven Einfluss, den es bereits jetzt auf das inklusive Wachstum hat, noch mehr verstärken.
Normalerweise sind bei den digitalen Technologien die Fixkosten hoch und die variablen Kosten niedrig oder gar vernachlässigbar. Ist also ein Unternehmen wie Alibaba oder Jio erst einmal etabliert, kann es als Plattform für zahllose andere Unternehmensmodelle dienen, bei denen soziale Ziele im Mittelpunkt stehen. Und in potenziell großen Märkten wie China, Indien, Indonesien, Brasilien und den Vereinigten Staaten ist dieser Effekt ist besonders ausgeprägt.
Die jüngste Erklärung des Business Roundtable bedeutet für das Modell der unterschiedlichen Interessengruppen einen erheblichen Schritt nach vorn. Das Beispiel der Marktführer ist wichtig. Und es ist kein Zufall, dass einige der erfolgreichsten Konzerne der Welt explizit um das Modell der unterschiedlichen Interessengruppen herum gegründet und aufgebaut wurden.
Aber hier ist ein Wort der Vorsicht angebracht: Obwohl der Übergang zu einem Modell der unterschiedlichen Interessengruppen nötig ist, um bei anderen sozialen Zielen Fortschritte zu erzielen, reicht es dazu nicht aus. Unsere drängendsten globalen Probleme können nicht von den Konzernen allein gelöst werden. Sie brauchen die Unterstützung der Regierungen. Diese sind dafür verantwortlich, den neu ausgerichteten Unternehmen den Raum und die Möglichkeiten zu geben, damit sie ihren positiven sozialen Einfluss optimieren können.
Aus dem Englischen von Harald Eckhoff