Морализм и искусство
НЬЮ-ЙОРК – Чак Клоуз, американский художник, известный написанием крупноформатных портретов. Вследствие серьезного паралича, Клоуз прикован к инвалидному креслу. Бывшие модели обвинили его в том, что он просил их снять одежду и использовать сексуальный язык, из-за чего они почувствовали себя объектом домогательств. Такое поведение побудило Национальную галерею в Вашингтоне, округ Колумбия, отменить запланированное шоу работ Клоуза. А Сиэтлский университет снял автопортрет художника из здания университета.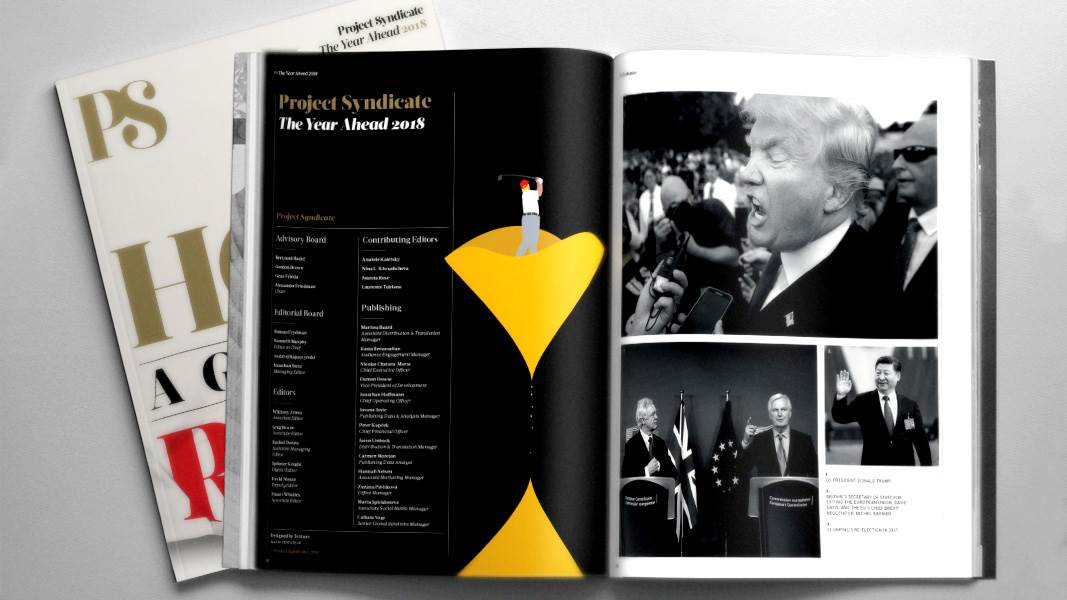 The Year Ahead 2018
The world's leading thinkers and policymakers examine what's come apart in the past year, and anticipate what will define the year ahead.
Если бы мы удалили все произведения искусства из музеев или галерей, потому что не одобряем поведение художников, великие коллекции вскоре бы сильно сократились. Рембрандт жестоко издевался над своей возлюбленной, Пикассо чудовищно обращался со своими женами, Караваджо вожделел к юношам и был убийцей, и так далее.
А как насчет литературы? Селин был порочным антисемитом. Уильям С. Берроуз в пьяном угаре застрелил жену, а Норман Мейлер ударил ножом одну из них. А режиссеры? Забудьте сексуально ненормативную лексику: Эрих фон Штрогейм снимал массовые оргии ради собственного удовольствия. Чарли Чаплину нравились очень молодые девушки. Далее следует Вуди Аллен, обвиняемый, но не обвиненный в домогательстве своей семилетней приемной дочери.
Кинокритик The New York Times А.О. Скотт написал об этом интересную статью. Он вырос, боготворя Аллена. Для начитанного молодого человека, Аллен, беспокойный интеллектуал, который все же заполучил девушку, был своего рода образцом для подражания. Но сегодня, когда нам известны обвинения, выдвинутые против комика и режиссера, по мнению Скотта, мы вынуждены дать работам новую оценку в этом свете. В фильмах, на которые мы должны обратить внимание, может быть что-то зловещее и безнравственное.
Иными словами, плохое поведение или даже предполагаемое плохое поведение могут запятнать художественное произведение, так как художник и его искусство неразделимы. Это, по крайней мере, более интересное предложение, чем идея о том, что искусство должно быть дисквалифицировано только потому, что нам не нравится, как художник вел себя за закрытыми дверьми. Но правильно ли это?
Оскар Уайльд замечательно сказал, что нет такого понятия, как безнравственная книга, есть просто хорошо или плохо написанные книги. Это можно оспорить. Существует моральная составляющая большинства форм человеческого выражения, включая искусство.
Моральная извращенность может стать причиной плохого искусства. Это может быть одной из причин, почему существует так мало примеров хорошего нацистского искусства. Например, в отличие от коммунистического идеализма, расовая ненависть была морально неприемлема. Сергей Эйзенштейн делал коммунистические пропагандистские фильмы, но они также относятся к великим произведения искусства. Нацистские пропагандистские фильмы Лени Рифеншталя технически изумительны, но в то же время они отталкивают.
Также верно то, что искусство может превзойти личное поведение художника. Писатель, кинорежиссер или художник, который плохо относится к женам или любовницам, может создавать искусство, которое глубоко сочувствует женщинам. В то же время, идеально воспитанные люди, в своем искусстве могут нарушать всевозможные виды социальных табу. Чтобы судить о моральной составляющей художественного выражения, мы тогда, должны смотреть не на человека, который его создал, а на само произведение.
В прошлом году, в Метрополитен музей в Нью-Йорке, обратились с онлайн-петицией, собравшей 8 000 подписей, с просьбой снять знаменитую картину Бальтуса, изображающую девочку-подростка, сидящую на стуле и демонстрирующую часть своего нижнего белья. Увидеть в этом форму детской порнографии, или "овеществление ребенка", как это сделали подписавшиеся, представляется весьма сомнительным. Бальтус был потрясен мечтательностью девочек на пороге взрослой жизни. Но, даже если Бальтус в своей частной жизни увлекался молодыми женщинами, в картине нет ничего, что предполагает моральную развращенность или жестокое обращение.
То же самое можно сказать о фильмах Аллена, какова бы ни была правда о его предполагаемых проступках. Не секрет, что Аллен находит молодых женщин привлекательными; когда он начал роман со своей нынешней женой, ей не было еще и 20 лет. В то время она была приемной дочерью партнерши Аллена. Сюжетом одного из самых известных и самых успешных фильмов Аллена "Манхэттен", вышедшем в 1979 году, когда ему было за сорок, была связь между мужчиной средних лет (Аллен) и молодой девушкой, которую играла Мариэль Хемингуэй, которой на момент съемок было 16 лет.
Эти отношения были нетрадиционными. Некоторые могут посчитать их отвратительными. Но это не то же самое, что домогаться ребенка. В "Манхэттене", как и любом другом фильме Аллена, не содержится ничего, что бы показывало какой-либо интерес к насилию маленьких детей. Это имело бы место в том случае, если бы все, что вменялось режиссеру было правдой.
Опять же, мораль не имеет значения. Сложно представить себе восхищение искусством, которое подразумевает жестокое обращение с детьми, расовую ненависть или пытки (хотя это, как представляется, волнует людей гораздо меньше, чем сексуальный контент). Но, как мы не должны осуждать произведение искусства из-за частной жизни художника, мы также должны с осторожностью применять нормы социальной респектабельности к художественному выражению. Некоторое искусство призвано провоцировать, нарушать и раздвигать границы. В своем воображении люди могут делать некоторые вещи, которых они никогда не сделали бы в реальной жизни.
Так оно и должно быть. Если бы мы ограничивали художественное выражение субъектами, которые обычно считаются социально респектабельными, в скором времени мы бы остались с моралистическим китчем, а это как раз то, что правители авторитарных государств любят продвигать на публике, делая вещи, которые намного хуже, чем большинство художников могли бы себе представить.