Het wie, waar en wanneer van afscheiding
CAMBRIDGE – Onlangs hebben de Koerden in Noord-Irak met overweldigende meerderheid gestemd voor de onafhankelijkheid van de Koerdische Regio van het land. Nu zo'n 30 miljoen Koerden verdeeld zijn over vier staten (Irak, Turkije, Syrië en Iran) betogen nationalisten dat zij erkenning van de wereld verdienen. In Spanje hebben zo'n 7,5 miljoen Catalanen dezelfde vraag opgeworpen.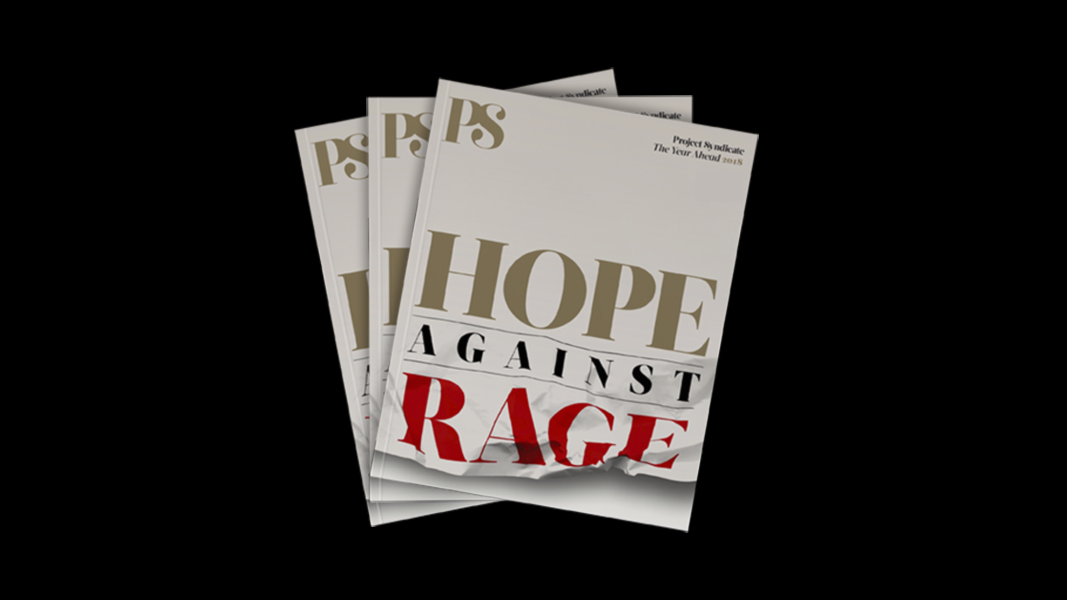 The Year Ahead 2018
The world's leading thinkers and policymakers examine what's come apart in the past year, and anticipate what will define the year ahead.
Maakt het wat uit dat uit peilingen blijkt dat de Catalanen, anders dan de Koerden, zeer verdeeld zijn over deze kwestie? Maakt het wat uit dat de staten die aan Iraaks Koerdistan grenzen geweld kunnen gebruiken om zich tegen afscheiding te verzetten?
Nationale zelfbeschikking, het beginsel dat de Amerikaanse president Woodrow Wilson in 1918 op de internationale agenda heeft gezet, wordt doorgaans gedefinieerd als het recht van een volk om een eigen staat te stichten. Maar wie zijn die mensen die over hun eigen lot moeten kunnen beschikken?
Neem Somalië, waarvan het volk, anders dan in de meeste andere onlangs onafhankelijk geworden Afrikaanse staten, altijd grofweg dezelfde linguïstische en etnische achtergrond heeft had. Het naburige Kenia was door de koloniale heersers gevormd uit tientallen volkeren en stammen. Somalië claimde dat het zelfbeschikkingsprincipe inhield dat de Somali's in het noordoosten van Kenia en het zuiden van Ethiopië zich mochten afscheiden. Kenia en Ethiopië weigerden, wat resulteerde in een aantal regionale oorlogen over de Somalische nationale kwestie.
Het ironische gevolg was dat Somalië zelf even later desintegreerde tijdens een burgeroorlog tussen zijn clans en warlords. Vandaag de dag is de noordelijke regio van Somalië de facto een onafhankelijke staat, Somaliland, hoewel die staat internationaal niet wordt erkend en geen lid is van de Verenigde Naties.
Referenda lossen niet altijd de problemen van zelfbeschikking op. In de eerste plaats is er de vraag waar men stemt. In Ierland hebben de katholieken bijvoorbeeld jarenlang tegengeworpen dat als er een referendum zou worden georganiseerd in Noord-Ierland de protestantse meerderheid van twee derde van de bevolking als winnaar uit de bus zou komen. De protestanten antwoordden dat als er een referendum zou worden georganiseerd op het hele eiland, de katholieke meerderheid het pleit zou beslechten. Uiteindelijk heeft, na tientallen jaren van strijd, externe bemiddeling geholpen Noord-Ierland vrede te brengen.
Er is ook de vraag wanneer er moet worden gestemd. In de jaren zestig van de vorige eeuw wilden de Somali's onmiddellijk stemmen; Kenia wilde veertig tot vijftig jaar wachten totdat de tribale banden waren hervormd en er een Keniase identiteit was geschapen.
Een andere probleem is hoe je omgaat met de belangen van degenen die achterblijven. Schaadt een afscheiding hen, doordat ze grondstoffen kwijtraken of er anderszins sprake is van ontwrichtingen? Iraaks Koerdistan heeft aanzienlijke oliereserves, en Catalonië neemt naar schatting een vijfde van het Spaanse bbp voor zijn rekening. De Spaanse regering betoogt dat het referendum over de onafhankelijkheid van afgelopen weekend illegaal was op grond van de Spaanse grondwet.
De geschiedenis is niet bemoedigend. Nadat het Habsburgse Rijk in 1918 was ontmanteld, werd Sudetenland bij Tsjechoslowakije gevoegd, ook al spraken de meeste inwoners Duits. Na de overeenkomst die in 1938 in München met Adolf Hitler werd gesloten, scheidden de Sudetenduitsers zich van Tsjechoslowakije af om zich bij Duitsland te voegen. Maar het verlies van de bergachtige grensstreek waar zij woonden was een vreselijke tegenvaller voor de Tsjechische defensie. Was het juist om de Sudeten-Duitsers het recht op zelfbeschikking te geven, ook al betekende dat dat Tsjechoslowakije (dat zes maanden later door Duitsland werd overrompeld) van zijn militaire defensie werd beroofd?
Om een ander Afrikaans voorbeeld te nemen: toen het volk van oostelijk Nigeria in de jaren zestig van de 20e eeuw besloot zich af te scheiden en de staat Biafra te vormen, verzetten de overige Nigerianen zich daartegen, deels omdat het grondgebied van Biafra het grootste deel van de Nigeriaanse olie omvatte. Zij betoogden dat de olie het eigendom was van alle Nigerianen en niet louter van de mensen in het oosten van het land.
Nadat de Koude Oorlog ten einde was gekomen, werd zelfbeschikking een acute kwestie in Oost-Europa en de voormalige Sovjet-Unie. In de Kaukasus eisten Azeri's, Armeniërs, Georgiërs, Abchaziërs en Tsjetsjenen allemaal een eigen staat.
In Joegoslavië slaagden de Slovenen, Serviërs en Kroaten erin onafhankelijke republieken te stichten, maar de moslims in Bosnië-Herzegovina hadden minder succes en werden onderworpen aan een campagne van "etnische schoonmaak" door Kroatische en Servische strijdkrachten.
In 1995 werd een vredesmacht van de NAVO naar het gebied gestuurd, maar toen de NAVO in 1999 militair tussenbeide kwam in Kosovo, steunde Rusland de Servische bezwaren tegen afscheiding, zodat Kosovo nog steeds niet tot de VN is toegelaten. Omgekeerd beriep Rusland zich op het zelfbeschikkingsprincipe om de Abchazische afscheiding van Georgië in 2008 te steunen, evenals de eigen invasie en annexatie van de Krim in 2014.
Zelfbeschikking blijkt een dubbelzinnig moreel beginsel te zijn. Wilson dacht dat het stabiliteit zou brengen in Midden-Europa; in plaats daarvan gebruikte Hitler het principe in de jaren dertig van de vorige eeuw om de fragiele nieuwe staten in de regio te ondermijnen.
Deze les blijft vandaag de dag haar kracht behouden. Gezien het feit dat nog geen 10% van de staten in de wereld etnisch homogeen is, kan het behandelen van zelfbeschikking als een primair en niet zozeer secundair moreel beginsel desastreuze gevolgen hebben in vele delen van de wereld. Vijandige etnische groeperingen zijn dikwijls als een dooraderde chocoladecake in plaats van netjes van elkaar gescheiden, zoals in een cake met laagjes. Dat maakt opdeling moeilijk, zoals India in 1947 heeft ontdekt. Misschien is dat de reden dat deze eeuw slechts weinig nieuwe staten tot de VN zijn toegelaten. Na de afscheiding van Soedan is de etnische onrust in Zuid-Soedan vrijwel onverminderd blijven voortbestaan.
De beste hoop voor de toekomst is vragen wat er wordt beschikt, en wie het is of zijn die beschikt of beschikken. In gevallen waarin groepen op ongemakkelijke wijze samenwonen in een staat, kan het mogelijk zijn een bepaalde mate van autonomie toe te staan inzake interne aangelegenheden. Landen als Zwitserland of België bieden de diverse groeperingen waaruit hun bevolking bestaat aanzienlijke culturele, economische en politieke autonomie.
Waar autonomie niet volstaat, kan het mogelijk zijn in een vriendschappelijke scheiding te voorzien, zoals toen Tsjechoslowakije vreedzaam uiteenviel in twee soevereine staten. Maar het is waarschijnlijker dat absolute eisen tot zelfbeschikking een bron van geweld worden, wat de reden is dat er buitengewoon voorzichtig mee moet worden omgesprongen. Voordat zelfbeschikking mag worden ingeroepen als moreel beginsel, moet de diplomatieke versie van de Hippocratische Eed eer aan worden gedaan: Primum non nocere (richt in de eerste plaats geen schade aan).
Vertaling: Menno Grootveld