Die heutige Stagnation verstehen lernen
NEW HAVEN – Seit der "Großen Rezession" von 2007-2009 werden die Kurzfristzinsen von den weltweit bedeutenden Zentralbanken in der Nähe von Null gehalten. In den Vereinigten Staaten liegen sie trotz der jüngsten Zinserhöhungen der Federal Reserve immer noch unter 1%, und auch die Langfristzinsen der wichtigsten Staatsanleihen befinden sich auf ähnlich niedrigem Niveau. Darüber hinaus haben die großen Zentralbanken in die Märkte eingegriffen, indem sie in rekordverdächtigem Ausmaß Staatsschulden aufgekauft haben – und diese immer noch halten.
Warum sind diese ganzen wirtschaftlichen Rettungsmaßnahmen nötig, und warum für so lange Zeit?
Zu sagen, an all dem sei die Große Rezession schuld, wäre zu stark vereinfachend. Die langfristigen (inflationsbereinigten) Realzinsen haben in der Zeit zwischen 2007 und 2009 nicht wirklich einen Rekordtiefstand erreicht. Betrachtet man ein Schaubild der Erträge zehnjähriger Staatsanleihen über die letzten 35 Jahre, erkennt man einen ziemlich stetigen Abwärtstrend, aus dem die Große Rezession nicht besonders heraussticht. 2009, nach dem Ende der Rezession, lagen die Erträge bei 3,5%. Heute sind sie bei etwas über 2%.
Bei den Realzinsen ist die Lage ähnlich. Während der Großen Rezession erreichten die Erträge der zehnjährigen inflationsgeschützten Staatsanleihen einmal beinahe 3%, und nach dem Ende der Rezession lagen sie bei etwas unter 2%. Seitdem sind sie größtenteils gefallen und auf niedrigem Niveau geblieben – zuletzt im Mai 2017 auf 0,5%.
Dass Anleger ihr Geld für zehn Jahre zu derart niedrigen Zinsen fest anlegen, legt nahe, dass sich die Stimmung über lange Zeit hin zum Pessimismus gewendet hat. Dies wird auch durch den Begriff der "säkularen Stagnation" wiedergespiegelt, der heute sehr beliebt ist und eine dauerhaft schwache Wirtschaft beschreibt. Nachdem der ehemalige US-Finanzminister Lawrence Summers diesen Begriff im einer Rede vom November 2013 beim Internationalen Währungsfonds verwendete, wurde er vom New-York-Times-KolumnistenPaul Krugman aufgegriffen und danach immer populärer.
Obwohl die "säkulare Stagnation" erst fünf Jahre nach der Finanzkrise von 2008 zu einer gängigen Ausdrucksweise wurde, ist der Begriff selbst viel älter. Erstmals tauchte er in der Präsidentialansprache des Harvard-Ökonomen Alvin Hansen an die Amerikanische Wirtschaftsvereinigung im Dezember 1938 auf und fand im gleichen Jahr auch den Weg in sein Buch.
Subscribe to Project Syndicate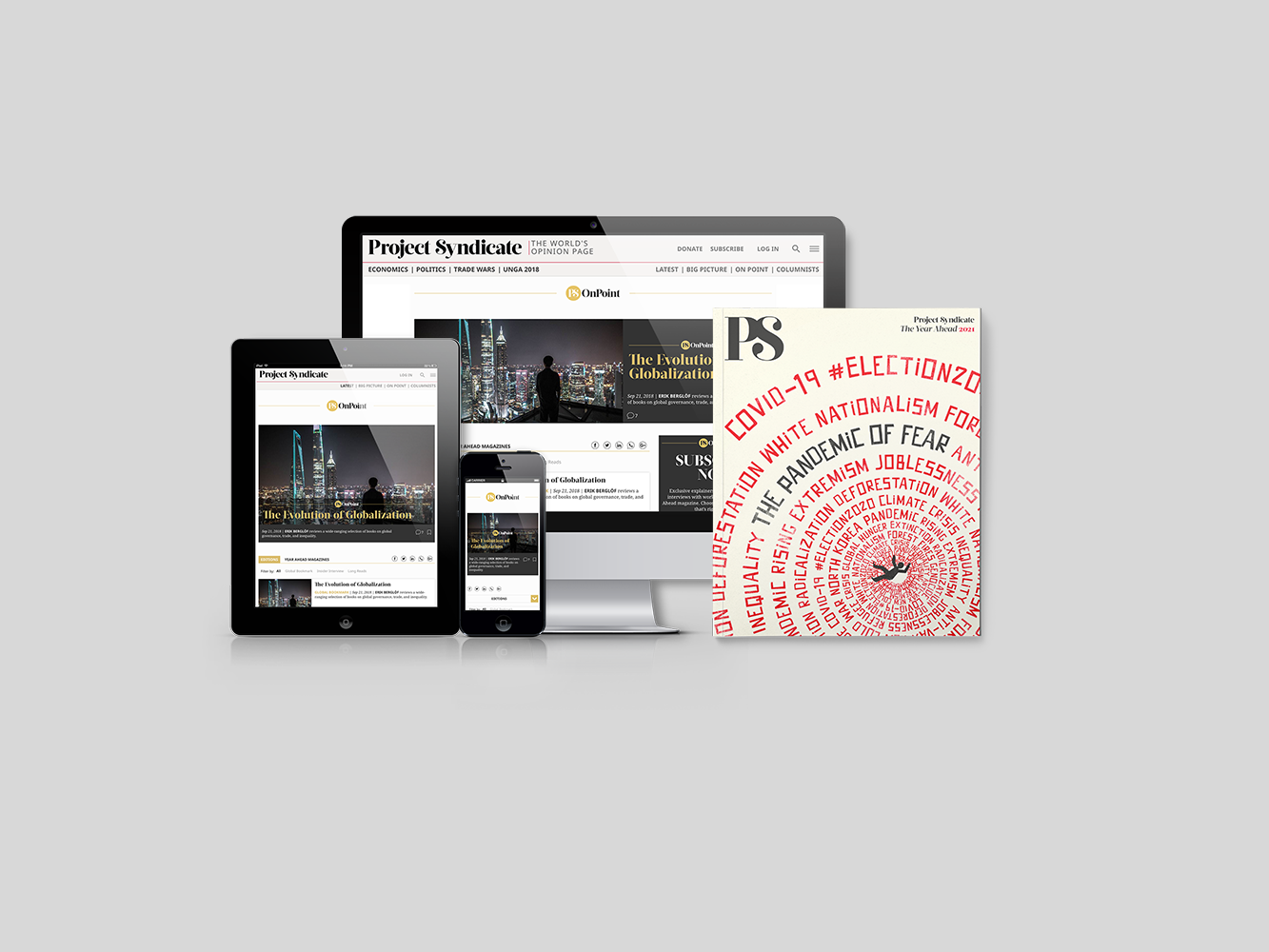 Subscribe to Project Syndicate
Enjoy unlimited access to the ideas and opinions of the world's leading thinkers, including weekly long reads, book reviews, topical collections, and interviews; The Year Ahead annual print magazine; the complete PS archive; and more – for less than $9 a month.
Hansen definierte die "Essenz der säkularen Stagnation" als "schwache Erholungen, die bereits früh im Kern erstickt werden, und Depressionen, die sich selbst nähren und einen harten und scheinbar unveränderlichen Kern der Arbeitslosigkeit hinterlassen". Als Hansen seine Rede hielt, erwartete er, dass die Stagnation der US-Wirtschaft dauerhaft anhalten würde. Die Depression, die mit dem Einbruch der Aktienkurse von 1929 begann, ging bereits in ihr zehntes Jahr, und der Zweite Weltkrieg war noch nicht ausgebrochen. Erst nach Kriegsbeginn 1939 löste sich die Stagnation auf.
Hansens Theorie der säkularen Stagnation aus der Zeit der Großen Depression beruhte auf der US-Geburtenrate, die bereits in den 1920ern dramatisch zurückgegangen war und auch in den 1930ern ungewöhnlich niedrig blieb. Die Stagnation werde durch den Mangel an Geburten aufrecht erhalten, vermutete Hansen, da die Menschen nicht so viel für Kinder ausgeben und für die Zukunft investieren. Tatsächlich ist laut Statistiken der Weltbank die weltweite durchschnittliche Geburtenrate auch nach der Finanzkrise von 2008 gefallen. Dies hing aber nicht direkt mit der Krise zusammen, da die Geburtenraten schon seit fast einem Jahrhundert stetig zurückgegangen waren.
Eine weitere Erklärung ist, dass die uns die Krise von 2008 immer noch in den Knochen steckt – als gesteigerte Angst, die uns trotz starkem Konsumentenvertrauen und meist geringer Finanzmarktvolatilität befürchten lässt, es könnten immer noch unvorhergesehene Katastrophen eintreten. In einer aktuellen Veröffentlichung von Julian Kozlowski, Laura Veldkamp und Venky Venkateswaran von der New York University heißt es, solche Ängste seien durchaus rational, denn sobald ein bisher undenkbares Ereignis eintritt, sei es gerechtfertigt, es nicht zu vergessen.
Meine eigene Theorie über die aktuelle Stagnation konzentriert sich auf die wachsende Angst vor schnellem technologischen Fortschritt, der letztlich viele oder die meisten unserer Arbeitsplätze überflüssig machen und zu massiver wirtschaftlicher Ungleichheit führen könnte. Der Grund dafür, dass die Menschen immer weniger Geld ausgeben wollen, könnte darin bestehen, dass sie sich um ihre langfristige Beschäftigungssicherheit Sorgen machen – Sorgen, die bei den Umfragen zum Konsumentenvertrauen vielleicht nicht bewusst geäußert werden. Ist dies tatsächlich der Fall, brauchen sie vielleicht immer höhere Stimuli in Form niedriger Zinsen, um weiter Geld auszugeben.
Ein anhaltender Fluss guter Nachrichten nach einer Krise könnte zu einer Art oberflächlichem Optimismus führen, ohne dabei aber die Angst vor weiteren zukünftigen Krisen völlig zu neutralisieren. Dieser Optimismus wird von Politikern und den Medien mit rosigen Aussagen geschürt, deren Wahrheitsgehalt von der Öffentlichkeit nicht überprüft oder bestätigt werden kann.
Seit etwa 2012 eilen die Aktien- und Immobilienmärkte von einem Höchststand zum nächsten. Dies geschah aber auch während der ersten Großen Depression immer wieder: Ständig berichteten die Nachrichten über neue Rekordstände des ein oder anderen Wirtschaftsindikators. Bei einer Nachrichten- und Artikelsuche von Proquest über die Zeit von 1930-1939 wurden 10.315 Artikel mit den Worten "Rekordhoch" gefunden. Die meisten dieser Berichte handelten von ökonomischen Variablen. Im Jahr 1933, am Tiefpunkt der Depression, lagen die Ölproduktion, die Preisen für Weizen und Gold sowie für die Sitze an den Rohstoffbörsen auf Rekordniveau. Weiterhin gab es Höchstwerte beim Zigarettenkonsum, bei den Posteinlagen, beim Umsatz und Gewinn einzelner Unternehmen usw.
Solche optimistischen Berichte können den Menschen die Hoffnung geben, dass die Dinge insgesamt besser werden, ohne ihnen allerdings gleichzeitig die Angst zu nehmen, es könne immer noch eine wirtschaftliche Katastrophe eintreten. Steuert man nicht durch außergewöhnliche Stimulierungsmaßnahmen dagegen, führen diese düsteren Vorahnungen dazu, dass die Bürger weniger ausgeben. Aus der Narrativpsychologie ist bekannt, dass dies kein Widerspruch ist: Menschen können gleichzeitig mehrere und widersprüchliche Ansichten hegen. Wenn die Bevölkerung Angst vor Katastrophenszenarien hat, müssen die Politiker entsprechend reagieren.
Aus dem Englischen von Harald Eckhoff